With an abundance outdoor activities, dog friendly San Luis Obispo is the perfect vacation to bring your furry friend along, including accommodations and pet-friendly hotels in San Luis Obispo, restaurants where pets are allowed to dine too, beaches in San Luis Obispo that welcome dogs to frolic and play, and other events and attractions where your four-legged friends can join in the fun.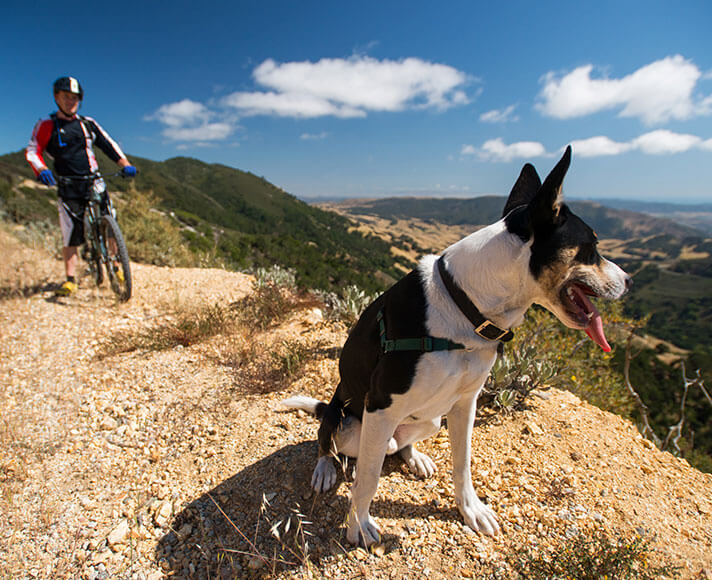 PET-FRIENDLY BEACHES AND ATTRACTIONS
El Chorro Regional Dog Park features a fenced-in "big dog" and "small dog" area as well as hiking trails and a botanical garden. Laguna Lake Dog Park has open space for your furry friend to fetch and roam as well as a disc golf course, playground and hiking trails for you to enjoy. You can also adventure into the outdoors at Irish Hills and other local, dog-friendly hikes.
What dog doesn't love the beach? Morro Strand State Beach, a popular dog-friendly zone, offers miles of open, sandy exploring. Although dogs are no longer allowed on Fisherman's Beach, Avila has 3 separate beaches that welcome dogs during designated times, allowing your dogs to run off-leash and play in the waves.
In case you need someone to watch after your pup, Thousand Hills Pet Resort offers dog daycare if you are gone or in meetings for the day, featuring oversized brightly painted dog houses, playgrounds and more.
PET-FRIENDLY RESTAURANTS IN SAN LUIS OBISPO
Enjoy coffee at Sally Loo's Wholesome Café, named after the owners' adorable pit bull, with outdoor dining for your dog. In the heart of Downtown, grab a delicious dinner at Novo or Luna Red, where pets are welcome to join their owners on the restaurants' beautiful outdoor patios.
Head to Shell Beach to enjoy breakfast, lunch or dinner at pet-friendly Zorro's Café, a Mexican eatery named after the owner's dog, Zorro.
If you are in the mood for wine tasting, several wineries offer dog-friendly wine tasting, such as Edna Valley's Wolff Vineyards with the added company of a jovial lab named Brixie and Saucelito Canyon winery which also has vineyard dogs.
SHOP WITH YOUR DOG
Get a fresh-baked dog treat or a new puppy t-shirt at dog-friendly and cat-friendly Tails Pet Boutique in Downtown San Luis Obispo. Lemos, a local chain of pet stores, offers treats, toys and more for your cats and dogs in San Luis Obispo and other surrounding cities.
SAN LUIS OBISPO PET FRIENDLY HOTELS
San Luis Obispo pet-friendly hotels offer comfy rooms at a comfy price for all budgets. Check out the list of hotels below to find your favorite pet-friendly room that both you and your furry friend will be sure to love. Bringing more than one pet? Some of SLO's hotels offer a per-pet fee, so be sure to check with each establishment for the most up-to-date pricing information.
Pet-Friendly Motels in SLO
Other Pet-Friendly Lodging
PET SITTERS AND KENNELS IN SAN LUIS OBISPO