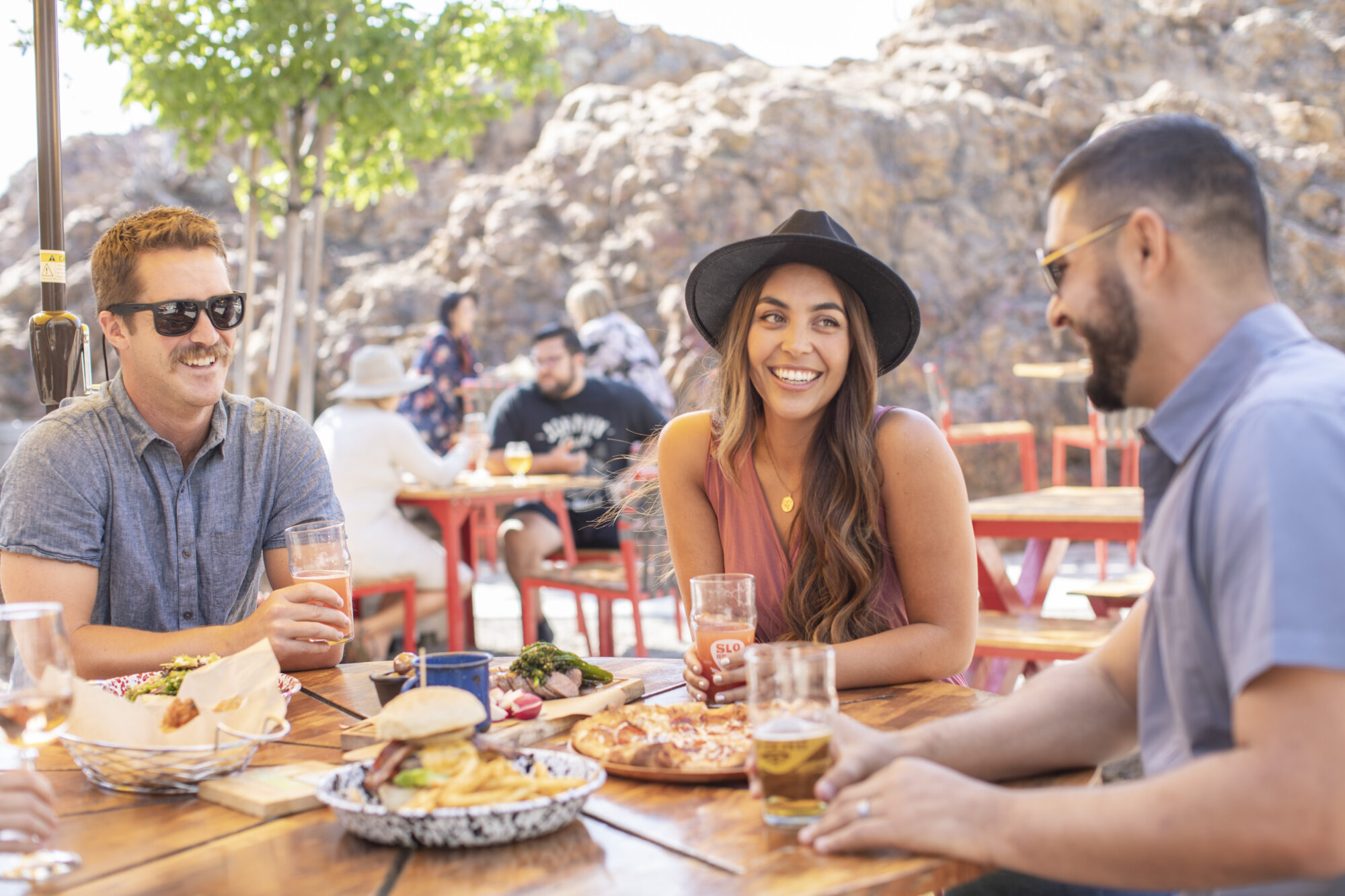 Outdoor Dining in San Luis Obispo
Pop quiz: which town is known for its comfortable weather, breathtaking views and thriving culinary scene? San Luis Obispo, of course, and there is no better way to enjoy SLO than combining these three aspects with an outdoor dining experience. Soak in the sunshine and breathe in the fresh air while enjoying farm-to-table fares, craft cocktails and locally-sourced cuisine. SLO has a plethora of restaurants with outdoor seating, whether you're looking for a casual cup of coffee and fresh air, or an elegant dining experience under the stars. In this guide, we'll highlight some of our favorite outdoor dining restaurants in San Luis Obispo, including those with happy hour specials and live music.
Find more places to eat and drink in San Luis Obispo.
Casual Restaurants With Outdoor Seating
The great outdoors in SLO are so great you'll never want to go inside. Good news: many of our favorite local restaurants offer outdoor spaces for dining, drinking, snacking and lounging. Casual or refined, date night or game night, we've got cozy cafes and elegant lounges that let you soak up the fine Central Coast weather. (And, of course, a glass of local wine, beer or coffee).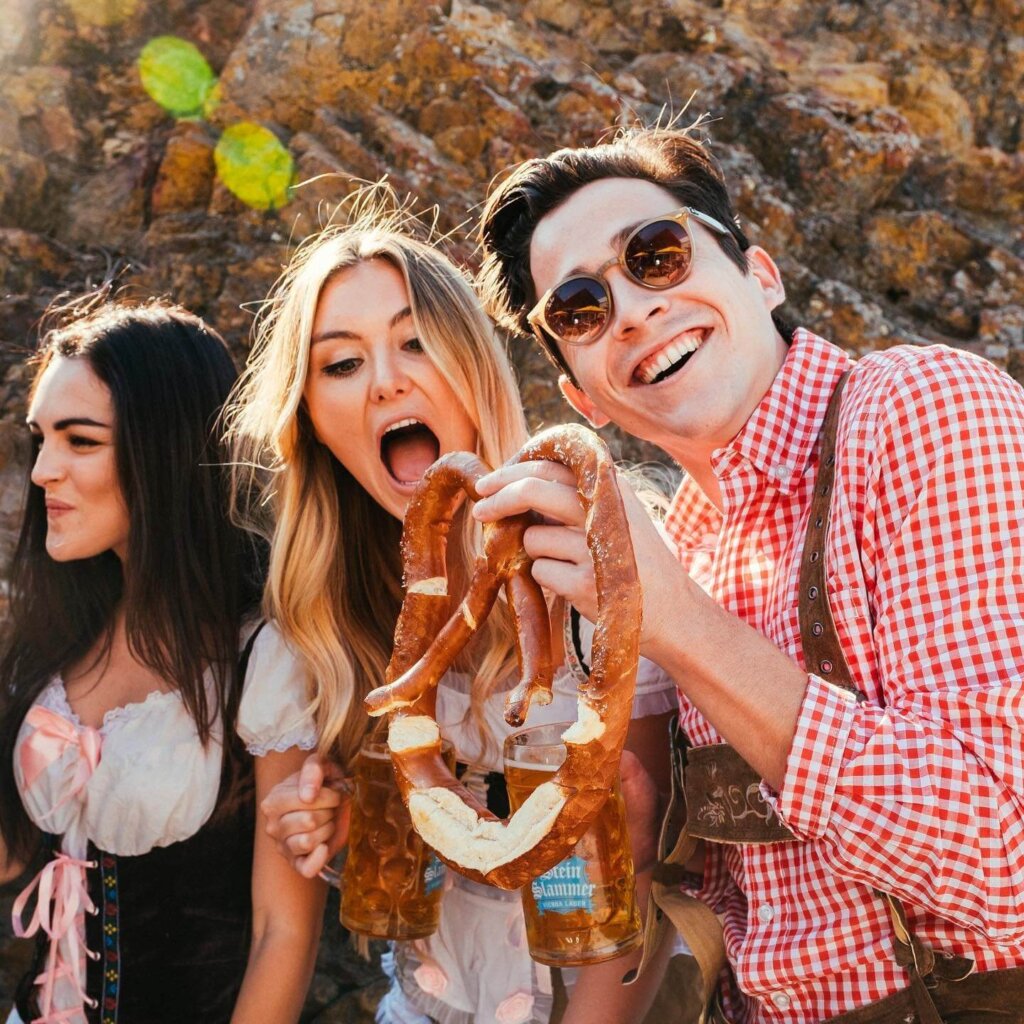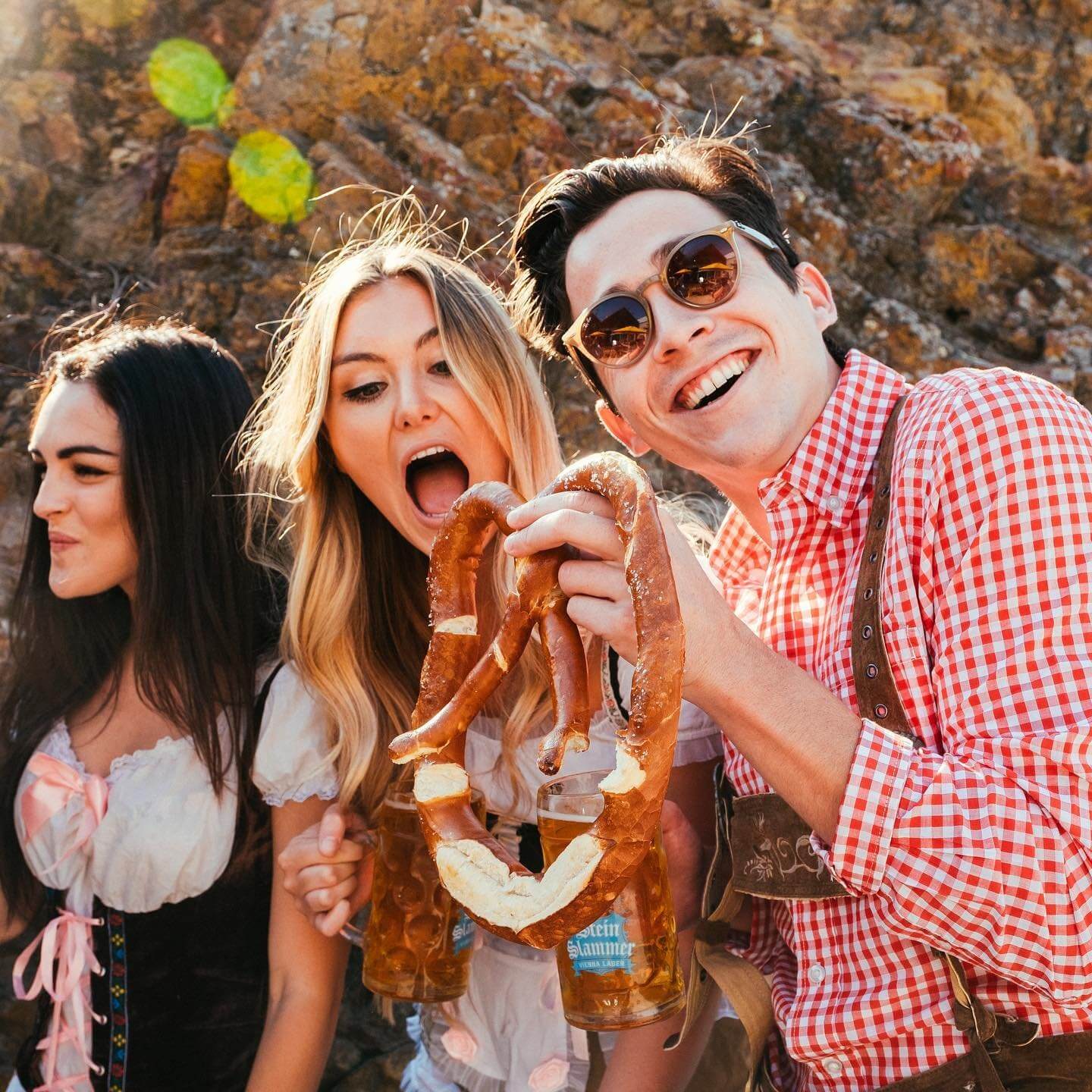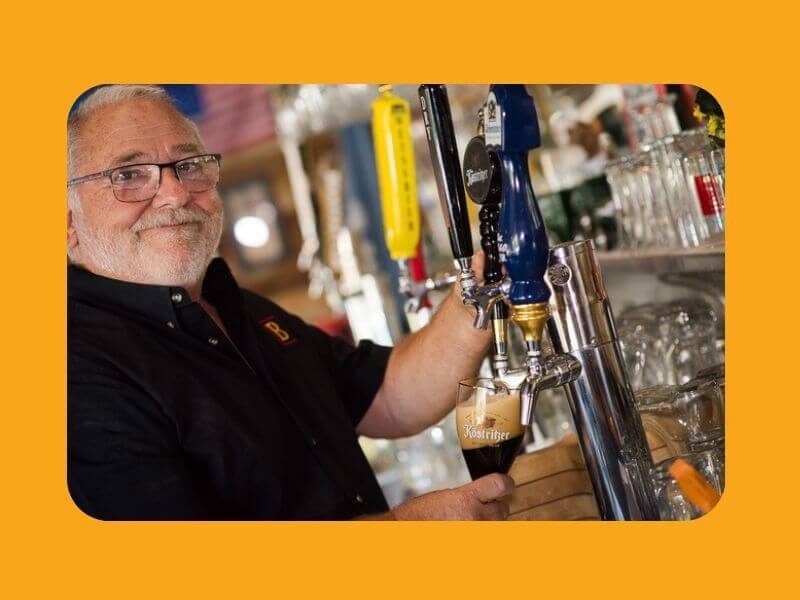 SLO Brew Rock
Welcome the great outdoors, indoors, at SLO Brew's "The Rock" taproom. Spacious outdoor seating and fire pits make this space awesome for drinking, casual dining and events. Along with salads, pizza and burgers, their 30-barrel brewhouse offers a glass of something for every diner in your group.
Beda's Biergarten
With a name like Beda's Biergarten, you're virtually guaranteed to find a menu filled with authentic German cuisine and beers. Operating since 2015 and hailing at the south end of the Railroad District, this family-owned authentic German restaurant features outdoor patio seating for times when dining al fresco is more your style. So kick back, relax and grab an overflowing stein of Beda's imported German beer to wash down the delicious, authentic German flavors.
The Mark
If you're desperately seeking hand-crafted cocktails and tantalizing tapas, you need to — pardon our pun — hit The Mark. This family-owned and operated restaurant encourages you to bring yours to experience their mouth watering Mexican-style cuisine and share their many tapas and shareable plates. Don't forget to enjoy a specialty housemade margarita on the patio area to fully experience what The Mark is all about.
Outdoor Dining Restaurants for Lunch & Dinner
Want to enjoy the Central Coast breeze while chowing down and doing a little people watching? These restaurants are perfect for a night of living the SLO life.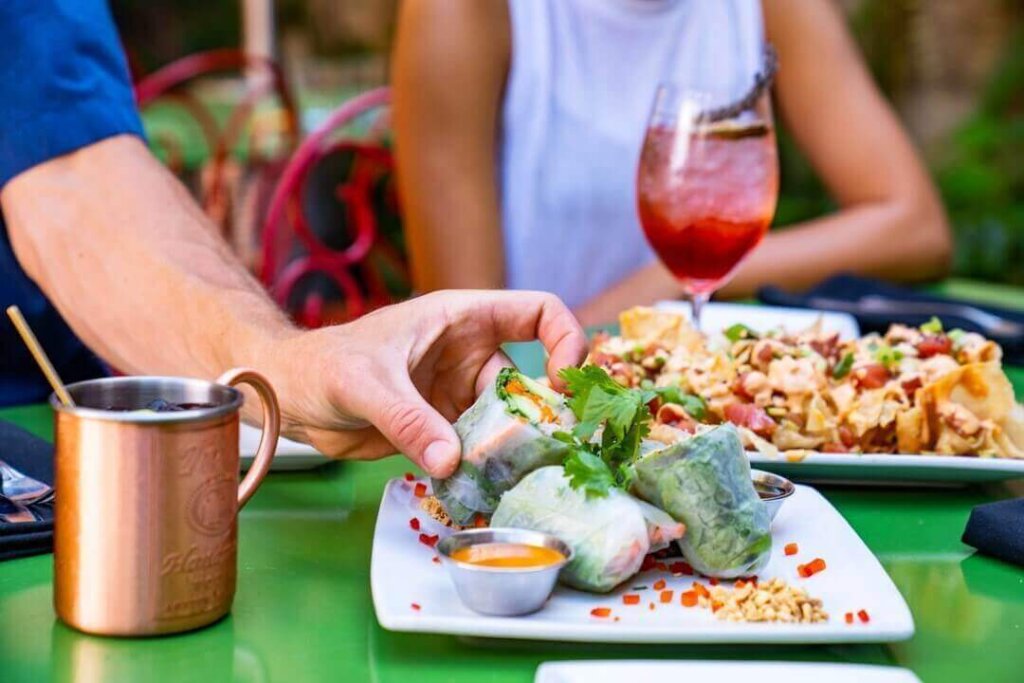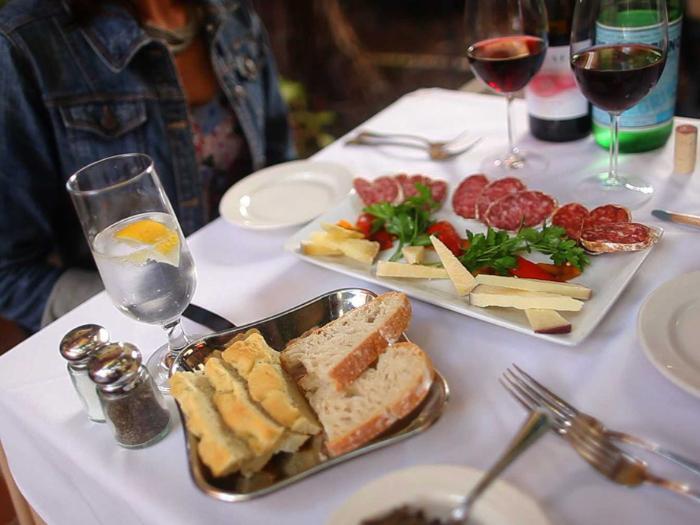 Novo Restaurant & Lounge
If you're near SLO's iconic Cigar Factory building, don't sleep on the opportunity to check out Novo Restaurant & Lounge. This bar and lounge features a creekside patio seating area where you can enjoy innovative, fresh global cuisine paired with an award-winning local and international lineup of wines. It seems a year doesn't pass without Novo being voted best restaurant in SLO, if that's any indication of how memorable and enjoyable your meal will be.
Buona Tavola
Located across from the San Luis Obispo County Government Center, and a neighbor of the historically famous Fremont Theatre, Buona Tavola (meaning "good table") has proudly dished out authentic northern Italian cuisine for more than three decades. With an outdoor dining area, an extensive wine list and house-made fresh pasta, Buona Tavola will please all of your senses.
Mistura
You don't have to go around the world to get a taste of global cuisine in San Luis Obispo. Just head to the outdoor seating area at Mistura for authentic Peruvian dishes, where pre-Columbian and Inca influences blend to create a truly inspired menu. They take pride in serving only organic produce and protein, locally sourced whenever possible.
Brunch & Cafe Outdoor Dining in SLO
If you can come up with a more pleasant idea than Sunday brunch in San Luis Obispo, we're all ears. Until then, be sure to patronize these incredible local brunch spots and raise a Mimosa to the SLO life!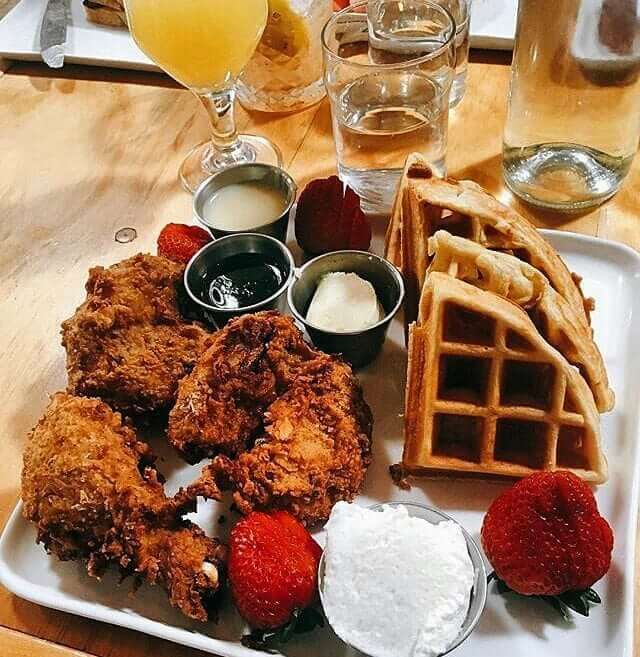 TASTE! Craft Eatery
Found in the historic Brickworks Building at 2550 Broad St., TASTE! Craft Eatery has been a SLO institution for the past 10 years. Serving up scrumptious sliders, meaty macs and satisfying salads, TASTE! also has an extensive cocktail, wine and beer menu packed with local favorites. Dine on the restaurant's outdoor patio for the full experience.
SLO Provisions
Local ingredients rule the day at SLO Provisions, an all-day eatery that features house-roasted meats from the rotisserie grill, salads plucked freshly from local farms and baked goods that will have you saving room for dessert. Popular dishes include Spanish bocadillos, black-eye pea salads and a host of Southern favorites. Stop in for party platters, picnic box lunches and, of course, outdoor patio dining on Monterey St.
Big Sky Cafe
Situated squarely in downtown San Luis Obispo sits Big Sky Cafe. With a menu featuring decadent farm-to-table comfort food that helps support local ranchers, farmers, vintners and brewmasters, this is one restaurant that will please your palate and your psyche in equal measures. Big Sky boasts a large abundance of fresh vegetables and organic fruits, and many items on the menu are vegetarian.
Pet-Friendly Outdoor Dining in San Luis Obispo
As an open and welcoming community, San Luis Obispo is all about inviting our furry friends to enjoy the festivities at every opportunity possible. That's why these dog-friendly places in San Luis Obispo need to shoot straight to the top of your list if you're traveling with your pooch.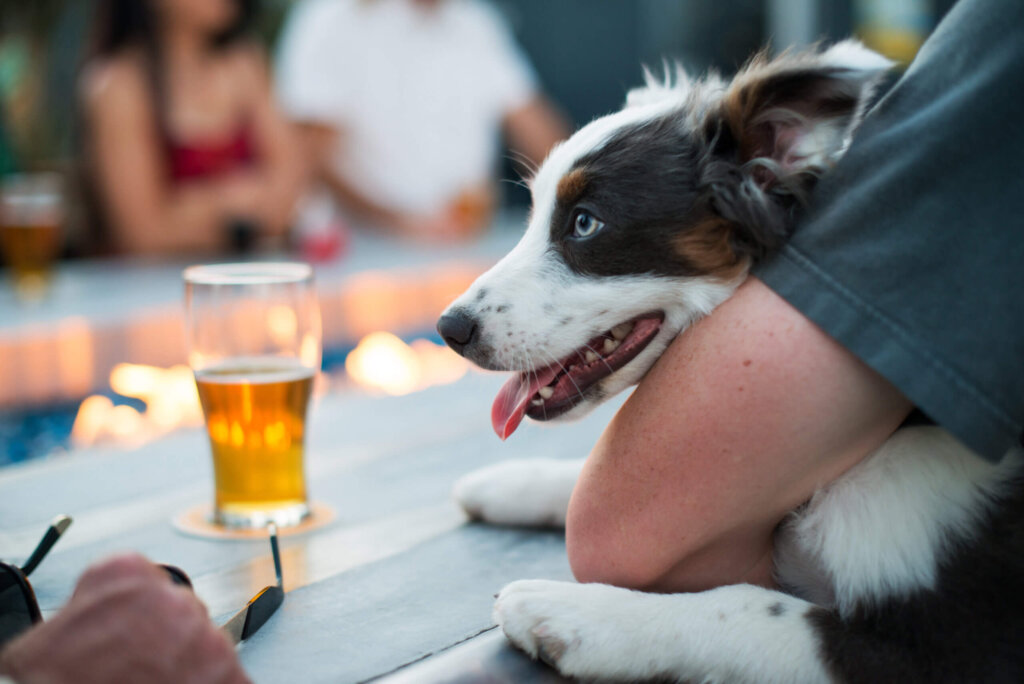 Kitchen & Vine
Fast-casual meets homestyle at Kitchen & Vine, a cozy eatery in the heart of SLO. Once a 100-acre ranch that grew sugar beets, barley, flowers and more, this historic farmhouse still serves up farm-fresh food–just on a plate or in a mug. Breakfast or lunch, it's always good and always colorful.
Petra
Next time a Mediterranean vibe strikes you out of the blue, head over to Petra Mediterranean Pizza Grill, which creates unbelievable shawarmas, gyros and, oh yeah, some of the best pizza in the nation. Don't believe it? Take it up with USA Today, which named Petra one of the nation's top 25 pizza places. On top of that, Petra features outdoor dining that's pet-friendly!
Luna Red
Located near San Luis Obispo's historic Mission de Tolosa, local eatery Luna Red is big on charm. Housed in a Spanish style building over the San Luis Obispo Creek, Luna Red features a terra cotta outdoor dining patio and a menu that highlights Spanish paella, tacos and tapas plates. It's also a great place to bring your animal companion to join along in your meal. Learn more about Luna Red's pet policy here.
Kreuzberg Coffee Company
A little slice of Europe in California? It's more likely than you think. Kreuzberg Coffee Company has been a SLO staple since 2010. It's the perfect place to get your caffeine fix while working or studying. And, after the sun goes down, it turns into a comfy cocktail lounge where friends gather.