When it comes to lunch and dinner in San Luis Obispo, our cuisine scene is always moving and grooving – just like us. The SLO life has more than enough restaurants to choose from, even for the most picky of diners. Drop into casual cafes and coffee shops with breezy outdoor patios (like Granada Bistro). Or, reserve your seat at an upscale eatery in Downtown San Luis Obispo (you can't go wrong with creekside chevre at Novo). It's all good, and it's all fresh.
Dinner
Settle in For a Easy Dinner in SLO
After a long day of exploring the city, biking local foothills or cruising the coast to Pismo Beach, we have the perfect way to seal your day. Dining at one of the award winning restaurants in San Luis Obispo means never eating the same thing twice: dig into classic Central Coast on Monday, tuck into fish tacos on Wednesday, and finish up on Friday with a local tri tip legend.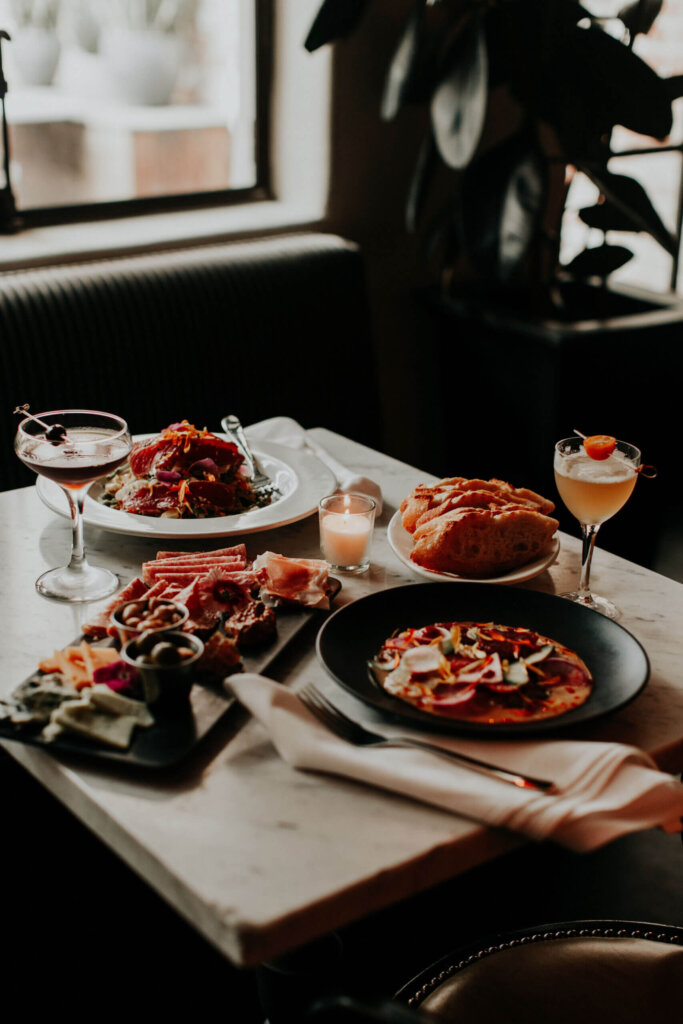 Savor the Evening in San Luis Obispo
Granada Bistro
Granada Bistro takes its culinary cues from the timeless dishes and preparations of the classic French bistro and enlivens them utilizing modern techniques and bold flavors.
Firestone Grill
Some say the Firestone Grill serves the best barbecue in California, but we'll let you decide after you visit. Their Santa Maria tri tip sandwiches are loved by locals, but if you're in the mood for something else–chicken, pork, or even veggies – they've got you covered with tasty options to suit every traveler and diet.
TASTE! craft eatery
A delightful culinary experience, TASTE! craft eatery features a diverse selection of delectable food, a unique wine list and exceptional beers. Embracing a warm and contemporary ambiance, this establishment strives to foster inclusivity and bring people together. With a daily offering of delicious cuisine, great beers and wonderful wines, patrons are guaranteed a memorable dining experience.
Rambling Spirits at SLO Public Market
The Rambling Spirits Workshop, situated within the SLO Public Market, is a unique establishment that combines a craft distillery and a stylish cocktail bar. Guests can savor house-distilled spirits, an array of cocktails, a selection of beer and wine, and a delectable menu featuring small bites and a delightful Sunday brunch.
TOP DINNERS IN SAN LUIS OBISPO
Discover culinary delights in SLO with various dining options. Enjoy an intimate creekside setting at Novo, where international fusion cuisine awaits. Experience the elevated SLO life at the Michelin-rated steakhouse, Ox + Anchor, where the land-and-sea menu, is inspired by San Luis Obispo's natural beauty. Enjoy all the can't-miss, only-in-SLO dishes you'll find on local menus.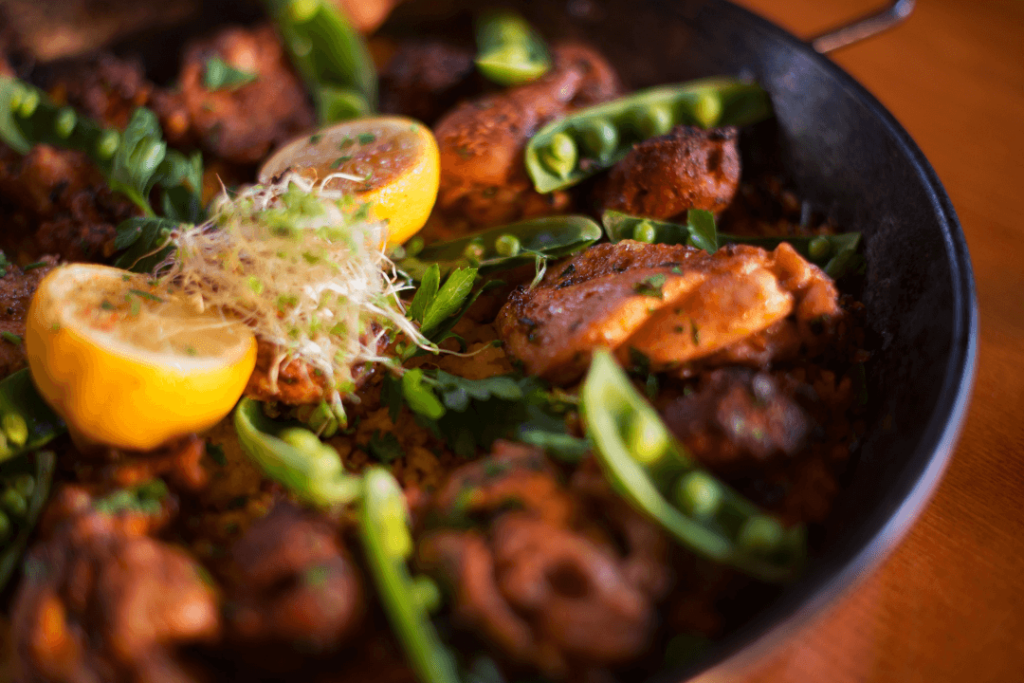 Culinary Excellence in San Luis Obispo
Nate's on Marsh
This affable spot is just outside of downtown San Luis Obispo. It's no surprise that Nate's on Marsh feels very welcoming—it's set within a converted residence. Inside is just as darling with palm-printed wallpaper and a Western/equestrian theme.
Mistura
You don't have to go around the world to get a taste of global cuisine in San Luis Obispo. Just head to the outdoor seating area at Mistura for authentic Peruvian dishes, where pre-Columbian and Inca influences blend to create a truly inspired menu. They take pride in serving only organic produce and protein, locally sourced whenever possible.
Brasserie SLO
Eat where you stay, or stay where you eat. Located inside Hotel Cerro, Brasserie SLO specializes in California coastal cuisine made with locally sourced ingredients. Tuck into Morro Bay oysters, sip coffee from roasters just around the block, and enjoy salads made from produce grown by San Luis Obispo County farmers.
Giuseppe's Cucina Rustica
In SLO, you can find the taste of Italy close by. Giuseppe's Cucina Rustica is a family-owned restaurant serving both classic and traditional Italian dishes in Downtown SLO. We think their menu is even more delicious knowing the produce is sourced from the owner's farm in Edna Valley!
Ox + Anchor
Live the (Hotel) SLO life – elevated – at this Michelin-rated steakhouse. Ox + Anchor's land-and-sea menu draws inspiration from San Luis Obispo's rolling hills and sparkling seas, with an expansive library of wines carefully chosen to complement every dish. Start with oysters on the half shell and end with their famous baked Alaska.
Cafe Roma
For over four decades, a cherished tradition with rich Italian origins has thrived in San Luis Obispo's Historic Railroad Square at Cafe Roma. Since 1980, the Rizzo Family has won over the hearts of both locals and tourists alike with their genuine Italian cuisine and captivating narrative, deeply intertwined with treasured family recipes.
Novo
The perfect night out in San Luis Obispo can begin or end at Novo Restaurant & Lounge, an iconic creekside eatery. This award-winning Downtown SLO gem has been voted best restaurant across years and contests. Sit down for dinner with their globally inspired menu, or head to the lounge for cocktails with your date.
Alex Madonna's Gold Rush Steak House
Alex Madonna's Gold Rush Steak House is a renowned dining establishment located within the iconic Madonna Inn. With its Old West-inspired decor and warm ambiance, the restaurant offers a delectable menu featuring premium cuts of steak, seafood, and other mouthwatering dishes. Guests can savor their meals in a rustic yet elegant setting, making it a memorable dining experience.