The Central Coast is known for its beautiful beaches, endless opportunities for outdoor activities, and its outstanding restaurants, wineries and breweries. If you happen to be in downtown SLO, you are not going to want to miss experiencing the multitude of downtown SLO restaurants that offer farm-to-table, fresh ingredients, incredible local wine lists, craft brews and more.
No matter what your flavor is, there is a restaurant in Downtown San Luis Obispo for you. Are you hungry yet?
Restaurants in Downtown SLO
From the newest to the oldest to the coolest and most modern restaurants in downtown SLO, there are plenty of places to eat and drink here. Your eyes may get a little (or a lot) bigger than your stomach when you see it all.
For delicious sandwiches that promise a big bite and an even bigger smile, stop by High Street Market & Deli or Urbane Cafe. High Street Market & Deli is a sandwich operation that has been open for nearly 100 years and is still going strong. Urbane Cafe serves up handcrafted sandwiches on fire-baked bread. With selections including hot and cold sandwiches and dips, you may leave these sandwich joints wishing you could try even more of their menu items.
Beer lovers unite at SLO Brew, or, "The Brew," as many locals affectionately call it.
Taste handcrafted micro-brews including but not limited to I.P.A.s, blondes, stouts and pale ales. Pair your favorites with menu items like fresh flatbreads, smokehouse boards, delicious burgers, wraps and appetizers. Check out their Happy Hour Monday through Friday 3 p.m. to 5 p.m. Not super into beer? SLO Brew offers wine, too.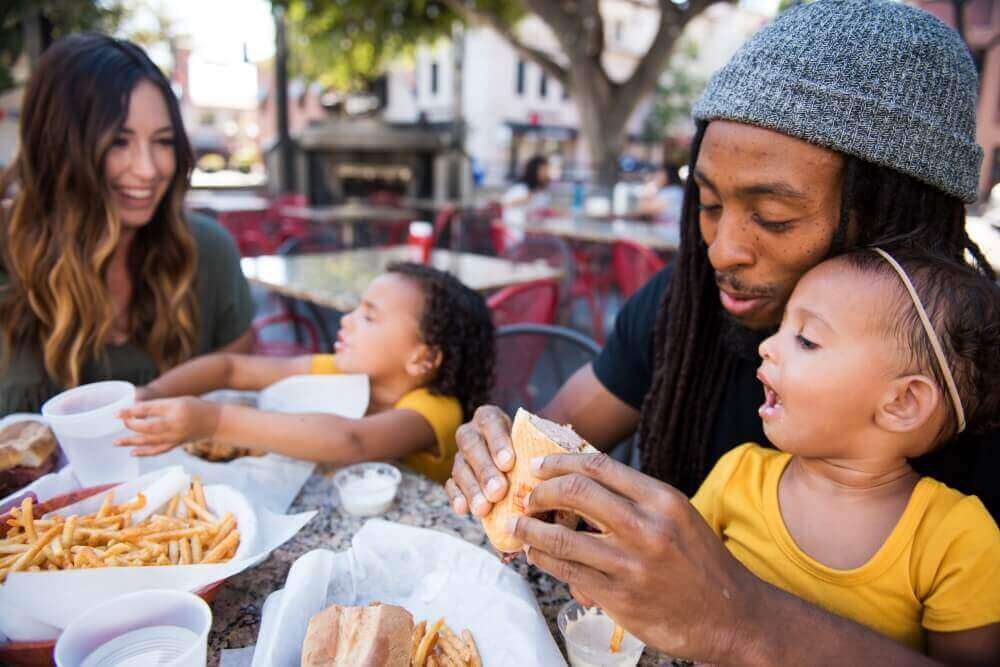 For fresh and expertly made authentic Japanese food, visit Goshi Japanese Restaurant. Offering lunch specials and dinner combos, you will get your sushi fix all while enjoying the vibrant atmosphere of Downtown San Luis Obispo.
Those in the mood for Mexican cuisine should check out San Luis Taqueria. Sink your teeth into a huge burrito, or enjoy juicy tacos or zesty enchiladas, and don't forget to wash it all down with a refreshing margarita.
Restaurants in downtown SLO offering filling, gourmet and comforting Italian food include Buona Tavola, Piadina, La Locanda and Flour House SLO. Buona Tavola serves northern Italian cuisine, including gluten free options. Piadina offers farm-fresh Italian dishes with a Central Coast twist. Lo Locanda always has something new, with weekly and sometimes daily specials constantly being invented in the kitchen. Flour House serves authentic pastas and Neapolitan-style pizzas and pairs their dishes with craft beers and specialty cocktails.
For modern bites with a classy and sophisticated vibe, check out Mistura or Ox + Anchor.
Explore high-end Peruvian cuisine at Mistura, where your taste buds will meet adventurous and unique flavors. Ox + Anchor is a modern steakhouse inspired by the Central Coast, offering the best local wines in the area.
Those in the mood for burgers or American cuisine will enjoy Sidecar, Firestone Grill, Big Sky Cafe and Old SLO BBQ Co.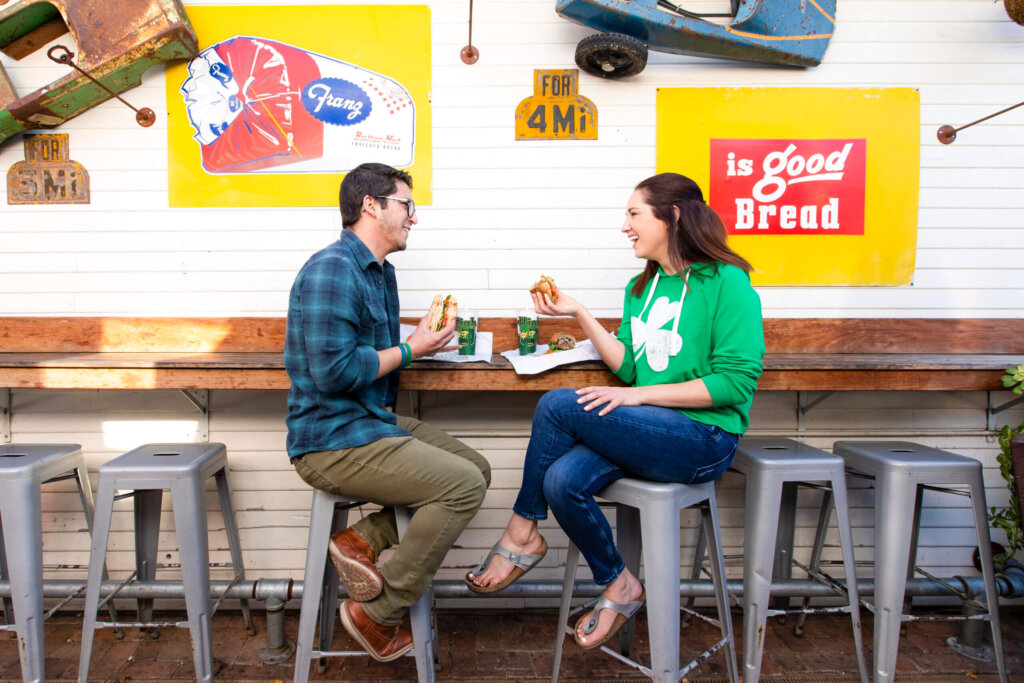 San Luis Obispo Restaurants in the Downtown Area
If you are on the outskirts of town, there are other San Luis Obispo restaurants near downtown to explore.
In the mood for a glass of rich red or refreshing white wine? A short 10-20 minute drive outside of downtown SLO will lead you to wineries like Croma Vera Wines, El Lugar Wines, Stephen Ross Wine Cellars, Deovlet Wines, Autry Cellars and more. These wineries and vineyards offer long wine lists that will leave you wanting to come back to taste even more. Plus, the beautiful views of the Central Coast's landscape can't be beat.
After your meal, don't forget to check out other things to do in Downtown San Luis Obispo. Check out downtown SLO's unique boutiques and attractions like Bubblegum Alley, Mission San Luis Obispo de Tolosa, museums and more. And if you're looking for a place to stay, look no further than downtown SLO for a wealth of options – from the many Downtown San Luis Obispo hotels to boutique hotels that define SLO's unique charm.
SAN LUIS OBISPO RESTAURANTS AND BARS IN SLO