Whether you came to San Luis Obispo for the wine or you got here and realized you had to indulge – there is no country road in SLO that will lead you to sour grapes. The vineyards in the Central Coast enjoy a unique climate that allows for the fruit to become more concentrated. With the slight drop in temperature in the evening, but overall warmer nights, the fruit is able to ripen to its prime concentration. Moderate temperatures year round make the Central Coast a haven for wine lovers – hence the many wineries scattered across the SLO Coast Wine Region. If you are planning to visit wineries in San Luis Obispo during your stay, all you have to do is cruise on down Highway 227 toward Edna Valley. SLO boasts no shortage in wineries, breweries, or San Luis Obispo bars.
Wineries in SLO
When heading out for your wine adventure, we recommend you stop by a few of our favorite wineries in SLO – Baileyana-Tangent-True Myth Winery is one of the Niven family wines. Their charming historic Independence Schoolhouse tasting room looks over rolling hills of vineyards. Guests are invited to sit outdoors and enjoy the relaxing dining areas and authentic bocce ball courts, along with an enticing shop stocked with gourmet snacks. In addition to Baileyana wines, you can enjoy all of the Niven wines including True Myth, Tangent, Zocker, Trenza and Cadre at one tasting room.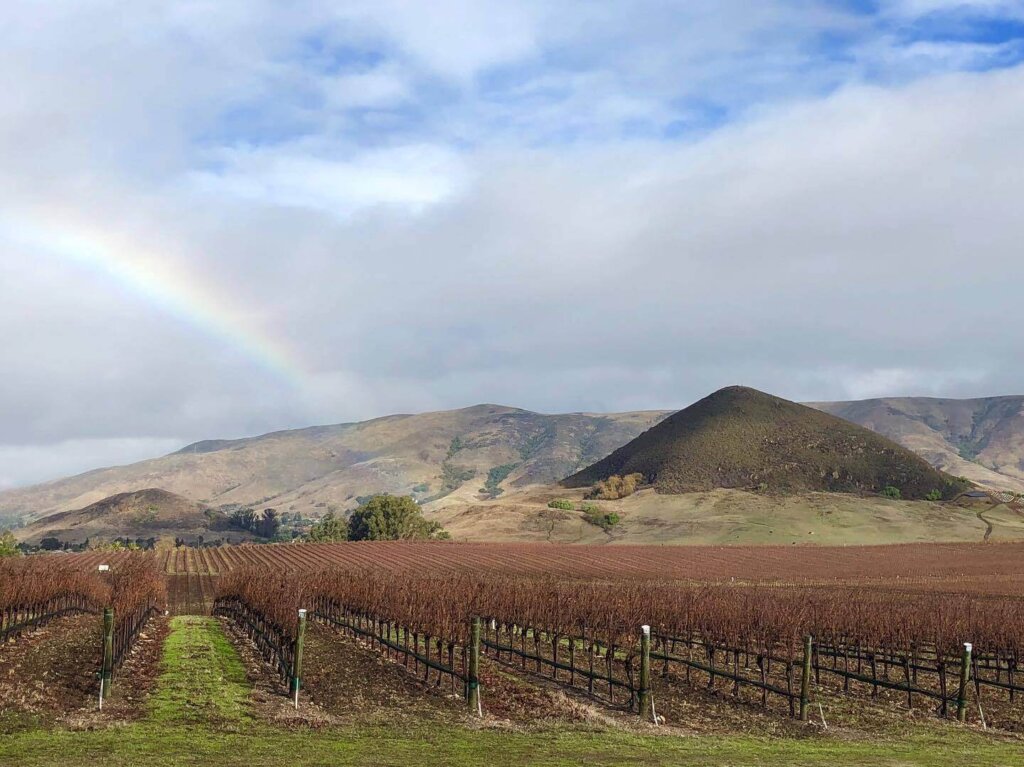 Another favorite is Edna Valley Vineyard, with a seasonal tasting list and panoramic views of the valley – this winery is one you can't miss. Located just down the road from Baileyana, Edna Valley Vineyard offers a variety of wines that are sure to delight. A local favorite is Edna's Central Coast Pinot Noir described as "aromatically complex, this wine displays nuances of rose petal, cola, earth and black cherry… with a full mouthfeel, fine tannins and a long finish" – making for a perfect wine year round.
Tolosa Winery is yet another great tasting destination. Tolosa Winery is one of the more unique wine experiences in the area, as they use the most environmentally sustainable ways to grow their grapes to create beautiful Central Coast wine.
Did you know that Chamisal Vineyards were the first vineyards to be planted in Edna Valley? With Chamisal Vineyard's expertise in pinot noirs and chardonnays, you won't run out of wines to taste and re-taste. Located just 10 minutes away from downtown SLO, there's no reason you shouldn't go check it out when you are in town.
Yet another favorite is Biddle Ranch Vineyard, specializing in chardonnays.
When it comes to SLO wineries, the climate and soil composition of the Arroyo Grande and Edna Valleys make them like no other wine region can.
San Luis Obispo Wine Tours
We think that one of the best ways to experience Central Coast wineries is to book a San Luis Obispo wine tour. Whether you are looking for a transportation service to lead the way or have specific wineries in mind, we've got you covered for the best day tour ever.
If you are looking to visit multiple wineries in one day, there are several wine tour services in the area that will do the driving for you, so you can sit back and sip carefree. Breakaway Tours offers private and specialty wine tours with transportation provided, allowing you to experience SLO's many wineries in comfort and safety.
If you want to experience "Old Edna," we suggest you stop by Sextant Wines. To get the full experience, sign up for an estate tour in advance. The estate tour begins with a discussion of the varied terrain and terroir in their vineyards, stretching from Monterey and Paso Robles to Edna Valley, in addition to Sextant's unique history and approach to viticulture.
For wine nerds visiting the area, the Cottages & Kitchen Tour at Hearst Castle grants you access to view W.R. Hearst's extensive collection of wine within his personal wine cellar.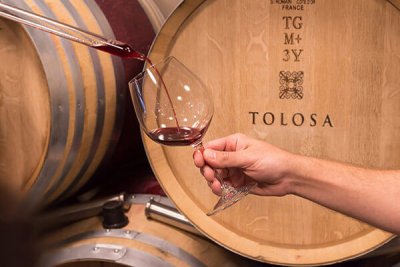 Other wineries that offer wine tours include:
Looking to tour sustainably? Plan your oh-SLO-sustainable wine tour with this guide. Many SLO wineries are SIP Certified, including Tolosa Winery, Baileyana Wines and Wolff Vinyards, to name a few.
Check out more tours in SLO, including beer and cider tours, adventure tours, and Cal Poly tours.
With the plethora of wineries around San Luis Obispo, you are sure to find a wine you love. The fun doesn't have to stop at the wineries! And as always, don't forget to #ShareSLO!