Breweries in San Luis Obispo are small batch, award-winning and seemingly endless. If you fancy yourself to be a beer-sippin' aficionado and you haven't yet explored breweries in San Luis Obispo, you are missing out. Between the virtually endless sunshine, rolling hills and beautiful views of the Central Coast, breweries in SLO are pretty hard to beat. SLO offers some of the best breweries, restaurants and bars on the Central Coast. What are you waiting for? A cold beer or cider is calling your name.
The Best SLO Breweries
Check out the best SLO breweries. From craft beers including West Coast-style IPAs, sours, gose, stouts and more, there really is something for everyone's taste buds.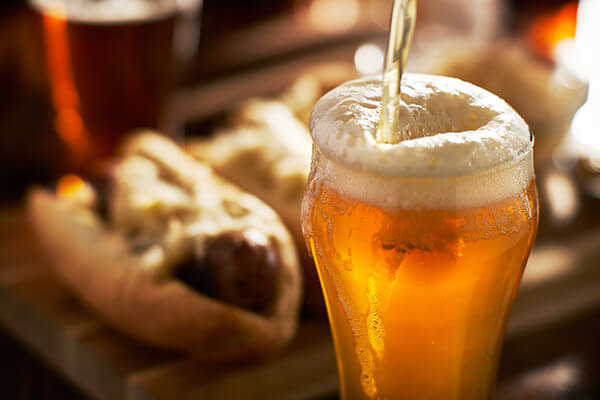 SLO Brew Rock
Say hello to a 30-barrel brewhouse at SLO Brew Rock. This brewery offers event space, a taproom restaurant and a tasting room, along with firepits and plenty of outdoor seating. Rod & Hammer's SLO Stills, a whiskey distillery, is also located here, so there really is something for everyone!
Bang the Drum Brewery
Bang the Drum is a small craft brewery that offers beers on tap, ranging from simple honey blondes to more intense IPAs. In the mood for a refreshing sip? Bang the Drum also serves up light saisons, hard ciders and kombucha.
Oak and Otter Brewing Co.
Take your pup to Oak and Otter Brewing Co., a dog-friendly sippin' spot that offers weekly live music.
BarrelHouse Brewing Co.
BarrelHouse Brewing Co. specializes in small-batch beer projects. The brewery's downtown SLO location is speakeasy themed. Look closely for the building that appears to be a barber shop. The brewery is actually underground!
Libertine Brewing Company
The Libertine Brewing Company uses winemaking techniques in conjunction with brewing science to create uniquely unforgettable ales and saison ciders. This brewery also offers local food and small-batch spirits to satisfy any appetite.
Central Coast Brewing
Central Coast Brewing offers two locations in town. At the 1701 Monterey Street location, enjoy local food trucks while tasting award-winning beers like signature lagers and ales. At the 6 Higuera Street location, enjoy food served on an airy patio while you sip a cold one.
7 Sisters Brewing Company
Visit 7 Sisters Brewing Company, a brewhouse with a mission. 7 Sisters Brewing is committed to maintaining the beauty and nature surrounding the Central Coast by focusing on sustainability. Plus, the beer tastes delicious!