Pacific Coast Highway
Spanning most of California's coastline, the classic Pacific Coast Highway offers travelers a beautiful, scenic route as they tour the Golden State from San Diego to San Francisco. Many people road trip along Highway 1, experiencing everything from quaint coastal towns like Point Reyes and Morro Bay to major metropolitan cities like San Francisco and Los Angeles.
The segment of Highway 1 that travels along the Central Coast is also known as the Pacific Coast Highway, or PCH. Highway 1 has become an iconic route and is celebrated worldwide for its uniqueness and beauty.
People traveling by car can easily reach San Luis Obispo from the Pacific Coast Highway and Highway 101.
Pacific Coast Highway Road Trip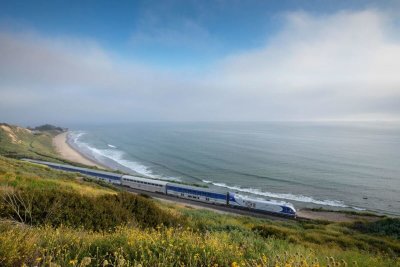 Those who have embarked on a Pacific Coast Highway road trip will tell you that it is an experience unlike any other. From must-see West Coast cities including Santa Barbara, Big Sur, Monterey, San Simeon, and, of course, San Luis Obispo, to must-visit destinations, including Hearst Castle, the redwood forests, Bixby Bridge, Cannery Row and McWay falls, a Pacific Coast Highway road trip is one of the best ways to explore the California Central Coast.
If you are planning your own road trip along Highway 1, San Luis Obispo is an ideal stopping point between Southern and Northern California to kick back, play in the Pacific Ocean, eat some great food, explore laidback Downtown SLO and stay awhile at one of our hotels.
Ready to SLO down and kick back for a day or two? Check out a few of our favorite places to hang out in San Luis Obispo.
Downtown SLO
Downtown San Luis Obispo is the ideal place to stop and stay awhile. With farm-to-fork restaurants, breweries, and shopping galore, you'll love taking in the sights of downtown while you stretch your legs.
After a meal and a glass of wine (or two), explore Downtown SLO on foot while your car takes a rest. Be sure to stop at the famous Bubblegum Alley, the historic Mission San Luis Obispo de Tolosa, or catch the Downtown Trolley (also called the Old SLO Trolley) to a nearby restaurant or the Thursday Evening Farmers' Market.
Wineries and Breweries
When it comes to imbibing, San Luis Obispo bars, wineries, and breweries are aplenty. From breweries and distilleries, including beers, ciders and spirits, to off the beaten path wineries in the area, there is no better way to enjoy the incredible view of the surrounding landscape than with a glass of wine or beer in your hand.
Beaches
San Luis Obispo is surrounded by breathtaking beaches. Ready for a relaxing day trip in the sun?
In addition to basking in the sun, surf, and sand, there are plenty of other things to do at the beaches near San Luis Obispo. Take a whale watching tour at Avila Beach or soak in the ocean views on a hike at Montaña de Oro State Park.
For more inspiration, check out the top beaches along the Central Coast.
Hotels
Stay for a night, or two, or three, at one of San Luis Obispo's many hotels. From cute to quirky, relaxing to fun-filled, our hotels offer something for everyone. Bringing kids or your furry friend? There are plenty of family and pet-friendly hotels in SLO to choose from.
Hearst Castle
When you are ready to leave San Luis Obispo and carry on with your road trip on the Pacific Coast Highway, be sure to take the 45-minute trip north to Hearst Castle. It's located right along Highway 1, so you won't even need to take a detour route!
Hearst Castle makes it to our list of top destinations along Highway 1 for its grandeur, extravagance and uniqueness. Catch one of the daily tours to explore the many grand rooms on the property.
If we have piqued your curiosity, check out this photo tour of Hearst Castle. Need we say more?
Directions to Highway 1
Highway 1 can be accessed from virtually any connected town. If you are beginning your trip in the downtown Los Angeles area, directions to Highway 1 are easy! Simply take I-10 West for 17 miles, connecting to I-110 S for about 22 miles, and then connect to Highway 1 from there.
If you are connecting to Highway 1 from the Sacramento area, take I-80 West for about 50 miles, connect to US-101 S from there, and then connect US-101 North. After about 15 miles, you will reach Highway 1.
Once you are on Pacific Coast Highway, it is a straight-shot to virtually any beach destination on your road trip list, including San Luis Obispo!
Pacific Coast Highway Map
When looking at a Pacific Coast Highway map, you will see that it is a straight-shot through many of California's most famous destinations along the state's coastline. Never driven through? No worries, we've got the lowdown on PCH's distance and location.
Where Does the Pacific Coast Highway Start and End?
The Pacific Coast Highway begins in the San Diego area, south of San Juan Capistrano. Highway 1 ends in Mendocino County. In total, it is over 650 miles long.
How Long Does It Take to Drive Along the Pacific Coast Highway?
If you drove the entire length of the PCH without stopping, it would take about 12 hours. However, we don't recommend not stopping! There are simply too many wonderful attractions and sights to explore.
Highway 1 Update
After 14 months of closure due to heavy rains and subsequent mudslides, the Pacific Coast Highway is open. The freshly paved Highway winds along the coastline, with spectacular views, and once again, grants access to Big Sur.
Check out the latest updates on CalTrans Road Conditions.