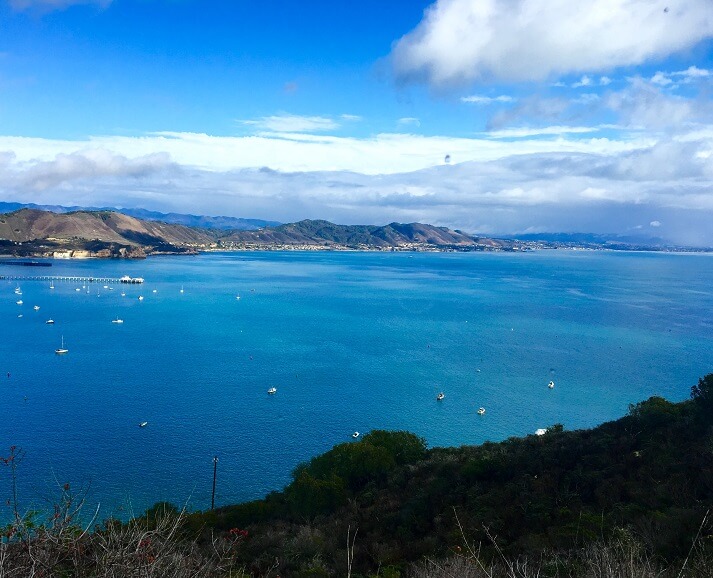 Top Beaches Along the Central Coast
The Central Coast is known for its plethora of picture-perfect beaches, with many located just 15 minutes away from Downtown San Luis Obispo. Whether it's a classic, like Pismo, or a hidden gem, like Pirate's Cove, there are beaches in San Luis Obispo for every visitor.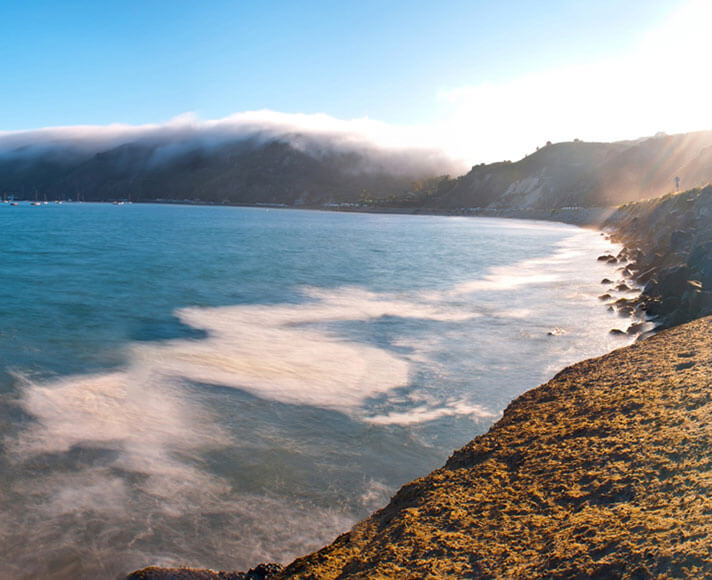 OCEANO DUNES
Popular for beach-goers and off-road enthusiasts alike, the Oceano Dunes is a popular recreational site just 20 minutes south of San Luis Obispo. This spot is perfect to fulfill your adventurous side whether spending the day surfing and swimming in the Pacific Ocean or riding ATVs through the sand dunes. As an added bonus, you can finish your day off by roasting hot dogs and s'mores on the beach.
Read about our ATV adventure in Oceano Dunes, recently featured on our #ShareSLO blog.
PISMO BEACH
Located just 13 miles south of Downtown SLO, off of Highway 101, Pismo Beach is a hotspot for surfing, fishing and enjoying a bite to eat, specifically their award-winning clam chowder. Spend the day with your friends and family boogie boarding or biking along the beach boardwalk.
Getting hungry? Walk up Pomeroy Avenue to grab a to-go cup of clam chowder from Splash Café or Brad's and enjoy this local favorite on the pier. Be sure to check out the local souvenir shops, too!
SLOcal Tip: Plan your vacation to San Luis Obispo around the holidays, and day trip to Pismo for the June Classic Car Show, 4th of July fireworks show, or even the Annual October Clam Festival.
SHELL BEACH
Just north of Pismo, nestled among steep bluffs and rocky shores, is a thin sliver of sand known as Shell Beach. This scenic spot is perfect for a low-key morning lounging on the shore while watching surfers glide across the waves. Also, a popular afternoon hangout, we encourage you to arrive around noon to secure your prime weekend sunbathing spot before the masses of beachgoers roll in.
SLOcal tip: If you want to add a little exercise to your beach day, try the Ontario Ridge Trail, a steep climb that connects Shell Beach and Pirate's Cove. Offering spectacular views of the ocean and rolling hills, this hiking trail was featured on our top hiking trails around San Luis Obispo.
PIRATE'S COVE

**Clothing optional beyond this point**
While this may not be the best destination for your next family vacation, Pirate's Cove is a great option if you're looking for a quiet beach day, as this strip (no pun intended) of sand is hidden amongst the rocky bluffs. With a mild hike down to the beach, this beach is definitely worth the trek. On your way back to your car, don't forget to stop by Cave Landing, just off the trail, to capture your #InstaWorthy moment. Be sure to share your fun with #ShareSLO, too!
SLOcal tip: This secluded spot can be crowded on holidays, so plan your beach time accordingly.
AVILA BEACH
Located a quick 15 minute drive from San Luis Obispo, this family-friendly beach town is a perfect way to spend a day in the sun. Start your morning off right, sipping coffee from Jo Momma's while strolling along the picture-perfect promenade, complete with beach shops and weekend art vendors. Make your way down to the sand to find the prime lounging spot and spend the day tanning, splashing in the water, or jumping into a game of beach volleyball. When the day reaches peak heat, head over to Kravabowl for a cool snack.
Take a mid-afternoon break and check out the marine life in the Central Coast Aquarium – perfect for all ages. As the sun sets behind the hills, enjoy a glass of wine at PierFront or dinner on the patio at Custom House. For those over 21, check out Mr. Ricks for cocktails and live music.
SLOcal tip: Kickstart your beach day with a walk or bike ride, and cruise along the Bob Jones Trail into Avila Beach. Read about our bike ride along the Bob Jones Trail, recently featured on our #ShareSLO blog.
FISHERMAN'S BEACH
Just up the coastline from Avila is Fisherman's Beach, locally known as the Dog Beach, frequented by many local and visiting pups alike. With an abundance of parking spaces, this spot is less crowded and a perfect place for your family to camp out for the day. If you're looking for an adventure, check out the kayak and stand-up paddle (SUP) boarding rentals at Avila Beach Paddlesports. You can even explore with a guided tour to the Point San Luis Lighthouse.
Needing a bite to eat? Take a stroll down the Port San Luis Pier and pick up some fresh clams and oysters at the Fish Market, or munch on tacos at Mersea's. Round out your fun-filled day by roasting s'mores around a fire pit on the beach.
MONTANA DE ORO
Just past Los Osos, off the beaten path, you'll find Montaña de Oro, or MDO as the locals call it. This state park may not provide you with the typical beach day, but it is definitely worth a visit. At Spooner's Cove, you'll find a pebbly beach, tide pools, gorgeous caves and unique rock formations to climb around during low tide. Add a workout to your day by trying one of the many trails available for hiking, mountain biking or equestrian use.
SLOcal tip: Pick up a mile high sando from High Street Deli and enjoy this delicious eat at one of the many MDO picnic tables overlooking the picturesque coastline.
MORRO STRAND STATE BEACH
Drive just 15 miles north of Downtown San Luis Obispo and explore Morro Bay, filled with premium beach spots. Get a close-up of Morro Rock as you watch expert surfers weave in and out of the waves, or create an adventure of your own with a kayaking tour of Morro Bay. Keep your eye out for otters, harbor seals and sting rays while paddling, too. No matter your plans for the day, be sure to pack layers since Morro Bay tends to be a bit on the chilly side.
SLOcal tip: Make a morning of it and grab food to-go at the Breakfast Buzz before heading up the coast. Their breakfast burritos are killer!
CAYUCOS STATE BEACH
Just 10 minutes north of Morro Bay, you'll find Cayucos State Beach, located in the midst of a classic California beach town. Spend the day running your toes through the sand or grab a wet suit and hit the water for a kayaking or surfing adventure. When your sweet tooth starts to ache, head up the beach to Brown Butter Cookie Company for a treat unlike any other. Do note, like Morro Bay, Cayucos can be cooler than some of the other beach spots, so be sure to pack layers.
HEARST SAN SIMEON STATE PARK
If you're interested in taking a day trip while in San Luis Obispo, consider driving 45 minutes north on scenic Highway 1 and exploring Hearst San Simeon State Park. Filled with unique beaches, beautiful trails and historic attractions, Hearst San Simeon State Park is a bucket list spot.
Grab a sandwich from the Giant Grinder before leaving, and begin your day with a picnic at William Randolph Hearst Memorial Beach, a hidden treasure that offers a serene look at the Central Coast. Once you've gathered energy, head out to San Simeon Point, a 3.5-mile trail with unparalleled views of cliff, ocean and wildlife.
Visiting between December and March? Drive just 5 miles further north to Piedras Blancas and check out the hundreds of elephant seals that travel annually to this beach. Once you're ready to head back towards SLO, stop to explore Moonstone Beach, a spot named for its unique sand.
SLOcal tip: Get an early start and take a tour of Hearst Castle, a National Historic Landmark located here on the Central Coast. Catch a glimpse of Hearst Castle with the photo tour, featured on our #ShareSLO blog.
Now it's your turn to enjoy some fun in the sun! Visiting with family? Check out things to do in San Luis Obispo with family.