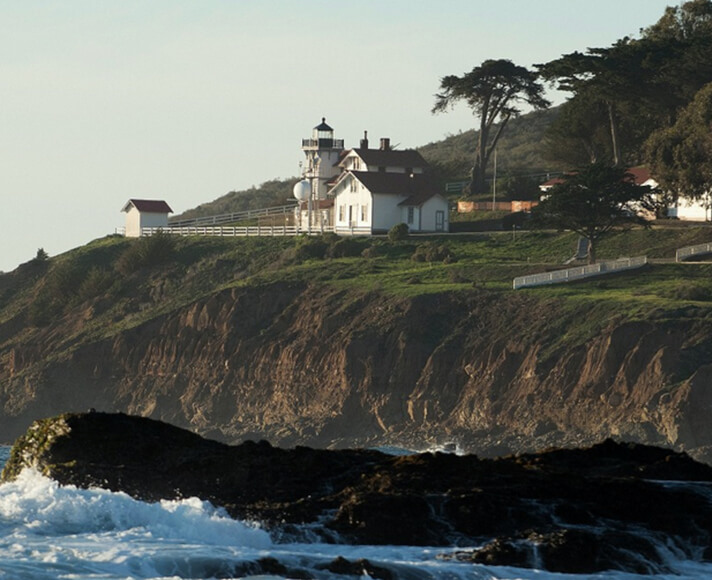 POINT SAN LUIS LIGHTHOUSE
The Point San Luis Lighthouse is a hidden gem on the Central Coast, located on the north side of Port San Luis Harbor near Avila Beach. The 30-acre nature preserve can be reached by a docent-led hike of the Pecho Coast Trail, a classic trolley ride, or by kayak.
Admission
Docent-Led Hike: $5
Trolley Rides: $22 for adults and $17 for kids
Hours
Docent-Led Hike: Wednesdays and Saturdays at 8:45 a.m. To reserve a spot, visit the Point San Luis Lighthouse Website.
Trolley Rides: Wednesdays and Saturdays at 12:00 p.m., 1:00 p.m. and 2:00 p.m.
Call the 24/7 line 1-800-838-3006 to book tour reservations.
Weekly Tours
Visitors can enjoy docent-led walking tours (approximately 2 hours) of the Lighthouse on Wednesdays and Saturdays with special events scheduled periodically. Tour tickets are required and can be purchased at the Lighthouse website. Transportation to the Lighthouse itself is via van. Reservations for docent-led tours can be made here.
Hiking Tours
If you are looking for more of an outdoor adventure, try a guided hike along the Pecho Coast Trail on Wednesday or Saturday mornings at 9 a.m. Reservations for the guided hike can be made online.
Events
The Point San Luis Lighthouse is also available to rent for wedding ceremonies boasting the beautiful California coastline as a backdrop for relaxed beach ceremony followed by the choice of an indoor or outdoor reception.
Contact
1 Lighthouse Road
Avila Beach, CA 93424