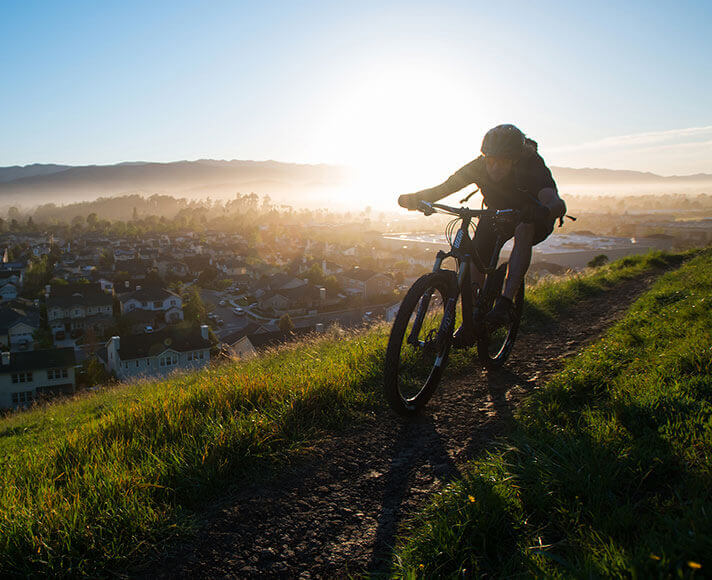 Bike Trails in San Luis Obispo
Sign Up
San Luis Obispo Bike Trails
The San Luis Obispo bike trails offer well-marked bike routes within historic Downtown and all the way out to Morro Bay so you can travel car-free while vacationing to the Central Coast. Check out SLO Car Free for attractions, itineraries, and tips on how to get to and around San Luis Obispo.
National races like the AMGEN Tour of California have been held in the city and county. In fact, annual events like Giro Della Costa Centrale, a breathtaking tour of SLO County's coast and wine country backroads, and Eroica California, an internationally renowned cycling event, attracts the participation of both professionals and amateurs.slo_emtb
MORE ABOUT SAN LUIS OBISPO BIKE ROUTES
Surrounded by rolling hills and vineyards and minutes from pristine beaches, the San Luis Obispo bike routes offer a multitude of scenic rides.
For leisurely riders, Bob Jones Bike Trail will smoothly guide you along the forests and seas of Avila Beach. For those looking for mountain bike trails in San Luis Obispo, Cerro San Luis Obispo is a perfect mountain biking trail that winds through the mountainsides and gradually gains 1,100 feet in elevation.
The San Luis Obispo Bicycle Club has detailed information on many popular road biking routes—from 10-mile circuits to more challenging 100-mile rides, such as those listed on this page.
Bike SLO County, a lively cycling and bike-commuting group in San Luis Obispo, can be seen at several local events such as Bike Month in May.