When someone visits San Luis Obispo, commonly known as SLO, nestled between Pismo Beach and Paso Robles, they are often surprised to find that there are so many excellent restaurants. Whether you want Italian, Mediterranean, seafood, or prefer a good 'ole fashion burger or pizza, SLO has an option for you and your taste buds.
The SLO community prides itself on not just the great food but where the food is sourced. One of SLO's missions is supporting local farmers and businesses, so be prepared to find (and taste) some of the best cuisines along the Central Coast, primarily using locally-sourced ingredients.
If you are in the mood for seafood, then stop in at Ciopinot at the southern end of Higuera Street in Downtown SLO, where you can find the freshest ingredients from the waters of Avila and Morro Bay. Nothing is more fresh and local than fish and oysters that come straight from a nearby Embarcadero. If seafood isn't what you are craving, perhaps a famous tri-tip sandwich found at Firestone Grill prepared with Santa Maria-style seasoning is what you want.  
Whatever you are in the mood for after a day of wine tasting, hiking, or shopping downtown, the restaurants in San Luis Obispo will have an option for you.
Best Restaurants in SLO
Some of the best restaurants in SLO are off the beaten downtown path and have a more nostalgic feeling, such as the Madonna Inn. This idyllic hotel, restaurant, and cafe is a great stop just 5 minutes out of the heart of Downtown. Come to experience dinner at Alex Madonna's Gold Rush Steak House or stop in at the Copper Cafe to pick up a slice of the famous pink Champagne Cake. Whatever you do, be prepared to think pink because this historic stop embodies it. 
San Luis Obispo's Outdoor Dining
One thing the Central Coast is known for is its amazing weather so it's no wonder that San Luis Obispo's outdoor dining is always accommodating. 
One stop that is a must if you are looking for an outdoor dining experience in the heart of Downtown SLO is at Novo Restaurant & Lounge. Known for the quaintest creek-side outdoor patio seating, complete with umbrellas to shield you from the Central Coast sun and twinkly lights to set the mood in the evening, this spot has amazing service, quality of food and delicious cocktails to keep up with its delicious reputation. 
Another outdoor dining option in Downtown SLO is Luna Red, also known for its big outdoor patio that embodies a Mediterranean setting.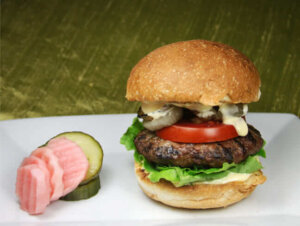 Located next to the historic mission and San Luis Creek, this spot provides a lively scene with late-night music and an internationally-inspired menu. We recommend the Piaya paired with some wine off the award-winning wine list.
If you are looking for an outdoor dining option that is a little more casual, a handful of sandwich shops located in and around town also have great outdoor environments. One, located on High Street and conveniently named High Street Market & Deli, is a local favorite and a historic landmark. There's usually a wait, but as they say, it's worth it! 
There is also Gus's Grocery, a part of the SLO community for over 28 years that has won multiple best sandwich awards. One great thing about this spot, besides the tasty sandwiches, is the outdoor patio. This comfortable and welcoming spot is where you can catch Cal Poly students and young professionals enjoying their lunch breaks during the week or posting up for a Saturday afternoon just enjoying the SLO life. 
Italian Restaurants in SLO
Another pleasant surprise to those visiting San Luis Obispo is not only the fantastic food but the breadth of cuisine options. One of those cuisines is Italian, and the Central Coast hits it out of the park with big-city tastes mixed with small-town vibes. The Italian restaurants in SLO range from casual, family dining at Mama's Meatball, an after-work meal with colleagues at Cafe Roma to a night-on-the-town type of evening at Giuseppes Cuscina Rustica.  
There is also the Flour House, a family-owned restaurant that transports you to Italy the moment you step into the restaurant. This modern Italian restaurant specializes in homemade pizza and pasta made in a traditional wood-burning stove. Buona Tavola is another great option. Next to the Fremont Cinema, this lunch or dinner spot has the highest quality foods and a stunning back patio set in a beautiful garden area.
Whether you want a pre-hike organic breakfast, romantic creekside tapas, savory BBQ at a Farmers' Market, or Italian takeout to bring back to your hotel, San Luis Obispo restaurants serve a variety of options. No matter your preference, you're guaranteed to find a meal and dining experience that will more than satisfy everyone's taste buds. Local and Downtown SLO restaurant menus typically feature farm-to-table plates, local craft beer, and Central Coast wines that allow visitors to dine SLO style.