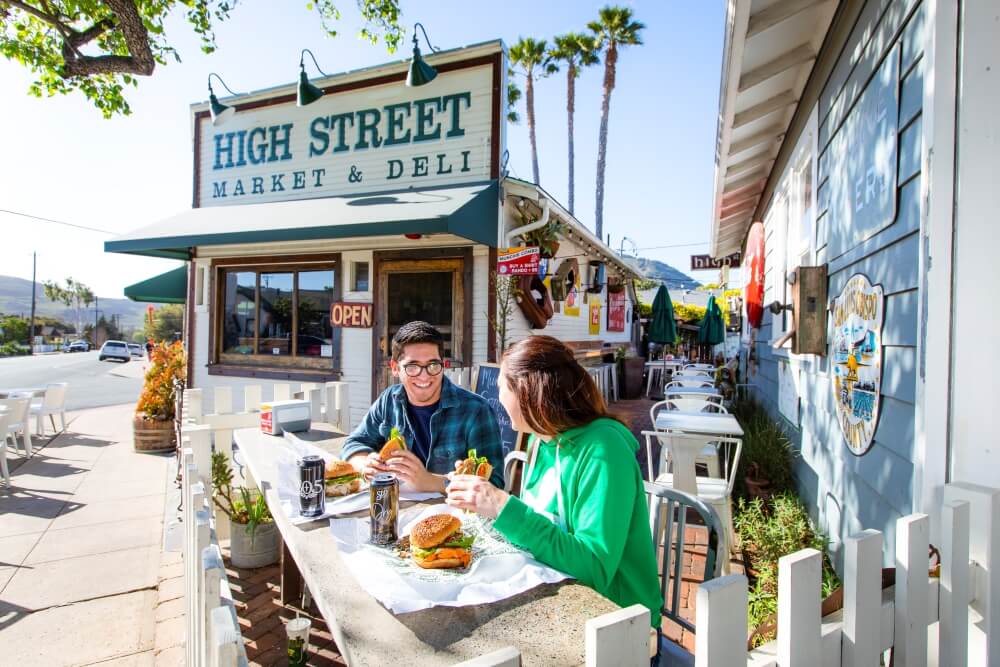 Best Places To Eat in San Luis Obispo
Get ready for farm-fresh produce and sizzling flavors! If you're looking for the best places to eat in San Luis Obispo, you've come to the right place. SLO has a ton of rich culinary attractions and a longstanding tradition of using fresh ingredients and care to create perfect dishes. So take a deep dive into the city's gastro scene with this Foodie's Guide and uncover the best restaurants in San Luis Obispo, best breakfast in SLO, casual cafes and hole-in-the-wall gems for a San Luis Obispo food experience you'll remember long after the last morsel has been enjoyed.
Discover the Best Food in SLO for Farm-Fresh Cuisine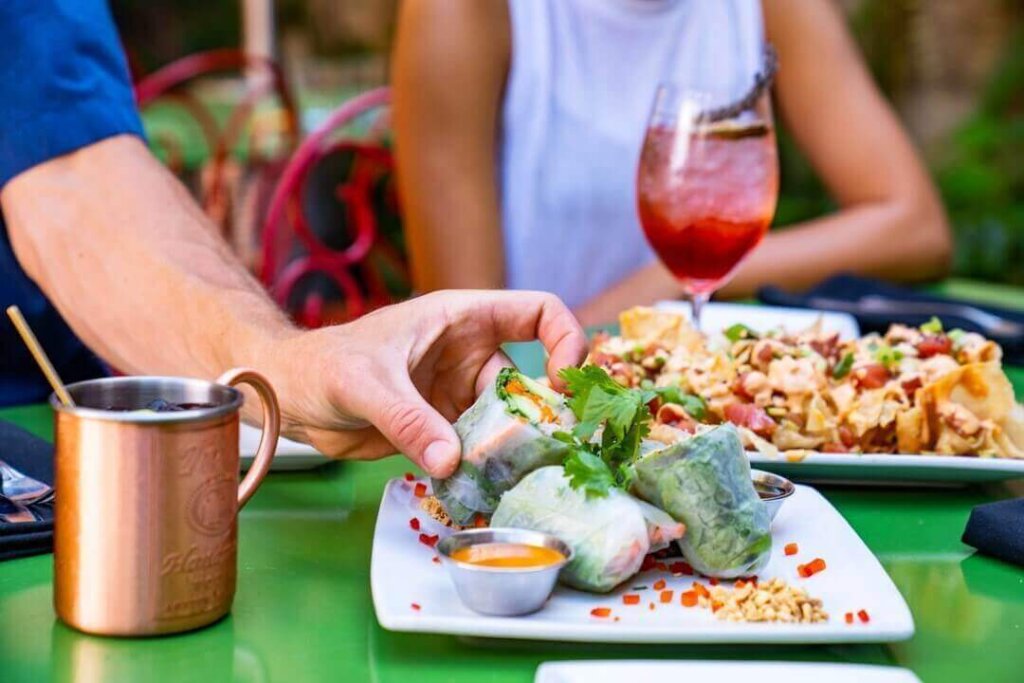 The best food in SLO starts with farm-fresh ingredients. With its cool, moist air and sunny days, the Central Coast creates the perfect environment for wine grapes, fruit, veggies and dairy. SLO is surrounded by farms that grow every manner of produce, and many restaurants incorporate these ingredients into their dishes. In fact, head chefs from some of the best restaurants are known to frequent the Downtown San Luis Obispo Farmers' Market on Thursdays in search of the finest produce to star in their seasonal menu or weekly specials.
Although many foodies come to SLO to try the famous Pink Champagne Cake at Madonna Inn, if you want to sample creative, delectable dishes that have flown under the radar, we've curated a list of our favorite spots in SLO for farm-to-table California food. Here are the best places to eat in SLO, CA, serving farm-fresh cuisine.
Novo Restaurant and Lounge
Address: 726 Higuera St, San Luis Obispo, CA 93401
Located in the heart of downtown San Luis Obispo, the Novo Restaurant and Lounge is an upscale option that serves California fusion and international flavors, all made with locally-grown produce and meats. Open for brunch, lunch and dinner, Novo is known for exotic and artful dishes, an award-winning wine list filled with local pours and gorgeous ambiance with an outdoor creekside patio set. While specials change with the seasons, a few must-try dishes include the Chow Novo, California Halibut, Lobster Bisque, Lavender Lamb Chops, and Negranti Sheep's Milk Ice Cream< (fresh from the local Negranti Creamery).
Big Sky Cafe
Address: 1121 Broad Street, San Luis Obispo, CA 93401
Featured in the New York Times and Gourmet Magazine, the Big Sky Cafeis one of the best places to eat in San Luis Obispo to experience the flavors of the Central Coast region. This farm-to-table restaurant features seasonally-inspired cuisine crafted with local ingredients. Big Sky also offers a delightful selection of vegetarian options such as the polenta fries served with fresh thyme and verde sauce or the vegetarian pozole bowl with pumpkin seeds and queso fresco. You don't want to miss their weekend breakfast featuring big mugs of local coffee and their popular mini cornbread.
Brasserie SLO
Address: 1119 Garden St, San Luis Obispo, CA 93401
Located in the Hotel Cerro off of charming Garden Street, Brasserie SLO specializes in modern coastal cuisine made with locally-sourced ingredients. Here, you can savor Morro Bay Oysters, enjoy a juicy Santa Carota grass-fed beef burger, or sample other coastal foods such as wild-foraged mushrooms, seaweeds or fresh fish. While you never know what will be featured on the seasonal menu, each carefully-crafted dish celebrates the flavors of SLO.
Giuseppe's Cucina Rustica
This family-owned Italian spot has its roots all over the Central Coast – the well-loved San Luis Obispo restaurant was founded in Pismo Beach and sources its dishes' heirloom fruits and vegetables right from the owner's farm in Edna Valley. Stop at Giuseppe's Cucina Rustica for locally sourced San Luis Obispo food that ranges from wood-fired pizza with fresh mozzarella and house-made sausage to free-range chicken piccata and artisanal gelato.
Casual Cafes: Places To Eat in SLO on the Go
If you're looking for places to eat in SLO with a more low-key environment, or if you're craving on-the-go food that's simple yet delicious, there are plenty of small eateries within SLO to satisfy your appetite. Here are some of the best restaurants in San Luis Obispo known for tasty to-go dishes, healthy items, and in some cases, huge portions.
Splash Cafe
Address: 1491 Monterey St, San Luis Obispo, CA 93401
Serving breakfast and lunch, Splash Cafe is famous for its award-winning bowl of clam chowder – a must-try if you are in SLO. Splash Cafe also has an artisan bakery and the staff bakes fresh, sourdough bread bowls daily to serve with the clam chowder. This casual eatery has been in business for more than 30 years and is a favorite among tourists and locals alike.
High Street Deli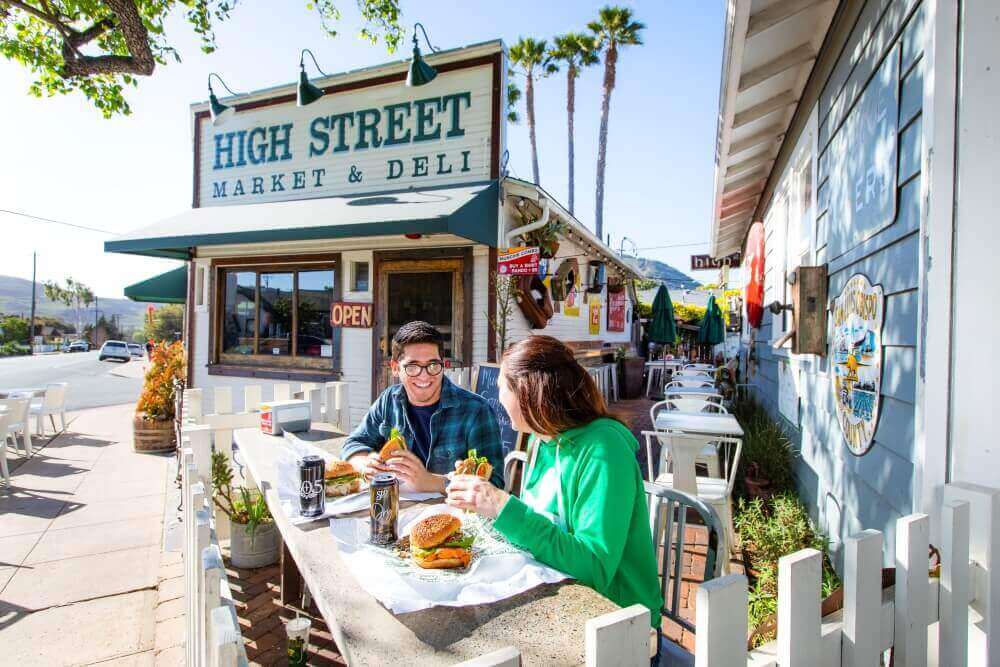 Address: 350 High St, San Luis Obispo, CA 93401
Established in 1927, the High Street Deli is a historic landmark that was once the main grocery market for local railroad workers and their families. High Street is renowned as SLO's original sandwich joint and serves seriously delicious deli sandwiches piled high with fresh sliced meat and cheeses. We suggest trying whatever special is on the board. It's sure to please. They also have a ton of merchandise and offer half-off deals for the last half hour they are open, known as the 4:20 Special.
Seeds
Address: 1133 Garden St, San Luis Obispo, CA 93401
For healthy food on-the-go, head over to Seeds Smoothie and Juice Bar. While this little charmer offers an array of invigorating juices and smoothies, they're also known for their acai berry bowls, paninis and toasts. Although Seeds is temporarily closed, the restaurant is normally open for breakfast and lunch and each plate is made with super fresh ingredients to charge you for the day.
More SLO Cafes
With its warm weather and abundance of outdoor eateries, there are plenty of other places you can visit for fresh, on-the-go food in SLO. Don't miss a lunch at SLO Provisions where people line up to order rustic baked goods and mouth-watering rotisserie. Or, grab your breakfast or lunch to-go at the Mint + Craft and enjoy artisanal sandwiches and bowls made with local ingredients.
Best Places To Eat in San Luis Obispo Serving Comfort Food
As a university town, San Luis Obispo has developed a culture for brews and pub food. There are plenty of places to eat in SLO, CA where you can grab quick, greasy eats, but some spots stand out for their fantastic comfort food. Check out these establishments for delicious, classic American fare, some of which originated in the area, like the Santa Maria tri-tip.
Firestone Grill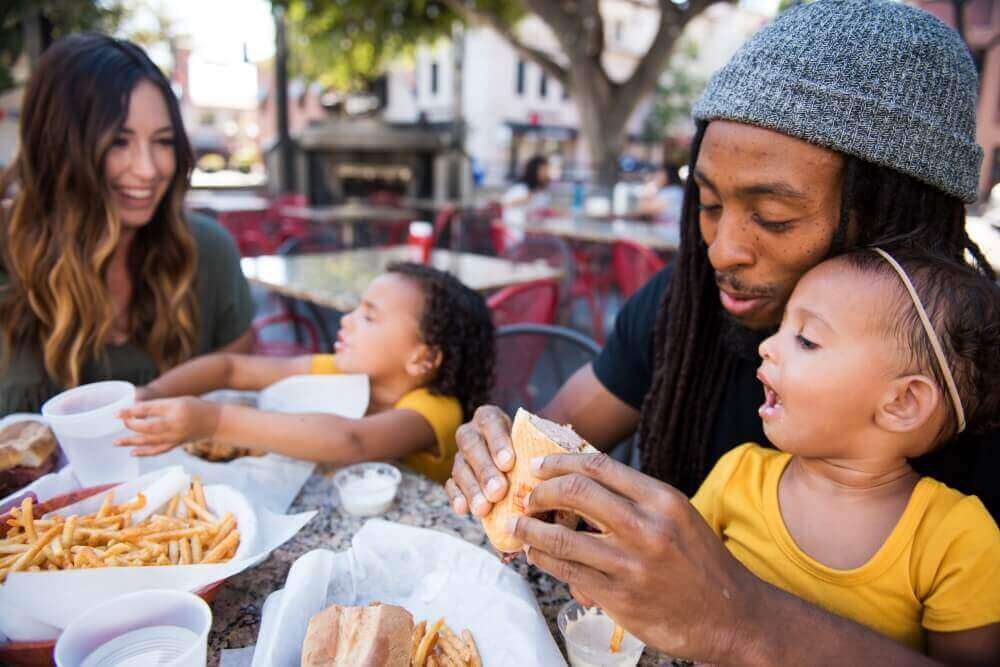 Address: 11001 Higuera St, San Luis Obispo, CA 93401
Located in downtown SLO on Higuera St, which is famous for its tree-lined street and great for shopping and strolling, Firestone Grill serves some of the best barbecue in California. There are tons of options including full racks of ribs and shredded pork, but the piece de resistance is the classic Santa Maria tri-tip – a CA staple that originated in the area. Bold, savoury and with a touch of heat, the Santa Maria tri-tip sandwich at Firestone Grill is a must-try.
Taco Temple
Address: 1575 Calle Joaquin, San Luis Obispo, CA 93405
Craving Mexican food but looking for something deliciously different? Look no further than the Taco Temple, SLO's Mexican food darling that serves heaping dishes made with California Coast ingredients. Try the seared sea scallop tacos, dive into a bowl of steaming mussels or devour a plate of fish tacos, with options from fresh-caught halibut to Alaskan cod. You simply can't go wrong at the Taco Temple (and you won't go hungry either with the incredible portions).
Woodstock's Pizza
Address: 1000 Higuera St, San Luis Obispo, CA 93401
If you've been to SLO before, you've probably been to Woodstock's Pizza. Known for its amazing slices and secret sauce,Woodstock's Pizza serves hand-tossed pies served with California-style toppings. The restaurant decor features long, family-style tables, so there is plenty of room to dine with friends, or to make new ones. Opt for a specialty pizza and order the Kickin Carnitas, Sriracha-cha, or Garlic bird – all California faves. It's a local favorite thanks to its extended dining hours for late-night bites.
Explore More SLO Places to Eat
Goshi Japanese Restaurant
Located right in the heart of downtown SLO, Goshi Japanese Restaurant serves fresh, authentic Japanese cuisine, including fresh sushi rolls, nigiri, bowls and sake. Grab a few rolls, some hot sake and enjoy the flavors of a fresh catch, all within walking distance of several downtown bars, hotels and attractions.
Sidecar
Serving beautiful craft cocktails and small plates, this restaurant in San Luis Obispo is the ideal starting point for a fun night out on the town. Sip one cocktail, or a few, and then enjoy the downtown scene. Sidecar even offers cocktails to-go! Be sure to check hours of operation before heading to Sidecar, as hours are subject to change.
Mistura
With sustainability in mind, Mistura brings flavors of Peru to its cuisine. Open for indoor and outdoor dining, pickup and delivery, Mistura's lunch and dinner menus leave nothing to the imagination. We suggest some of our favorites, including the Pio Pio empanada, with free-range chicken in ají Amarillo milk crème, and the Conchas a la Parmesana, including baked scallops, Parmigiano foam and topped with a garlic crunch topping.
Petra's Mediterranean Pizza and Grill
Homemade pita, hand-tossed pizza with Mediterranean-inspired flavor profiles, and tri-tip shawarma: that's just a few of the options you can find at this local spot. Named one of USA Today's top 25 pizza spots, Petra's serves up pizza options from custom, fresh-baked pies to signature dishes like their gyro pizza – all right in Downtown SLO.
Once you've filled your belly at these foodie-friendly San Luis Obispo restaurants, don't throw in the towel just yet! Explore more SLO restaurants, or pull up a stool and lean into a craft cocktail or locally-brewed beer in our bars. And bring us along on your tour de cuisine! Hashtag #ShareSLO or #SLOready in your social posts to have your culinary adventure featured.