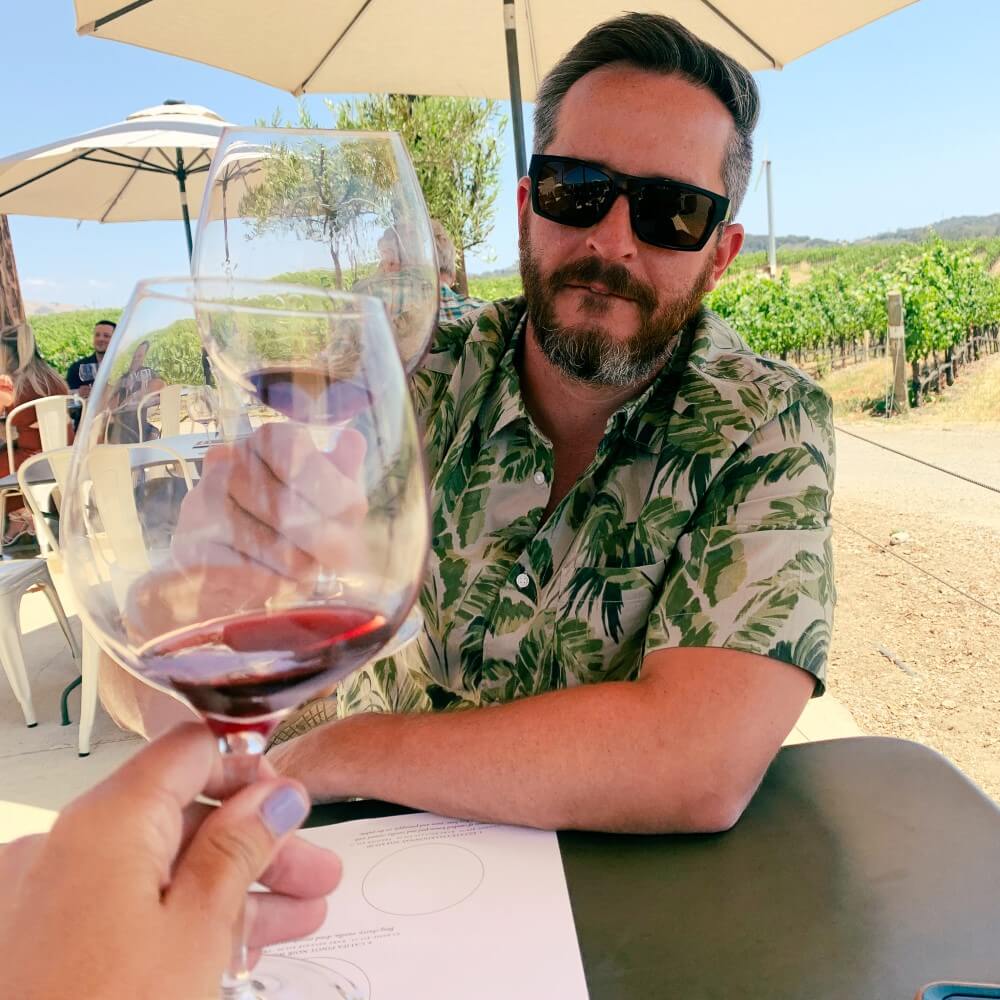 A Wine and Wellness Getaway for Mom & Dad
Written by Jacki Carr
Itinerary provided
I felt around to tap my phone and check the time, as suspected, it was 3:31 a.m. and my child was crying for a snuggle or a dark hour 'potty break'. I shoved the pup at my feet over and sluggishly moved out of bed to console her, take her to the bathroom and return her and myself to my bed to which she would be literally lying horizontal between my husband and me in bed taking up two-thirds of the space.
Every night. Every single night.
Most nights I might be slightly annoyed.
But this night, no big deal.
No big deal for me because when that sun came up that morning, Chris and I were dropping the kids with the grandparents and we were jumping on a direct flight from Denver to San Luis Obispo for all the wellness, the wine tasting and a slower three days together with a hotel bed all to ourselves.
I am one to skip the vacation part and keep going on the emails, the work, the mom-ing, the life-ing. Especially after 2020, I put my head down and had gotten a bit lost. I can quickly forget that the pause, the getaway, the disruption of the status quo is so necessary. And it is not lost on me that San Luis Obispo is lovingly called SLO, the frequency there is slower and the slow is actually so good to me.
Let me take you through our trip from arrival to departure, burrata bite by burrata bite, wine cheers and wellness daily so that you can consider taking a moment to recalibrate and go SLO, too…
Arrival: Day 1
First of all, all hail direct flights. The airports are an absolute chaotic mess now that everyone is travelling again, so one and done is the way. And from a massive airport like DEN to the regional, two gate airport of SBP, you already feel the energy change with the air change as you depart on the stairs from your plane into the fresh air, through baggage claim and out to the care within about 7 minutes total. TOTAL.
Second, let's take a moment of silence for a hotel bed with the crisp sheets, the extra five pillows layered in front of the head board and the windows overlooking the mountains of Central California. We stayed at the La Quinta San Luis Obispo and it does not resemble any La Quinta hotels I recall road tripping from state to state in my youth. The beautiful building is modern, the rooftop heated pool and hot tub is a resort in itself, the rooms are spacious and the staff was so friendly.
We checked in, got settled, changed to date night clothes (because every night is date night on a solo parent vacation) and took the elevator down to the lobby, walked about 22 steps and had dinner right there at the hotel at 1865 Crafthouse & Kitchen. The ambience is warm and inviting and every table outdoors has a fire feature for that evening ocean air. I ordered a unicorn cocktail (I missed the daughters so I went for it) and Chris ordered a twist on an Old Fashioned and I think we might have scared our incredible server with the amount of food we ordered. And let me tell you, everything was delicious. The burrata starter is next level with pesto and pine nuts galore, the wedge was split for us and so very welcome after lunch at the airport, the filet was cooked to perfection and the panna cotta served in this adorable mason jar was divine. The owner is so passionate about prep of their food, intricate meals that include local support whenever possible, and creating an environment for everyone. I rarely ever eat at the hotel restaurant and was so glad we did!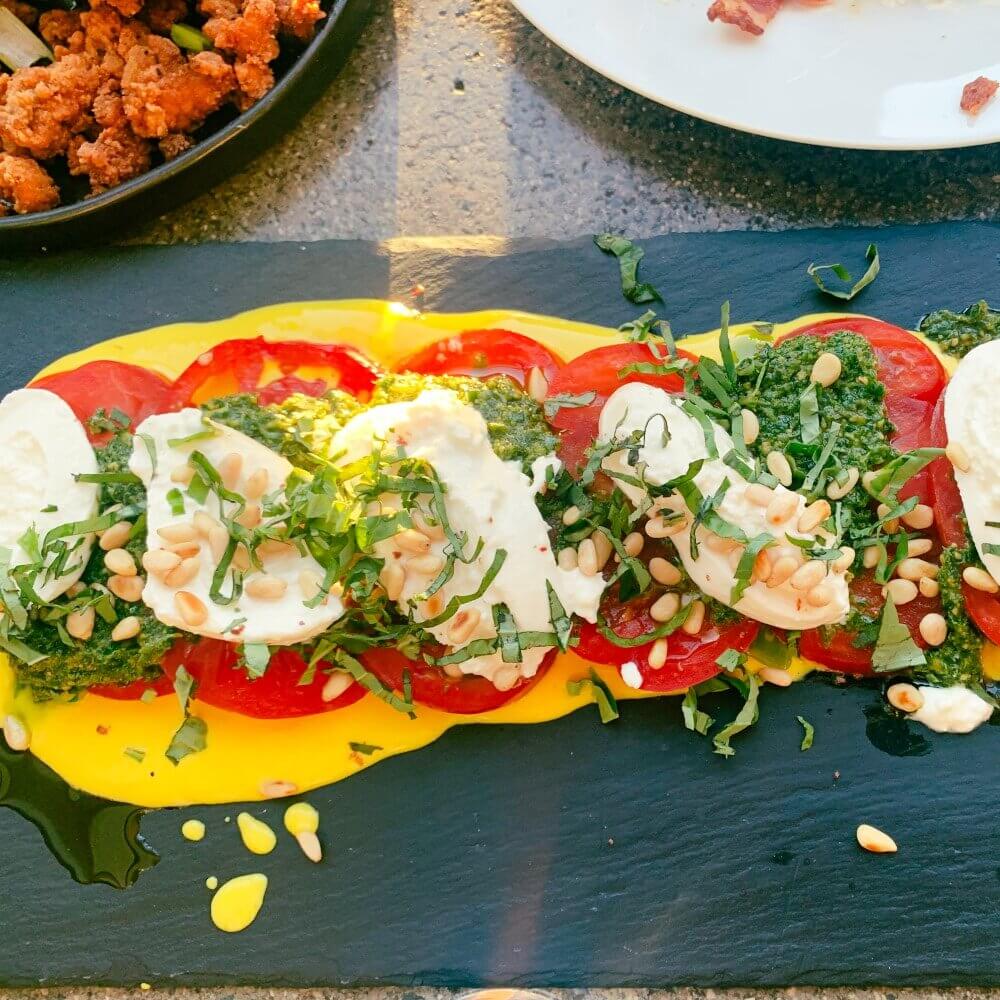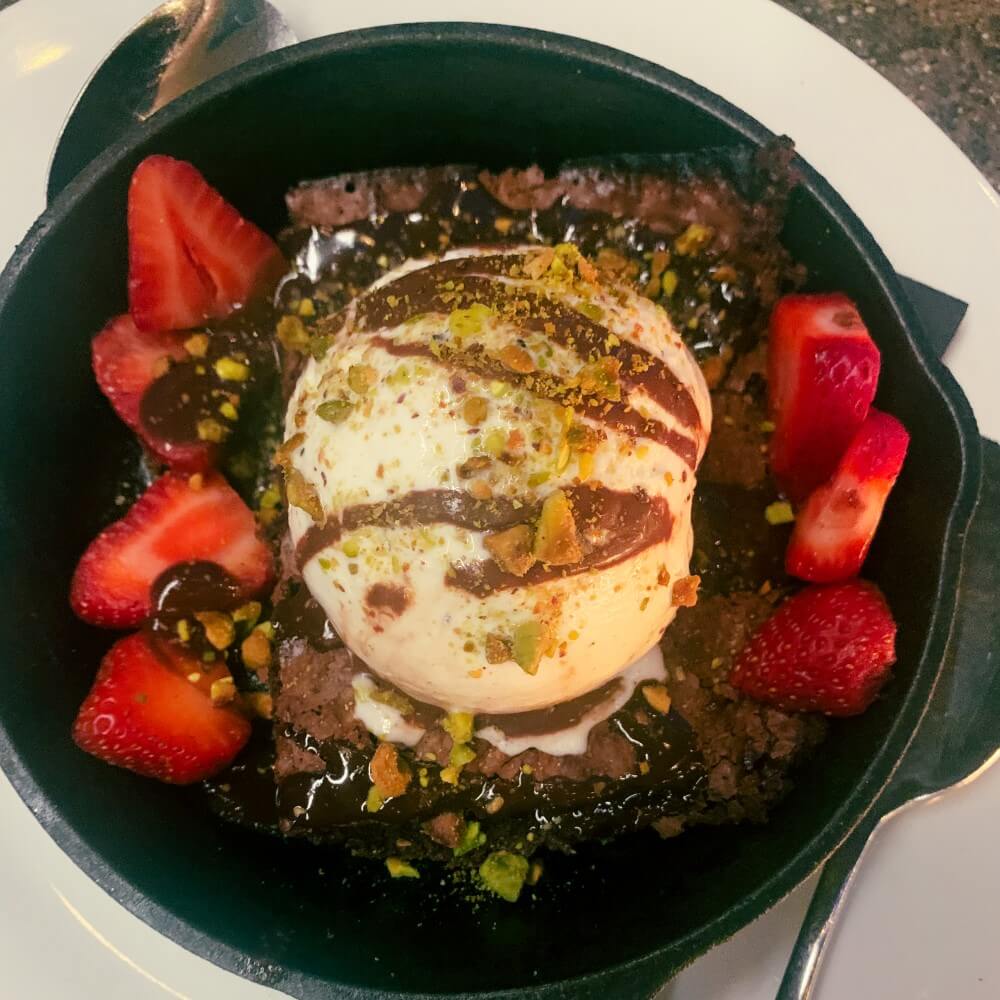 And off to bed because like I said, crisp hotel sheets, pillows on pillows and space!
Day 2:
Too excited to sleep in, we woke up with the sun and took a quick jaunt down the road to Skipper's Brew Coffee House for a flat white and Aussie pie. I love how walkable and bikeable SLO is.
That morning, the Visit SLO and I put on my signature GOALS HIKE for the community. We met at Johnson Ranch Open Space and hit the trail to discuss our core values, explore a vision meditation on the trail and share our goals in the closing goals circle. Along the sprawling views of the rolling golden mountain, we met a snake on our path, connected with old and new friends, and started the day with a fresh goal mindset.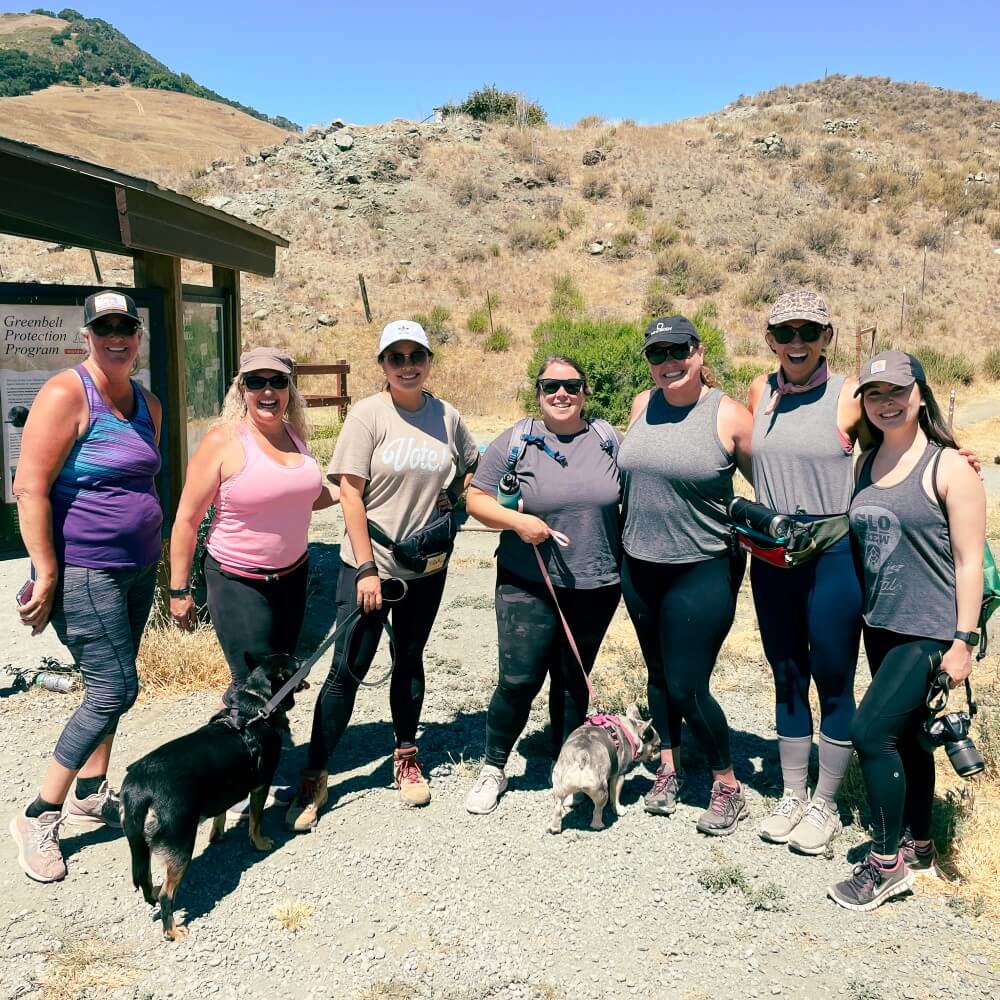 Post hike, we stopped off at High Street Deli to grab the most decadent sandwiches to refuel! I had the B.L.T. (yes, add avocado every time) and Chris had the Tropical Vacation. Layers on layers, we were nourished and ready for the second half of our day which started with a facial at Spa Collective SLO which we booked so easily on the Mindbody app. Post plane ride and then the sun on the trail, both of us were in deep need of hydration, face masks and Chris even took some time in the infrared sauna. Nothing like a facial in prep for another date night.
Cue a nap. Yes, parents can totally nap, too.
And nap we did back in that hotel bed with all that space.
We woke up to spend a little time on the rooftop pool, too! I love doing nothing next to a pool on vacation with a view. That felt right.
We wanted to explore SLO before dinner so we showered early and walked downtown from our hotel. The city has blocks on blocks to explore, shop, sip coffee, happy hour or meander. We loved Boo Boo Records, named one of the best record shops in the U.S. by Rolling Stone! We went back in time to our youth with their rows and rows of CD's up front and all the vinyl records in back. I wanted every item in Ambiance with all the ruffled sleeves, Mother brand jeans and accessories. My favorite store had to be Blackwater, full of plants and journals and vintage and wind chimes, it was hard to leave! And Chris got a couple new tops at a local surf shop, Moondoggies Beach Club – when in California.
Our dinner reservation was at 7pm at the eclectic and inspiring restaurant and lounge, Novo, I had heard people rave about this spot and was excited to eat creekside under the twinkle lights. And Novo delivered, the ambience, the menu, the wine, the frog serenading you as the sun set in the mountains, the open air, the service. A. MUST. EAT. THERE. We started with the ahi nachos (yes, you read that right) and the burrata charcuterie board. I know, I could literally call this blog Burrata Nights, you're right. I ordered the scallops for my main and Chris got the filet mignon. Beyond being happy with the attention to local farmers' food, I cannot express my love of the tomatoes in SLO. We let our server surprise us with his favorite desserts and the lemon cheesecake was delicious!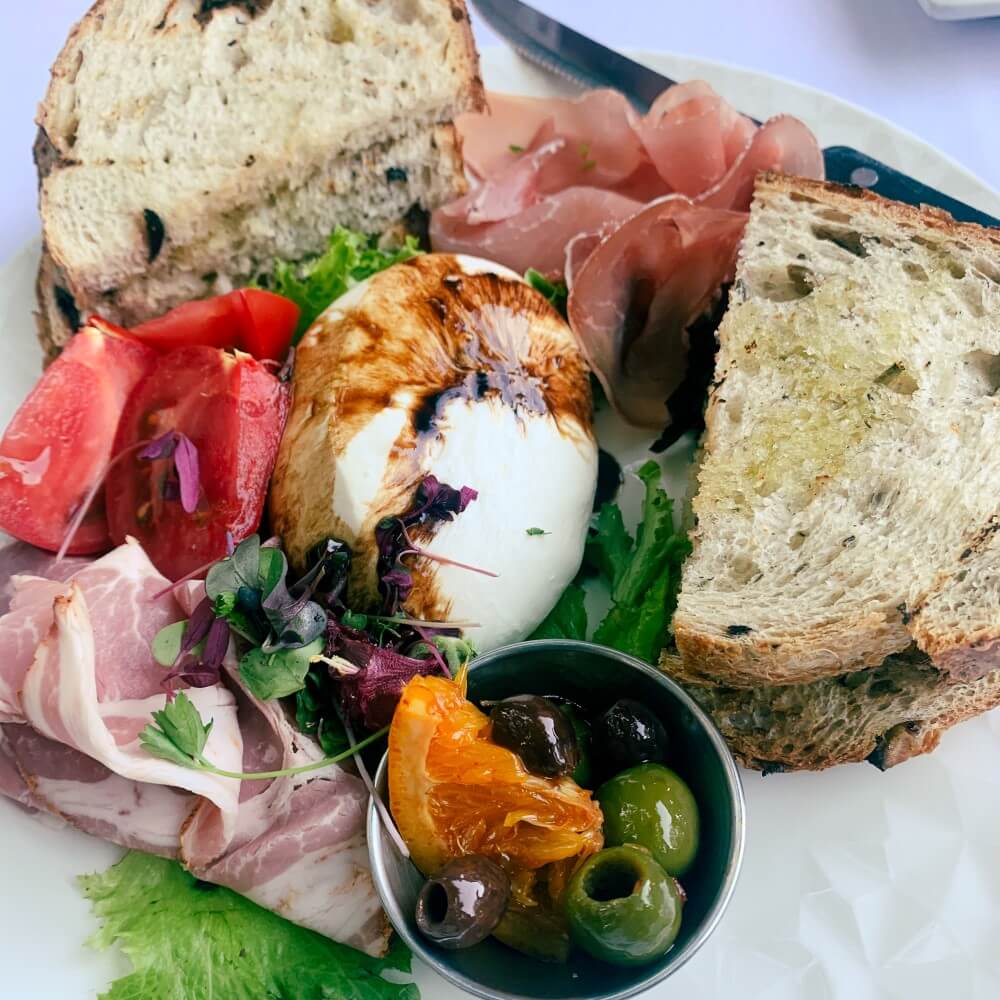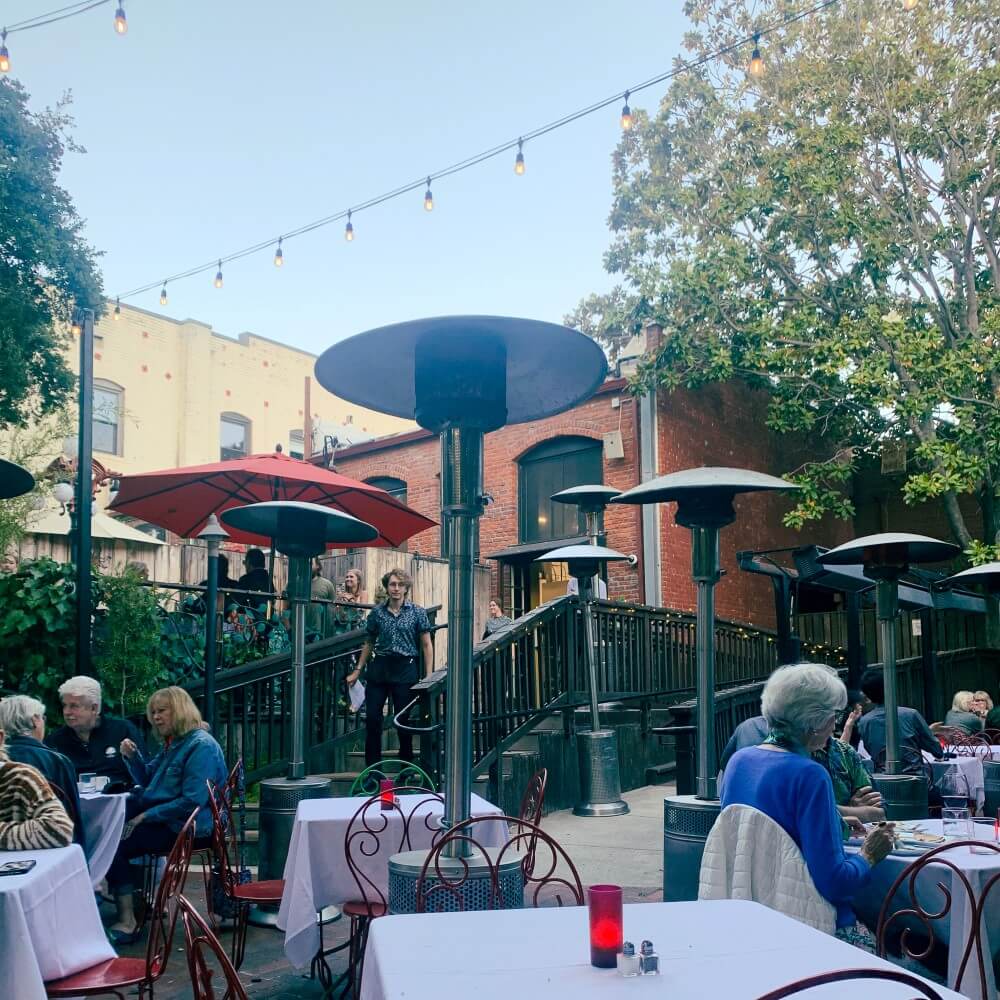 We stayed for hours and grabbed an Uber back to the hotel to rest and digest.
Day 3:
Our final full day and we were going to soak it up.
Literally soak it up as it was wine tasting day!
I slept in a bit this day so Chris went to Skipper's solo for his morning brew. Upon my rising a bit later, we went to one of my favorite spots, Scout Coffee for a fig tea and wow, their baked goods window is one for the books.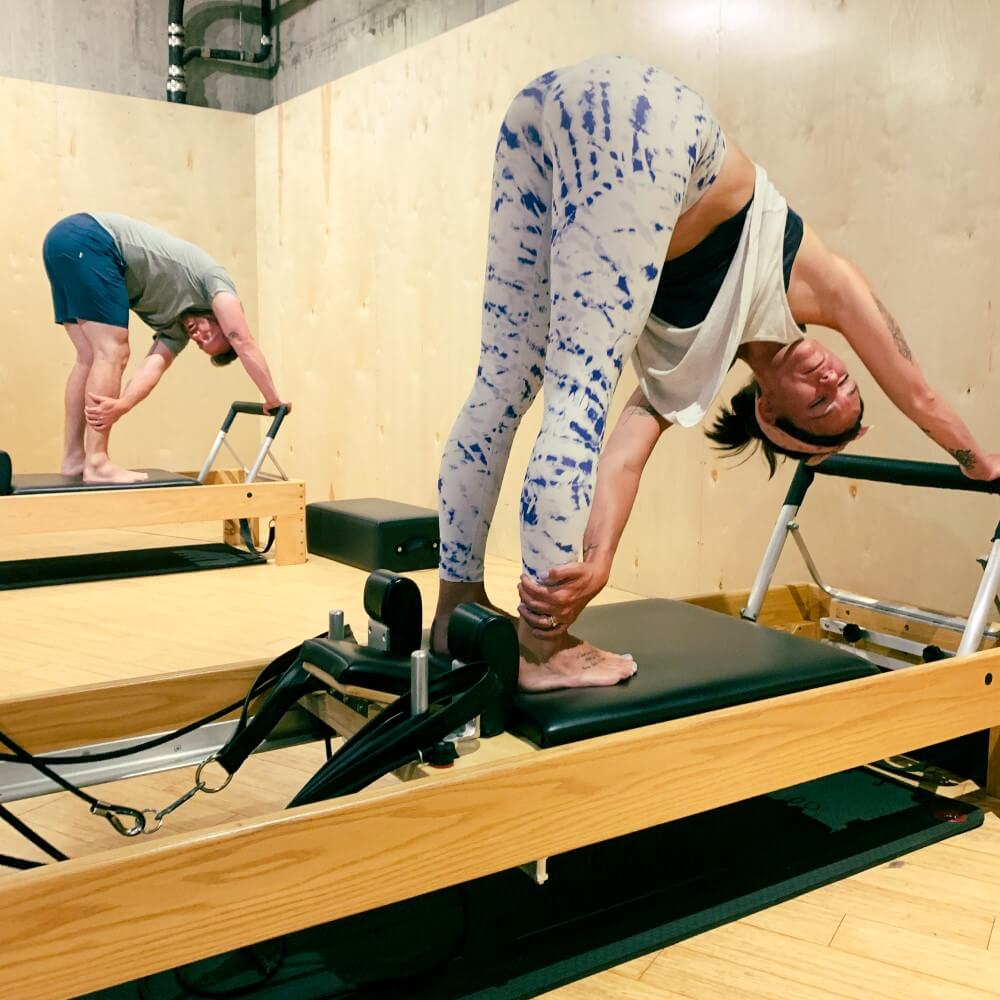 Caffeinated and ready to go, we made our way to Pilates Collective SLO to sweat together. Again, too easy to book on the Mindbody app that morning. Chris and I actually worked out a ton together before we had kids but find it harder to make the time or a babysitter while the kids are young (and you know, the whole 2020). It was actually just like old times in a class together! We explored the reformer, learned about the whole body approach and Casey Canino was a wealth of knowledge to learn about pilates as a practice. We wish they were in our town!
Post Pilates, we went to grab brunch at Farmhouse Corner Market in prep for an afternoon at the wineries. I went for the chilaquiles and I must say, they were spicy and delicious and the Farmhouse burger on a brioche bun is not to be missed! With a morning full of movement and delicious food, we are ready for the vino!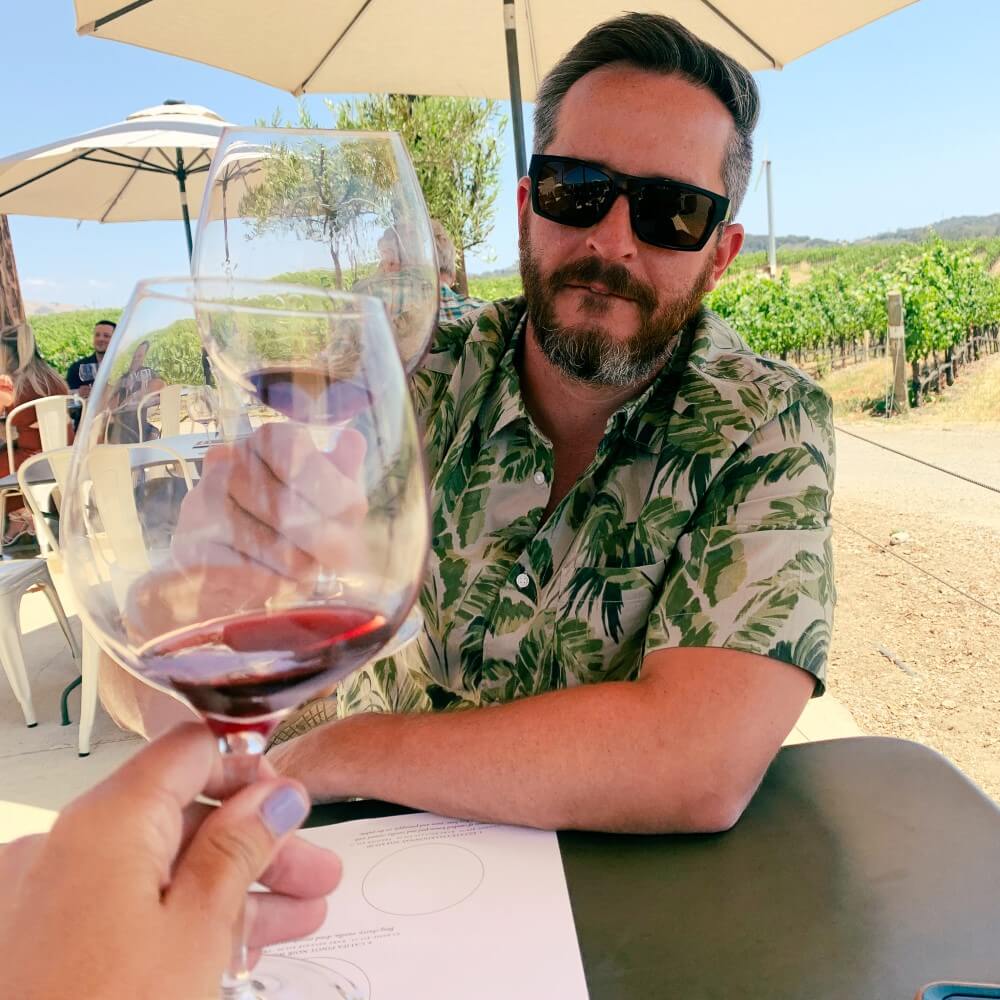 Leaving even a little early in an Uber (about 20ish minutes to the vineyard from the hotel) Chris and I were so excited to go wine tasting. We both love wine but had not experienced a vineyard together. Not many vineyards in Colorado (there are some, though!). We drove through rows and rows of vines and grapes and arrived at Chamisal for our first tasting. William Becker was our host and his French accent almost took us to a different place as we tasted the chardonnay aged in a steel barrel and then an oak barrel (my favorite) and the pinot noirs from different years learning about sun and dryness and flavors (Chris' favorite). We actually bought a bottle we could keep for four years until our 10 year wedding anniversary, William helped us choose!
Next stop:
Biddle Ranch, here we come. I could actually live here at Biddle Ranch, the thoughtful design of the space, the vineyard, the knowledge from grape to glass, just send for the kids. We had a great time tasting here as they have a diverse offering of wines and I will applaud them for a locally crafted charcuterie box we ordered with cheese, cracker, olives and sausage – so smart!
And cue another nap.
We could get used to this.
That evening we had plans for drinks at High Bar atop the Hotel San Luis Obispo, a beautiful setting for a pre-dinner drink and bite. The cocktails were deliciously crafted and the company was wonderful as we spent time with people from the SLO Chamber, the city of SLO and Mindbody. Such a cool city with so many people that love to live and work there!
Then it was off to the famous Downtown SLO Farmers' Market. I have heard about this market but you have to experience it. I am talking streets on streets of local vendors, local farmers, restaurants, an amazing jazz singer was there, an acoustic guitarist and corn on the cob here, there and everywhere. People wait in long lines for the Tri-Tip sandwich – they are known for it – and we got the girls a little gift from a woman that hand-embroiders barrettes and bows – we love supporting local!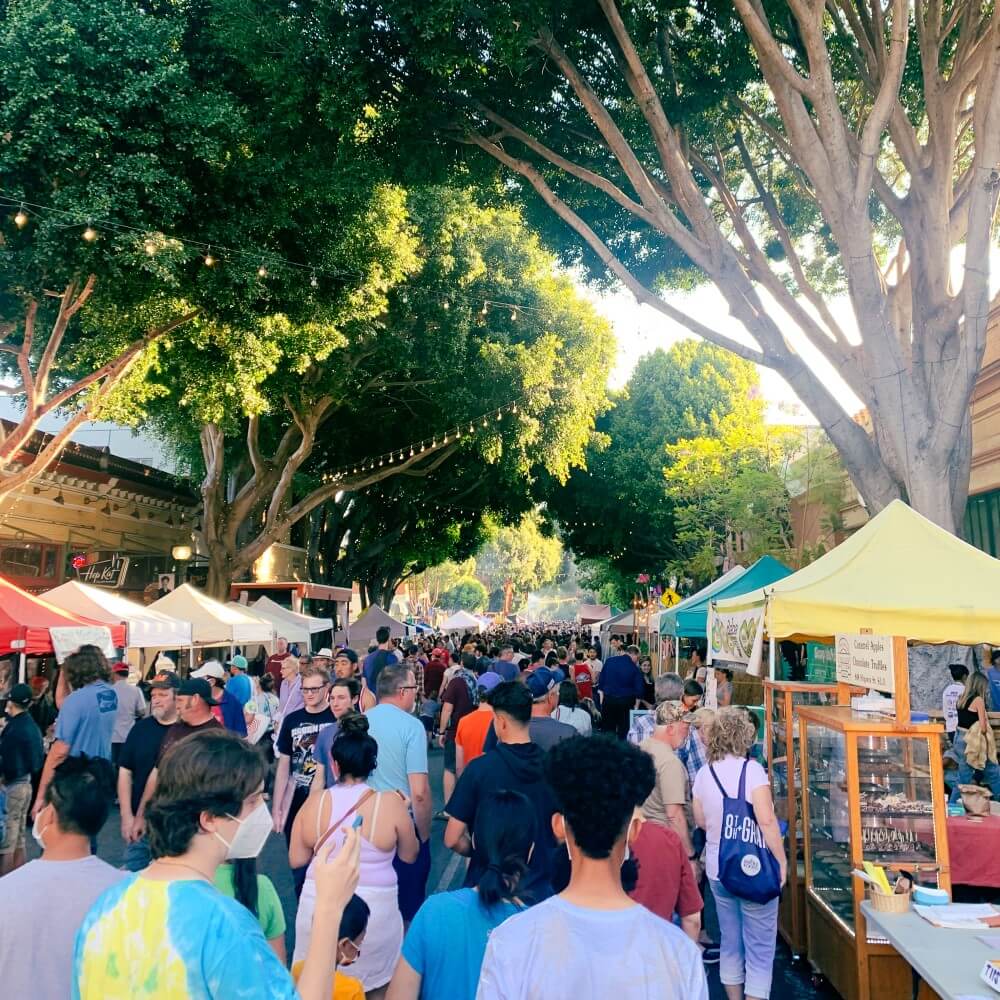 I could not leave SLO without trying NITE Creamery, so we ended our day tasting the ice cream infused and chilled on the spot with liquid nitrogen in waffle bowls. So good! So cool!
And just like that, we were up the next morning on a plane back to Denver to see our girls. Refreshed, nourished, stretched out and inspired by the city of SLO, our connection to one another and already planning our next trip. We might even bring the kids next time – they would love it!
Until next time SLO, we love you and see you soon!
Watch Jacki's #ShareSLO Instagram highlight here.

All photos taken by Jacki Carr.