San Luis Obispo Farmers' Market
The Downtown SLO Thursday Farmers' Market is OPEN and operating at full-capacity.
A trip to San Luis Obispo would not be complete without a stop at the world-famous Downtown San Luis Obispo Farmers' Market, happening every Thursday night, or the Saturday morning market at Madonna Plaza Shopping Center. Food is something to celebrate in San Luis Obispo, and the farmers' markets scattered around the county are where local farms get to share the fresh, flavorful produce they grow all year-round.
These farmers' markets are a culmination of weekly harvests plus a full-on foodie festival for the community, featuring live music, local craft goods, and so much more.
San Luis Obispo Farmers' Market on Thursday
In the heart of the city, San Luis Obispo Farmers' Market on Thursday from 6:00 – 9:00 p.m. (except select holidays or if it is raining) spans 5 blocks of Downtown San Luis Obispo. The heart of the city transforms into a foodie arena, shutting down Higuera Street and allowing visitors to leisurely stroll from merchant to merchant. With more than 120 vendors, the bustling SLO Farmers' Market offers fresh, locally grown produce, blooming flowers, farm-to-table dinners for under $10, handmade craft goods and jewelry, local organizations, and live entertainment.
Whether you are craving fire-roasted corn on the cob, homemade chicken pesto lasagna, teriyaki chicken straight off the grill, or a good old-fashioned slice of pizza, everyone will be satisfied. You can also pick up some picnic fixings for the weekend such as authentic Mediterranean hummus and pita chips, fresh berries from a local farmer, or organic kettle corn. San Luis Obispo Farmers' Market will provide delicious eats all weekend long.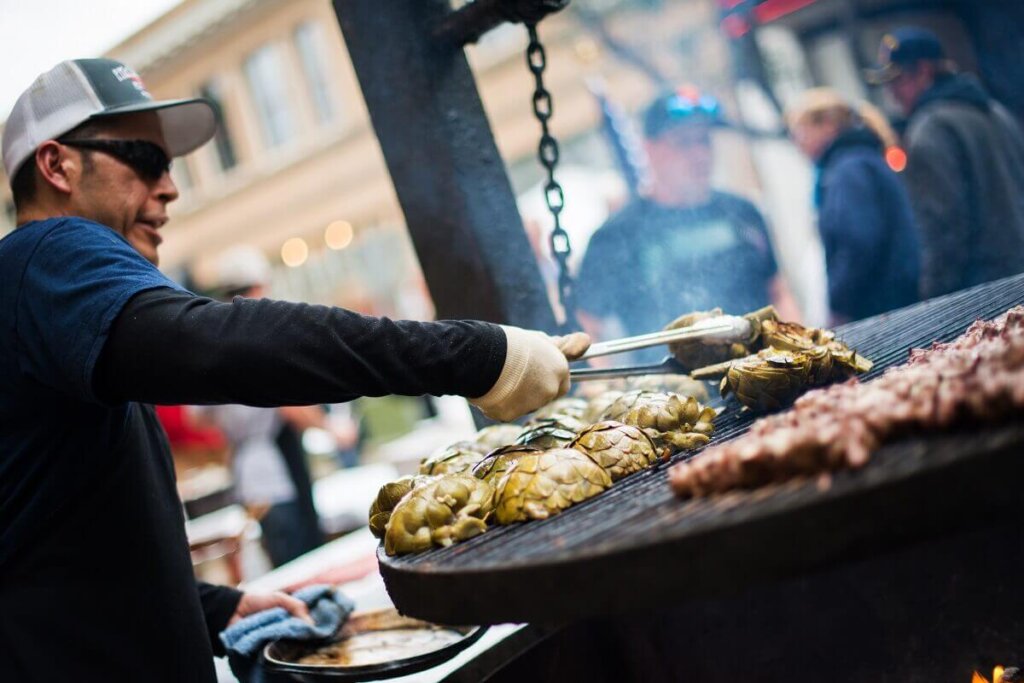 Live Entertainment at the Downtown SLO Farmers' Market
Thousands of visitors roam the market each week, enjoying free live music and entertainment including local bands, unique hand-crafted goods, face painting and bounce houses, barbecue, corn-on-the-cob and other unique food stands in addition to the seasonal fruits, vegetables, flowers, boutique olive oils, local honey, preserves and other locally grown and produced products.
Fresh, Seasonal Produce
Try out some of the many deliciously ripe and sustainable fruits and vegetables while strolling through San Luis Obispo Farmers' Market. Be sure to taste the apricots and strawberries in spring, tomatoes and figs in summer, apples and persimmons in fall, and squash and tomatillos in winter.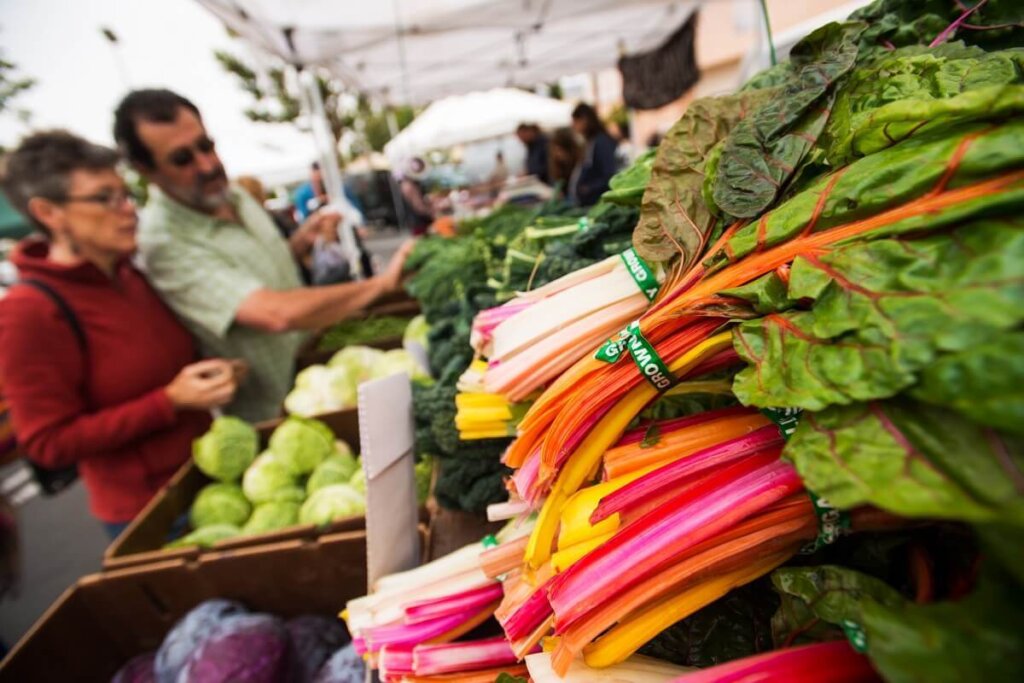 Bike Valet Program
The Thursday evening Farmers' Market in SLO also features a bike valet program for guests who wish to cruise through the charming downtown and avoid any parking challenges. Additionally, on the first Thursday of each month, there is a lively Bike Happening following the market, when massive groups of cyclists loop around downtown in costumes—a must-see for any bicycle enthusiast.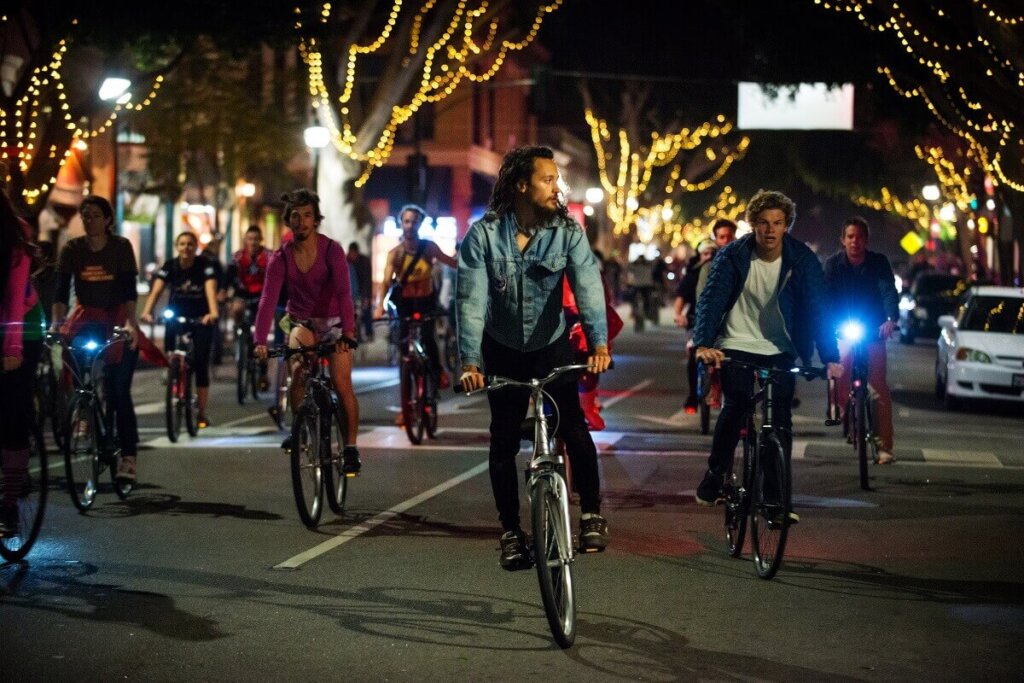 San Luis Obispo Downtown Trolley
SLO Downtown Trolley costs a mere 50 cents to travel between Downtown San Luis Obispo and the surrounding hotel areas. With a regular Thursday evening route throughout the year, you can ride the classic cable-car-style trolley to and from San Luis Obispo Farmers' Market on Thursday nights.
Please note that dogs are not allowed at Downtown San Luis Obispo Farmers' Markets due to California health and safety codes and local animal control regulations.
List of San Luis Obispo County Farmers' Markets
Monday
Baywood/Los Osos, Santa Maria St. between 2nd & 3rd St. – 2:00–4:30 p.m.
Tuesday
Paso Robles, 11th St. & Spring St. – 9:00 –11:30 a.m.
Wednesday
Pismo Beach, Pier Promenade – 4:00–7:00 p.m.
Arroyo Grande, Smart & Final Parking Lot – 8:30–11:00 a.m.
Atascadero, Atascadero Sunken Gardens – 3:00–6:00 p.m.
Thursday
San Luis Obispo, Downtown Higuera Street – 6:00 – 9:00 p.m.
Morro Bay, Spencer's Fresh Markets Parking Lot on Main Street – 2:30 – 4:00 p.m.
Friday
Cambria, 1000 Main St. – 2:30 – 5:30 p.m.
Cayucos, Ocean Ave. & D St. Market (June – August) – 10:00 a.m. – 12:30 p.m.
Avila Beach, on the Promenade – Front St. (March – September) – 4:00 – 8:00 p.m.
Paso Robles, Walmart Parking Lot on Niblick & River Road – 9:00 a.m. – 12:00 p.m.
Saturday
San Luis Obispo, Embassy Suites Parking Lot on Madonna Road – 8:00 – 10:45 a.m.
Morro Bay, Downtown Main Street – 2:30 – 5:30 p.m.
Templeton, Templeton Community Park at 6th & Crocker Street – 9:00 a.m. – 12:30 p.m.
Arroyo Grande, 214 E. Branch St. between Short St. & Mason – 12:00 – 2:30 p.m.
Paso Robles, 11th St. & Spring St. – 9:00 a.m. – 1:00 p.m.
Sunday
Nipomo, Monarch Dunes Country Club Parking Lot – 11:30 a.m. – 2:30 p.m.
Location

San Luis Obispo, CA 93401