Welcome to your new SLOme! You will quickly realize why everyone raves about this wonderful place we call San Luis Obispo, also known as the "Happiest City in America." Now that you have joined the Mustang family, it's time to discover all the amazing things that Cal Poly has to offer you – both on and off campus.
Explore our San Luis Obispo bucket list, including the most memorable "must-dos" in San Luis Obispo. Whether you are staying in town for one night or in desperate need of a study break, there's something on this list for you to check off. Be sure to experience this slice of paradise before your four years are up, but always know you're welcomed and encouraged to come back and visit your SLOme whenever your heart desires.
Prefumo Canyon Sunrise or Sunset – Heading north on Los Osos Valley Road, take a left onto Prefumo Canyon Road and wind your way through the hills for about 15 minutes. At the top, you'll experience a breathtaking, 360-degree view of San Luis Obispo, all the way out to Morro Rock. Make sure to choose a morning or evening that is clear of fog to enjoy a truly epic view!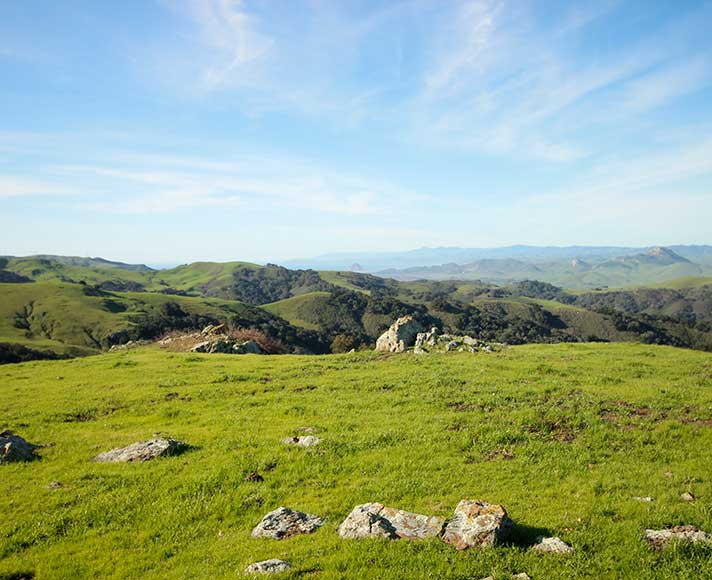 Art Bar SLO – Tap into your creative side at Art Bar in Downtown San Luis Obispo, where local artists lead you step-by-step through a painting.
Olde Port Beach Sunset Bonfire – Round up your crew and enjoy a beach bonfire in Avila Beach, generally available mid-spring through mid-fall depending on current conditions. Fire rings are provided, but be sure bring your own firewood and kindling. Don't forget the s'mores and blankets, too!
Sally Loo's Acai Bowls – A few years back, Sally Loo's was the only restaurant with acai bowls. With the chilling treat on the rise, shops have popped up and attempted to rival one of the best. If you're looking for a fresh study spot or the perfect brunch outing with your family, head over to Sally Loo's, located near the San Luis Obispo Train Station.
ATV in Oceano Dunes – Reach new heights and round up your friends and family for an ATV adventure in Oceano Dunes SVRA – the only beach in California that offers off-roaders and ATV-riders to drive on. Get a glimpse of the thrill in our ATV Adventure in Oceano post, featured on our #ShareSLO blog.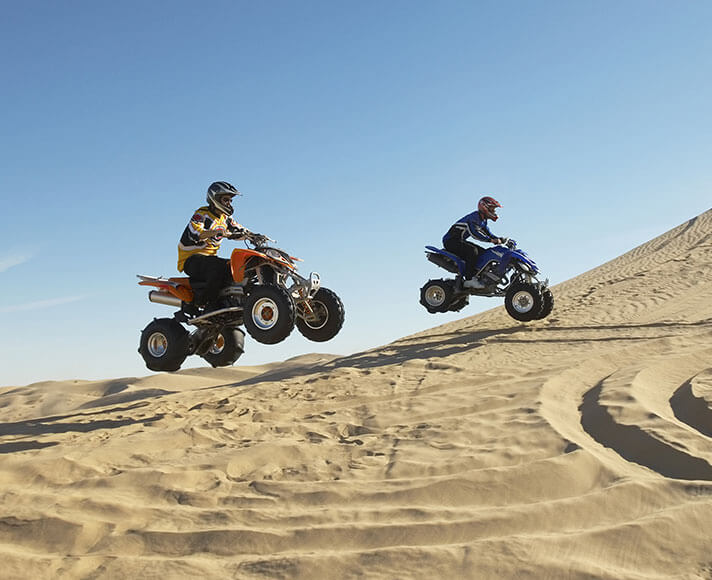 Serenity Swing Hike – If you are looking for a challenging hike, make your way up to the Serenity Swing, a 3.8-mile route that will kick you into shape. Located on the north side of campus behind Poly Canyon, this hike frames one of the best views of Cal Poly and San Luis Obispo. Although beautiful year-round, go when the grass is green for a view that looks like rolling hills straight out of a Dr. Seuss book.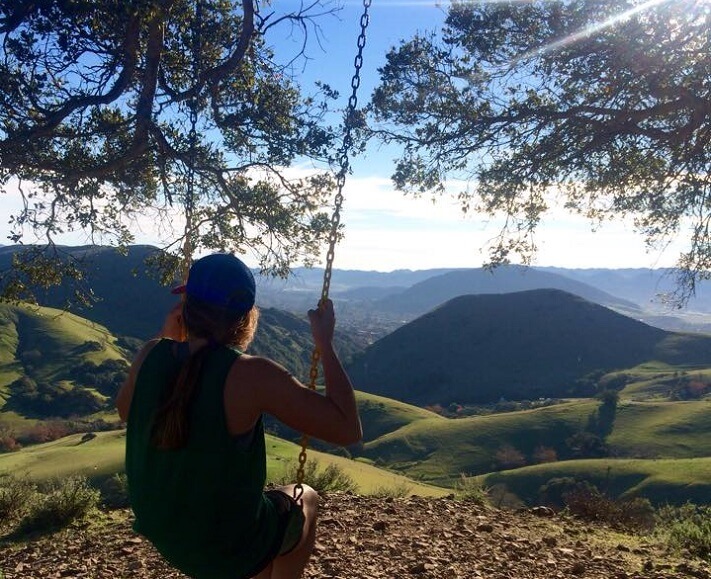 Mission San Luis Obispo de Tolosa – Travel back in time and tour Mission San Luis Obispo de Tolosa, located in the heart of Downtown San Luis Obispo. Both free and fun, the Mission offers docent led tours daily at 1:15 p.m.
Cal Poly Recreation Center, "RecLympics" – Make up your own tournament of games at the Cal Poly Recreation Center. The "RecLympics" games can include racquetball, beach and indoor volleyball, basketball and pool basketball, tennis, spikeball and wallyball for some competitive fun.
Tap It Brewing Co – If you're looking for live music and hoppy happy hours, make sure to stop by Tap It Brewing Co. The open atmosphere provides visitors with a unique and laid-back experience, perfect for grabbing a beer with a friend or a celebration. Looking for more breweries? Hop on the SLO Beer Trail, featuring stops at every San Luis Obispo brewery.
Bubblegum Alley – Pick out your favorite bubblicious gum and make your mark on Bubblegum Alley, one of the strangest yet most popular landmarks in San Luis Obispo. This iconic photo op is located between Broad and Garden Street in Downtown SLO.
Sunset Drive-In Movie Theater – Catch a double feature at the Sunset Drive-In. With showings seven days a week at 8:30 p.m. and 10:30 p.m., you can enjoy this classic, family-friendly activity whenever visiting San Luis Obispo.
Pint Night – Can't wait until the weekend to enjoy a night out on the town? Grab your pint glass and make your way downtown on Tuesday nights for major deals on beers at Woodstocks, Bull's Tavern, Frog & Peach and SLO Brew!
Thursday Night Farmers' Market – Lined with vendors, local produce and street performers, enjoy the famous Thursday night Farmers' Market in Downtown SLO. With everything from the freshest produce to live entertainment, this is a "must-do" in San Luis Obispo. Not in town on a Thursday? Explore our list of farmers' markets, happening every day of the week around SLO.
Line Dancing at The Graduate – Break out your boots on Thursday nights for line dancing at the Graduate, starting at 9:00 p.m. Never been line dancing? Get there early and the Cal Poly Line Dance Club will show you the ropes to make you look like a natural by the end of the night.
Architecture Graveyard – Adventure through Poly Canyon Architecture Graveyard, just a 15-minute walk from Cal Poly's main campus. This hidden gem features an eclectic collection of projects from Cal Poly Architecture and Engineering students.
SLO Do Co – Indulge in a tasty treat at SLO Donut Company, locally known as SLO Do Co! Their maple bacon donut even made it onto our list of top 10 eats in San Luis Obispo.

Photo // piper.sloan

California Festival of Beers – This springtime event for those over the age of 21 kicks off Memorial Day weekend, giving you and your friends a place to dance, play games and sip on some of the best beers brewed throughout the state of California!
Terrace Hill – If you want to catch an epic SLO sunset, Terrace Hill is the place to be. Just a 0.8-mile walk from the road, this is the ideal spot for an afternoon picnic or kite flying session that overlooks the entire city.
Summer Concert at California Mid State Fair – The California Mid State Fair is known to bring in big names of all genres, so make sure to check out who is coming Summer 2018!
Paddleboarding in Avila Beach – Looking for some fun in the sun? Paddleboarding in Avila Beach is the perfect activity that gets you outside and active with rental shops nearby. Although it can take a few tries to get the hang of it, you'll have a relaxing and fun time.
Krukow's Klubhouse – Bring out the cracker jacks and baseball caps! Krukow's Klubhouse is a Cal Poly baseball tradition that brings together some of the best fans in college baseball. A ticket to this VIP section in Baggett Stadium gets you free beer, hot dogs, water and more until the middle of the 7th inning. Hear about Maddie's Krukow's Klubhouse experience with her family, recently featured on our #ShareSLO blog.
Bull Sweat – SLO is well-known for its college nightlife and 21st birthday crawls. One of the drinks that gives it its reputation is the Bull Sweat from Bull's Tavern. This spicy concoction is made up of Wild Turkey, Tabasco Sauce, Worcestershire Sauce, gin, whiskey, and lime juice… just the thought of it will make you cringe, but it's a rite of passage that you'll be proud to complete.
Drive On Grover Beach – If you, your friends or family have a vehicle with 4WD, make sure to put this one on your list. There aren't many places that allow vehicles to drive right along the water and park on the beach, but lucky for you, we have one just 20-minutes south of San Luis Obispo.
Montaña De Oro Tide Pools – Explore the colorful sea creatures and sea anemones at the tide pools in Montaña de Oro State Park. Don't forget to bring along a picnic for your day trip, too! Peruse our top sandwich shops in San Luis Obispo to pick out your delicious eats.
Cal Poly "P" Hike – During your first year at Cal Poly, hike up to the "P" with your family and friends. It's Cal Poly tradition!
Now, it's time for you to start checking things off your San Luis Obispo bucket list! In need of more, explore endless things to do and events happening in San Luis Obispo today.