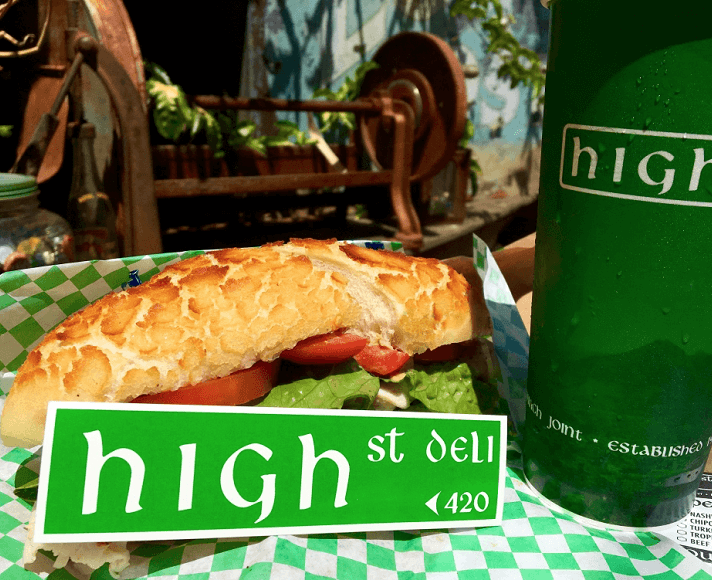 Top Sandwich Shops around SLO
The hoagie, the 'wich, the sando, the sub, the grinder, the sammie, the sandwich. No matter what you call it, our love for delicious sandwiches runs deep in San Luis Obispo. In fact, we've got a smorgasbord of places to grab a tasty sando. Here are a few of our favorites…
High Street Deli

350 High Street, San Luis Obispo
9:00 a.m. – 5:30 p.m. Monday through Sunday
A college hotspot, High Street Deli offers premium sandwiches at an affordable price. The Dutch Punch and California Turkey are their most popular high-mile sandos, but any choice will satisfy your taste buds. If you're not feeling like chowing down on one of their specialties, you can create your own, too. After finalizing your order, pair your masterpiece with one of the 36 beers available, especially on Wednesdays when draft beers are only $2.50.
Speaking of deals, stop by High Street Deli for an evening sub after 4:20 p.m. and purchase your sandwich for just $6.00. As an added bonus, if you're in the neighborhood too early for a savory, lunchtime sub, try one of their breakfast sandwiches. High Street Deli's critically acclaimed eats and adorable, retro atmosphere creates an experience your lunch hour needs in its life.
Eat like a SLOcal: For all you vegetarians out there, the Mother Nature Veg is out of this world good (I'm not even vegetarian and I love it).
Lincoln Market & Deli

496 Broad Street, San Luis Obispo
8:00 a.m. – 7:00 p.m. Monday through Saturday and 8:00 a.m. – 6:00 p.m. on Sunday
Lincoln Market & Deli is a quaint, neighborhood deli with an extensive list of hot and cold, gourmet sandwiches. Feeling creative? Build your own using their list of breads, meats, cheeses, condiments and more. Word on the street: their Dutch Crunch bread will not disappoint.
Aside from their delicious subs, Lincoln Market doubles as a small market, filled with an array of craft beers and wines, salads, appetizers and other one-of-a-kind provisions. Lincoln Market also has a love for tater tots unlike any other on the Central Coast. They even have an entire menu focused on these deep fried nuggets of potato goodness, including animal style and buffalo tots.
Lastly, once you're done shopping, enjoy your eats on their spacious outdoor patio.
Eat like a SLOcal: Shhhh… Lincoln Market also offers a secret menu, so if you're feeling adventurous, try their delicious El Cubano or Bee's Knees sandwich.
Gus's Grocery

1638 Osos Street, San Luis Obispo
7:00 a.m. – 6:30 p.m. Monday through Friday and 8:00 a.m. – 6:30 p.m. Saturday through Sunday
Gus's Grocery is a family owned and operated deli and one of SLO's most treasured lunch spots. Gus's offers a wide array of lunch options, from their "by the number" classics to delicious snack and salad choices. The real attraction is their "create your own" system. Put your thinking cap on and build a sandwich that will satisfy whatever you're craving that day. Not inspired to create your own? Perhaps you should try their "fanwich" of the day – a sandwich concoction created by a customer and chosen by Gus's to be featured that day.
As an added bonus, you can enjoy your lunch on their charming outdoor patio, but you better hurry as seats fill up fast during lunch hours. Also, if you're looking for a deal, come by between 3:00 p.m. and close on the weekdays or anytime on the weekends, and receive great discounts on drinks to pair with your perfect sandwich.
Give Gus's a try! It won't take long before it's one of your go-to lunch spots in San Luis Obispo. Take it from a local – I've been eating here my entire life and never have had a bad sandwich.
Eat like a SLOcal: If your hunger can't wait until lunch, stop by Gus's Grocery in the morning to grab a breakfast burrito – you will not be sorry.
Broad Street Giant Grinder

1901 Broad Street, San Luis Obispo
10:00 a.m. – 5:00 p.m. Monday through Saturday and 11:00 a.m. – 4:00 p.m. on Sunday
The name doesn't lie – these sandwiches are HUGE. With owners from Connecticut, Broad Street Giant Grinder promises to sell "East Coast flavor on the West Coast" and they deliver on that promise. While they do offer a plethora of cold grinders, the real treasure here is the hot grinders. Try a Hot Roast Beef Grinder, Meatball Sub or Italian Sandwich Combo, and your taste buds will thank you.
Also, Broad Street Giant Grinder commits to serving the freshest ingredients and works with many of the local farmers to provide you with the best produce. Can't beat that!
In a hurry? Grab a bite to-go! However, if you've got time to kill, enjoy your meal on their outdoor patio.
Eat like a SLOcal: If you like a good meatball sub, then you will love the Half Meatball, Half Sausage Grinder Sandwich, complete with peppers and cheese.
Ben Franklin's Sandwiches

313 Higuera Street, San Luis Obispo
9:00 a.m. – 6:00 p.m. Monday through Saturday and 10:00 a.m. – 5:00 p.m. on Sunday
Ben Franklin's is the true hidden gem of SLO sandwich spots and definitely worth a visit. Upon arrival, you will find an adorable shop, friendly staff and a bustling room of lunch-going locals. You can pick from their heavenly list of 26 specialty sandos or personalize your own. The most delicious part is that they're all held together with their fresh baked bread.
If you are overwhelmed by the seemingly endless options, try the critically acclaimed ATC, Californian or Veggie Connection. When you have the kiddos with you, or simply want to indulge in a childhood favorite, grab a serving of Maddie's Mac-N-Cheese, and fulfill the cheese lover inside of you.
If you want a place to sit, we recommend you plan your visit around the lunch rush. However, their turnaround time is quick, allowing you to enjoy your sandwich within minutes of ordering.
Eat like a SLOcal: Ben Franklin's is known to pair cream cheese with many of their subs, but their avocado-cream cheese mix is a favorite.
Whether grabbing lunch in San Luis Obispo or looking for a quick to-go meal for the beach, enjoy one of San Luis Obispo's local sandwich shops today. Happy eating!