Summertime brings extra hours of sunshine, along with a feeling of freedom and hope in the warm air, making it seem like anything is possible. As we continue our Art Starts With series this July, that's the theme we're focusing on: hope. We've chosen four pieces of public art around San Luis Obispo that give off vibes of awe and wonder. It's a particularly enchanting month, which feels just right for summertime!
We've been highlighting the huge selection of amazing public art all around SLO with a different theme each month. This month's four artworks are among more than 100 pieces of public art that are on display for our residents and visitors to enjoy. Check out our other public art tours from February, March, April, May, and June to see more. 
Now, let's head out on a walking tour of four particularly inspiring public artworks in SLO…
STOP 1: OLAS PORTOLA-FUENTA SECA
Artist: Jeffrey Laudenslager and Deanne Sabeck
Location: At the intersection of Marsh and Higuera streets, near the on- and off-ramps to Highway 101
Right at the entrance to downtown for many visitors to SLO, near the Marsh Street on- and off-ramps to Highway 101, you'll find one of our community's largest and most recognizable pieces of public art. The 30-foot kinetic sculpture "Olas Portola-Fuenta Seca" by Jeffrey Laudenslager and Deanne Sabeck was installed in 2017. The name translates to "Waves in a Dry Portola Fountain," paying homage to the long-dry fountain that was previously at the site for years.
The geometric metal shapes at the top of the work are very lightweight, despite their huge size, and particularly balanced so that they are always moving in the wind. The base of the sculpture is a textured teal dichroic glass, which divides the light spectrum, transmitting one color while reflecting its opposite.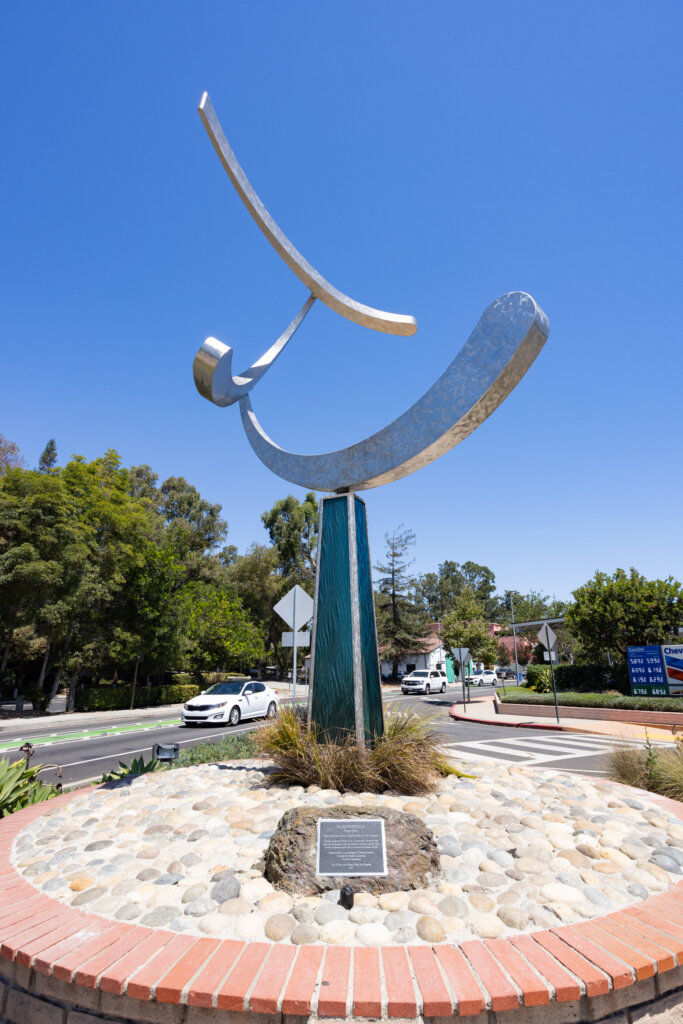 STOP 2: MARSH STREET BRIDGE MURAL
Artist: Amy McKay
Location: 1000 block of Marsh Street, on the sides of the bridge over San Luis Obispo Creek
Pedestrians on Marsh Street who cross the bridge over San Luis Obispo Creek are treated to another large-scale artwork at our second stop, a mural by local painter and designer Amy McKay. A large embankment wall separates the street level from the creekside here, and the City saw that swath of concrete as a canvas for something beautiful. McKay drew inspiration from local flora, painting 12-foot lupine flowers, poppies, and more to make this wild space in the middle of the city feel that much more magical.
STOP 3: PERPETUAL HOPE
Artist: Allen Root
Location: In Mitchell Park at 1400 Osos St. near the playground.
Our third stop on our tour of hope-inspiring artwork embodies that theme to its core. Perpetual Hope is a towering metalwork sculpture situated near the playground in Mitchell Park, a setting so lovely that it too seems like a work of art. Installed in 2007, it features colorful figures of children playing and exploring, lifted up by adults below as they reach up toward the sky. It was sculpted by Allen Root of local design firm Ferromobius and the current chair of the SLO County Arts Council, which has been creating metal sculptures and other large-scale art locally and beyond for decades.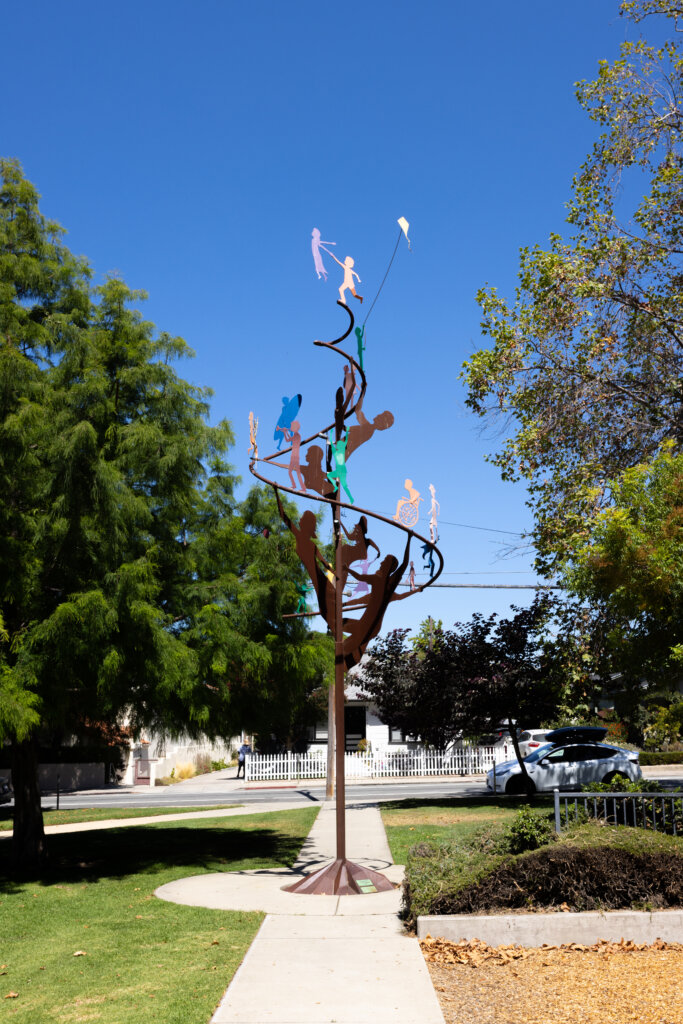 STOP 4: SECRET DOORS
Artist: Liz Hudson
Location: At the intersection of Johnson Avenue and Laurel Lane
At our final stop on this public art tour, we're looking at something a little smaller but by no means less whimsical. The Secret Doors utility box mural by artist Liz Hudson at the corner of Johnson and Laurel is a particularly enchanting work. From each side, it features an ivy-covered view of a wooden door or window, like from a country cottage in a fairy tale. It blends in beautifully with its neighborhood surroundings, but once you notice it, you begin to wonder what kind of magical land you would see if you could only open its doors.
That's it for our Art Starts with Hope tour. Check back in August, when Art Starts with Family, for a tour of other beautiful works around town. Don't forget to follow us on Instagram to see video tours each month during our "Art Starts With" program.