April brings Earth Day to San Luis Obispo, while springtime brings new color and life to our surroundings. It seems only fitting that this month, our "Art Starts With" program is inspired by Mother Nature.
Among blooming poppies and cherry trees, visitors and locals alike can enjoy more than 100 pieces of public art around San Luis Obispo! To show off our appreciation for this cornucopia of local talent and beauty, we're taking you on monthly tours. Be sure to check out our February and March tours if you haven't already, then head to these local stops focused on the theme of nature.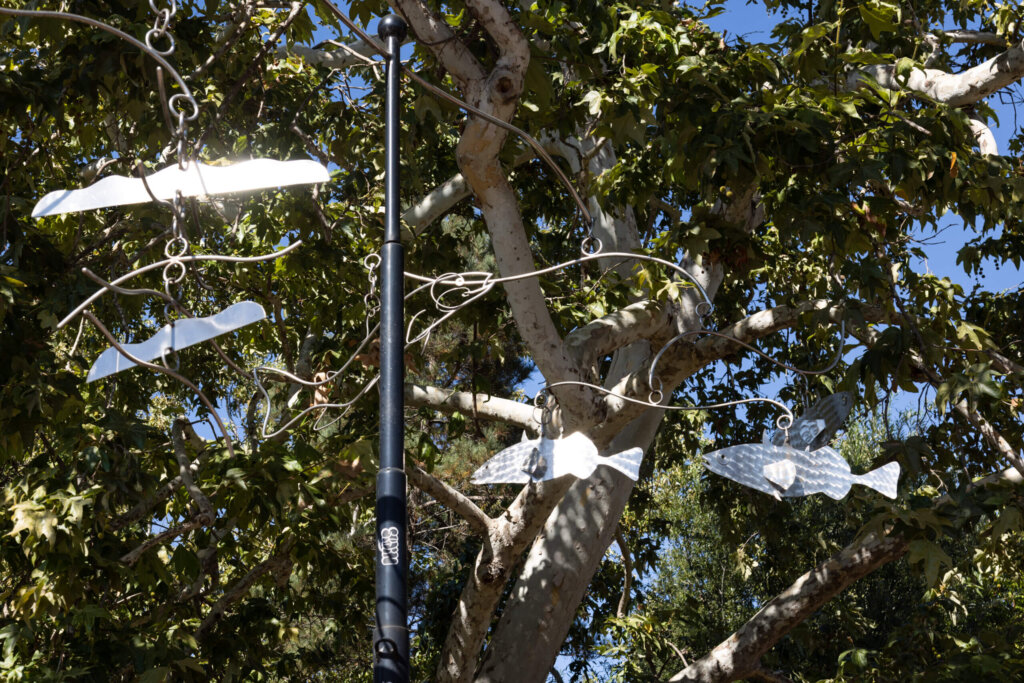 Stop 1: Fish Life
Artist: Jim Jacobson
Location: Over San Luis Obispo Creek at Broad Street
This spinning mobile-type sculpture swims overhead as pedestrians cross Broad Street over the San Luis Obispo Creek, near the SLO Museum of Art just at the top of the staircase that leads down to the creekside path. Artist Jim Jacobson created this stainless steel sculpture in 1999 to pay tribute to two species of fish commonly found in the creek. The large, outlined fish is the threatened Steelhead Trout, and the smaller fish are Three-Spined Stickleback. Jacobson's sculptures and metal art can be seen throughout San Luis Obispo, and he cites inspiration from Alexander Calder, Frank Lloy Wright and Joan Miro, among others.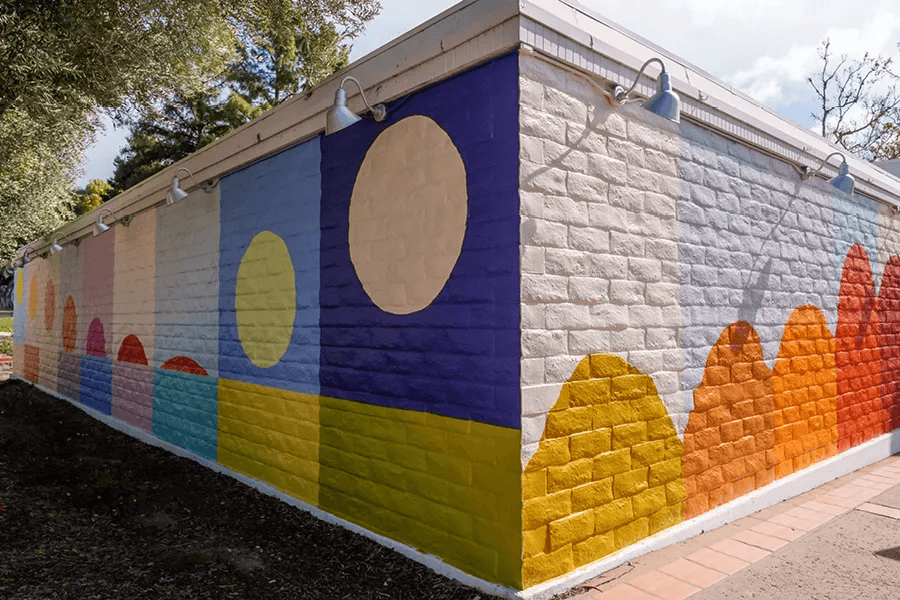 Stop 2: SLO(W) Rainbow
Artist: Leah Rosenberg
Location: SLO Museum of Art, 1010 Broad Street
This vibrant mural was painted by San Francisco-based artist Leah Rosenberg, who sourced colors from local landscapes and iconic regional locations. The mural is intended to be approached from any direction, ideal for its location on the walls of the SLO Museum of Art, which is surrounded on all sides by footpaths along the SLO Creek and Mission Plaza, as well as Broad and Monterey streets. Completed in February 2023 as part of the museum's commitment to turning its building into an ever-changing canvas for large-scale art, SLO(W) Rainbow is a bright geometric take on familiar natural sights. One side shows the setting sun and rising moon, another shows local mountain peaks, and another mixes patterns wildly.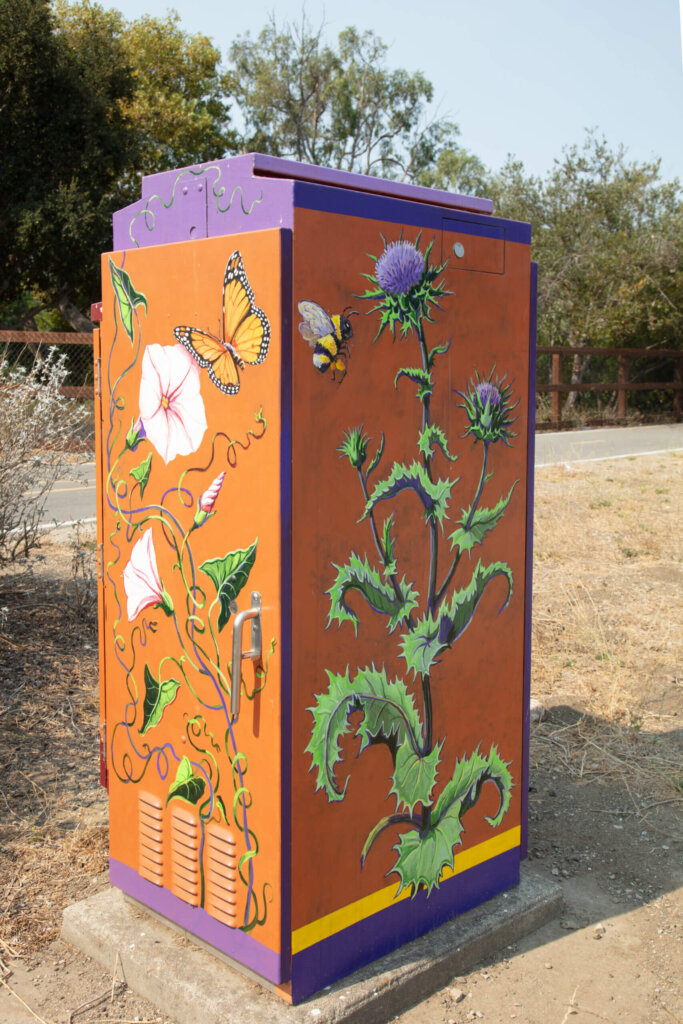 Stop 3: Wild Weed Beauty
Artist: Marcie Hawthorne
Location: Intersection of South Higuera Street and Prado Road
Wild Weed Beauty graces one of SLO's many painted utility boxes, in which these pieces of functional equipment have become canvases for local artists to add a sense of identity to their community. Painted by Marcie Hawthorne, Wild Weed Beauty sits at the busy Prado Road and South Higuera intersection, near the well-known Oh Great Spirit bronze statue and an entrance to the Bob Jones Trail.
According to Hawthorne, the vibrant orange painting is "a tribute to several of our untamed flowering plants that vigorously volunteer about town, but often scorned as mere weeds. However, these plants give birds and wild animals a food source and act as erosion control on slopes. Some have medicinal and edible uses, as well as giving lovely splashes of color in untended suburban and urban spaces."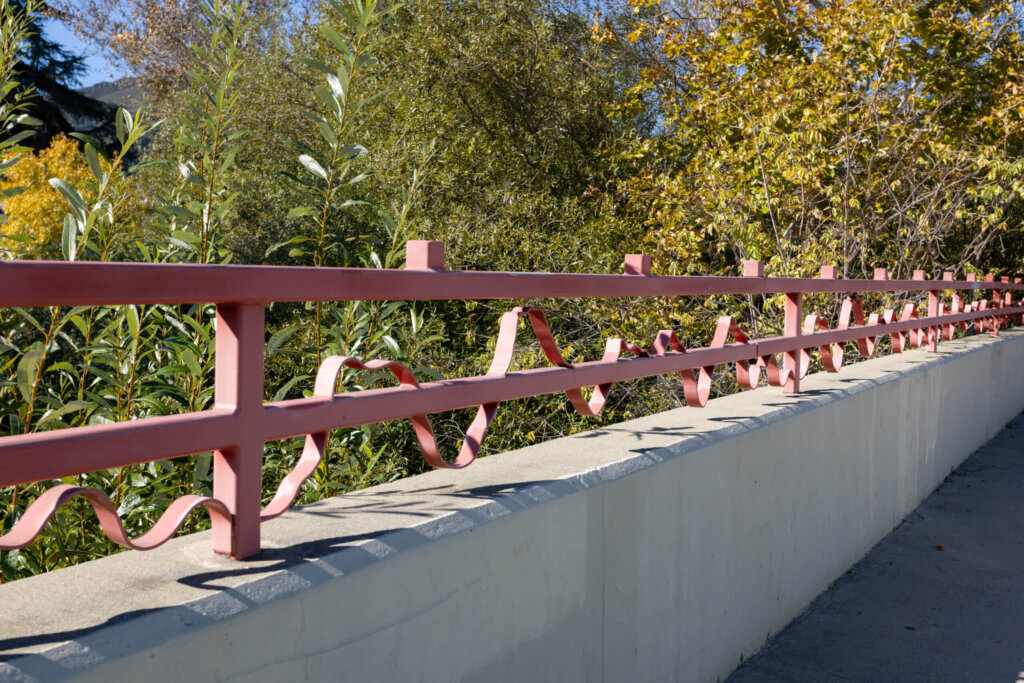 Stop 4: Seven Sisters Railing
Artist: Jim Jacobson
Location: Santa Rosa Street bridge over San Luis Obispo Creek
Local sculptor Jim Jacobson is back for another stop on our nature art tour with the Seven Sisters Railing on the bridge over San Luis Obispo Creek at Santa Rosa Street. Jacobson once again looked to his surroundings – both natural and architectural – for this piece of functional art installed in 2000. It's inspired by the range of mountain peaks known as the Seven Sisters that extend from SLO to nearby Morro Bay, as well as a Frank Lloyd Wright-designed building that sits just near the bridge. Santa Rosa Street was the original route north through town and toward the Seven Sisters before a modern highway was built. A placard on site shows each of the seven mountain peaks in silhouette so that onlookers can pick them out in the railing design.
That's a wrap for nature month! Be sure to check back in May, when we'll take you on a tour of new artworks. Inspired by AAPI Heritage Month, we'll dive into SLO's historic Chinatown area. Don't forget to follow us on Instagram to see video tours each month during our "Art Starts With" program.