This March, we're continuing our "Art Starts With" program to highlight the 100+ public art pieces around town. Last month we visited pieces embodying the theme of love. This month, we're showcasing work done by female artists as we reflect on our new theme "Art Starts with Equality."
March kicks off Women's History Month. So, we wanted to tell you a little bit about the women that have improved our community through their passion for art. Visit our Instagram page to learn more about how you can experience public art in SLO.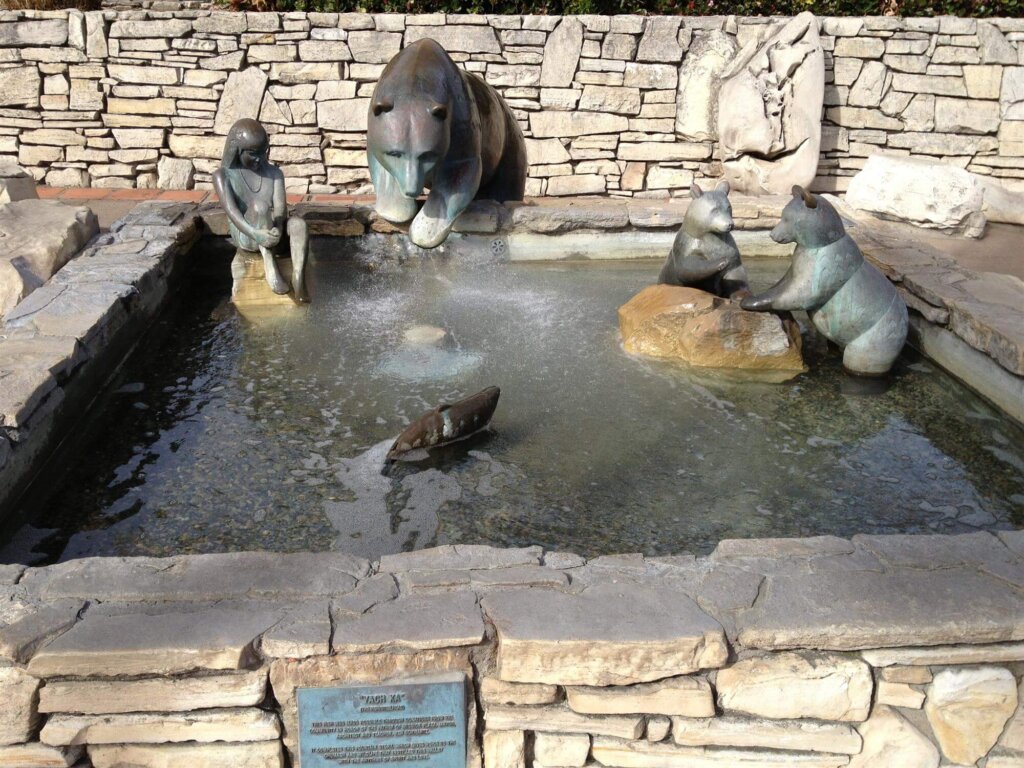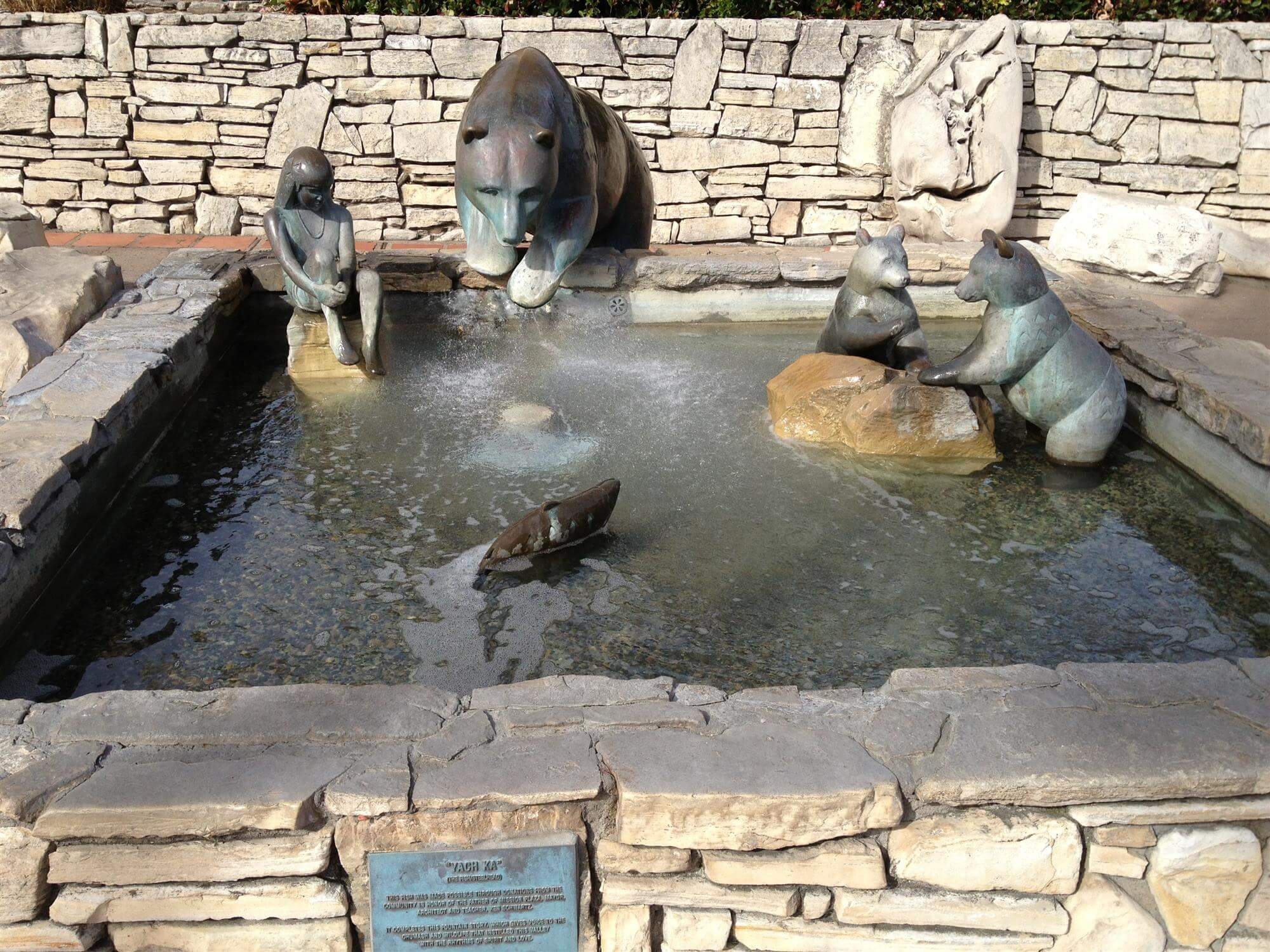 Stop 1: Tequski Wa Suwa (Child & Bear)
Artist: Paula Zima
Location: The Mission Plaza, 989 Chorro Street
In the heart of downtown SLO, right in front of the historic Mission San Luis Obispo de Tolosa, sits a child and a bear family, relaxing and fishing in a babbling fountain. The sculpture was brought to life by Paula Zima in 1988. Zima said that her intention was to "honor the two major life forms of the region, before the influx of European culture, the indigenous Chumash people and the Grizzly Bear."
Zima lived in San Luis Obispo for a number of years, studying at both Cal Poly and Cuesta, and the Tequski Wa Suwa is not her only piece in the area. She also designed the "Greeting Bears,"' placed at each of the two bridges leading into Los Osos, as well as the "Meditation Bird," located at Sierra Vista Hospital and the Ferro-cement horse in the San Luis Obispo City Library. You will find a common theme in her work as her artistic inspiration comes primarily from Earth's creatures – both people and animals.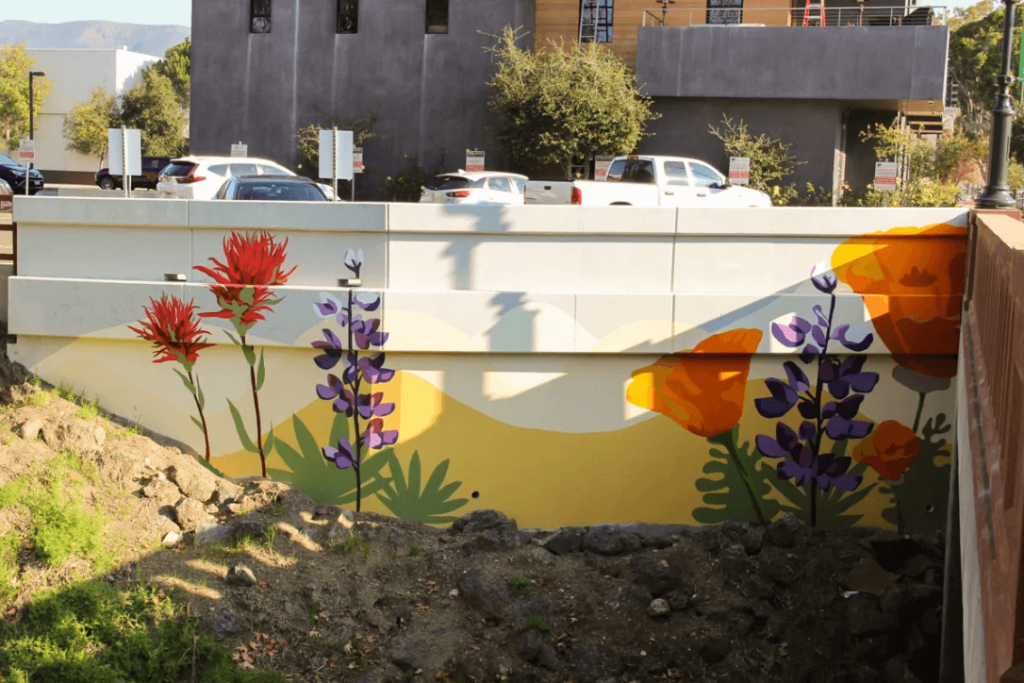 Stop 2: Marsh St. Bridge
Artist: Amy McKay
Location: 1080 Marsh Street
Above the retaining wall of the San Luis Obispo Creek, you'll find a bright burst of light, color and joy. The artist, Amy McKay, is a former landscape architect who drew inspiration for the piece from her favorite Central Coast wildflowers. McKay believes that art should be accessible and that everyone should have the opportunity to experience how art can evoke a mood they'll want to embrace every day.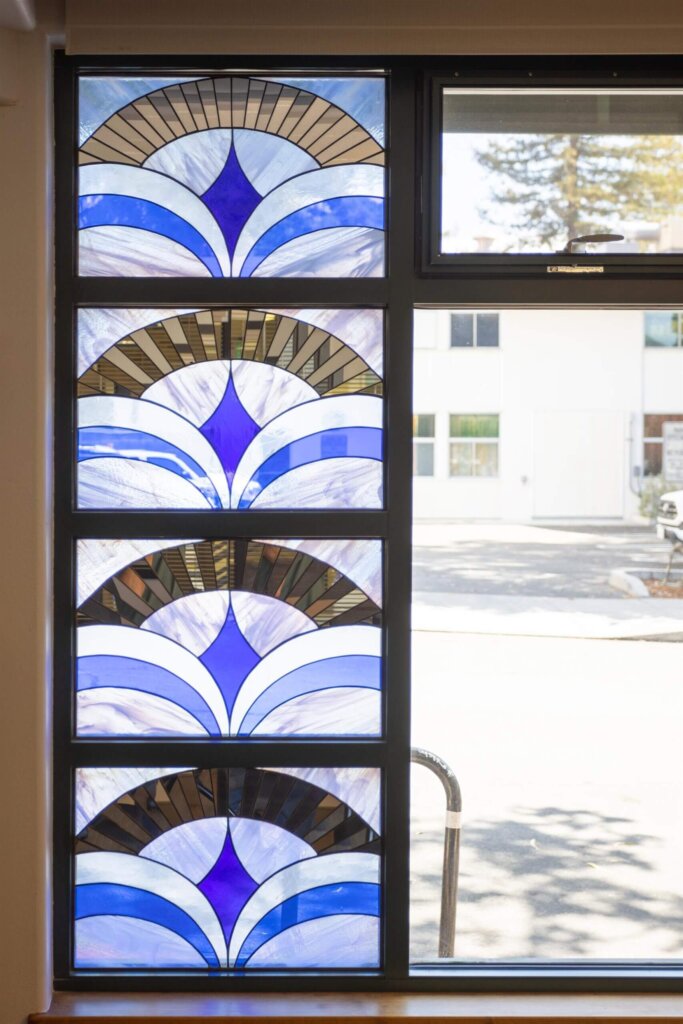 Stop 3: Minoan Tribute
Artist: Sandra Kay Johnson
Location: 879 Morro Street
Swing by 879 Morro Street to see the stunning stained glass brought to life by Sandra Kay Johnson. The flourishing motifs are derived from a terra cotta bathtub in the Queen's bathroom at the Knossos Palace on the island of Crete. It honors the Minoan culture, one of the earliest civilizations to have underground water and sewer systems.
Johnson came to San Luis Obispo in 1963 to reconnect with the artistic roots of her childhood. Johnson is an accomplished painter, sculptor, teacher and stained glass artist whose works appear throughout the Central Coast. Her most well-known pieces include "Flights of Fancy" in the San Luis Obispo County Regional Airport and "Bouquet of Symbols," a bountiful bronze sphere that stands in the Cloister Garden of Santa Barbara Cottage Hospital.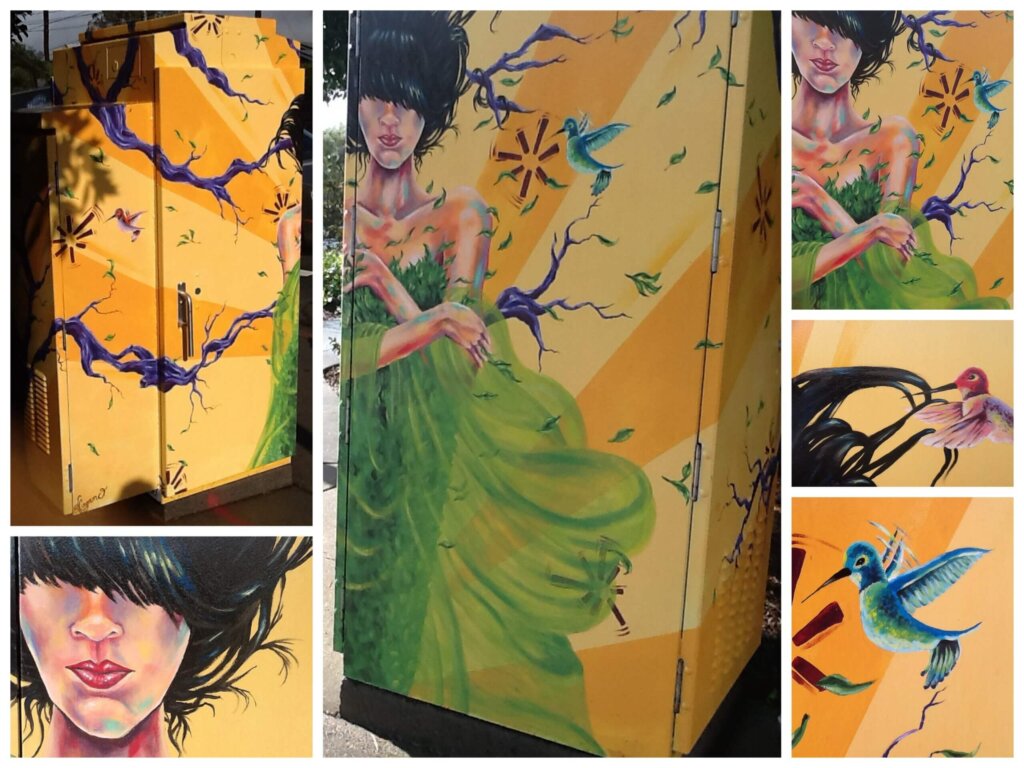 Stop 4: Natural Beauty
Artist: Laura Lozano-Larrinaga
Location: Utility box at the corner of Johnson Ave and Lizzie Street
Part of the San Luis Obispo's Utility Box Art Program, this piece by Laura Lozano-Larrinaga was designed to awaken a sense of tranquility and nature that heals the soul in an unknown manner. Lozano-Larrinaga uses continuous rays throughout her work as a metaphor that tomorrow will always be a better day. You can find this beautiful work of public art adjacent to French Hospital, right where Johnson Ave and Lizzie Street intersect.
That's it for the month of women empowerment and equality! Be sure to check back next month when we'll take you on a tour of new artworks. In April, in recognition of Earth Day, Art Starts with Nature! We'll highlight a variety of local works that represent the natural beauty and bounty of the Central Coast.