We're back with another installment of our Art Starts With series, and this month is a fabulously fun one, because in June, Art Starts with Pride! We've been highlighting the huge selection of amazing public art all around San Luis Obispo with a different theme each month, and June is a particularly colorful occasion.
We've chosen four works around SLO that use rainbow colors and tell stories of love and individuality. One also is directly designed to celebrate and make space for the LGBTQIA+ community. Our local Central Coast Pride celebration officially kicked off May 5, and SLO Pridefest comes to Laguna Lake Park on June 3 for a day of music, booths, dance, drag and fun.
But first, let us take you on a tour right here of our Art Starts with Pride selections around town. These four are among over 100 pieces of public art that are on display for our residents and visitors to enjoy. Check out our other public art tours from February, March, April and May to see more.
STOP 1: ARCHWAY TO HAPPINESS
Artist: Canned Pineapple Co
Location: 871 Marsh St., at entrance to the parking garage
This fun and colorful mural was designed as a warm welcome to visitors to the downtown area. The archway is situated at the entrance to the large Marsh Street parking structure right in the heart of downtown. The street-facing side says, "Parking," and once you've parked and are walking out of the garage toward your activities in town, the other side proclaims, "SLO happy you're here!" It's like a postcard come to life.
Pretty pinks and teals mix with bold orange and dark blue in this dynamic mural that's filled with local nature motifs like flowers and the Sun. The mural was painted in 2020 by Canned Pineapple Co., a SLO-based artist duo who have made their mark all over town.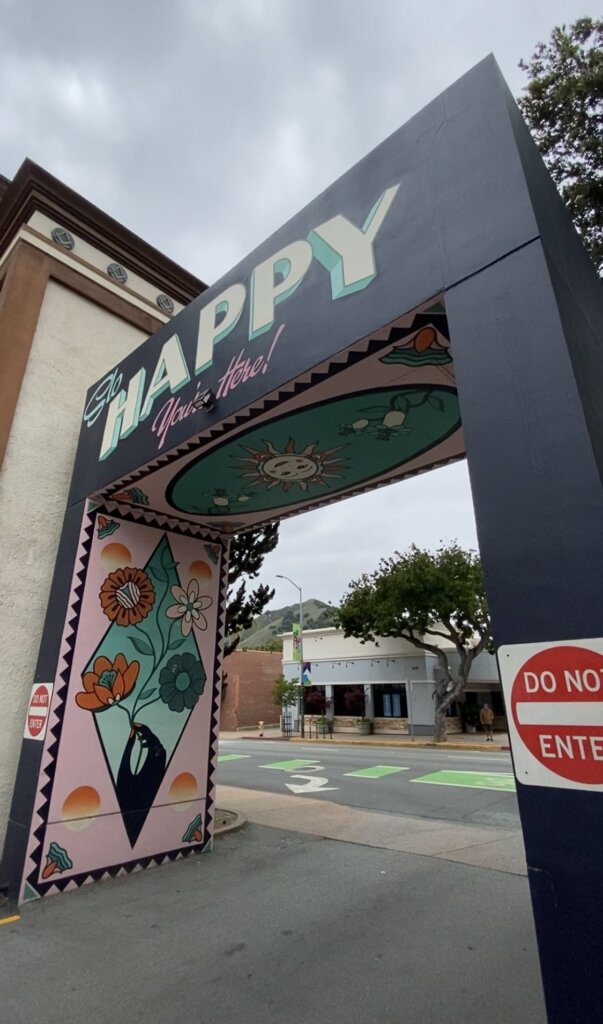 STOP 2: SEVEN SISTERS (CELESTIAL SUBDUCTION)
Artist: Maria Molteni
Location: 1101 Higuera St., beside Woodstock's Pizza
For stop No. 2 on our tour, head to the parking lot on Higuera Street beside Woodstock's Pizza for one of the largest works of public art in all of SLO, a mural called Seven Sisters (Celestial Subduction). The phrase "seven sisters" has a lot of history both locally and globally, and this huge rainbow-colored mural pays homage to that. Around here, we call the volcanic mountain peaks dotting the Central Coast the Seven Sisters. They emerged during a geologic process called subduction, portrayed on the right side of the mural. Elsewhere, the Pleiades star cluster is also known as the Seven Sisters. In Greek mythology, they are said to have caused the great flooding of the earth with their celestial tears. They've also been used as a navigation aid for sailors, and all that history and myth is seen elsewhere in this incredible mural.
Maria Molteni is a transdisciplinary artist, educator, organizer and mystic. They engage in extensive research to gather imagery from academic, folkloric and mystical/spiritual sources, and they often use complex patterns rooted in quilting motifs, such as the "friendship star" in the corner of this mural.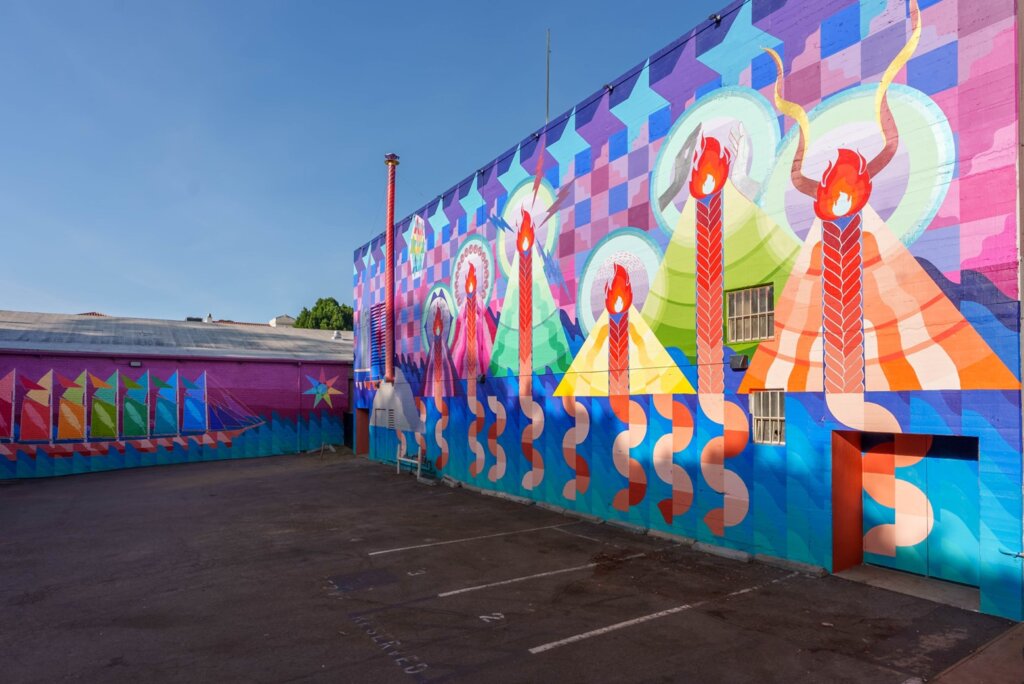 STOP 3: LOVE OF COLOR
Artist: Sara Burke
Location: At the corner of Osos and Monterey streets
Stop No. 3 on our Pride-inspired tour embraces themes of love and color. In fact, it's called "Love of Color," and it's a dreamy and beautiful mural painted by Sara Burke as part of the community's utility box art program. Burke said, "My goal in this piece is to show how we are unified in our love and appreciation for art. We all have the spirit of an artist inside of us, even if we aren't picking up a paintbrush every day." The rainbow hues and heart motifs echo the themes of Pride celebrations everywhere, and the different skin tones of the people depicted nod to the intersectionality of so many LGBTQIA+ stories.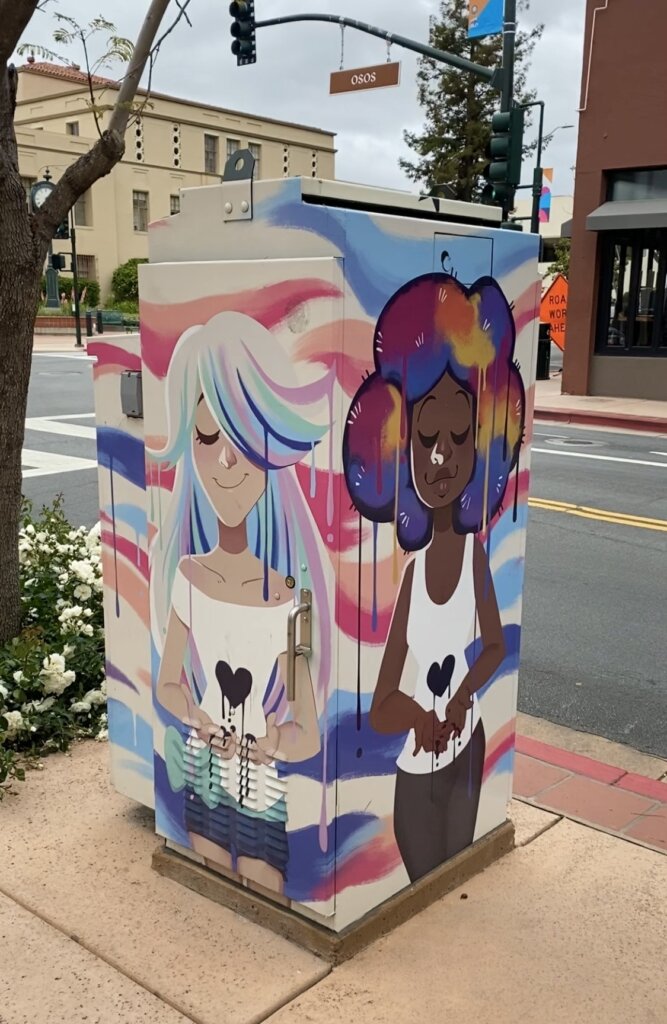 STOP 4: PRIDE CROSSWALK
Artist: Cal Poly Pride Center & ASI Student Government
Location: The start of Mustang Way, outside the Cal Poly student union
For our final stop on our Pride tour, we head onto the campus of Cal Poly, our beloved local university. Right at the center of campus, outside the student union in an area that pedestrians cross thousands of times a day is a rainbow road known as the Pride Crosswalk. The Cal Poly Pride Center and ASI Student Government teamed up to paint this crosswalk in 2020, and it's since been brightened up on occasion.
According to a blog post from the student government, the crosswalk was painted "at the very beginning of Mustang Way as a way to recognize, celebrate, and dedicate a space on campus to members of the LGBTQ+ community. The intent of the Cal Poly Pride Crosswalk is to provide students, faculty, staff, visitors, and supporters a sense of place and community when they enter campus. It demonstrates the ability to engage and honor a marginalized community through the creative use of pre-existing university infrastructure."
That's it for our Art Starts with Pride tour. Check back in July, when Art Starts with Celebration, for a tour of other beautiful works around town. Don't forget to follow us on Instagram to see video tours each month during our "Art Starts With" program.