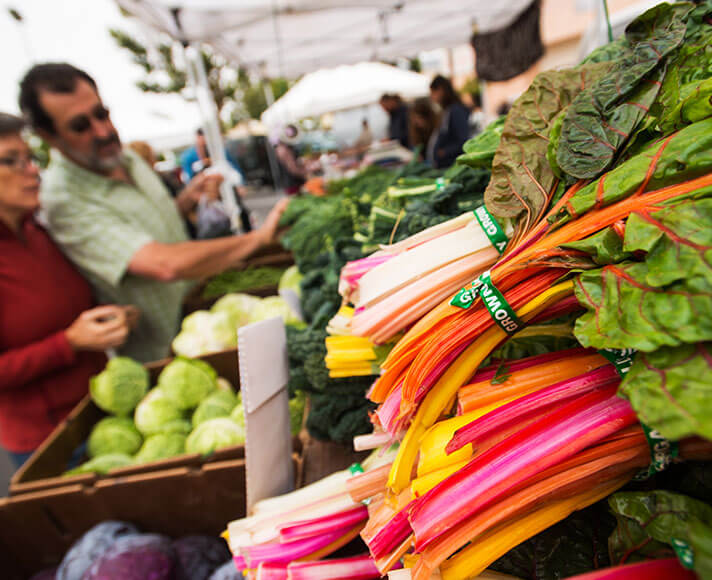 Farmers' Markets Every Day
Can't get enough fresh fruits and veggies? Live music and local artisans? Heavenly strawberry shortcake and fresh Santa Maria style tri-tip? San Luis Obispo has you covered with multiple farmers' markets every day of the week. Explore a few of our favorite farmers' markets in San Luis Obispo County today.
Monday: Los Osos

Location: Santa Maria and 2nd Street
Hours: 2:00 – 4:30 p.m.
Start your week off by stocking your fridge with healthy, local foods from the Los Osos & Baywood Farmers' Market, located just 20-minutes from San Luis Obispo. In this quaint beach town, meet the folks that bring you the freshest ingredients along the Central Coast while walking alongside the water's edge. Kick off your week with a fresh, delicious meal from the Los Osos Farmers' Market.
Tuesday: San Luis Obispo

Location: The Grange on Broad Street
Hours: 3:00 – 6:00 p.m.
Slightly off the beaten path, the Grange in San Luis Obispo offers a small, but mighty market. Selling everything from tamales and soups, to fresh baked breads and hot chocolate, this farmers' market provides a variety of eats in addition to fresh fruits and vegetables.
Wednesday: Pismo Beach

Location: Pismo Pier
Hours: 3:00 – 7:00 p.m.
Need a midweek pick-me-up? Enjoy a walk down the Pismo Pier on Wednesday afternoons at the Pismo Beach Farmers' Market, just a 20-minute drive from SLO. You'll be surrounded by handcrafted goods, fresh produce and Instagram-worthy views as you grab a bite to eat. There are plenty of food options, especially for those who love. With that crisp ocean air, jaw dropping sunset and mouthwatering food, you're sure to have a great time at the Pismo Beach Farmers' Market.
Thursday: San Luis Obispo

Location: Downtown San Luis Obispo on Higuera Street
Hours: 6:00 – 9:00 p.m.
Both a local favorite and main attraction for visitors, San Luis Obispo Farmers' Market is a "must-do" on Thursday nights. As you walk down the main drag of Downtown SLO, prepare to delight your senses with the enticing smells of SLO's famous BBQ, live music playing in the background, and the sweet taste of fresh strawberries as you leisurely stroll from merchant to merchant. Your walk down Higuera Street will also take you through local artisans, florists, community booths and more.
Meet the locals, savor incredible eats and explore the downtown while feeling right at home in America's happiest city. Rated one of the 9 best farmers' market on the West Coast by Spoon University, San Luis Obispo Thursday Night Farmers' Market should definitely be put on your summer bucket list. Discover more reasons to visit this summer in our Top Five Reasons to add San Luis Obispo Farmers' Market to your Summer Schedule blog post!
Friday: Avila Beach

Location: Avila Beach Promenade
Hours: 4:00 – 8:00 p.m. (April – September)
If you love the sand, ocean and a whole lot of fun, then we have the market for you! From April to September, the Avila Beach Promenade comes alive on Friday nights with live music and dancing, contests and tons of local food vendors (can you say the freshest fish tacos ever?!?). Not only will you have a blast, you're guaranteed a gorgeous sunset over the ocean too.
Saturday: Morro Bay

Location: Downtown Morro Bay on Main Street
Hours: 2:00 – 6:00 p.m.
Come hang out where crafts and culinary creations collide! The Farmers' Market in Downtown Morro Bay has just switched to summer hours, which means you have an entire extra hour to meander through the artisan goods, fresh summer produce, BBQ booths and food vendors. For all of you out there with a sweet tooth, you can get your hands on some fresh baked pastries or stop by Grandma's Frozen Yogurt and Waffle Shop for a sweet treat.
Sunday: Grover Beach

Location: Ramona Garden Park
Hours: 3:00 – 6:00 p.m. (June – September)
Are your Sundays a little slow? Time to spice things up at the end of the week at the Sizzlin' Summer Concert Series and Farmers' Market in Grover Beach. Stop by to enjoy the local artists singing, strumming and performing while you peruse locally grown fruits and vegetables. Not only can you score some delicious produce, you can take your pick from their many tasty jams, jellies and salsas.
Explore the entire list of farmers' markets happening around San Luis Obispo today! Don't forget to #ShareSLO your foodie fun when meandering through San Luis Obispo's endless farmers' markets.