San Luis Obispo COVID-19 Travel Alert
The City of San Luis Obispo considers the health and safety of our residents and visitors our highest priority, especially during these times. San Luis Obispo is committed to providing our visitors with timely and accurate information as we navigate through the COVID-19 (coronavirus) pandemic. We are working closely with local, state, and government agencies to provide the most up-to-date information.
Local status of COVID-19
The City and County of San Luis Obispo currently mandates all individuals living in the county to shelter at their place of residence with the exception of certain essential services, critical business, and government activities.
The Shelter at Home executive order prohibits:
Group gatherings
Leaving your house or hotel for anything nonessential
Visiting any acquaintance that is sick
Here's what you can do:
Go outdoors for exercise, making sure to keep a 6-7 ft. distance away from others
Go to the grocery store
Go to the pharmacy
Go to the dentist/doctor
Stay at home with your family
Order delivery or take out from local restaurants
Read more on the local status of COVID-19

California State status of COVID-19
Governor Newsom has request that all bars, night clubs, wineries and breweries close across the state of California. Restaurants are limited to take out and delivery only.
Governor Newsom has issued an executive order canceling large gatherings of 250 people or more.
Read more on the state status of COVID-19 

Local Business and Event Updates
With the fluid nature of COVID-19 we highly suggest you contact any local business or event for the most current information. Please note, our Visitor Center is closed until further notice.
Temporary Hotel Closures 
Event Updates
Performing Arts Updates
SLO REP –  all performances, events, and programs have been canceled or postponed through 5/11
Cal Poly PAC – all performances and events canceled or postponed through 5/10
Fremont Theater – closed through 4/30/2020
Museum Updates
Transportation Updates
Contour Airlines – services suspended at SLO County Regional Airport until further notice
Restaurant Updates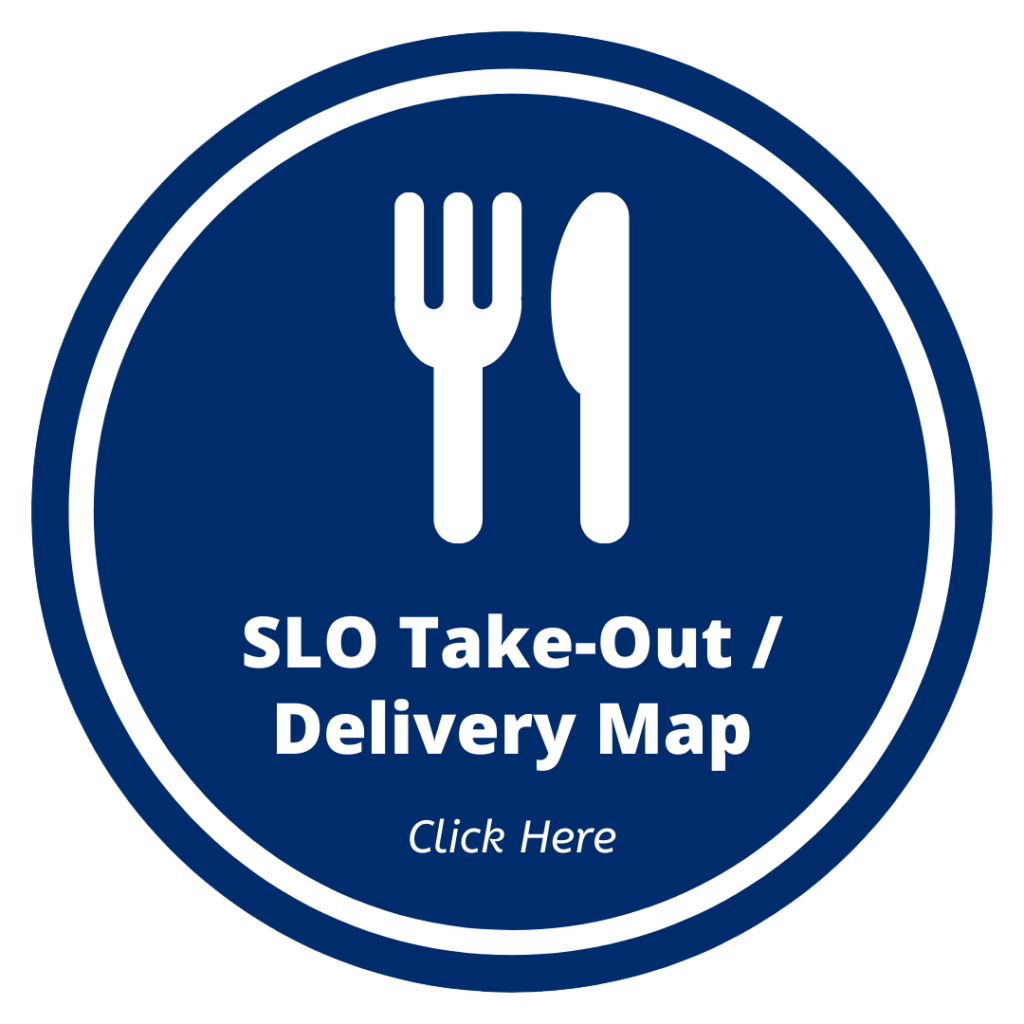 Big Sky Cafe
1121 Broad St
(805) 545-5401
Breakfast, lunch and dinner menu available for takeout. 15% discount for call-in orders with curbside pickup.
Bliss Cafe 
778 Higuera St, #D
(805) 547-0108
Offering a new menu to boost your immune system. Special offers: (1) buy 1 juice & get 1 juice 50% off with promo code, JuiceForTwo; (2) 10% off the Rueben Sandwich and Green Energy Bowl with promo code, ProbioticBoost. Pick up and delivery available. Call or order online.
Boost Nutrition
582 California Blvd
(805) 270-3011
Curbside pickup available; text in orders. Menus can be found on Facebook and Instagram. Deliveries also available with a minimum $30 order.
Brasserie SLO
1125 Garden St
(805) 592-3880
Pickup orders through the veranda window.
Broad Street Giant Grinder
1901 Broad St
(805) 543-6700
Full menu available for pickup. Meal special: whole sandwich and large salad for $25. Feeds 3-4. Delivery in SLO available; call ahead to schedule and provide payment.
Buona Tavola
1037 Monterey St
(805) 545-8000
Delivery and pickup orders now available. Lunch delivered by Cafe Runner, and dinner delivered by Buona Tavola's own Andrea.
Central Coast Brewing
1422 Monterey St
(805) 783-2739
Cans, crowlers and food offered To-Go daily from noon to 6pm. Phone orders taken, press 1 when prompted.
Eureka!
1141 Chorro St
(805) 903-1141
Takeout and delivery options. Team members, employees receive a free meal; friends and family of employees receive 50% discount.
Farmhouse Corner Market
1025 Farmhouse Ln
(805) 465-7900
To-Go orders accepted from the new seasonally fresh menu and at counter service.  Fully stocked market to avoid grocery store crowds, complete with To-Go meals.
Flour House SLO
690 Higuera St
(805) 544-5282
20% discount on any To-Go order placed.
High Street Deli
350 High St
(805) 541-4738
To-Go orders taken via phone. Grab n Go sandos available, as well as online catering options.
Libertine Brewing Company
1234 Broad St
(805) 548-2337
To-Go orders taken via phone. Delivery available through Door Dash.
Linnaea's Cafe
1110 Garden St
(805) 541-5888


Open for takeout – call in orders. Credit card information is taken over the phone and order is delivered curbside. Open every day until 5pm. Accepting orders for muffins or cookies by the dozen with 24 hour notice. 

Mee Heng Low Noodle House
815 Palm St
(805) 594-1500
Takeout orders available – phone in order.
Mint + Craft
848 Monterey St
(805) 632-9191
Curbside pickup available. Beer and wine available To-Go. Delivery available through Food Jets, Uber Eats and Door Dash.
Mistura
570 Higuera St
(805) 439-3292
Pickup orders and delivery through Food Jet. Discounted delivery fee of $1.99 with complimentary dessert. Gift certificates purchased are available via mail or email.
Novo Restaurant
726 Higuera St
(805) 543-3986
Curbside pickup available. All phone in/pickup orders receive $5 back in a gift card for every $25 spent. 20% off 1 bottle To-Go; 30% off 2 bottles; 40% off 3 bottles; 50% off 4 bottles or more. Delivery available through Food Jets, Uber Eats and Door Dash.
Oak and Otter Brewing Co
181 Tank Farm Rd
(805) 439-2529
Updated hours are weekdays 4-7pm; weekends 12-5pm. Pre Orders via email or phone. Special pick up times can be accommodated, email

[email protected]

to arrange.
Oki Momo Asian Grill
2256 Broad St Suite 120
(805) 439-4198
Curbside takeout and free delivery on orders of $50 or more. Free to anyone with a special need on a case-by-case basis. Order online or by phone.
Rib Line – Broad St
2256 Broad Street #110
(805) 543-7427
Online ordering for pickup or delivery. 20% off the first order.
Rib Line – LOVR
12308 Los Osos Valley Rd
(805) 543-7427
Online ordering for pickup or delivery. 20% off the first order.
Sally Loos
1804 Osos St
(805) 545-5895
Open 8am – 2pm for coffee, pastries and pick-up Loo Grocery Bags. Team is working on limited menu. Check website for details and updates.
Scout Coffee
1130 Garden St
(805) 439-2175
Online ordering, pickup and curbside delivery available of whole bean coffee, boxes of pastries, and debuting Scout Cookie Dough – ready for baking while hunkered down at home.
Sidecar 1
127 Broad St
(805) 540-5340
Takeout and curbside orders available via Instagram DM. Sidecar will follow with a confirmed pickup time.
SLO Brew Rock
855 Aerovista Pl
(805) 543-1843
To-Go family sized meals, beer, and whiskey.
SLO Provisions
1255 Monterey St
(805) 439-4298
Curbside pickup. Delivery available within SLO city limits.
Sweetie Cup Tea House
1118 Chorro St
(805) 369-1666


Pickup available.

Taco Temple
1575 Calle Joaquin
(805) 439-2856
Curbside pickup available. Orders over $25 receive a $5 gift card.
Urbane Cafe 
952 Higuera St
(805) 541-5100
Pickup available. Download app from App Store to place your order.