SAN LUIS OBISPO COVID-19 OPEN & SAFE INFORMATION
The City of San Luis Obispo considers the health and safety of our residents and visitors our highest priority, especially during these times. San Luis Obispo is committed to providing our visitors with timely and accurate information as we navigate through the COVID-19 (coronavirus) pandemic. We are working closely with local, state, and government agencies to provide the most up-to-date information.
State and Local Status of COVID-19
As of November 17, 2020 the County of San Luis Obispo has moved back into the State of California's Tier 1 (Purple) blueprint criteria, meaning that the City of San Luis Obispo must move back into closing some non-essential indoor business operations or reduced capacity  operations. Several business sectors can resume outdoor-only operations. Starting on November 21 at 10:00pm PST the State of California has placed a Limited Stay at Home order, effective in counties under Tier One (Purple) of California's Blueprint for a Safer Economy, requiring that all gatherings with members of other households and all activities conducted outside the residence, lodging, or temporary accommodation with members of other households cease between 10:00pm PST and 5:00am PST, except for those activities associated with the operation, maintenance, or usage of critical infrastructure or required by law. The curfew is currently in place through December 21; however, it could be extended if infection rates and trends do not improve.
To view a full list of various sectors status, click here.
Updated indoor operations that must remain closed:
Bars, distilleries, and breweries where no meals are provided
Concert venues, convention centers, live theaters, and nightclubs
Additionally, on November 13, 2020, Governor Newsom along with Oregon Governor Kate Brown and Washington Governor Jay Inslee issued a joint travel advisory. For more information, please click here. San Luis Obispo and many tourism amenities including hotels and lodging businesses continue to remain open. After fully implementing strict guidelines to ensure the health and wellbeing of visitors, lodging establishments continue to ensure that safety measures including physical distancing, wearing face coverings, and enhanced sanitation practices remain a top priority for residents and visitors to ensure an open and safe experience for everyone in San Luis Obispo.
San Luis Obispo has been preparing for your arrival to ensure you have a memorable and safe experience. When you feel comfortable to make your visit, we will be ready to safely welcome you here.
What's Open
Lodging Properties including hotels, motels, and homestays
Restaurants who offer take-out and outdoor seating with modifications
Sunset Drive-In
Hair and beauty salons with modifications and maximum capacities
Museums with outdoor modifications only
Retail & clothing stores with capacity modifications
Hiking & biking trails
Nearby beaches
San Luis Obispo Visitors Center
And more!
For those ready to travel, Visit California continues to encourage that they do so safely and responsibly – plan ahead, physically distance, wash hands and wear face coverings. San Luis Obispo has embraced California's Responsible Travel Code and we hope you do too! #RespectCalifornia because we are all #SLOtogether.
Health & Safety
Our commitment to the health of our visitors and community never wavers. Our lodging properties and local businesses are dedicated to following the Open & Safe guidelines. When visiting San Luis Obispo, you many notice that businesses are adding additional safety measures to protect their staff and their customers. We know these simple precautions help keep us all safe and healthy. Please be mindful and compliant with their specific safety guidelines. Examples may include:
Request the use of hand sanitizer
Limited number of guests or customers admitted
People in California must wear face coverings in most settings outside the home. For details on the California Public Health Official's guidance please click here.
And remember, please stay home if you are sick. We promise to still be here when you are healthy again.
If you have any questions or need assistance in planning your visit, please call us at 1-877-SLO-TOWN.
Shopping & Dining Options
Things are a little different than usual in San Luis Obispo, as you might imagine. Click on the icons below to see what shops and restaurants are open and help us #SupportSLO.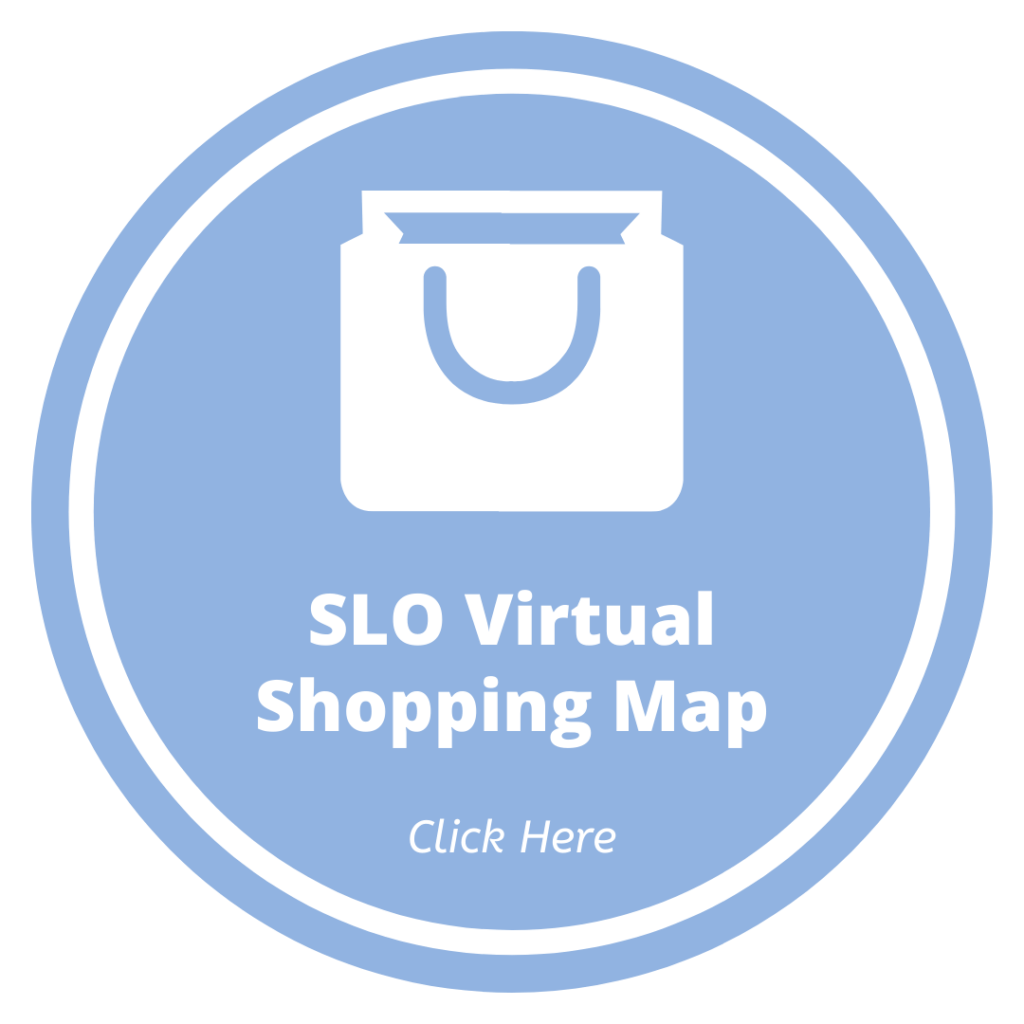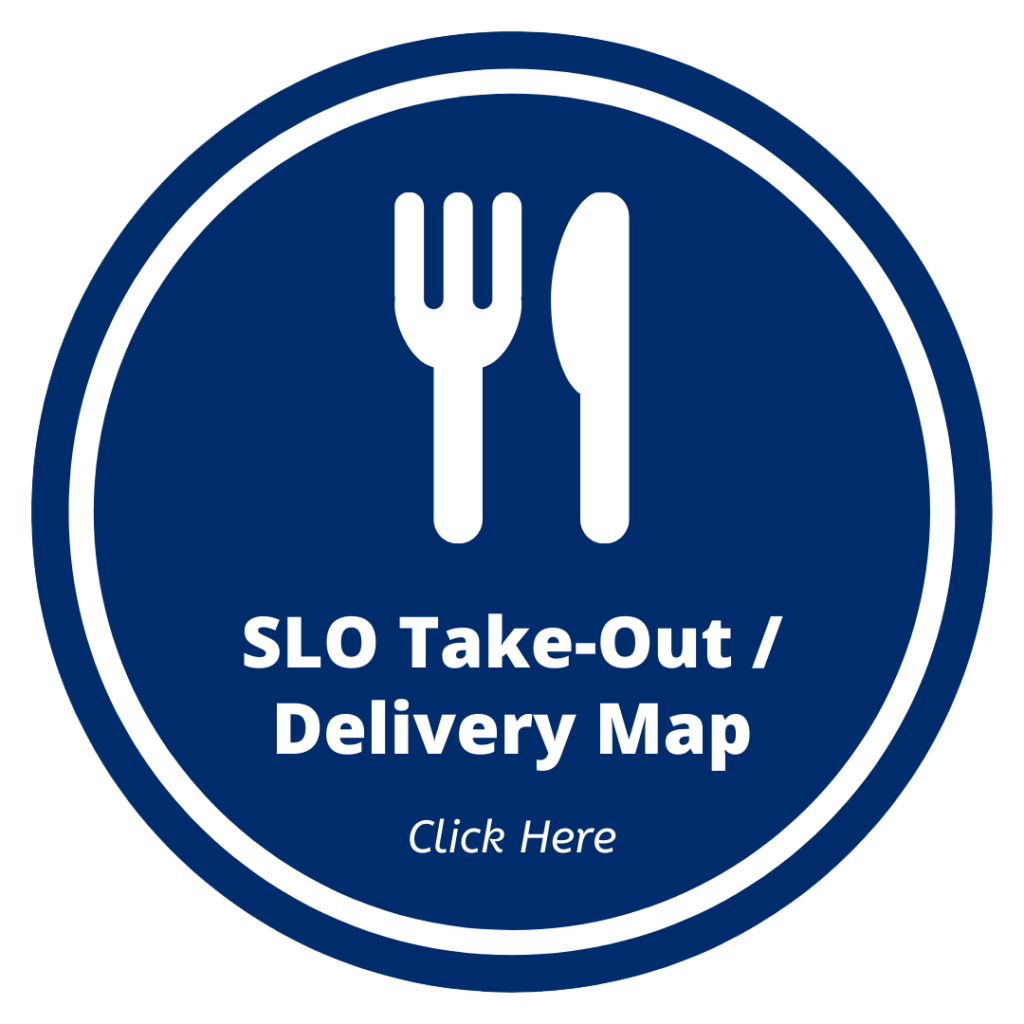 Resources
To learn more about the impact of COVID-19 across San Luis Obispo County, you can visit ReadySLO.org for current updates.
Centers for Disease Control and Prevention: cdc.gov/coronavirus
U.S. Travel Association: ustravel.org-covid-19
California Department of Public Health: cdph.ca.gov
San Luis Obispo County Health Agency: slocounty.ca.gov