Plaza Pop-Up
Pop-Up in Mission Plaza
Grab a friend and head downtown to San Luis Obispo's Mission Plaza for a fully immersed art experience for all!
Each month's Plaza Pop-Up will feature a different cultural nonprofit who, through funding by the City of SLO, will create an art installation unique to the nonprofit's mission. These immersive installations strive to create happiness, hope and love for San Luis Obispo from residents and visitors alike.
Arts are an essential part of our city and improve the quality of life for all residents and visitors – and they have been particularly hard hit during the pandemic. This program is a creative way to reignite interactions and put the arts front and center.
Check back each month for the next Pop-Up!
Plaza Pop-Up Livestream:
 May Pop-Up: May Flower Initiative & Spring Wings
Flowers continue to blossom in San Luis Obispo's downtown this spring and is brought to you by the City of SLO and Downtown SLO with help from the team at Karson Butler Events. This month you will be amazed by the student-built ornamental horticulture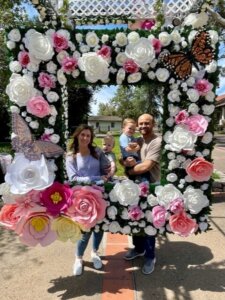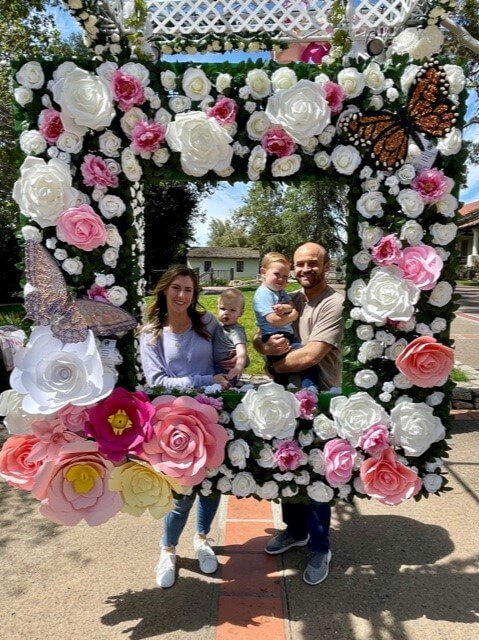 installation by Cal Poly Rose Float Team who worked alongside Downtown SLO. "Spring Wings" is featuring a flower pot with a butterfly and caterpillar and a mechanical bee hanging from the pergola, made from welded steel and decorated with dried florals, produce, and natural elements. Mission Plaza will also have An 8-foot lighted California Poppy, chalk art by Trust Automation Children's Center Chalk Art Crew and a Chalk Art Mural "The Progression of Motherhood" by Katy McGrath of Badger Branding, perfect for Mother's Day celebrations on May 9.
Don't forget to take a selfie in the interactive floral picture frame selfie station pod created by Karson Butler Events, featuring butterflies from the Cal Poly Rose Float Team.
Use #ShareSLO  #PlazaPopUps, #DowntownSLO & #MayFlowerInitiative when posting your beautiful selfie for a chance to be featured on @ShareSLO!
April Pop-Up: Through the Flowers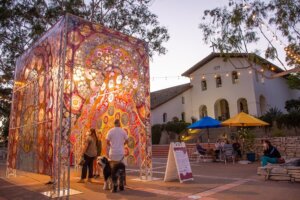 Spring flowers came to SLO early this year with the Through the Flowers installation currently blooming in Mission Plaza. Together, the City and the San Luis Obispo Museum of Art worked to launch the first Plaza Pop-Up. As a permanent space to support art and artists, SLOMA was a natural choice to launch this pilot program with. SLOMA strives to make art accessible for any and everyone and this passive art experience is a beautiful extension of the museum, itself just steps outside of Mission Plaza.
The vibrant, immersive installation created by Los Angeles based artist Laurie Shapiro is the first of a series of month-long activations that will be adorning Mission Plaza through summer. Laurie Shapiro's large-scale, mixed media paintings can be viewed from the wall or in an otherworldly setting where she creates installations you can walk inside. Fascinated by color and process, Shapiro initially builds her paintings by screenprinting stencils of her drawings and applying them to materials like fabric or vinyl, which she then brings to life with layers of painting. When viewed up close, one can see the intricate details of her screenprinted drawings.
Make sure to use #ShareSLO, #PlazaPopUps & #ThroughTheFlowers to have your photos featured on @ShareSLO!!