San Luis Obispo Concerts & Shows You Should Be Here For
Here in San Luis Obispo, we know a thing or two about having a good time. That's why it should come at no surprise that we like to rock out to a good show every now and then. In fact, SLO boasts a wide variety of unique concert and event venues that can accommodate everyone from a local legend to a mainstream headliner.
We've created the go-to guide for all things concert and show related to maximize your winter fun here in San Luis Obispo!

The Performing Arts Center (PAC) in San Luis Obispo offers guests a world-class concert experience incomparable to anything else in the area. This state-of-the-art venue has a reputation for the ease of parking and the impeccable seating plan—there's not a bad spot in the house!
Dec 21, 2019: SLO Master Chorale Presents Holiday Tidings & Sing-Along Messiah
Dec 22, 2019: Family Holiday Concert
Dec 31, 2019: SLO Symphony: A Night at the Oscars
Jan 10, 2020: W. Terrence Spiller Piano Recital
Jan 12, 2020: Met Live in HD: Akhnaten (Glass)
Jan 17-18, 23-25, 2020: Cal Poly Theatre and Dance – Orchesis
Jan 22 & 23, 2020: Beautiful: The Carole King Musical
Jan 25, 2020: Bach Week Finale: Mass in B Minor
Jan 26, 2020: Met Live in HD: Wozzeck (Berg)
Jan 28, 2020: Emanuel Ax
Feb 1, 2020: SLO Symphony: No Ties Rehearsal – Heaven and Earth
Feb 1, 2020: An Evening with George Winston
Feb 1, 2020: SLO Symphony: Heaven and Earth
Feb 5, 2020: National Geographic Live – Steve Winter: On the Trail of Big Cats
February 7, 2020: Metta Quintet
February 8, 2020: A.J. Croce – Croce Plays Croce
Feb 9, 2020: Met Live in HD: Porgy & Bess (The Gershwins)
Feb 11, 2020: Cirque Éloize
Feb 16, 2020: An Evening with Travis Tritt
Feb 21, 2020: Chris Burkard: Photojournalism at the Ends of the Earth
Feb 27-Mar 1, Mar 5-7, 2020: Cal Poly Theatre and Dance – Our Town
Feb 28, 2020: Flor de Toloache
Mar 1, 2020: Cal Poly Symphony Winter Concert: Student Soloist Showcase, Finlandia and The Moldau
March 3, 2020: New York Gilbert & Sullivan Players: The Mikado
Mar 7, 2020: SLO Symphony: No Ties Rehearsal – Sounds Like Home
Mar 7, 2020: SLO Symphony: Sounds Like Home
Mar 8, 2020: Wind Bands Winter Concert: Winds of Change
Mar 12, 2020: Cherish the Ladies
Mar 13, 2020: Siberian State Symphony Orchestra
Mar 14, 2020: Christian Elliott – Why Be Good? (Silent Film with Organ)
Mar 14, 2020: Arab Music Ensemble Winter Concert
Mar 15, 2020: Cal Poly Choirs Winter Concert: Traditions
Mar 17, 2020: Dorrance Dance – SOUNDspace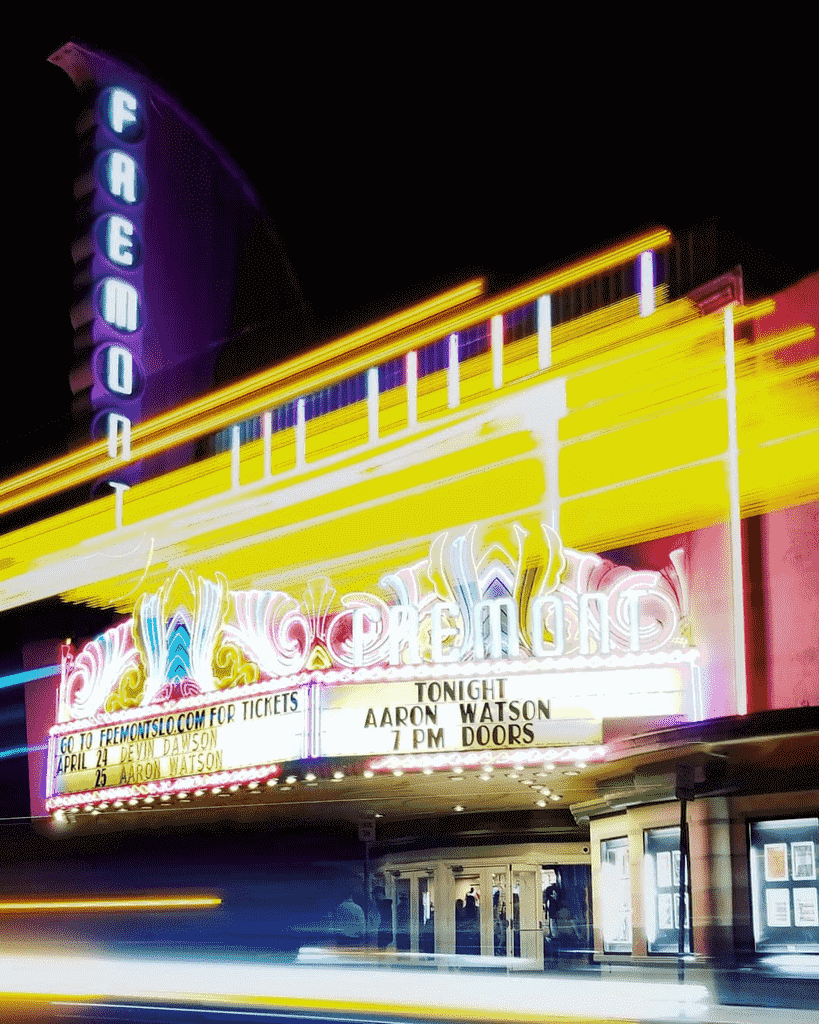 What's better than live music in San Luis Obispo's most iconic theater? Dating back to 1942, the Fremont Theater opened on the eve of World War II as a Bond Drive fundraiser. Those days may be long gone, but nowadays the Fremont is a hip place to see all kinds of live acts and shows.
December 21, 2019: Die Hard – Free Holiday movie
December 22, 2019: Bone Thugs N Harmony
January 3, 2020: Abominable
January 15, 2020: Blue Oyster Cult
January 17, 2020: The Green
January 19, 2020: Karl Denson's Tiny Universe Presents Election Year, Winter Edition
January 23, 2019: Railroad Earth
January 29, 2020: Toad and the Wet Sprocket
January 30, 2020: Minnesota 2020 Tour
February 1, 2020: Courtney Barnett
February 5, 2020: Jauz Dangerous Waters Tour
February 8, 2020: Lil Tjay True 2 Myself Tour
February 11, 2020: Ladysmith Black Mambazo
February 12, 2020: Pigeons Playing Ping Pong
February 13, 2020: An evening with Al di Meola: Pastl, Present & Future
February 16, 2020: Ani Difrnco
February 24, 2020: Dr. Dog Winter 2020 Tour
February 25: Banff Centre Mountain Film and Book Festival
February 27, 2020: Matoma & Two Friends
March 4, 2020: MOE.
March 5, 2020: Nahko and Medicine for the People
March 6, 2020: Andre Nickatina
March 9, 2020: Nightmre's the Portal Tour
March 13, 2020: Marc E Bassy
March 16, 2020: The Growlers natural Affair Tour 2020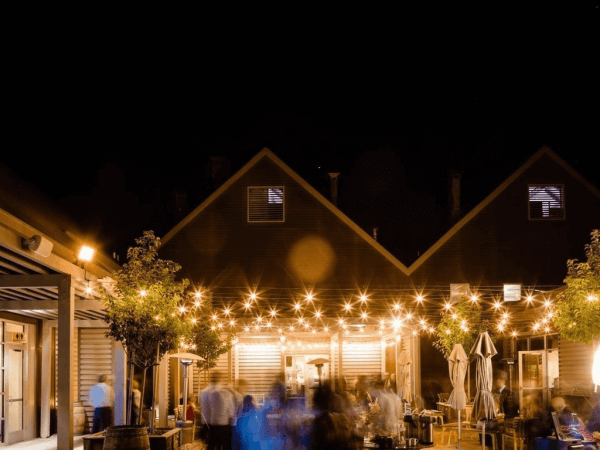 SLO Brew: The Rock is Edna Valley's hidden gem. Located alongside our world-class wine region in an up and coming craft brew district, it is truly the heartbeat of the region! Spend the day enjoying the sunshine amongst the vineyards and cap it off with live music at The Rock.
December 28, 2020: An Evening with Y&T
January 17, 2020: Zoso: The Ultimate Led Zeppelin Experience
January 23, 2020: 6th Annual SLO Backcountry Flim Festival
January 24, 2020: Jerry's Middle Finger
January 26, 2020: Albrosie and the Shengen Clan live at the Rock
January 31, 2020: The Grateful Shred
February 5, 2020: Sugarshack Sessions Presents Kbong Plus Sensi Trails
February 13, 2020: The Movement
February 14, 2020: Mother Shuckin' Valentines Day
February 19, 2020: Badfish – A Tribute to Sublime, Tropidelic
March 3, 2020: Tinsley Ellis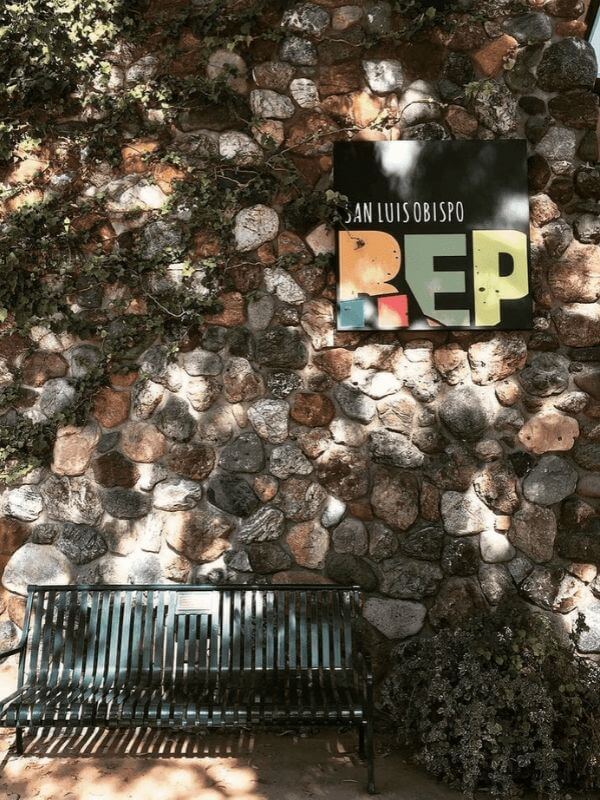 The San Luis Obispo REP Theater is the home in the heart of San Luis Obispo. It is the perfect way to see the culture of the city through our vast array of performing arts. Featuring a year-round season of delightful musicals, hilarious comedies, and powerful dramas, SLO REP is your theatrical destination in SLO!
December 10, 2019- December 22, 2019: A Christmas Story
January 10, 2019- January 19, 2019: Macbeth
January 24, 2019- January 25, 2019: How to Transcend a Happy Marriage
February 7, 2019- March 14, 2019: Always… Patsy Cline
A Few More Intimate Venues in San Luis Obispo to Check Out:
It's time to get out and enjoy the beats of the Central Coast this winter! Book your San Luis Obispo Vacation today.