This month, we're continuing our Art Starts With series with a theme that harkens back to the eras and the people who came before us. In September, Art Starts with Heritage. The San Luis Obispo area has a history as a home to first indigenous Native Americans such as the Chumash, who lived here for many thousands of years, and later to Mexican peoples who had gained independence from Spain during the Rancho Era in the 1800s. Signs of these periods of our local history remain all around us and continue to be vividly represented in our community, and we are proud to highlight that heritage.
For our tour this month, we've selected four pieces of public art around SLO that pay homage to parts of our heritage and the people who preceded us, and whose cultural influence and artistry is alive and brilliantly shines through the current makeup of the city. This Art Starts with Heritage tour is the latest in a series that began back in February. We've been highlighting the vast selection of amazing public art all around SLO with a different theme each month. SLO has more than 100 pieces of public art on display, and we've designed these walking tours to help you find them! Check out our other public art tours from February, March, April, May, June, July and August to see more.
Now, let's head out on a walking tour of four public artworks rich in SLO heritage …
STOP 1: Mariachi SLO
Artist: Julie Frankel and Marcie Hawthorne
Location: At the corner of Monterey Street and Grand Avenue
Our first stop on this month's tour is one of SLO's many utility box murals, located at the intersection of Monterey Street and Grand Avenue, near the Veterans Hall and the south entrance to Cal Poly's campus. The box was painted in 2012 by Julie Frankel and Marcie Hawthorne, both local artists.
The colorful box is painted on each side with different members of a mariachi band, a traditional type of Mexican folk music that no doubt would have been played around SLO County during California's Rancho Era in the 1800s. The striped motif in the background is reminiscent of a Mexican serape, while the musicians don traditional attire.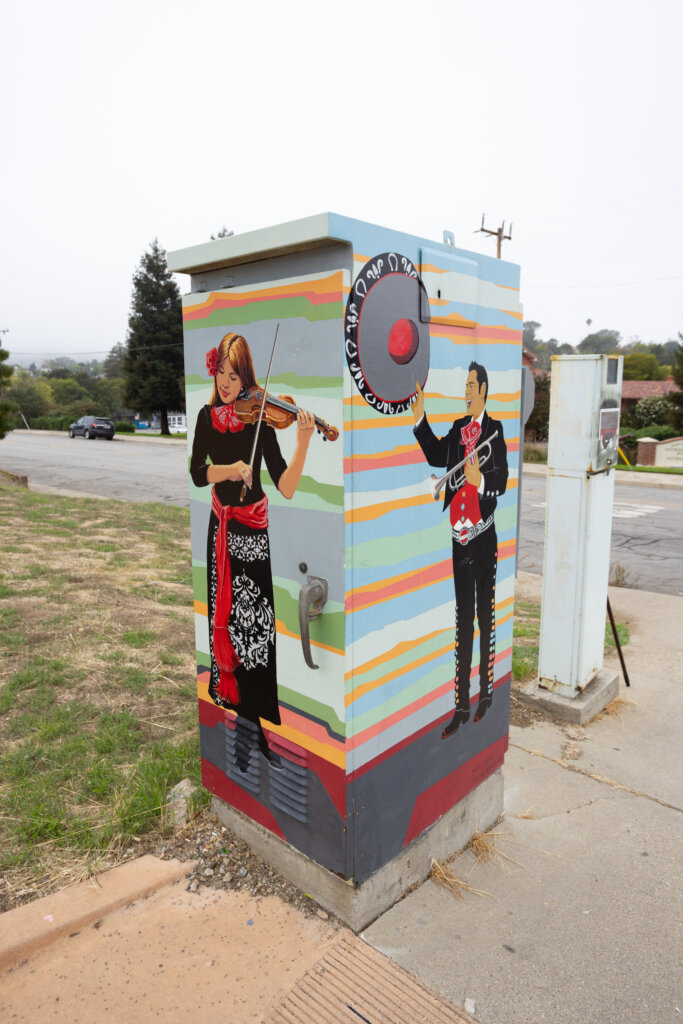 STOP 2: Chumash Pictographs
Artist: Jim Jacobson
Location: At the downtown SLO Creek walk near Broad Street
Next, head into the downtown area and take a stroll along the San Luis Obispo Creek, on the walking path. Near the Broad Street end of the path, outside of the SLO Museum of Art, you'll find a metal sculpture by local artist Jim Jacobson. Installed in 1999, this sculpture depicts stylized versions of Chumash pictographs.
The hunter-gatherer society of Chumash Native Americans lived in the San Luis Obispo area, as well as up and down the Central Coast, for 14,000 years. They are perhaps best known for their colorful cave paintings, or pictographs, depicting people, animals, nature motifs, geometric patterns and more. Many had ties to spiritual practices and astronomical events.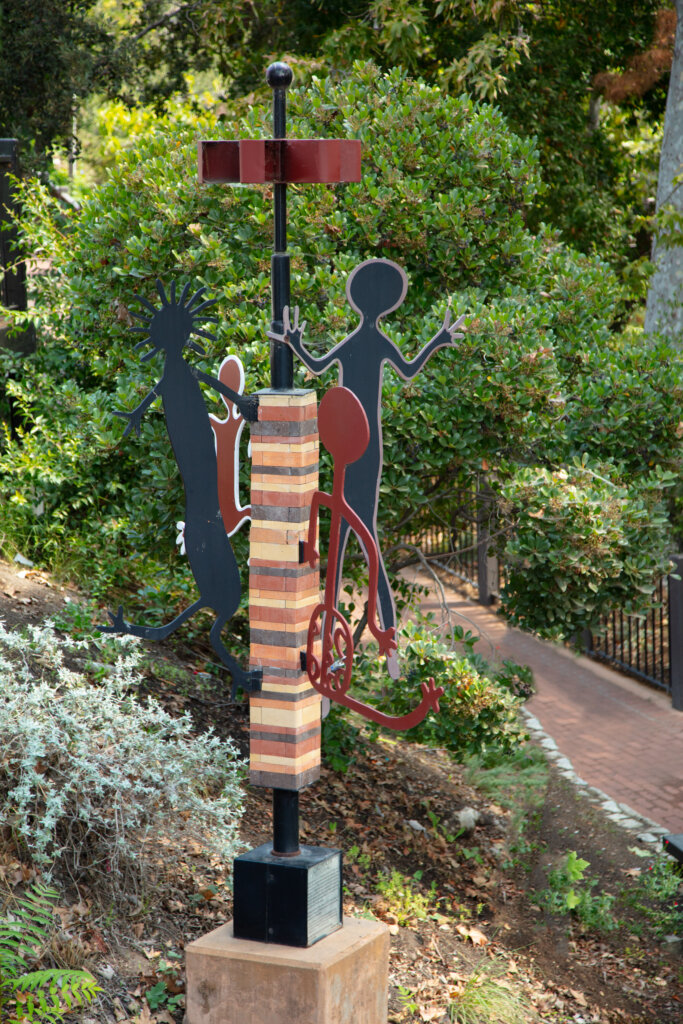 STOP 3: Oh Great Spirit
Artist: Nell Banister Scruggs
Location: At the corner of Prado Road and South Higuera Street
Next, head south of downtown on Higuera Street, to the intersection at Prado Road, near the entrance to the Bob Jones Trail for walking and cycling. Here you'll find one of the larger and most noticeable works of SLO public art, a towering bronze statue known as Oh Great Spirit. This art piece honors the sensitive connection between the people, plants, medicine and health that Native Americans first discovered along our coastline.
The 12-foot bronze sculpture is actually one of three that were cast from an original that was just 16 inches tall by sculptor Nell Banister Scruggs. In 2009, the three large versions were cast and donated as public installations in Thousand Oaks, California (where the artist had retired), in Asheville, North Carolina (where she grew up), and right here in SLO, where the artist's son lived.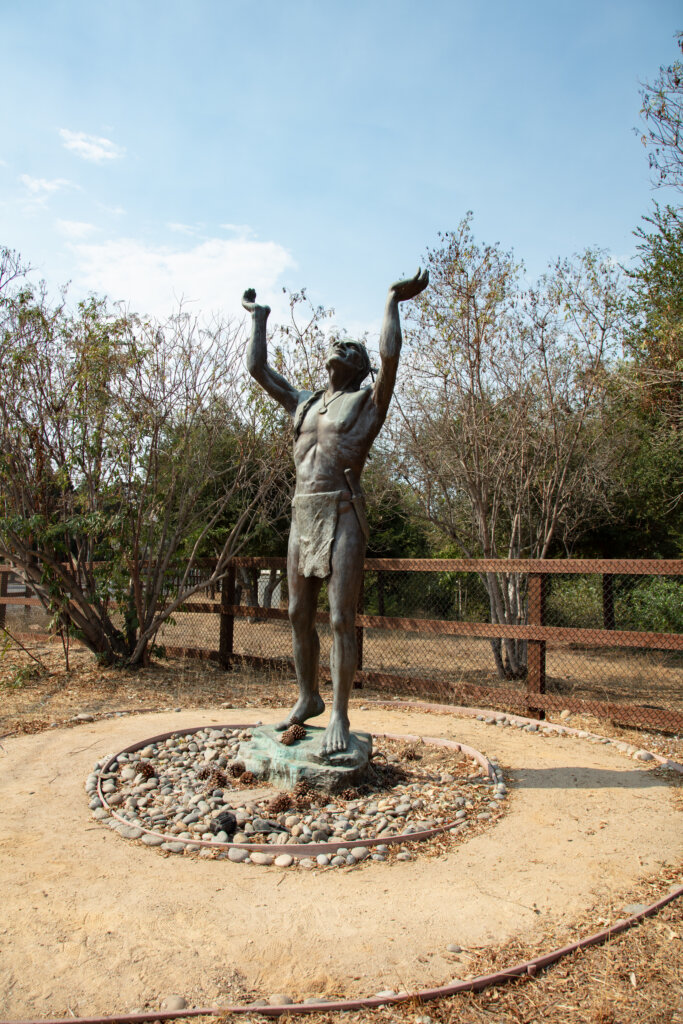 STOP 4: Storyboard
Artist: Jim Jacobson
Location: At the corner of Los Osos Valley Road and Madonna Road
Local sculptor Jim Jacobson makes another appearance on our tour at stop No. 4, at the intersection of Los Osos Valley Road and Madonna Road, a highly trafficked corner. The local metalwork specialist was quoted for KCET in 2016 saying, "I've taken an interest in our local heritage. I'm not sure why. … Accenting the history of the site makes you feel more a part of your community. You have a better understanding of what has gone in the past, not just what you see today."
Indeed, for his Storyboard piece that caps off our September tour, Jacobson pored over historical property records to find all the occupants he could who had ever lived on the DeVaul Ranch land where the 2004 sculpture would sit. Made of brick, river rock and powder-coated steel, the tower is decorated with icons representing the Irish Hills, the coastal live oak tree, the grizzly bear, Chumash pictographs, Mission De Tolosa and cattle brands for Captain John Wilson, Harry Forman, RJ Bullock and DeVaul Ranch.
That's it for our Art Starts with Heritage tour. Don't forget to follow us on Instagram to see video tours each month during our "Art Starts With" program.