As we continue our Art Starts With series in August, we're focusing on a theme that's close to many of our hearts: family. The source of so much support and joy in our lives, family is also a popular subject for art. We've chosen four pieces of public art around San Luis Obispo this month that explore themes on family and togetherness in different ways.
Remember, this Art Starts with Family tour is the latest in a series that started back in February. We've been highlighting the huge selection of amazing public art all around SLO with a different theme each month. SLO has more than 100 pieces of public art on display you can enjoy anytime, and we've designed these walking tours to help you find them! Check out our other public art tours from February, March, April, May, June and July to see more.
Now, let's head out on a walking tour of four particularly family-friendly public artworks in SLO …
STOP 1: STRONG PLAY ETHIC
Artist: Carol Paulsen, Stephen Plowman and Stephen Van Stone
Location: At the Damon-Garcia Sports Complex on South Broad Street
First up on our family tour is a piece of art that is completely surrounded by families many weekends! "Strong Play Ethic" is a towering metal sculpture situated as a gateway between different sports fields at the Damon-Garcia Sports Complex at the southern end of SLO. It was installed in 2006, and pictures from the time show the nearby trees as just small saplings. These days, the sculpture is flanked by mature trees and lovely landscaping among the huge grass soccer fields.
"Strong Play Ethic" features two towering, playful figures tossing brightly colored balls back and forth. The artists described the design as "representing the lively activity of sports, dance and play taking place at the sports fields." We can't imagine how many families have passed under the archway over the years!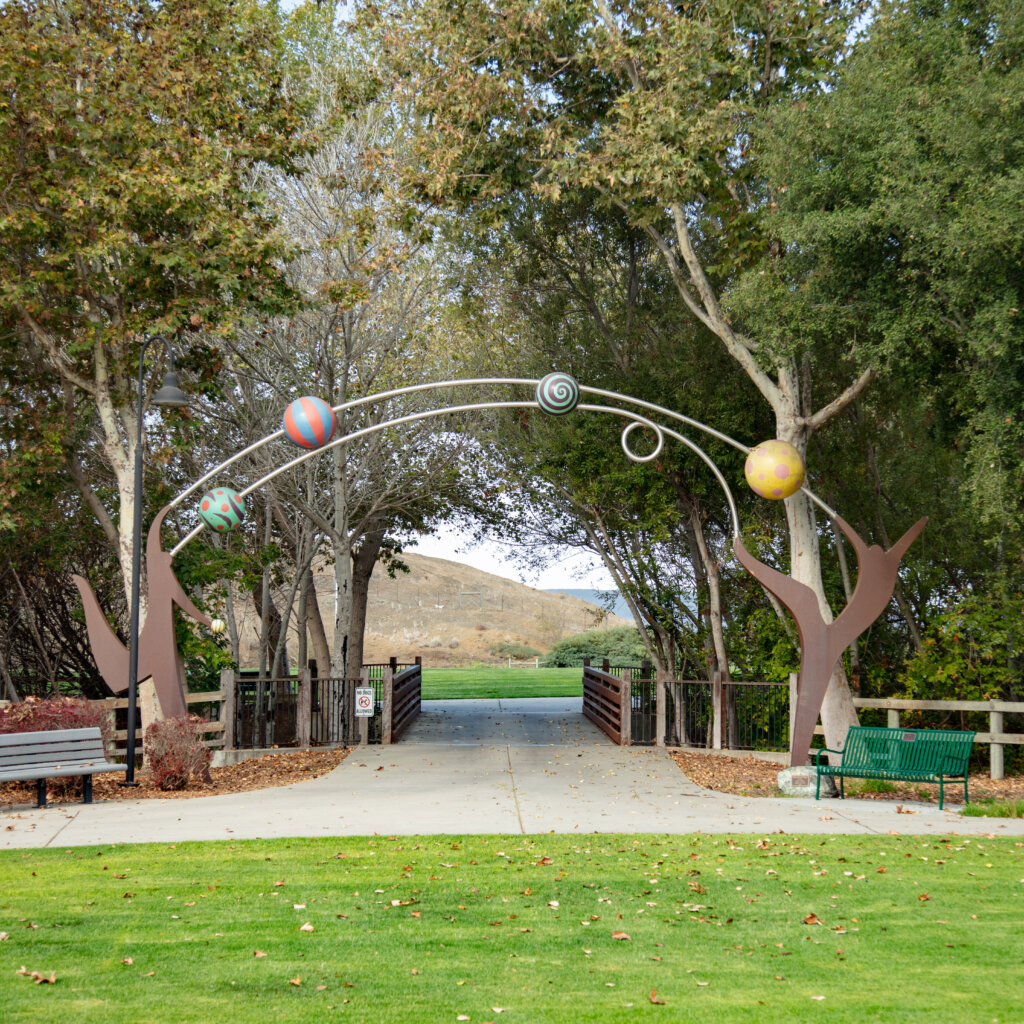 STOP 2: MAGIC SISTER
Artist: Carol Paulsen, Stephen Plowman
Location: 860 Pacific St., above the SLO Bike Kitchen
Our second stop on our family tour has been a friendly presence in downtown since 2002, and it features SLO's most well-known sisters of all, the Seven Sisters. These "sisters" make up a local range of mountainous morros, a type of volcanic rock formation formed many millions of years ago. They dot the landscape between SLO and nearby Morro Bay, and this lovely artwork pays tribute.
A combination of mural and metalwork sculpture, it prominently features one of the "sisters," covered in golden grasses, grazing cattle and local chaparral. We imagine the view from the roof of that very building, which now houses the popular SLO Bike Kitchen, would probably be just like the view in the mural itself. One of our favorite parts: the little calf tucked away on the right side of the work.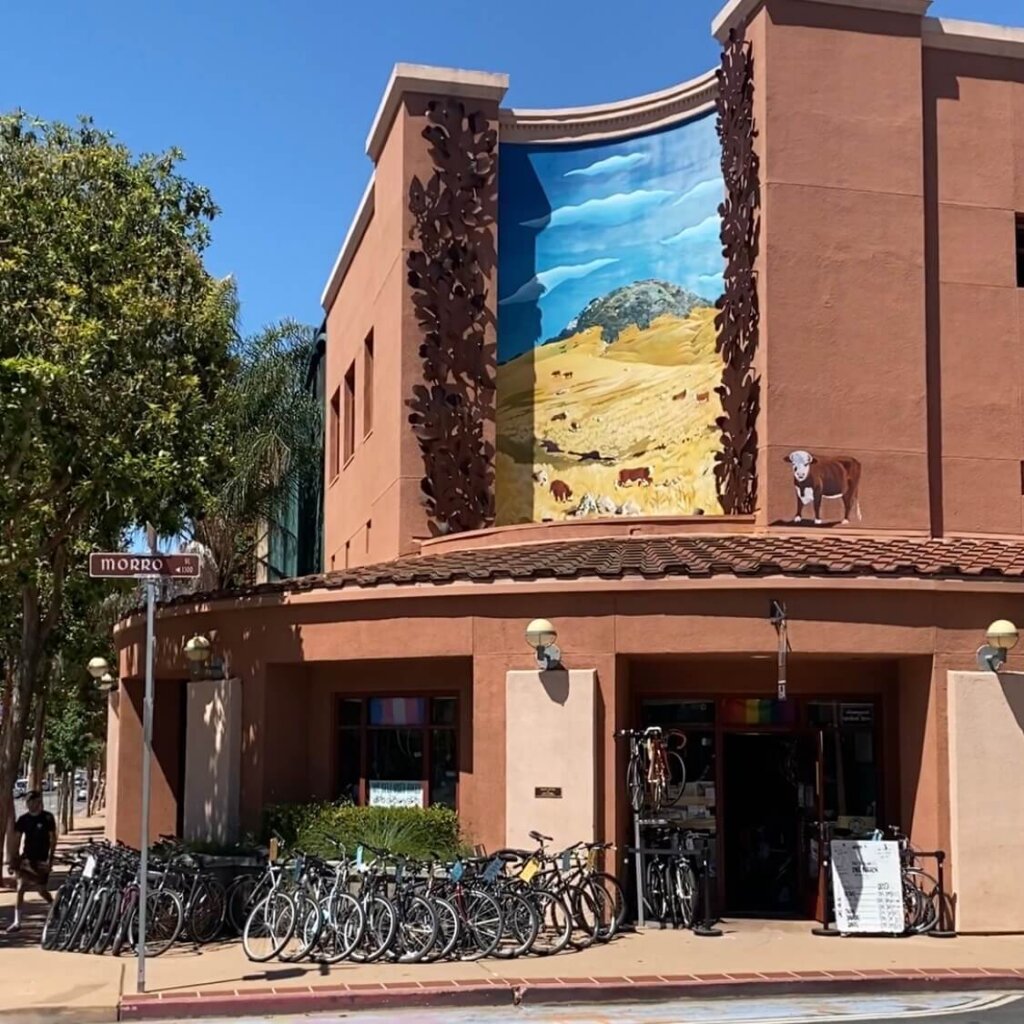 STOP 3: Hey Diddle, Diddle
Artist: Sandra Kay Johnson
Location: At the corner of Marsh and Chorro streets
Does anything say "family" better than a nursery rhyme? This whimsical bronze sculpture features the "cat and the fiddle" from Mother Goose herself, a poem first printed in the 18th century and recited by families ever since. Situated at street level in downtown SLO, this statue is super familiar to just about any local who has walked our community.
It was first installed in 2000 as part of the Downtown Association's Revolving Art Program, and someone sure loved it, because the sculpture was actually stolen after a month! It was recast and reinstalled the following year, and in 2003 the City purchased the piece permanently with public art funds.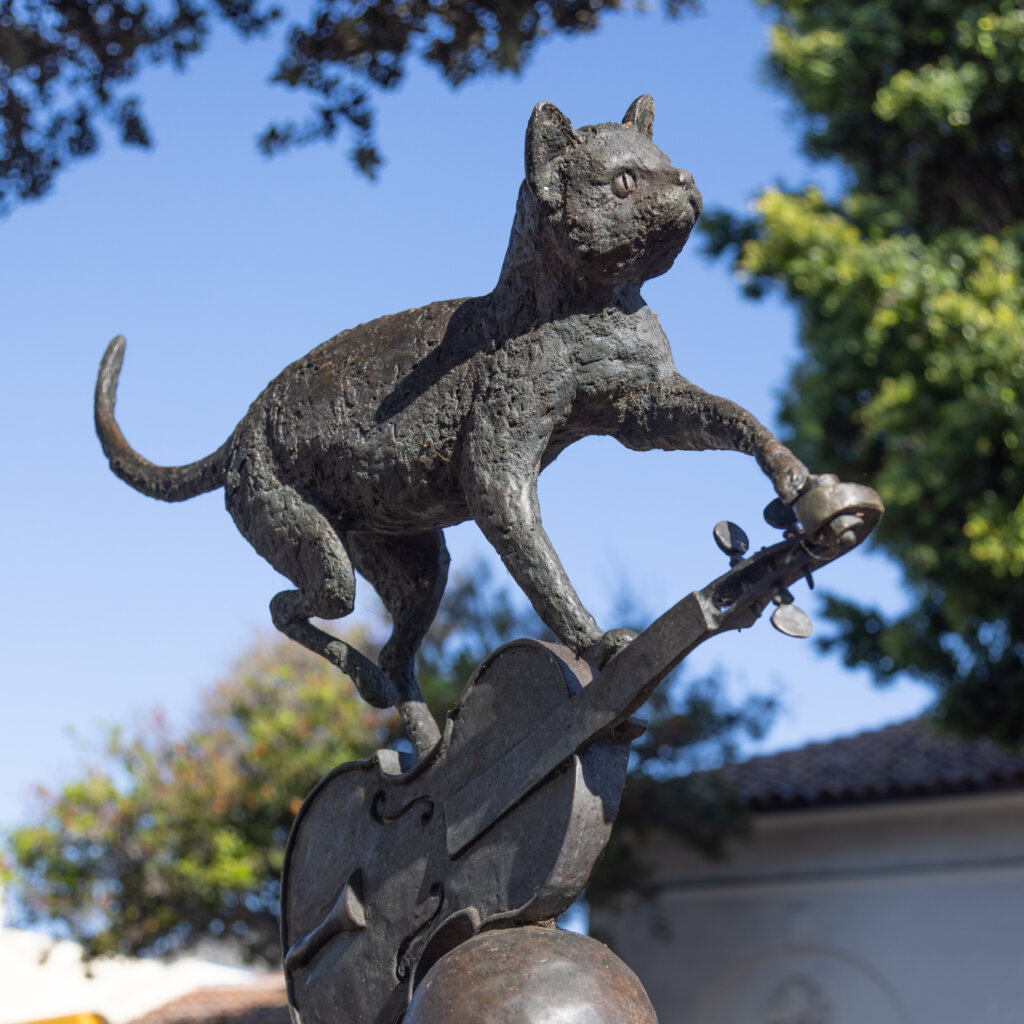 STOP 4: BEE JOURNEY
Artist: Marcie Hawthorne
Location: At the corner of California and Mill streets
For our final stop on this tour, we're taking a slightly different approach to the concept of "family." Bees are arguably the world's most social and familial bug. The lovely mural painted on this utility box at the corner of California and Mill streets features a vibrant golden honeycomb pattern and several bees. Lovingly detailed and brightly colored, this mural really pops in its family-filled neighborhood. Artist Marcie Hawthorne, a local painter who often focuses her brush on themes of nature, called honeybees "one of our most critical and valuable pollinators."

That's it for our Art Starts with Family tour. Check back in September, when Art Starts with Heritage, for a tour of other beautiful works around town. Don't forget to follow us on Instagram to see video tours each month during our "Art Starts With" program.