Get Up & Get Going in the Great Outdoors
Around this time of year, the weather starts to turn cold in more northerly states. But in San Luis Obispo, we're still enjoying plenty of sunshine and warm weather. What better way to soak it up than with a hike?
Below, we've listed some of the best hikes in SLO county. You don't have to go far to climb high–with options for beginners and seasoned hikers (plus those in-between), the rolling hills and mountains of SLO offer something for everyone. Just be sure to pack some sunscreen and water for your outdoor activities.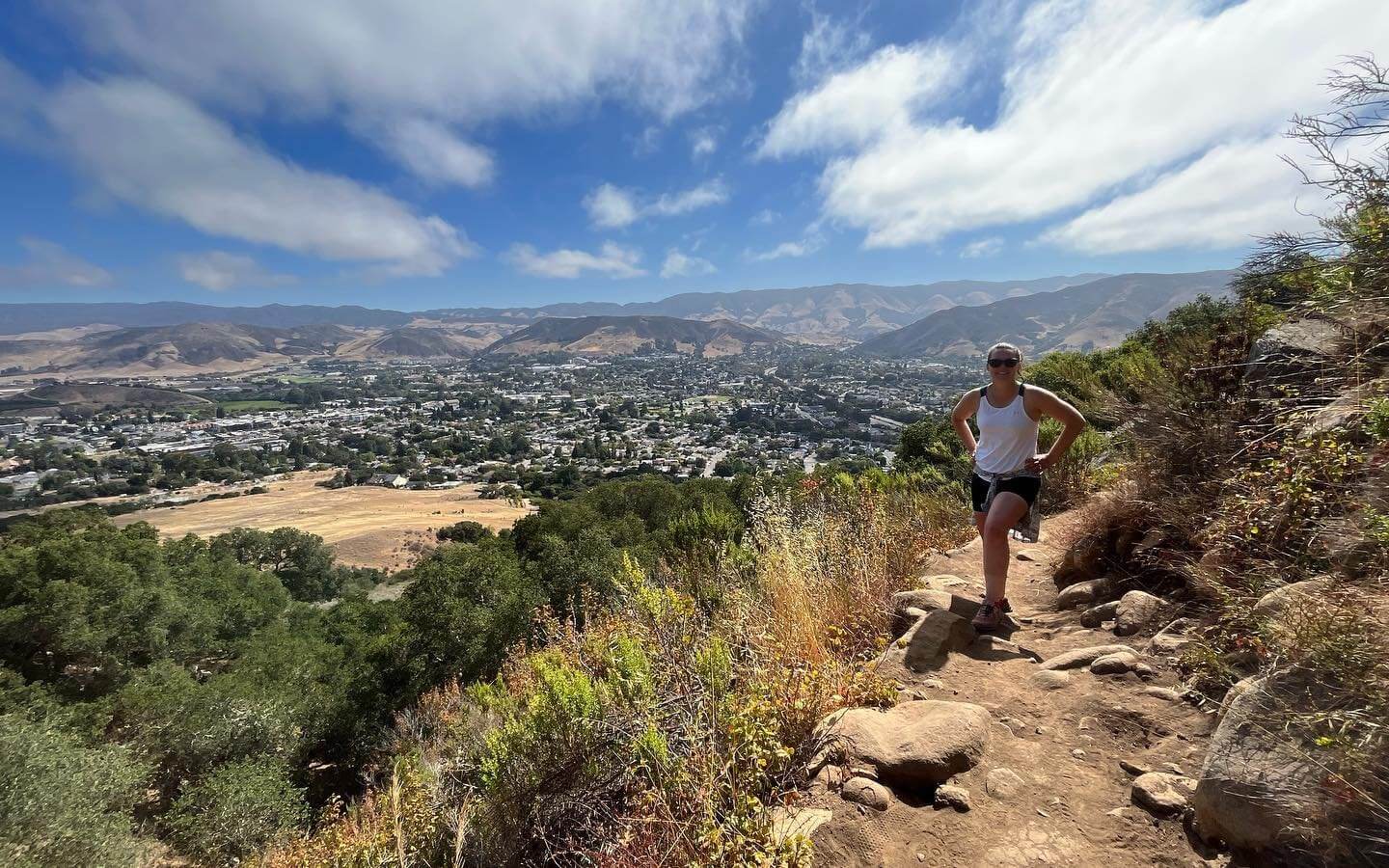 Irish Hills Natural Reserve
"The first part of the trail is like walking through magical woods, just beautiful! As you proceed upwards, there are many different trails to hike with most phenomenal views." – Julie O., Google
See every side of SLO from the Irish Hills Natural Reserve. Over eight miles of grasslands, chaparral and riparian terrain offer unique views of Los Osos Valley, Cerro San Luis and Valencia Peak, plus the Pacific Ocean, depending on the trail you choose. We recommend packing a lunch and a light jacket–you can easily make a day of your visit to this jewel near the coast.
Difficulty: Moderate to difficult
Dogs allowed: Leashed
Bikes allowed: Yes
Good to know: The wide variety of terrain, including mud and rocky gravel, means good-quality hiking shoes are a must.
Cerro San Luis
"A terrific signature hike in SLO. There are a variety of options to get to the top, or you can circumnavigate the whole mountain. Terrific 360 views from the top!" – Chris L., Google
Beautiful oak trees, rock gardens, and sweeping views of SLO make Cerro San Luis one of the best hikes in SLO county for locals (we call it "Madonna Mountain" for the Madonna family, who owns part of the property) and visitors alike. Picnic areas and a playground make it a nice stopover for families with kids. Trails range from mildly challenging to quite steep, so bring a water bottle and come prepared to sweat.
Difficulty: Moderate to difficult
Dogs allowed: Leashed
Bikes allowed: Yes
Good to know: Because of its 360-degree panoramic views of SLO and the surrounding mountains, the trails can get crowded at times. Practice good hiking (or biking) etiquette and make space for everyone.
Reservoir Canyon Trailhead
"The views are stunning throughout the hike. The 1,200 elevation is pretty intense to climb at times, but well worth it when you reach the summit and experience the jaw-dropping site of San Luis Obispo and surrounding areas below." – Anna L., Google
Looking for a hike with a bit of everything? Look no further than the Reservoir Canyon Trailhead. At nearly five-and-a-half miles long, this round-trip hiking trail provides the perfect mix of exercise and leisure. Get your workout in (and carry a conversation with your hiking partner) while exploring oak and eucalyptus groves, plus a small but beautiful local waterfall with a hidden cave.
Difficulty: Moderate to difficult
Dogs allowed: Leashed
Bikes allowed: No
Good to know: We recommend wearing good-quality shoes, plus tall socks or long pants–hikers should expect rocky terrain and may encounter poison oak. Better safe than sorry!
Terrace Hill Open Space
"As the name might suggest, the top of the hill is larger and completely flat with a few benches scattered around. Bring a blanket and watch the sunset for a beautiful ending to your day." – Matthew M., Google
Take it nice and SLO at Terrace Hill, our go-to vista for authentic San Luis Obispo sunrises and sunsets. This unpretentious and casual-friendly hike is perfect for the whole family, offering gorgeous views of the city below. The large, open space at the peak is the perfect place to eat lunch, fly a kite or simply snap Instagram-worthy photos (share yours with #ShareSLO).
Difficulty: Easy
Dogs allowed: Leashed
Bikes allowed: Yes
Good to know: Keep an eye out for photoshoots and groups–this is a popular place to take engagement photos and family pictures.
Valencia Peak
As one of the tallest mountains in Montana de Oro, Valencia Peak rises 1,347 feet above sea level. Don't be fooled by the short, two-mile distance of the hike, however. It takes hikers a heart-pumpking 1,275 feet in elevation gain for a 3.7-mile round trip. The workout is well worth it, as it rewards with complete 360-degree views of San Luis Obispo.
Difficulty: Moderate
Dogs allowed: No
Bikes allowed: No
Good to know: Don't be discouraged if it's a foggy day. Sometimes the best views (and sunshine) are just above the clouds!
South Hills Open Space
"An easy hike with great views, beautiful rocks, and interesting plant and animal life." – Ruth S., Google
If you're short on time, the South Hills Open Space has your back. This brief 1.5-mile urban trail is easy on the legs and convenient to those starting from the city. Bring a sandwich and watch the world go by: with sweeping views of SLO, plus the close proximity to lots of locales, it's our go-to spot for a quick lunch.
Difficulty: Easy
Dogs allowed: Yes
Bikes allowed: Leashed
Good to know: Things can get a bit muddy after a good rain, so wear waterproof or water-resistant shoes if you're heading over after a shower.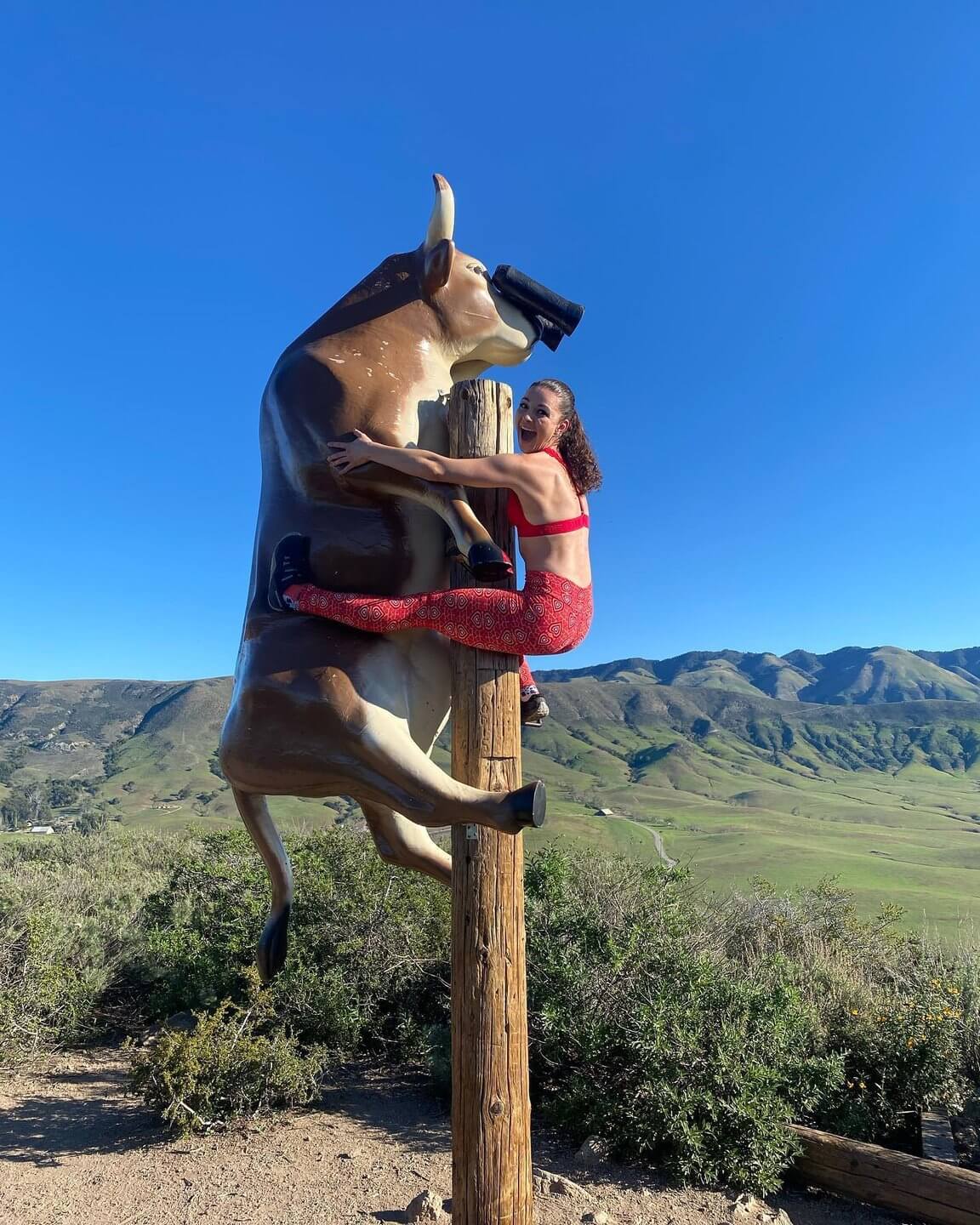 Islay Hill
Vineyards, rolling hills and cows abound at Islay Hill, a family-friendly hiking spot complete with playgrounds and restrooms. Locals love the convenient sports field and tennis courts. Visitors love the sweeping views of authentic SLO wine country.
Difficulty: Moderate
Dogs allowed: Leashed
Bikes allowed: No
Good to know: Like most SLO hikes, there's very little (and by little, we mean absolutely none) shade to be found at Islay Hill. Wear sunscreen, a hat and sunglasses to protect yourself and little ones.
Love hiking? Love nature? Find out how we're cherishing and protecting our beautiful city with the Sustainable SLO program, a tree-planting initiative powered by travelers like you.