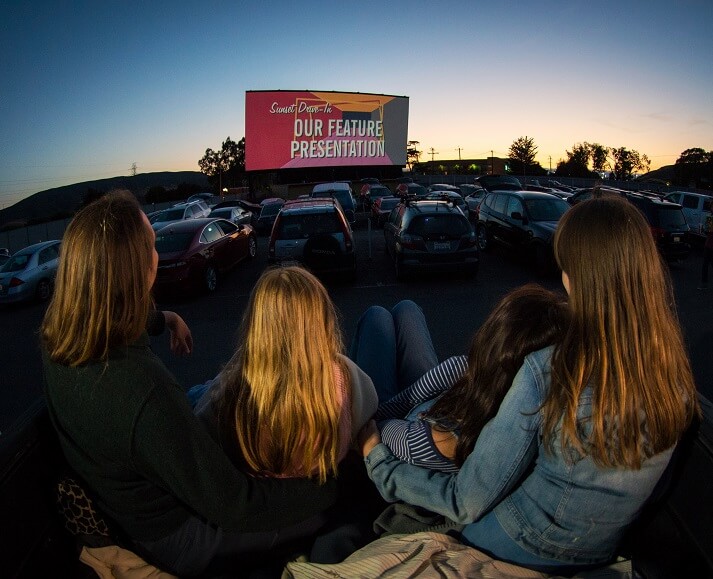 Unique Movie Theaters in SLO
Have you ever seen Fremont's neon sign lighting up Downtown SLO or spotted the "Sunset" sign from Highway 101? Going to the movies is the perfect activity whether for an afternoon outing or a date night out. Try out one of San Luis Obispo's one-of-a-kind movie experiences listed below.
Fremont Theatre
Initially opened in 1942, the historic Fremont Theatre is one of SLO's most unique landmarks, from its pink exterior and standout marquee sign to its red velvet chairs and magnificent painted ceiling. The Fremont is much more than just a movie theater, hosting various concerts and even The Rocky Horror Picture Show marathon. Enjoy a true movie theater experience at the Fremont, perfect for a date or to take your kids along for some family fun.
Palm Theatre
Not the typical movie goer? Interested in independent or foreign films? Looking for a cozier setting? The Palm Theatre is a perfect fit for you. The Palm Theatre offers more Indie and worldly films than others along the Central Coast. Showing different films isn't the only things that makes the Palm so unique – it is also the first solar-powered movie theater in America!
Sunset Drive-In Theater
You can search high-and-low for drive-in movie theaters in California, but they are hard to come by. SLO is lucky to still have the Sunset Drive-In! Enjoy a double-feature for only $8 for adults (12 and up), $3 for children (5-11) and free for the little kiddos ages 4 and under – an unheard of deal in the 21st century! (Don't forget to bring your cash though.)
Be sure to hit up the candy store before for your favorite treats to munch on while watching these back to back films. If you forget to bring snacks with you, you can always purchase goodies at their snack bar. Whether you're with your friends, family or honey, Sunset Drive-In is perfect for all sorts of groups. So grab your jacket (and blankets too) and travel back in time for a night at the SLO Sunset Drive-In.
Explore San Luis Obispo's arts and culture and try out its variety of SLO movie theaters! If you have a love for cinema, you won't want to miss out on SLO Film Fest, an annual event of film, wine and fun, happening March 15-20, 2016!