Happy Hour in SLO
Happy hours in SLO are some of the best on the Central Coast.
Whether you're in San Luis Obispo on vacation or a local just looking for a place to hang out after work, this town is notorious for great happy hours to be enjoyed by all. It's no secret that San Luis Obispo has a plethora of locations with deals that might just give you the urge to order another round.
Note: Happy hour times and offers are subject to change. Contact the individual establishments for more information.
Best Happy Hour in San Luis Obispo
The best happy hour in San Luis Obispo happens Monday through Sunday at a variety of participating restaurants, because every happy hour is the best in SLO.
At Sidecar Cocktail Co., a trendy local craft kitchen, you can indulge in happy hour deals from 4:00–6:00 p.m. every day, including specialty cocktails for $7 and all other spirits, cocktails, draft beers, and house wine for $2 off. While two hours of drink deals are great, the fun doesn't end there! You can enjoy a take-home souvenir mug on Tiki Tuesdays when the bartenders shake you up a tropical drink—can you say win-win situation? Whether you choose to go on a weekend or weekday, these beverage magicians will be sure to whip you up an unforgettable cocktail.
If you're looking for a weekday fix, look no further than Tuesday, where locals venture out to various pint night offerings. Enjoy a draft of your favorite domestic beer, such as Bud Light. Hot spots for pint night are Barrelhouse Brewing, Creeky Tiki, MoTav, and Woodstock's Pizza—among many others! 
There's no better way to start the weekend than heading down to Frog & Peach Pub for Reggae Night, happening every Friday. This traditional Irish pub has been bringing live music to San Luis Obispo since 1994. Once you've got your drink, you can grab a booth or hit the dance floor and enjoy the tunes all night.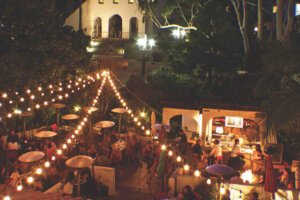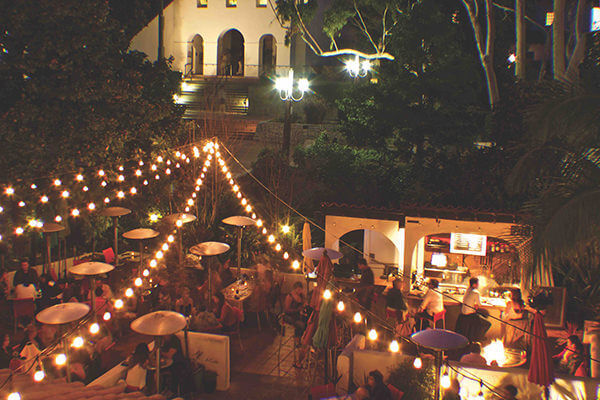 Luna Red recently launched Luna Noche, featuring live music on their gorgeous patio beginning at 10:00 p.m. every Friday and Saturday night. But, don't feel like you have to wait until the sun goes down to get a drink deal because happy hour takes place every day from 3:00–6:00 p.m. This Spanish–style restaurant has delicious tapas small plates that pair perfectly with a glass of their red sangria, that, by the way, you can order by the pitcher if that's more your style.
Eureka Burger's SLO happy hour is Monday – Friday, from 3 to 6 p.m, but if you come on a Saturday or Sunday, Bloody Marys & mimosa's are just $6 all weekend. Whether your drink of choice is a craft beer or small-batch spirits, be sure to pair it down with a specialty burger. 
Any happy hour list wouldn't be complete without mentioning Novo Restaurant. With a beautiful patio next to the creek, this happy hour spot is a local favorite for enjoying cocktails or wine at a deal — every Monday through Thursday from 3 to 6 p.m. 
For the full round-up of watering holes, check out our (mostly) complete list below of happy hours & deals around San Luis Obispo. Want more fun? Check out our blog post on some of the growing weekly SLO nightlife happenings. And of course, don't forget to #ShareSLO!
Monday – Thursday Happy Hours
Monday – Friday Happy Hours
Creeky Tiki: 3-7 p.m.

Eureka: 3-6 p.m. 

Firestone: 2-6 p.m. 

Flour House: 4-6 p.m.

Libertine: 4-7 p.m. 

The Mark: 3-6 p.m. 

Milestone Tavern: 4-6 p.m. (Mon – Thurs) and 2 – 6 p.m. (Fri)

Mother's Tavern (MoTav): 4-6 p.m.

Sidecar: 4-6 p.m.

SLO Brew:  3-5 p.m. 

Woodstock's Pizza: 9-11 p.m. (Mon – Fri)
Monday – Sunday Happy Hours
Buffalo Pub & Grill: 3-6 p.m. (Mon, Tues, Wed, Thurs, Sun)

Bull's Tavern: 2-8 p.m. (Mon – Fri) and 12-8 p.m. (Sat & Sun)

Black Sheep Bar & Grill: 3-6 p.m. 

Charlie's Place: 4-9 p.m. (Mon – Fri), 6-9 p.m. (Sat & Sun)

F.McLintocks: 3-6 p.m.

Giuseppe's Cucina Rustica: 3-4:30 p.m.

McCarthy's Irish Pub: 8-10 a.m., 5-7 p.m.

Petra: 3-6 p.m. (Mon – Sat), all day (Sun)

TASTE! craft eatery: 4-6 p.m.

Wine Sneak: 4-6 p.m. 
More Happy Hours
1865 Craft House & Kitchen: 3-5 p.m. (Tues – Sun)

Central Coast Brewery: all day (Sun)

Luna Red: 3-6 p.m. (Sun – Thurs)

SLO Brew: 2-5 p.m. (Tues – Fri)