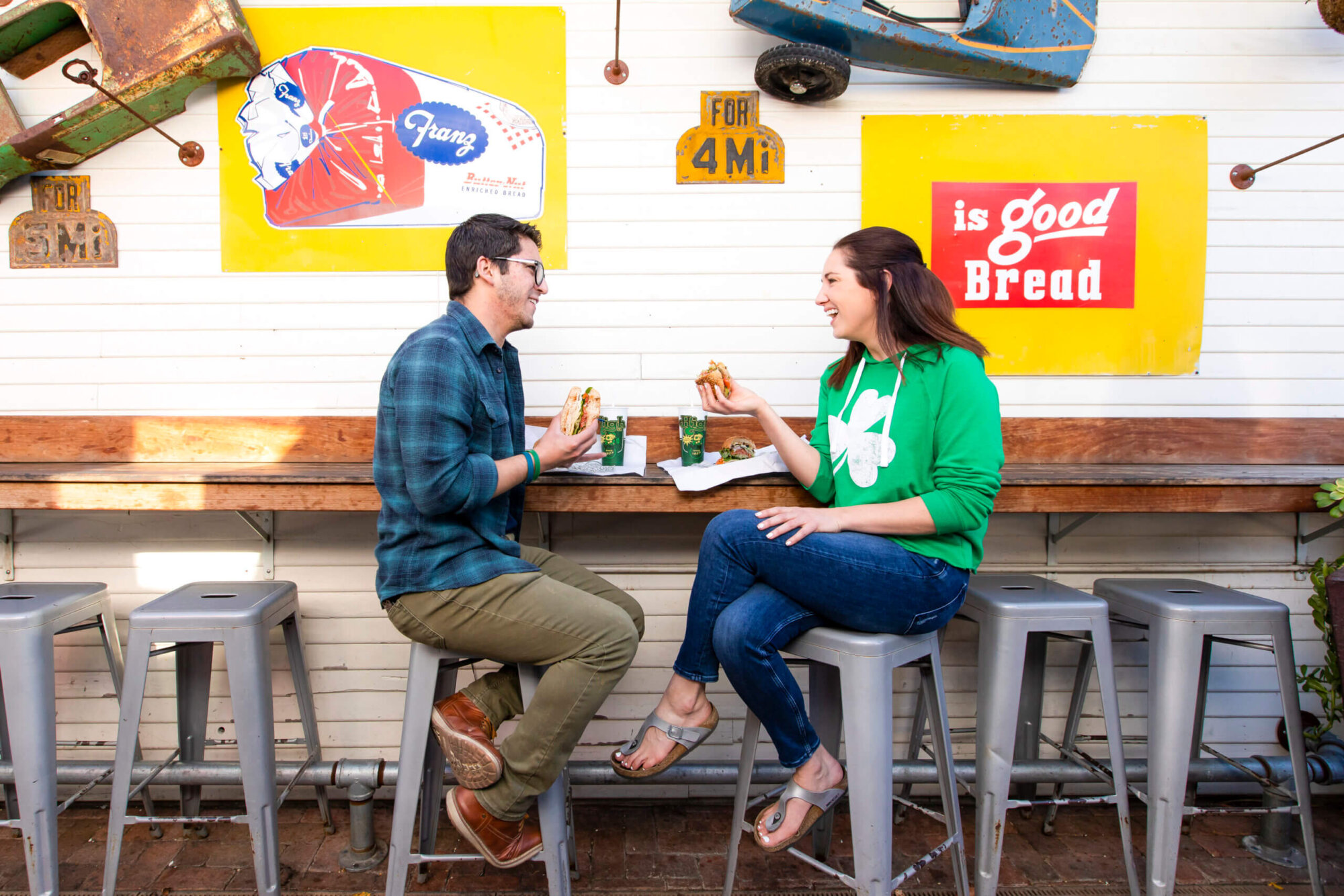 Lunch and Dinner in San Luis Obispo
When it comes to lunch and dinner in San Luis Obispo, our cuisine scene is always moving and grooving – just like us. Drop into casual cafes and coffee shops with breezy outdoor patios (like Big Sky Café). Or, reserve your seat at an upscale eatery in Downtown San Luis Obispo (you can't go wrong with creekside chevre at Novo). It's all good, and it's all fresh.
Lunch
Best Lunch in San Luis Obispo
After a long morning of exploring the city, biking local foothills or just sleeping in, we've got just the thing to help you fuel up for the rest of your day. Lunch in SLO means never eating the same thing twice: dig into classic Central Coast on Monday, tuck into tacos on Wednesday, and finish up on Friday with a local tri tip legend.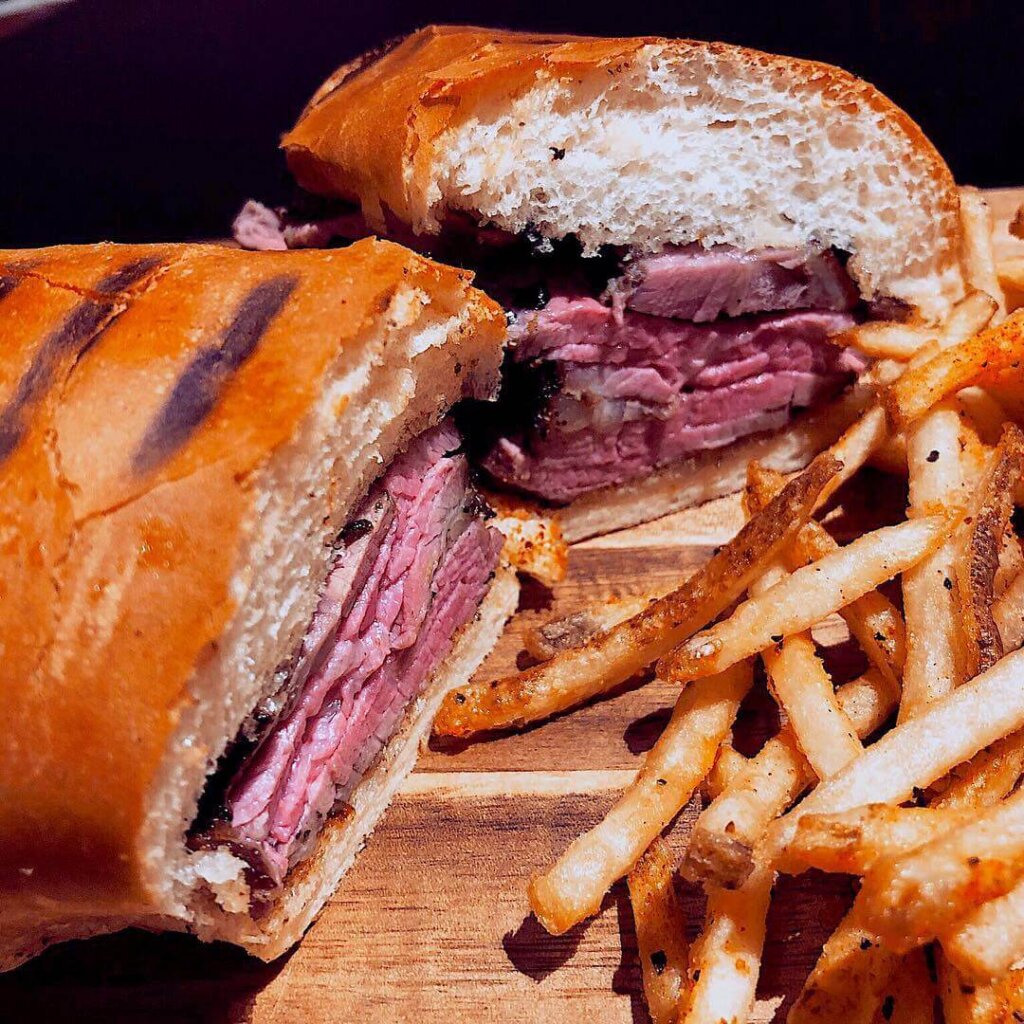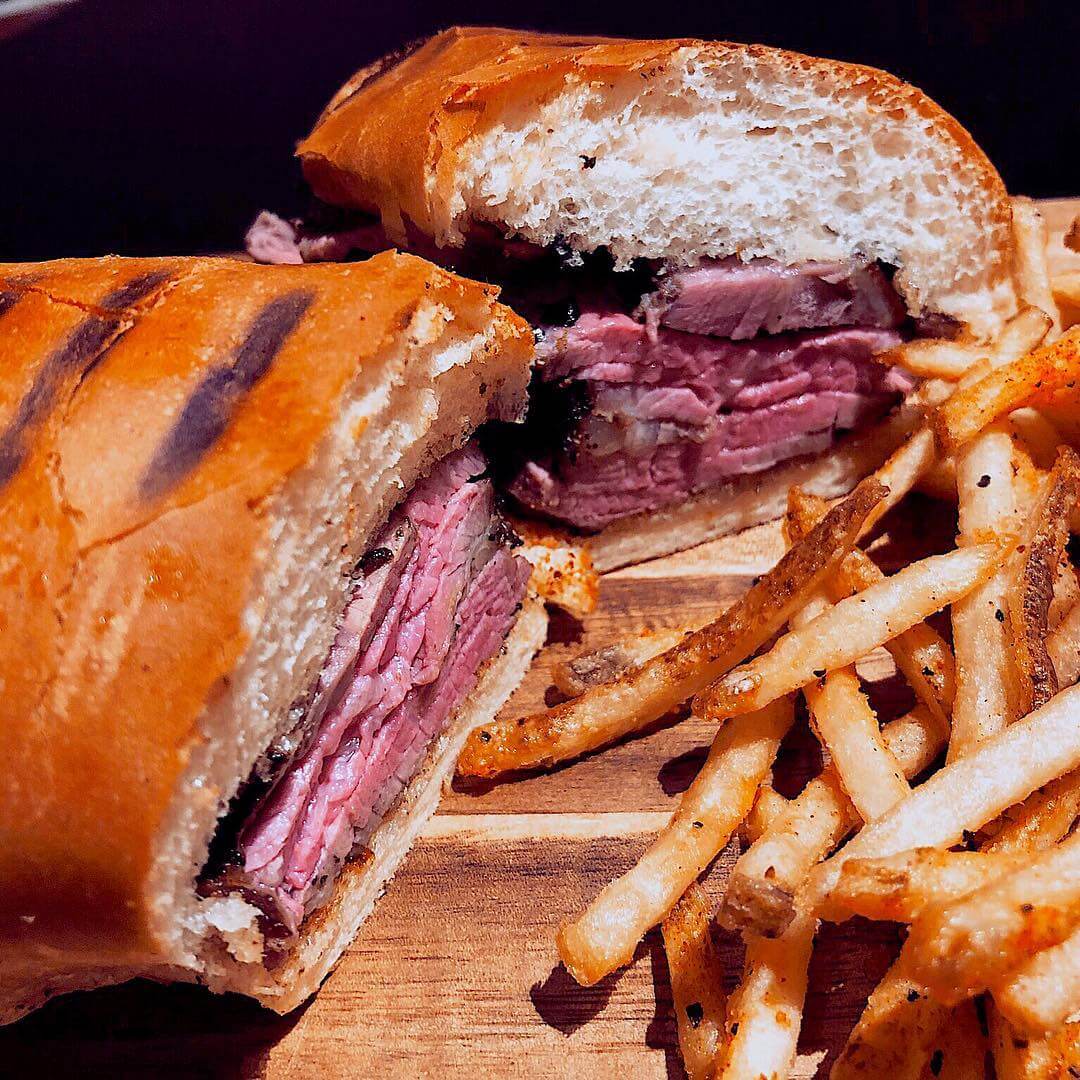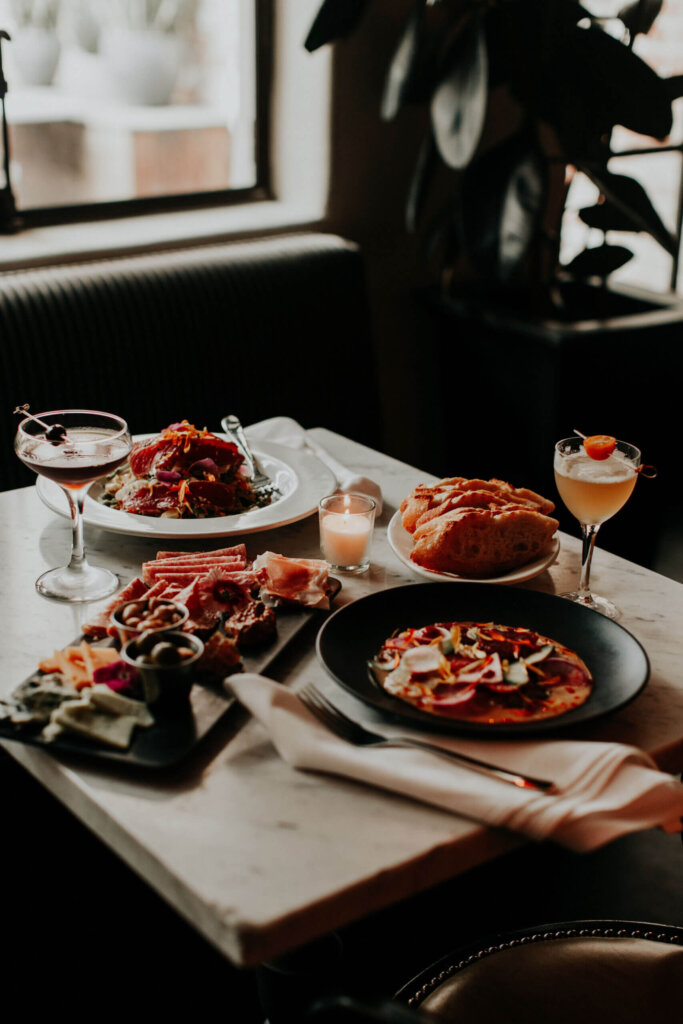 Big Sky Cafe
Go Big Sky or go home. Just kidding – but you don't want to miss this famous café, featured in the New York Times and Gourmet Magazine. Big Sky Café serves up all the flavors of the Central Coast – fresh salads, along with land and sea dishes–and the menu changes with the season to keep things fresh.
High Street Deli
Take a bite out of San Luis Obispo history. Established in 1927, High Street Deli was the grocery store of choice for local railroad workers and their families. Visit their shop near the LoHi District (and be sure to check out the museum and landmarks while you're there) to pick up your favorite deli sandwich.
Firestone Grill
Some say the Firestone Grill serves the best barbecue in California, but we'll let you decide after you visit. Their Santa Maria tri tip sandwiches are loved by locals, but if you're in the mood for something else–chicken, pork, or even veggies – they've got you covered with tasty options to suit every traveler and diet.
TASTE! craft eatery
A delightful culinary experience, TASTE! craft eatery features a diverse selection of delectable food, unique wines and exceptional beers. Embracing a warm and contemporary ambiance, this establishment strives to foster inclusivity and bring people together. With a daily offering of delicious cuisine, great beers and wonderful wines, patrons are guaranteed a memorable dining experience.
Lincoln Market & Deli
San Luis Obispo's original grocer and butcher is still going strong today as a locally beloved mom n' pop eatery. Founded in 1941 under the moniker Ellsworth's Market, Lincoln Market & Deli is known today for its huge selection of sandwiches, salads, soups, desserts and craft beer and wine. (Don't forget to stop by for breakfast, too!)
Petra's Mediterranean Pizza and Grill
Can't decide where to have lunch? Ask any local for a recommendation – they'll probably have three words for you: homemade Mediterranean pizza. Petra's Mediterranean Pizza and Grill was named one of USA Today's top 25 pizza places. But they do more than pies: choose from gyros, kebabs and more.
dinner
Best Dinner in SLO
Discover culinary delights in SLO with various dining options. Enjoy an intimate creekside setting at Novo, where international fusion cuisine awaits. Experience the elevated SLO life at the Michelin-rated steakhouse, Ox + Anchor, where the land-and-sea menu, is inspired by San Luis Obispo's natural beauty. Enjoy all the can't-miss, only-in-SLO dishes you'll find on local menus.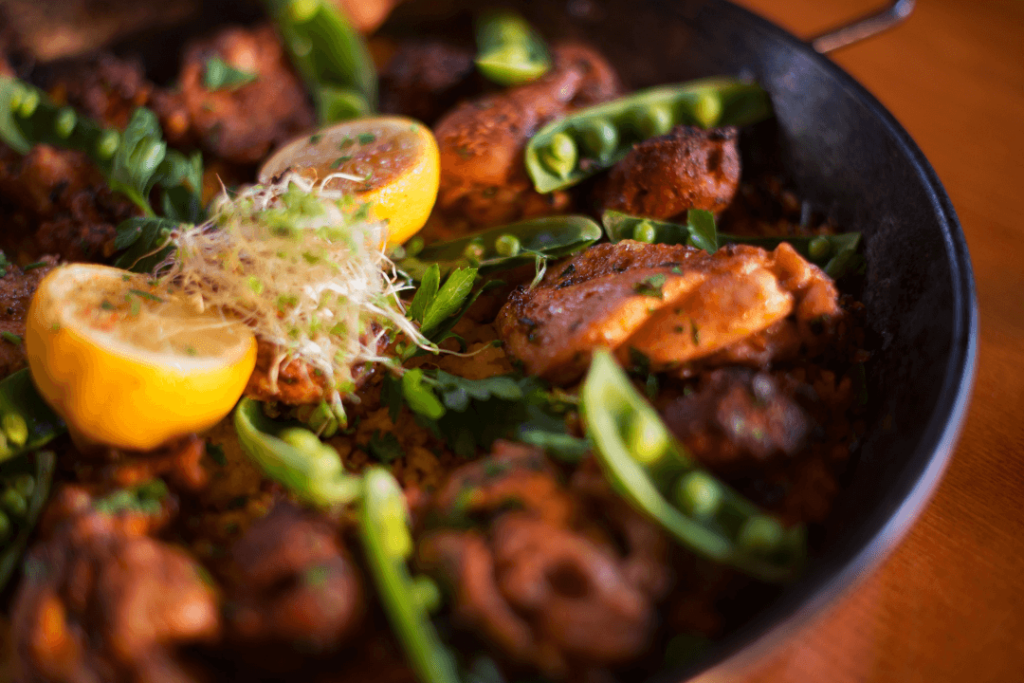 Mistura
You don't have to go around the world to get a taste of global cuisine in San Luis Obispo. Just head to the outdoor seating area at Mistura for authentic Peruvian dishes, where pre-Columbian and Inca influences blend to create a truly inspired menu. They take pride in serving only organic produce and protein, locally sourced whenever possible.
Brasserie SLO
Eat where you stay, or stay where you eat. Located inside Hotel Cerro, Brasserie SLO specializes in California coastal cuisine made with locally sourced ingredients. Tuck into Morro Bay oysters, sip coffee from roasters just around the block, and enjoy salads made from produce grown by San Luis Obispo County farmers.
Giuseppe's Cucina Rustica
In SLO, you can find the taste of Italy close by. Giuseppe's Cucina Rustica is a family-owned restaurant serving both classic and traditional Italian dishes in Downtown SLO. We think their menu is even more delicious knowing the produce is sourced from the owner's farm in Edna Valley!
Ox + Anchor
Live the (Hotel) SLO life – elevated – at this Michelin-rated steakhouse. Ox + Anchor's land-and-sea menu draws inspiration from San Luis Obispo's rolling hills and sparkling seas, with an expansive library of wines carefully chosen to complement every dish. Start with oysters on the half shell and end with their famous baked Alaska.
Cafe Roma
For over four decades, a cherished tradition with rich Italian origins has thrived in San Luis Obispo's Historic Railroad Square at Cafe Roma. Since 1980, the Rizzo Family has won over the hearts of both locals and tourists alike with their genuine Italian cuisine and captivating narrative, deeply intertwined with treasured family recipes.
Novo
The perfect night out in San Luis Obispo can begin or end at Novo Restaurant & Lounge, an iconic creekside eatery. This award-winning Downtown SLO gem has been voted best restaurant across years and contests. Sit down for dinner with their globally inspired menu, or head to the lounge for cocktails with your date.