SLO's Best Bars, Lounges, and Pubs
Summer is better in SLO, especially with a cold cocktail in hand. An abundance of watering holes ranging from classy to cool to charmingly quaint makes it easy to dive right in and sample local flavors. Join us for a tour of our favorite drink spots around town (and remember to raise your glass, not your pinky — this is SLO, after all).
High Bar at Hotel SLO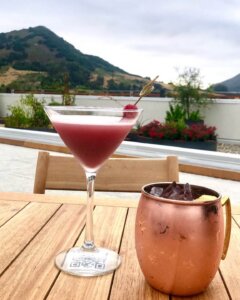 "The absolute best spot in SLO to grab a drink and watch the sunset over Madonna!"
–Nicole B., Google Reviews
Perched atop Hotel San Luis Obispo is High Bar: a modern, sun-drenched roost offering breathtaking views of far-off, rolling California hills. Whether you're staying at the hotel or dropping in for drinks, don't pass up your chance to catch an authentic SLO sunset from the best vantage point in town. Thirsty and hungry? Not to worry — High Bar offers small plates and pizza.
Can't-Miss Cocktail: Side Piece — Bixby gin, raspberry and rose water cordial, X-Rated passion fruit liqueur, lemon, Angostura bitters, and soda
Address: 877 Palm Street, San Luis Obispo, CA 93401
Hours: 2:00 p.m. — 9:00 p.m. daily (weather permitting)
Highwater
"Here's what's great: the cocktails, food, service, atmosphere, and friendliness of the staff. Here's what's not: absolutely nothing."
–Ben B., Google Reviews
Shakespeare famously said, "If music be the food of love, play on." He must not have been thirsty at the time, because there's plenty to love about Highwater, where you can enjoy fine tunage while sipping rock-inspired cocktails. Created by three acclaimed masters of their fields–mixology, cuisine, and music–this woman-owned, LGBTQ-friendly bar welcomes everyone.
Can't-Miss Cocktail: Killer Queen — gin, lavender-infused Lillet, Bénédictine, aromatic bitters
Address: 1127 Broad Street, San Luis Obispo, CA 93401
Hours: Sunday Brunch: 11:00 a.m. – 3:00 p.m. | Dinner: 5:00 p.m. — 10:00 p.m. Thursday through Monday
Sidecar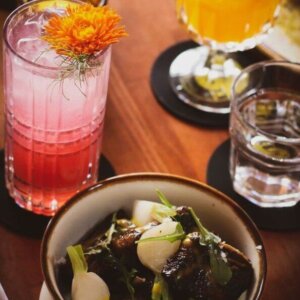 "The food at Sidecar is delicious, but that's not really why you go to Sidecar. You go to Sidecar because you want an excellent original cocktail."
–Fanny A., Google Reviews
The music plays on at Sidecar, a retro space enclosed by brick walls and bookshelves. Order an eclectic original cocktail or take a leap of faith and let their mixologists whip up a custom creation. Abstainers can't go wrong with "High on the Mountain," a vanilla-and-fruit-filled mocktail, plus other bottled alternatives. Explore their full list of cocktails, beers, wines and spirits online.
Can't-Miss Cocktail: Midnight in the Garden — Blanco tequila, house green chile liqueur, pink guava, pineapple, lime, bouquet tincture, bruleed lime
Address: 1040 Broad Street, San Luis Obispo, CA 93401
Hours: 4:00 p.m. — 10:00 p.m. Wednesday through Saturday
Novo
"All of their ingredients at the bar are made in house for their cocktails, and their standard "well liquors" are what most restaurants would use in the "top shelf" versions of their drinks."
–Snowie S., Google Reviews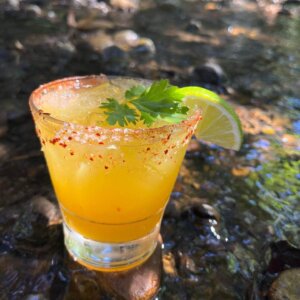 Downtown SLO's creekside gem, Novo, is the perfect place to cozy up with a cocktail (or mocktail) after a great meal. The menu is full of international flavors that let diners travel the world without leaving their seats. And why would you ever want to leave? With endless opportunities to sample every drink (breakfast, brunch, lunch, late lunch and dinner), you'll return again and again.
Can't-Miss Cocktail: Rise 'n Shine — cucumber vodka, Canton ginger liqueur, lemon, simple, cucumber, chile rim
Address: 726 Higuera Street, San Luis Obispo, CA 93401
Hours: 10:00 a.m. — 9:00 p.m. Sunday
11:00 a.m. — 9:00 p.m. Monday through Saturday
Mother's Tavern
"All of their cocktails are made with a strong hand [and] are DANGEROUSLY good!"
–Mayra O., Google Reviews
This isn't your mother's cocktail–or is it? Mother's Tavern miraculously creates a family-friendly atmosphere without sacrificing the cozy intimacy of your favorite sports bar. Cocktails range from copper mug creations to new-and-improved classics. A private lounge is available for groups, parties and special events when you book ahead.
Can't-Miss Cocktail: SLO Flirtini — Smirnoff raspberry vodka, passion fruit liqueur, pineapple, splash of white sparkling wine
Address: 725 Higuera Street, San Luis Obispo, CA 93401
Hours: 4:00 p.m. — 2:00 a.m. Tuesday, Wednesday, Thursday
11:00 a.m. — 2:00 a.m. Friday, Saturday, Sunday
Koberl at Blue
"Classy bar, good food, nice place to gather over drinks and small plates."
–Antonio B., Google Reviews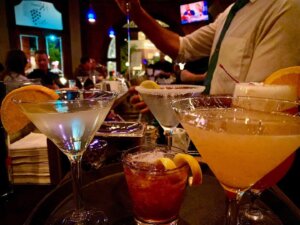 Koberl is where the locals go to relax, unwind, and celebrate, but you don't need an excuse to treat yourself to one of their fresh takes on familiar cocktails. Simple, yet elegant furnishings make indoor dining a treat, but we recommend opting for a sidewalk table where you can watch the SLO world go by. Designated drivers enjoy free fountain drinks and coffee.
Can't-Miss Cocktail: Yuzu Gimlet — Roku gin, Sencha jasmine tea, yuzu, honey
Address: 998 Monterey Street, San Luis Obispo, CA 93401
Hours: 4:00 p.m. — 9:00 p.m. Tuesday through Saturday
Nightcap
"Do yourself a favor and let them freestyle something for you, as they know what they're doing when it comes to mixology."
–Lynn C., Google Reviews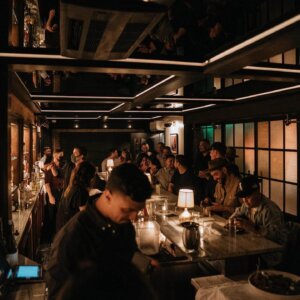 We'd be remiss if we didn't include Nightcap, an atmospheric lounge tucked away inside Granada Hotel & Bistro. Warm wooden accents and low lighting provide a comforting retreat after a long day exploring SLO, and the mixologists on staff are known for their expertise.
Can't-Miss Cocktail: Let the bartender decide
Address: 1130 Morro Street, San Luis Obispo, CA 93401
Hours: 6:00 p.m. — 11:00 p.m. Friday and Saturday
6:00 p.m. — 10:00 p.m. Tuesday, Wednesday, Thursday
Many of SLO's best cocktail spots are conveniently clustered, so you can hit up any bar or tavern or lounge (or all three) on foot. You can even make a day of it with one of SLO's amazing happy hours. But for a stress-free night, we recommend using one of our convenient transportation options. Go ahead–order that second drink. We've also got you covered if you're feeling hungry with the best restaurants in San Luis Obispo.
There's more to sample than just cocktails when it comes to the SLO life. Get your free digital visitor's guide here and travel on.