As summer rolls into San Luis Obispo, it brings with it a multitude of concerts, both indoor and outdoor, for visitors to enjoy all season long. Whether you like alternative rock, reggae, country or pop, concert goers have a variety of options to choose from throughout the Central Coast.
Good music and great company in the beautiful Mission Plaza in downtown San Luis Obispo is exactly what you'll find every Friday night this summer at Concerts in the Plaza. Kicking off June 9th and running through September 8th, Concerts in the Plaza is a locals' favorite that they love to share with out-of-towners. Bring something to nosh on or grab a bite to eat after at the nearby restaurants. Mark your calendars for this family-friendly event.
SLO Brew
Check out SLO Brew's new digs and enjoy a concert while you're at it. Pair SLO Brew's intimate concert setting with delicious eats and craft brews and you're sure to have a perfect night out on the town.
Fremont Theatre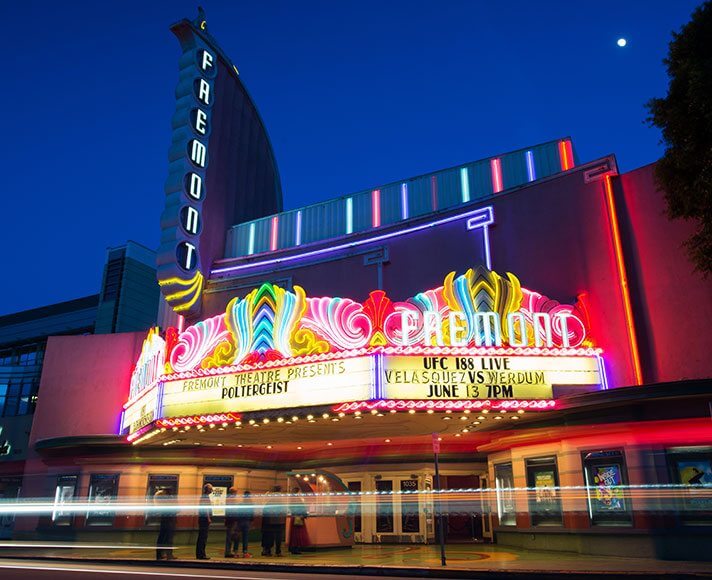 The Fremont Theatre is not only an iconic movie theatre in the heart of San Luis Obispo, it's also an incredible concert venue. This landmark location with an eclectic list of concerts makes for a unique date night or get together with friends.
Performing Arts Center
Enjoy local and international performances at the state-of-the-art Performing Arts Center (PAC) located on the Cal Poly campus. The PAC offers guests a world-class concert experience – something you won't find anywhere else on the Central Coast.
Concerts Near San Luis Obispo

Avila Beach Golf Resort Concerts
Soak up the sun, jam out to some funky tunes and watch the waves roll in at Avila Beach Golf Resort. Just a short 15-minute drive from SLO to experience this one-of-a-kind concert venue.
California Mid-State Fair 2017
Not only can you ride the Ferris Wheel, eat a corn dog and pet baby pigs, but you can also attend a few concerts of major headliners this summer at the California Mid-State Fair. It all happens this July in Paso Robles, but be prepared, tickets sell out quickly!
Discover more concerts happening on the Front Frontier Stage, Mission Square, Headliner Stage and Paso Pete's Ponderosa Stage.
Vina Robles Amphitheatre
Off East Highway 46 in Paso Robles, amongst the vineyards, sits Vina Robles Amphitheatre, one of the largest outdoor venues along the Central Coast. The amphitheater offers attendees various seating options from general admission lawn seats to VIP passes, along with multiple bars featuring local wine and beer.
We hope you can make it to at least one of these exciting concert experiences this summer. Don't forget to share your concert fun with #ShareSLO!