If you're looking to enjoy some live music, San Luis Obispo has plenty! Treat yourself to free outdoor San Luis Obispo concerts with Concerts in the Plaza or a bustling SLO music festival by the beach. The Central Coast has a lively music culture with venues ranging from intimate concert settings at SLO Brew to the state-of-the-art Performing Arts Center. No matter what night, there's always a stop for live music in San Luis Obispo – known for featuring both local talent and international headliners, San Luis Obispo's music and entertainment calendar is continually packed with multiple shows every weekend. Check the venue options below for their latest line–up of live music in SLO.
Live Music in San Luis Obispo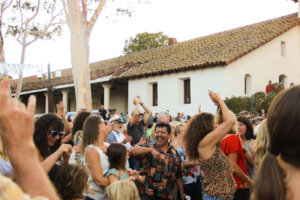 San Luis Obispo is known for its music scene – from bars and restaurants
 throughout the city where you can enjoy an outdoor dinner and catch a show at the same time, to live music happening at wineries scattered all over the Central Coast. Stop by Mission Plaza for the Central Coast's largest free concert series, Concerts in the Plaza. Enjoy a musical put on by the San Luis Obispo Repertory Theatre, catch some SLO concerts at a local venue, or find performances and symphonies on the Cal Poly campus at their Performing Arts Center – your options for live music in SLO are endless.
San Luis Obispo Concerts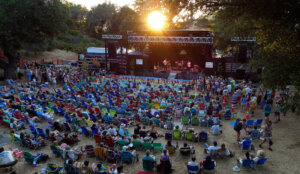 Looking for SLO concerts? Locals say your first stop should be the Fremont Theater – a piece of SLO history that hosts everything from touring musicians and stand-up comedians to DJed music nights. San Luis Obispo brewery SLO Brew Rock plays live music during the day, and in the evening transforms into a concert venue open to popular tours as well as local legends. Plus, if you're trying to make a whole night of musical nightlife, the Frog and Peach Pub regularly hosts shows on its sticker-bombed indoor stage. And for bigger shows, hit up the Vina Robles Amphitheatre, a nearby outdoor hotspot that can seat up to 3,300 people.
SLO Music Festivals
This summer, it's time to hit the Central Coast and break out your best festival
fashion, because SLO music festivals are right around the corner. Ea
ch year, San Luis Obispo is home to its very own music festival – the Shabang Live Music and Arts Festival, a 2-day summer experience with a lineup of over 50 performers that comes with a side of art exhibits, community yoga and delicious food. And located right in the El Chorro Valley is the Live Oak Music Festival – a festival where you can listen to music from indie rock to West Coast funk, shop for souvenirs from local artisans and more.