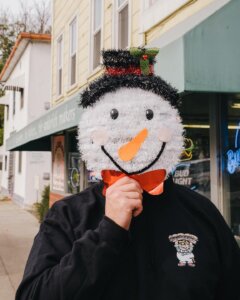 San Luis Obispo is ready to light it up once again for the 2021 holiday season. From a Reindeer Run and Santa's House to musical performances, a Menorah lighting and so much more, we're ready to bring the fun back for this holiday season. Explore all the happenings in SLO below. You might even find a new family favorite to add to your list of holiday traditions!
Holiday Plaza and Santa's House
If you've ever visited the plaza at Mission San Luis Obispo de Tolosa during the holidays, you've experienced quite the treat in the form of Santa's House and other decorations throughout the area. This downtown holiday favorite is a little, red cottage where the big guy himself resides and will be making personal appearances this season.  Bring the young folks (or just the young at heart) and snap Instagram-worthy pics at Santa's House day or night, then drop off your wish-list to Santa so he knows what to send down your chimney this year. Located in Mission Plaza on the 1000 block of Chorro St. Visit Santa's House from Nov. 26 to Jan. 2.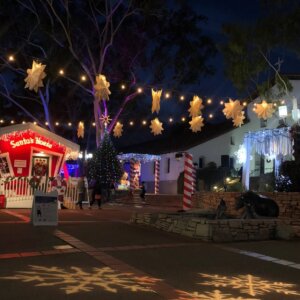 Search for Santa's Mouse Scavenger Hunt
Children will fall in love with scavenger hunting as the search for Santa's mouse is on this season. Starting Friday, Nov. 26, clues will be hidden throughout Holiday Plaza and downtown. Start at Santa's House and pick up a booklet listing out the eight clues for kids and families to find as they enjoy the sights and sounds of downtown. 
Downtown Holiday Parade
Mark your calendars for Friday, Dec. 3, when Santa and the gang return for the 45th Annual Downtown Holiday Parade. The route winds its way from Chorro St. and Palm St. all the way up to Nipomo and Monterey. The special theme this year is California Dreamin',  and the parade starts at 7 p.m. Don't miss this festive kickoff to the holiday season! 
Decorated Windows Downtown
Starting on Sunday, Nov. 28, SLO's Decorated Window Showcase literally lights up Downtown SLO with colorful, twinkling lights, wreaths, trees and other decorations. Area businesses get into the seasonal spirit of things by trying to outdo one another with their festive spirit. It's best viewed after nightfall, but you can get into the spirit even when strolling around town during the day.
Menorah Lighting
The SLO menorah will be illuminated each night at 5 p.m. during Hanukkah, which runs Sunday, Nov. 28 to Dec. 6. The big celebration comes on Nov. 28, or First Night of Hanukkah, where residents will commemorate the season with Hanukkah foods, dreidel contests, music and more. You can find the menorah just outside the Mission San Luis Obispo de Tolosa. The event is sponsored by the JCC-Federation of SLO. Contact [email protected] for more info.

Holiday Tree
What's a holiday season without a giant tree? Nothing, we tell you! That's why you'll find a 20-foot Holiday Tree right in Mission Plaza from Nov. 26 to Jan. 2. Check it out on your way to Santa's House, a carousel ride or other downtown happenings this season.

Other SLO Holiday Happenings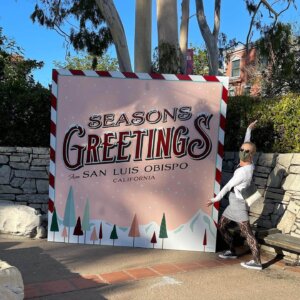 Go beyond the sights and sounds of the downtown area to explore the cultural richness of San Luis Obispo this holiday season.
Holiday Kaleidoscope Concert
A Central Coast tradition, the fifth annual Holiday Kaleidoscope concert is set for Saturday, Dec. 4, 7:30 p.m. at the Performing Arts Center. Featuring four Cal Poly choral ensembles and special guests from the community, the concert will showcase traditional holiday favorites, new works, sing-alongs and a full holiday orchestra. 
Annual Reindeer Run
Let's face it. Many holiday events are all about kicking back with some good food, local wine and festive entertainment. The Reindeer Run, on the other hand, is all about getting outside and moving your body on a brisk Central Coast morning in December. The 5K fun run begins at 9 a.m. on Dec. 11 at Mitchell Park. It snakes along the Railroad Trail, returning to its starting point via Broad St and Santa Barbara St. Registration costs $25 per runner ($30 at the door), and you can sign up to run right here.

Sip & Graze Events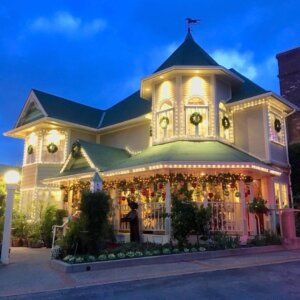 The Apple Farm Inn will host not one, but two, amazing Sip & Graze events this year to celebrate the opening of its new Marketplace & Cellar. The first event is set for Friday, Dec. 3 at 5:30 p.m., with another following on Friday, Dec. 17. Whichever event you pick, you'll enjoy local spirits paired with locally grown bites across six different holiday vignettes. Tickets cost $80 per person ($100 at the door) and are on sale now on the Apple Farm website. 
Special Precautions
2020 may be a distant memory, but certain mandates remain in place throughout San Luis Obispo County for the time being. Masks are required for all indoor venues. Keep up to date on local regulations here. 
#ShareSLO
Don't forget to share the holiday excitement by using #ShareSLO in your photos and tag @ShareSLO on social media. You'll spread joy and your photo could potentially be featured!