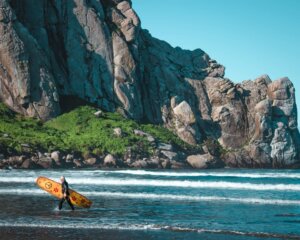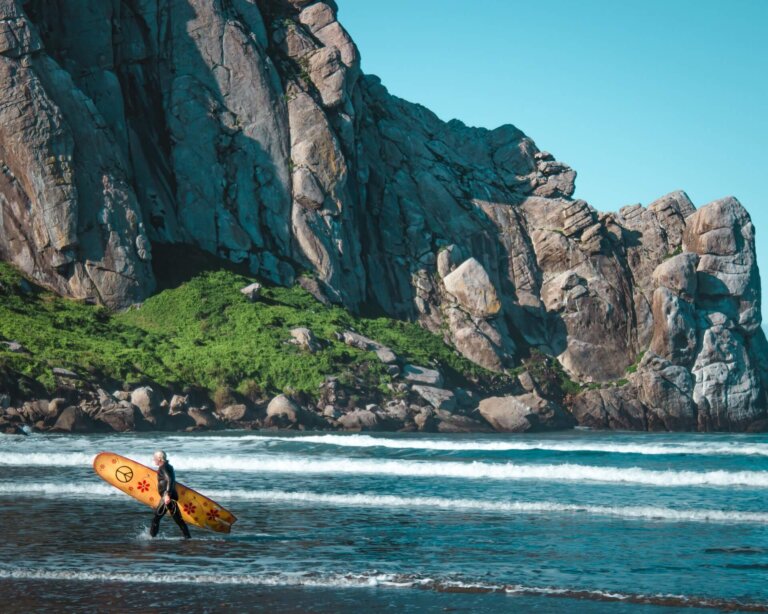 Local wine, farm-fresh finds, bubblegum–SLO is full of unique flavors to discover. But those aren't the only tastes in town. There's much more to find at San Luis Obispo's seaside, where beach tasting is a popular local pastime. To be clear, we don't mean licking sand. We mean sampling the style of iconic beaches.
Let SLO be your launching point for seaside adventure this summer. From here, you can access the area's best beaches. Spend hours wandering Avila Beach, find a one-of-a-kind souvenir along the Morro Bay Embarcadero, or explore activities for the whole family in Pismo Beach.
How to Beach Taste
Like everything else we do in SLO, we never rush beach tasting. Why? Because there's nothing like spending the day exploring the shore, especially in summer. Swimming and sunbathing is just the beginning: there are endless eateries, attractions and activities to experience along the coast, plus piers, promenades and shopping centers.
So pack your favorite book and a cooler of your go-to beachside drinks–you won't want to miss any of this. Here's our top tips for beach tasting in SLO like the locals do.
Go by Bike
It's cool, it's green, and it's the best way to see some of SLO's best beaches. Bring your own bike or rent one from Wally's or Foothill Cyclery. The leisurely three-mile Bob Jones City to Sea Bike Trail offers a scenic route to Avila Beach, but cyclists looking for more challenging fare should head to Morro Bay's mountain biking trails.
Pack a Lunch
Beach days call for plenty of good food to keep you going. Find fresh, healthy options to suit every palate in town: SLO is full of restaurants, cafes and eateries that offer grab-and-go meals. Stock up on specialty sandwiches made with local ingredients at SLO Provisions, hit up Lincoln Market & Deli for soups, salads, and other picnic specialties, or stop by High Street Market & Deli for fast eats when you're short on time.
Bring Your Dog
You don't have to leave your BFF (best furry friend) behind during your beach tasting adventure. Dogs are welcome to tag along, as long as you keep them on a leash.
Avila Beach to the south and Cayucos Beach to the north are both popular spots for four-legged frolicking. Just around the corner from Avila Beach is Olde Port Beach, with an off-leash area for pets to get their zoomies out before you head home for the day.
Don't miss the dog beach at Toro Creek in Morro Bay then on your way back to SLO you can even stop by Lemos Feed & Pet Supply for a self-service dog-wash (so you can keep the sand on the beach and out of your car).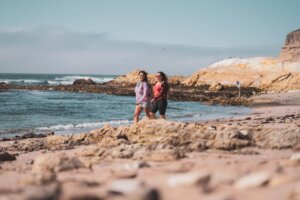 Where to Beach Taste
In and around SLO, you'll find beaches to suit every taste: dog-friendly beaches, bike-friendly beaches, family-friendly beaches, hike-worthy beaches and lots more. Will you start your day at a local spot like Avila Beach, Pismo Beach, or Morro Bay? Or will you venture outward to explore Montaña de Oro State Park and Oceano Dunes? Here's your quick guide to SLO beaches and what you can do there.
AVILA BEACH

Good for:

Picnics, sunbathing, sandcastle-building

Attractions

: Point San Luis Lighthouse, Central Coast Aquarium, and Avila Hot Springs

MOONSTONE BEACH

Good for

: Strolling tide pools, rock and sea glass hunting surfing, and whale watching

Attractions

: Moonstone Beach Boardwalk, San Simeon State Park and Hearst Castle

CAYUCOS STATE BEACH

Good for

: Swimming, sunbathing, fishing, and surfing

Attractions

: Antique stores and specialty shops

MONTAÑA DE ORO STATE PARK

Good for

: Hiking, mountain biking, horseback riding, and surfing

Attractions

: Scenic hiking trails, coastline vistas, and tide pools

MORRO BAY

Good for

: Kayaking, SUP, sailing, hiking, surfing, fishing, and biking

Attractions

: Morro Bay State Park and Museum of Natural History

PISMO BEACH

Good for

: Volleyball, fishing, swimming, and surfing

Attractions

: Monarch Butterfly Grove, Pismo Beach Pier, Dinosaur Caves Park 
And after a day full of sun, sand, and all things beach tasting, it's good to know you don't have to go far to hit the hay. Stay in SLO, see all the sunrises and sunsets, and get the best tables at nearby restaurants and bars. (And did we mention that, when you book and stay in SLO for two nights Sunday through Thursday before Aug. 31, we'll give you $100 in cash?)
There's a whole lot of salty and plenty of sweet waiting to be sampled at nearby SLO beaches, and you won't want to miss capturing a single memory. Tag us in your favorite moments with #ShareSLO
Looking for more beach tasting inspo? Seeking your next SLO activity? Get your free digital visitor's guide here and travel on.