Gluten-free? Like any diet, restrictions can make traveling and eating out difficult, forcing you to search through menus only to be left disappointed by little variety or lack of tasteful options. Luckily, San Luis Obispo is home to endless restaurants serving delicious gluten-free dishes that will satisfy every taste bud!
726 Higuera Street, San Luis Obispo
Global cuisine and handcrafted beverages paired with a creekside patio make Novo an iconic dining experience in Downtown SLO. Novo serves delectable gluten-free dishes throughout the day, but it is known for its incredible Sunday brunch that rivals many other spots that serve brunch in San Luis Obispo. You cannot beat the eggs Benedict or a burger on a brioche bun. If you go for dinner, make sure to try their popular "Chow Novo" noodles and sit outside under the twinkling patio lights. As a helpful visual aid, the menu notes gf or gfo next to all dishes that are gluten-free or have the option to be served gluten-free. Whether you are hungry for brunch, lunch, dinner, or dessert, Novo has a meal for you.
1121 Broad Street, San Luis Obispo
Gluten-free options? The sky is the limit! Every salad and almost every entrée served at Big Sky Café has the option of being gluten-free. With various dishes like vegan Spanish paella, butternut squash risotto and shrimp pad thai, this café creates dinner entrees to satisfy any craving. Big Sky's breakfast omelets and Big Rock blue cheese B.L.T.s are nothing short of amazing.
1051 Nipomo Street, San Luis Obispo
Tired of hunting through a menu in search of the gluten-free dishes? Ciopinot's got you covered with an entire menu strictly dedicated to delicious gluten-free options. Ciopinot is one of the finest seafood restaurants on the Central Coast serving fresh oysters, cioppino, and amazing wagyu steaks. Ciopinot also demonstrates excellent customer service as the menu aids in your beverage selection by noting three different wines that pair well with each dish. Plus, you are welcome to bring up to four bottles of local wine for no corkage fee!
1000 Higuera Street, San Luis Obispo
Woodstock's has been tossing gluten-free pizza dough in SLO for years, with a crust that you have to taste to believe. They offer a comprehensive menu for vegans and lactose intolerant folks as well, and their Zesty Red Sauce is egg and dairy free. Featuring California-grown tomatoes and nitrate-free meats, you can feel good about biting into a slice of Woodstock's Pizza.
950 Orcutt Rd, San Luis Obispo
In recent years, craft beer has seen a surge of popularity in SLO, especially with the increase of innovative breweries like Bang the Drum. Among their traditional ales, Bang the Drum Brewery features an ever-changing lineup of fresh cold brews, including their Ex-Girlfriend gluten-free IPA. The relaxed, open atmosphere of the brewery is perfect for live music and events, making it a go-to for thirsty gluten-free patrons.
1023 Chorro Street, San Luis Obispo
Located next to Mission San Luis Obispo de Tolosa, Luna Red has forged its own niche in the city's dining scene with its artfully exhibited and intensely flavored tapas, composed of locally sourced, seasonal ingredients. The outdoor patio offers a trendy and romantic atmosphere for guests with its cozy seating, fire pits and lively late night music. Nearly every item on the menu can be made gluten-free upon request, so share plates of tacos, pans of paella, or take advantage of $6 Happy Hour (every day of the week from 3:00-6:00 p.m.) and bite into some delicious bacon wrapped dates and oven-baked clams.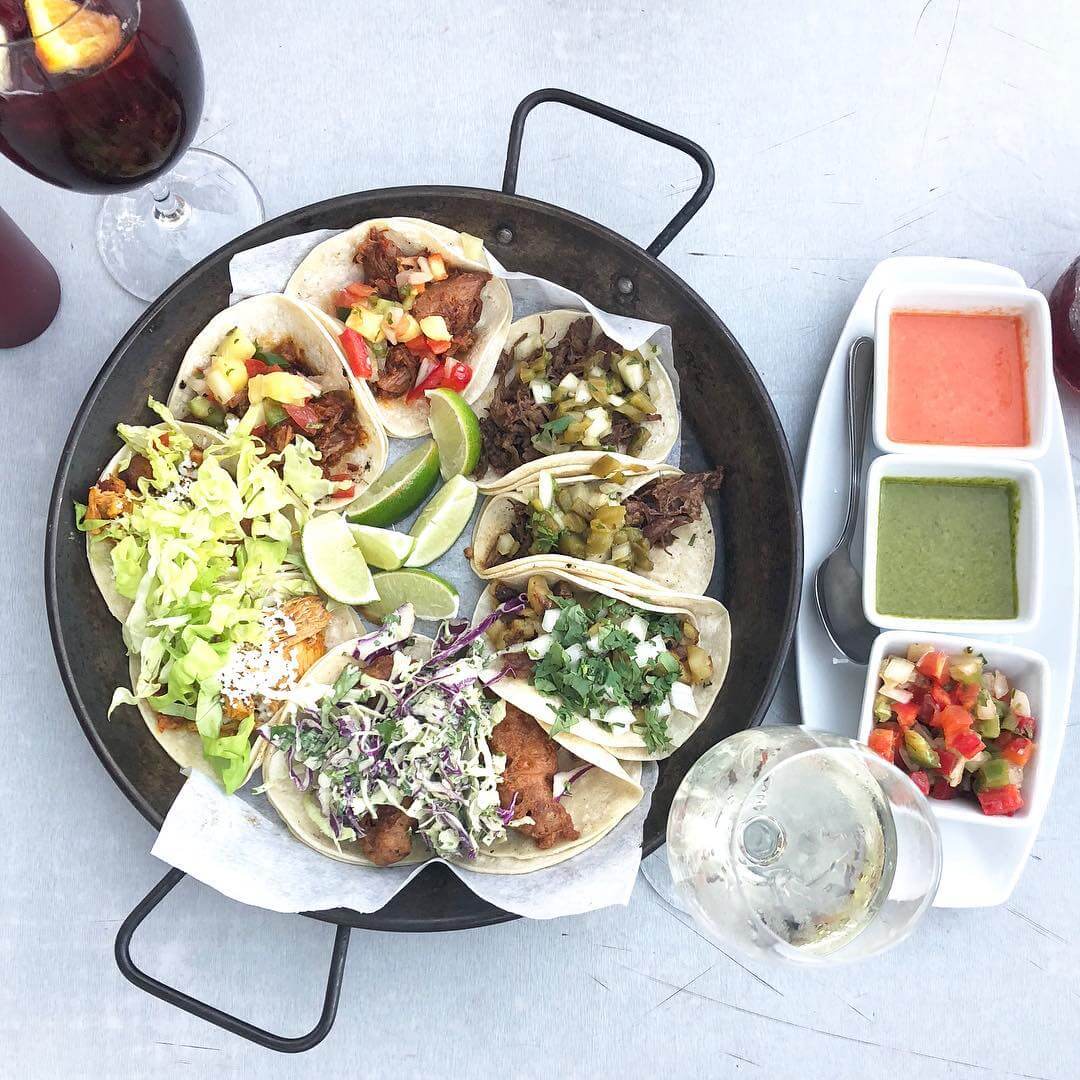 1037 Monterey Street, San Luis Obispo
Similar to Ciopinot, Buona Tavola offers separate menus for both lunch and dinner solely illustrating their gluten-free dishes. These menus feature a variety of appetizers, handcrafted pasta, and mouthwatering main courses prepared with high-quality ingredients. The back patio seating offers a beautiful garden environment ideal for a leisurely lunch or dinner.
2256 Broad Street #120, San Luis Obispo
Looking for a fast, casual food fix? Oki Momo is open every day outside the bustle of downtown, offering Asian cuisine to please multiple palates. Oki Momo takes pride in being a place where people with diverse dietary wants and needs can join together for a healthful, enjoyable meal. Create your own combo and fill your stomach with quality, affordable gluten-free food.
778 Higuera Street Suite D, San Luis Obispo
Hidden from the vibrant energy of downtown, Bliss Café offers a peaceful creekside dining experience and serves local, organic dishes to nourish your body, mind, and spirit. Enjoy a nutrient-rich bowl full of quinoa, kale, and cashew cheese or a plant power burger with a side salad. Hydrate with freshly squeezed juice, kombucha on tap or a tall glass of Bliss lemonade.  If you are feeling fancy, make a smoothie a meal by adding house-made gluten-free granola, fresh fruit and coconut whipped cream.
1133 Garden Street, San Luis Obispo
Inspired by the health trends from the culinary capitals of Los Angeles and San Francisco, the founders of Seeds created their business to bring the best of both worlds into one place, San Luis Obispo. Located on Garden Street, Seeds gathers ingredients from local vendors and proves that healthy eating doesn't always come in a bland variety. The small shop allows customers to create custom smoothie bowls with fresh fruit, granola, and other wholesome toppings. Additives can be incorporated into smoothies for an immunity or protein boost. Additionally, gluten-free toast can be crafted to produce a savory or sweet combo.
793 Foothill Boulevard, San Luis Obispo
Donut know where to go to get a sweet breakfast treat or a scrumptious midnight snack? SLO Do Co. is the place for you. Matcha, Maple, Dark Chocolate, Chai, and seasonal selections such as Pumpkin, are all gluten-free flavors available around the clock to satisfy your sweet tooth at any hour of the day, any day of the week.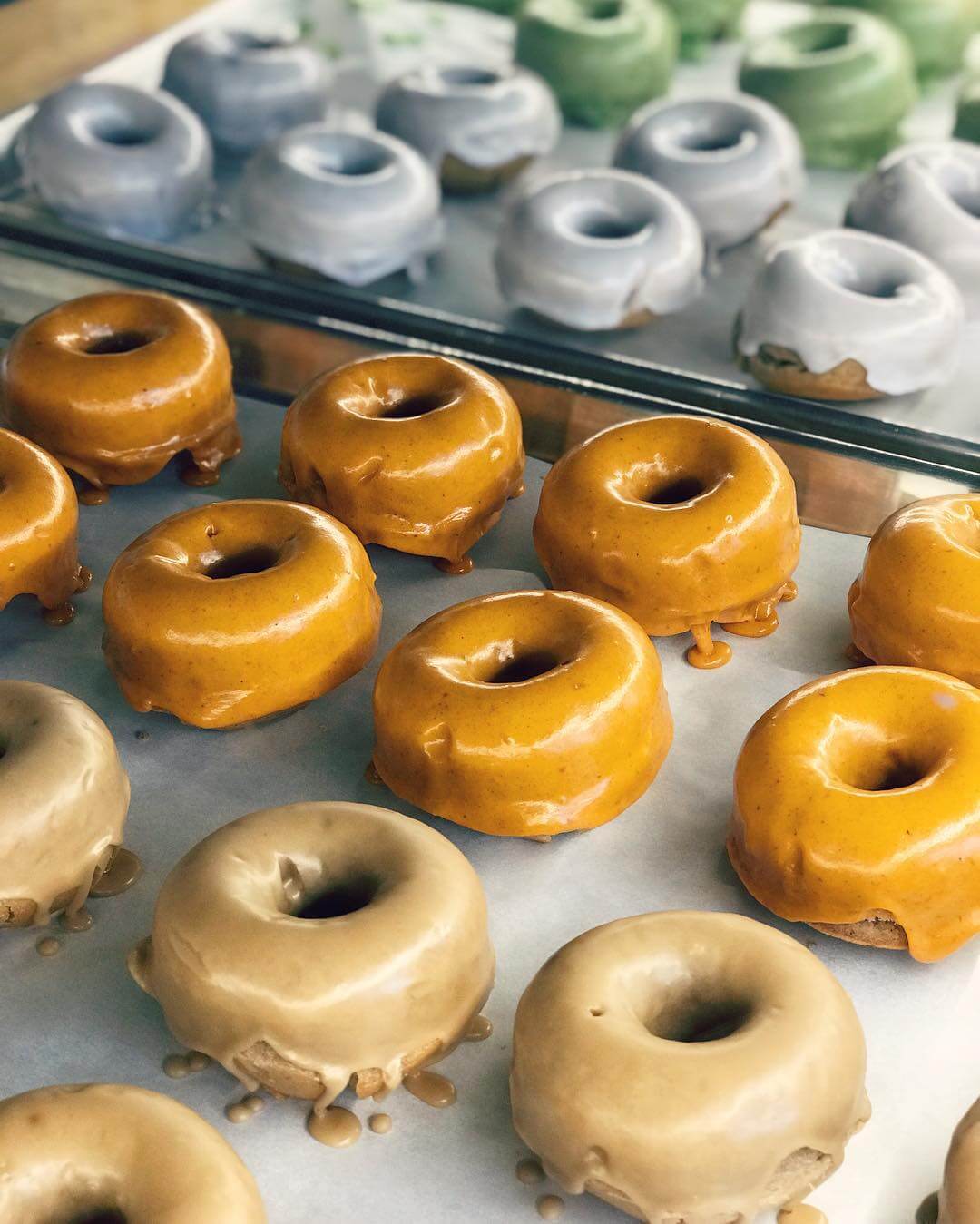 In addition to gluten-free options, all of the locations listed above have vegan and vegetarian selections as well! Don't let gluten hold you back, go taste your way through SLO today.