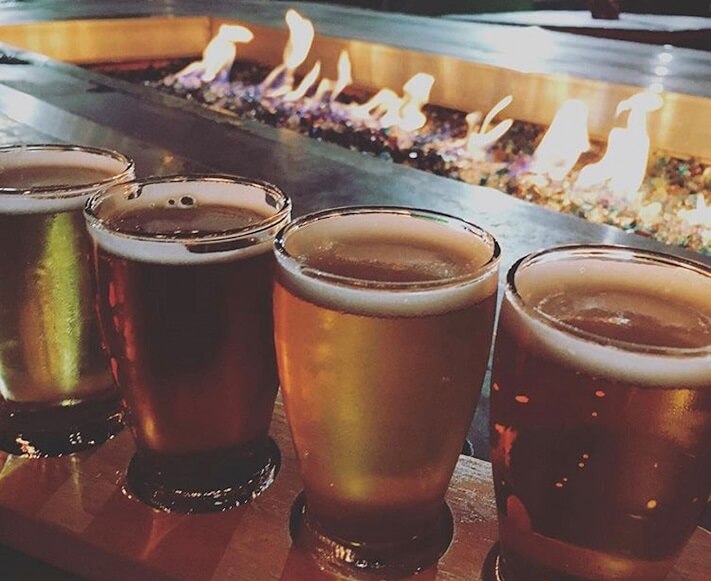 SLO Craft Beers Worth Planning a Trip For
San Luis Obispo's brews deliver a little something extra with every sip! It could be the unmistakable aroma of the brewing process, the shiny steel tanks, or the opportunity to drink a craft beer with SLO as the beautiful backdrop.
It doesn't matter if you prefer vino over beer, there's no denying that America's craft beer business is booming, and San Luis Obispo is no exception. There's a certain feeling that comes from sipping our local brews and visiting breweries throughout San Luis Obispo that differs from other places across the country.
The laidback vibe speaks for itself and the ever-growing number of SLO breweries ensures that every visitor will find a cold beer they adore. While San Luis Obispo is teeming with activities and things to do, our unique lineup of craft beers is enough to warrant a trip to the Central Coast in its own right. And who doesn't want to drink to that?
Top San Luis Obispo Craft Beers

Brewery Address: 950 Orcutt Rd, San Luis Obispo, CA 93401
Hours:
Monday: 4:00 – 9:00 p.m.
Tuesday – Thursday: 2:00 – 10:00 p.m.
Friday – Saturday: 12:00 p.m. – 12:00 a.m.
Sunday: 2:00 – 10:00 p.m.
Bang the Drum Brewery utilizes their small batch style of brewing to their advantage. This brewery loves to try out brewing different styles of beer, so they can get a better idea of what their customers truly enjoy. Bang the Drum's tasting list always offers a variety brews such as bourbon oak aged Imperial Stout, German-style Weissbier, or kettle soured Saison. All their batches are made with a large portion of local honey and are brewed at low temperatures to help preserve the nutrients and retain the health benefits. If you're a beer lover but are also gluten intolerant, look no further! Bang the Drum offers a delicious American style "Gluten Free" IPA that will surely delight.

Speakeasy Address: 1033 Chorro St. San Luis Obispo, CA 93401
Hours:
Monday: Closed
Tuesday – Wednesday: 3:00 – 10:00 p.m.
Thursday – Friday: 3:00 p.m. – 12:00 a.m.
Saturday: 1:00 p.m. – 12:00 a.m.
Sunday: 1:00 – 8:00 p.m.
BarrelHouse Brewing Co. created Central Coast's only operating speakeasy in the heart of San Luis Obispo. The Speakeasy features 16 taps of year-round offerings, draft specialties, as well as BarrelHouse's highly sought after Reservado De Robles Barrel-Aged Beers and Salvaje De Robles Sour and Wild Ales.
BarrelHouse has a new addition to their Forager series starting in March 2017, the original "Juicy" IPA. This beer is the brewery's take on the popular New England Style IPA. The Juicy IPA boasts a complex mouthfeel, low bitterness, and an incredibly juicy aroma. It was conditioned just enough to remain bottle stable while retaining maximum juiciness. BarrelHouse Brewing Co. also has a location in Paso Robles where production takes place.

Brewery Address: 1422 Monterey Street, San Luis Obispo, CA 93401
Hours:
Monday – Friday: 12:00 – 9:00 p.m.
Saturday – Sunday: 11:00 a.m. – 9:00 p.m.
Central Coast Brewing, known to locals as "CCB", opened in 1998 and is located near beautiful Downtown San Luis Obispo. This brewery is recognized as one of the top facilities in California's Central Coast region with multiple awards to its name.
You can enjoy San Luis Obispo's neighborhood brewery by sitting at the bar enjoying a fresh beer or hanging out on the patio with your pup. They definitely know how to spice things up, specifically their blonde "Chai Ale," which is my personal favorite for its unique blend of flavors, including malt, vanilla, cinnamon, nutmeg, and clove. Stop by and enjoy, or grab and go! CCB also offers 16 oz cans and growlers that you can bring home with you.

Brewery Address: 675 Clarion Ct, San Luis Obispo, CA 93401
Hours:
Monday: Closed
Tuesday: 12:00 – 7:00 p.m.
Wednesday: 12:00 – 8:00 p.m.
Thursday – Saturday: 12:00 – 10:00 p.m.
Sunday: 12:00 – 6:00 p.m.
Tap It Brewing Co. is the perfect brewery if you're looking to be fireside for the night in San Luis Obispo. They have a great outdoor seating area that is perfect for large groups or gatherings.
"Three on the Tree" is part of their Creative Series that are brewed in the beginning of April. This beer is available on draft and is offered in 22 oz bottles. "Three on the Tree" is a Triple India Pale Ale named after the 3-speed column shifter on the ranch truck used to pick the 3C hops, Cascade, Chinook, and Columbus, which are used in the original hop farm series beer. This Triple IPA features a bold hop flavor and fresh floral hoppy aroma, derived from whole hops used in conjunction with their hop back.

Brewery Address: 1234 Broad St, San Luis Obispo, CA 93401
Hours:
Monday – Wednesday: 11:00 a.m. – 10:00 p.m.
Thursday – Saturday: 11:00 a.m. – 11:00 p.m.
Sunday: 11:00 a.m. – 10:00 p.m.
Libertine Brewing Company specializes in wild (read: sour) ales, but also offers cold-brewed coffee that is aged in bourbon and wine barrels and spiced with local ingredients.
They recently moved into a beautiful new 9,000 square foot home in Downtown San Luis Obispo. Their new space includes a production and a tasting facility with a whopping 76 taps of exceptional beer and wines from across California and beyond. If you want a taste of the Central Coast during your beer tasting extravaganza, be sure to try the "Pacific Ocean Blue Gose." This tart and slightly salty golden ale is a brewery favorite and will be sure to zing your senses.
SLO Brew | "Feelin' Your Oats" Oatmeal Stout

The Rock Brewery & Taproom Address: 855 Aerovista Place, San Luis Obispo, CA 93401
Hours: Monday – Sunday: 11:30 a.m. – 9:00 p.m.
The Brew Restaurant & Pub Address: 736 Higuera St. San Luis Obispo, CA 93401
Hours:
Sunday – Monday: 11:30 – 12:00 a.m.
Tuesday – Sunday: 11:30 a.m. – 2:00 a.m.
SLO Brew in Downtown San Luis Obispo remains one of California's longest standing brew pubs, but SLO Brew now has a second location called The Rock! The newly opened taproom features a restaurant, catering kitchen, and event space. The casual setting is centered around "the rock," with fresh landscaping, casual outdoor seating and fire pits that are perfect for enjoying a sunny afternoon. Both locations offer pizza and burgers and everything in between. Plus, they pour up select domestic drafts for the SLO tradition of Pint Night every Tuesday from 5-9 p.m.! The menu compliments their hand-crafted micro brews, making SLO Brew a local favorite. If you're looking for a rich beer that will satisfy your stout craving, the beer all visitors must try is the "Feelin' Your Oats" Oatmeal Stout, which received the Bronze Award at the Great American Beer Festival in 2016.
It doesn't matter if you are craving a dark porter, a wild ale or just want to hang out at some of the coolest new spots around San Luis Obispo, our beer trail has something to offer you on your next vacation to San Luis Obispo! If you're ready to explore all that the SLO craft beer scene has to offer, be sure to check out the Hop On Beer Tours! You'll learn all about local breweries and the goodness that they're brewing while traveling in a pub-styled limo bus to all the beer destinations on this list.