The train to San Luis Obispo offers a convenient and stress-free travel experience with stunning views of the Pacific Coast! The Amtrak Station in San Luis Obispo offers daily train service by the Coast Starlight and Pacific Surfliner. As an added bonus, the San Luis Obispo train station is within walking distance of downtown, a destination filled with boutique shops, restaurants, tasting rooms and more.
San Luis Obispo Amtrak Routes
From nature lovers to scenery savorers, train travel is sure to be a pleasant experience for all, and it all starts (or ends) at the San Luis Obispo Amtrak Station. Before booking, be sure to check out the websites below for the most up-to-date information on routes, departure, and arrival times.
Pacific Surfliner
Traveling along the breathtaking coast from San Luis Obispo to San Diego with convenient stops in Los Angeles, Orange, Ventura and Santa Barbara counties. The Pacific Surfliner offers coach and business class seating and accommodates bikes and boards. Connecting shuttle service is offered from the San Luis Obispo Amtrak Station to the Cal Poly Campus. Visit the Pacific Surfliner site for more details.
Coast Starlight
Traveling between Los Angeles and Seattle, the Amtrak Coast Starlight passes through iconic cities like Portland and Sacramento and features epic views from Mount Shasta to stretches of the Pacific Ocean. The Coast Starlight offers coach, business class and sleeping accommodations. Visit the Coast Starlight site for more details.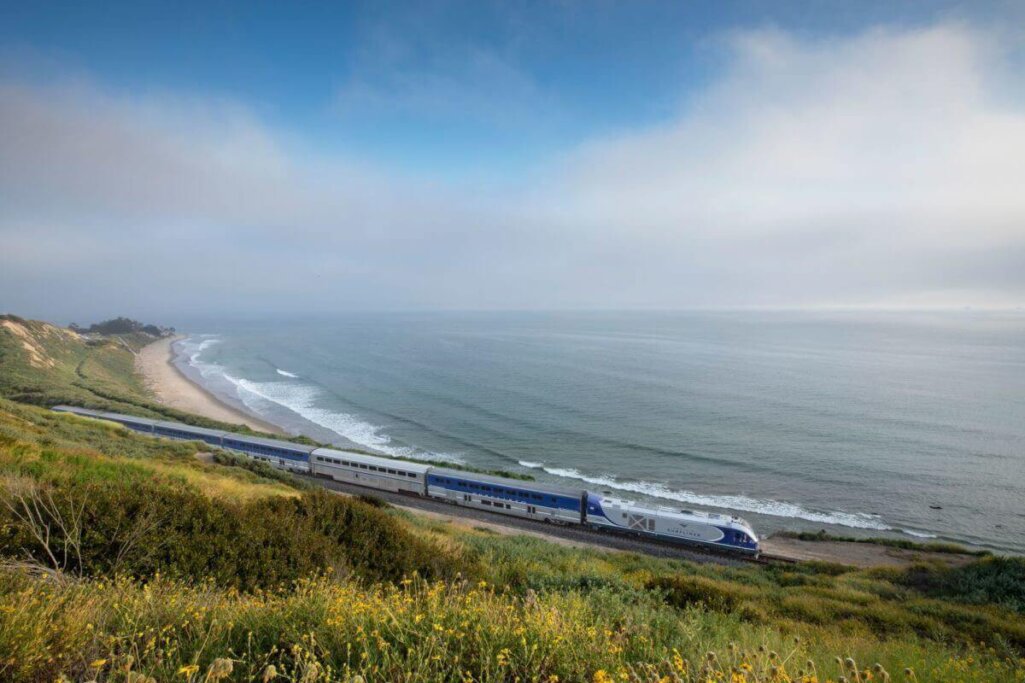 How Long Is the Amtrak Trip From LA to SLO?
The train travel time from LA to SLO can vary slightly depending on what train you choose. Departing from Los Angeles Union Station, the trip from Southern California to the Central Coast will take about 5 hours. For comparison, the trip from San Diego to SLO will take approximately 8.5 hours. Visit Pacific Surfliner schedules for up-to-date station, departure and arrival times or Amtrak.com for Coast Starlight schedules.
Does Amtrak Go Through San Luis Obispo?
Amtrak services two stations in San Luis Obispo: the main San Luis Obispo train station and the Cal Poly station (buses only).
Buy San Luis Obispo Amtrak Tickets
Purchase your train tickets through Pacific Surfliner for Southern California to SLO trips or visit Amtrak.com for northbound trips from SLO on the Coast Starlight. To learn more about taking the train to or from San Luis Obispo, you can also call 1-800-USA-RAIL.
Local Transit Transfers and Bikes Onboard
To make it easier getting around SLO, the Pacific Surfliner offers complimentary local transfers to your final destination via San Luis Obispo Regional Transit Authority (SLORTA) and SLO Transit buses. Pacific Surfliner passengers just need to show their train ticket when boarding the bus. You can also bring your bike onboard the Pacific Surfliner for free by simply making a reservation for your bike when booking a trip.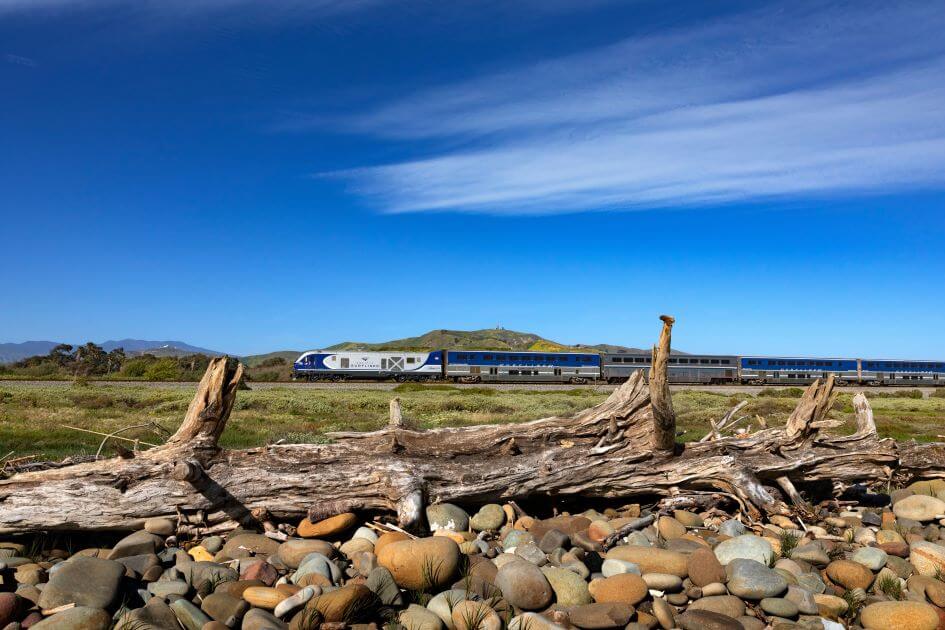 How Much Is the Amtrak Pacific Surfliner?
The cost to ride can vary, so it is always best to check directly on their website.
Did you know that the Pacific Surfliner offers savings? Special promotional offers are often available, and everyday discounts for passengers with disabilities, Veterans, students, seniors and more can be found at the link above.