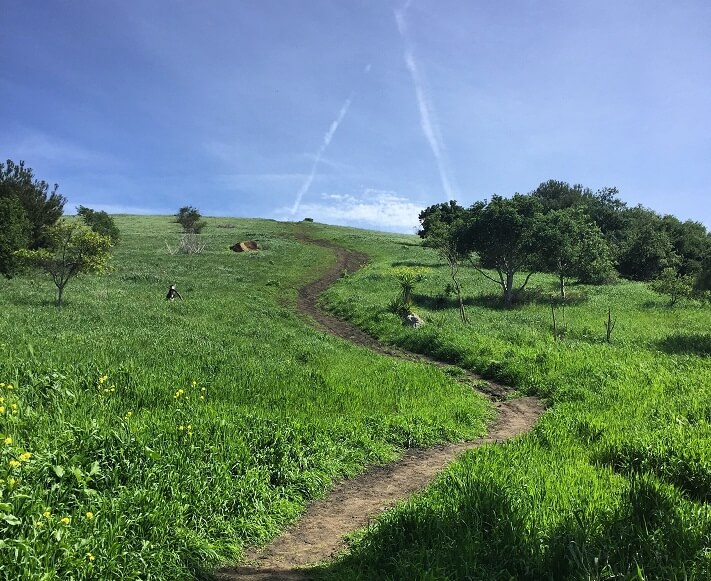 Favorite Hiking Spots around San Luis Obispo
While I'm not an extreme health nut, I try to be active and workout on a regular basis. With beautiful weather nearly year round in SLO, hiking is my "go-to" outdoor activity with the added bonus of endless trails along the Central Coast.
Cerro San Luis
One of my favorite hikes is Cerro San Luis – better known as Madonna Mountain to locals.  This moderate hike provides a 4-mile round trip adventure with just over 1,000 feet of elevation gain.  Once you reach the summit, you experience breathtaking, 360-degree views of San Luis Obispo.  If I'm running short on time, I take an alternate 1.9-mile trail, which leads to the big "M" halfway up the mountain.  The hike to the "M" is much quicker yet still provides a good workout and beautiful views.
Terrace Hill
Terrace Hill is another hike inside the SLO city limits – perfect for a quick workout on my lunch break. Just under a mile, this brisk yet steep trail leads to a plateau with more scenic views of San Luis Obispo. There are several benches on the hilltop to rest at while taking in all the beautiful views.
Montaña de Oro
It's no secret that Montaña de Oro has stunning views and is a widely popular destination for visitors. Luckily, with so many hiking options, foot traffic is pretty minimal on any given trail throughout the day. The Bluff Trail offers a level walking path that winds right along the bluffs with the most spectacular views of the coastline.
For a more strenuous hike, Valencia Peak is one of the tallest mountains in Montaña de Oro standing at 1,347 feet. You'll tackle 1,275 feet of elevation gain in just under 2-miles with the full trail being 3.7-miles round trip. Needless to say, you'll get an amazing workout and be rewarded with 360-degree breathtaking views at the top. Be sure to leave your furry four-legged friends at home while hiking in MDO since dogs are not allowed on their trails.
Broderson Peak Trail
If you are looking for an outdoor adventure just outside of SLO, Los Osos is the perfect place – just over ten miles west of San Luis Obispo with various hiking options. With a fresh new view at each curve, Broderson Peak Trail is a moderate yet satisfying 2.5-mile hike through the Morro Dunes Ecological Reserve. The trailhead sits at the end of Broderson Ave.
At one point, the trail branches off giving you the option to stay straight or veer left and continue heading up the ridge. The benefit of staying straight is coming across a homemade swing that overlooks Morro Rock, Morro Bay and the sand dunes. While you can see this view along many parts of the Broderson Peak Trail, there is something extremely relaxing about swinging from a tree while admiring the scenery.
Cerro Alto
If you're wanting to tackle one of the highest peaks in San Luis Obispo County, Cerro Alto will help you achieve your goal. Sitting between Morro Bay and Atascadero, this moderate-to-strenuous hike can be accessed from the trailhead inside Cerro Alto Campground right off Highway 41. The first half mile is pretty level but don't let that deceive you. The remainder of the hike is uphill the rest of the way, gaining 1,600 feet in elevation. At the top, you are greeted with panoramic views of SLO County – an epic reward for the hard work you put in!
Words of Wisdom: Don't forget to bring cash and pay for parking at the self-pay station or you'll get stuck with a parking ticket. Also, it gets warm back in the canyon so be sure to wear layers and bring plenty of water.
Ontario Ridge Trail
One of my favorite trails on the Central Coast is definitely Ontario Ridge Trail – "Shell Beach Ridge" as many locals call it. The trail runs between Shell Beach and Avila Beach. With a steep climb right from the get-go at the Shell Beach entrance, this is a great trail with varying intensities and amazing views along the way. With nearly 180-degrees of stunning ocean views on one side and rolling hills on the other, you can't help but appreciate the beauty that the Central Coast has to offer.
Don't forget to share your hiking outings with #ShareSLO and if you are looking for more adventures, be sure to explore our endless outdoor things to do in San Luis Obispo!