Pismo Beach, California is a beautiful beach to visit. Just like many of the beaches in San Luis Obispo, there are beautiful parks, numerous activities and amazing scenery to enjoy, all in one place. One of the things that makes Pismo Beach so special — aside from the stellar scenery — is the number of things to do there.
THINGS TO DO IN PISMO BEACH, CALIFORNIA
The possibilities of things to do in Pismo Beach, California seem virtually endless. Conveniently close to downtown San Luis Obispo, Pismo Beach is very family-friendly and features beach volleyball and waves perfect for surfing and boogie boarding. Did you know that Pismo Beach even has its own fishing pier? The beach also offers many scenic spots to enjoy the scenery or even snap a selfie. Check out our favorite things to do at Pismo Beach below.
Play Volleyball at Pismo Beach
Love playing a friendly game of beach volleyball against your friends and family? The earlier you arrive at Pismo Beach, the greater your chances are of grabbing a sand volleyball court on the beach to enjoy some friendly competition. If you are down to play, please keep sand court rules in mind: play respectfully, remember that alcohol is prohibited and please clean up your trash.
Explore Pismo Beach Tidepools
Pismo Beach has a spectacular set of tidepools that people of all ages love. The creatures in these pools don't look like much when they're still but look closer and you will discover a wonderful world of marine life. Most creatures in the tidepools are tiny and move slowly. The ones that look like plants sit around all day long, waving their tendrils to entice tiny fish closer so they can eat them. The ones that look like rocks sit on the bottom of the pools and wait for food to swim within reach. Spend a little time watching them and you will be fascinated. Also, please remember to always be kind to marine creatures and exercise caution.
Enjoy the Surf
If you are a surfing enthusiast, you will love the quality of Pismo Beach surfing. At Pismo Beach, you can find a few of the usual water sports: windsurfing, wakeboarding, boogie boarding and more, but the majority of people are there to surf. A favorite among surfers, Pismo Beach is the official site of the World Surf League's Pismo Beach Open event.
Discover Monarch Butterfly Grove
Located less than two miles from Pismo State Beach, Monarch Butterfly Grove is a beautiful and educational place to bring your family. Walk through a grove of eucalyptus trees and marvel at the many monarch butterflies that float past you. Make sure to visit between October and February for peak monarch butterfly season.
Other Things To Do in Pismo Beach
Some other things to do in Pismo Beach include taking your children to play areas like Spyglass Park or Palisades Park, or fishing off of the Pismo Beach Pier. Other areas of interest are hiking Pismo Preserve or playing in the sand dunes.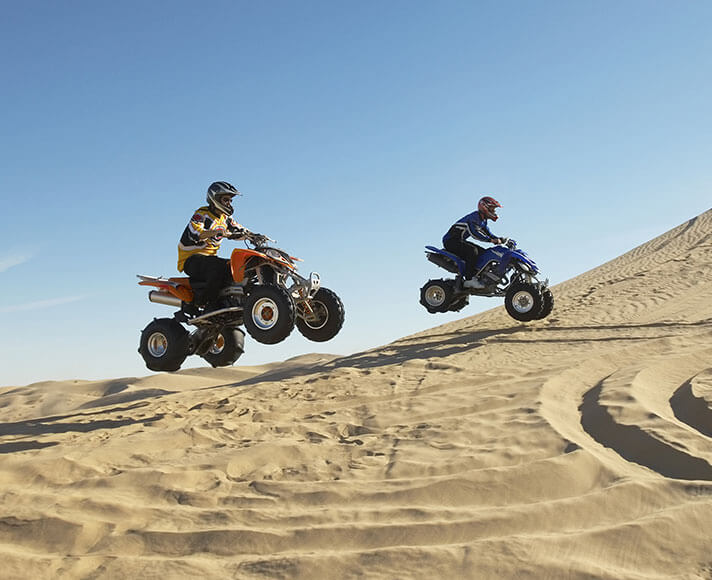 Book Your Stay
After your fun day catching some sun and surfing some waves, don't forget to kick back at one of the many welcoming San Luis Obispo hotels. From family-friendly to chill, trendy or minimalistic, there is a hotel in SLO waiting to welcome you. Book your stay to get away.
WHERE IS PISMO BEACH?
Where is Pismo Beach, anyway? Pismo Beach is located about halfway between San Francisco and Los Angeles, on the Central Coast of California, and only about a 15-minute drive from downtown San Luis Obispo.
Pismo Beach Directions
Pismo Beach directions are easy to follow:
From downtown San Luis Obispo, go southwest on Monterey Street
Then, turn right onto Santa Rosa Street
Take another right on Olive Street
Stay right to merge onto US-101 South
Exit 191A to take CA-1 S toward Pismo Beach
Finally, take a left on Price Street
You've arrived!
Find More Information On Pismo State Beach
Check out the Pismo State Beach page on the California Department of Parks and Recreation website for more information including current park restrictions, park hours, park events and more.