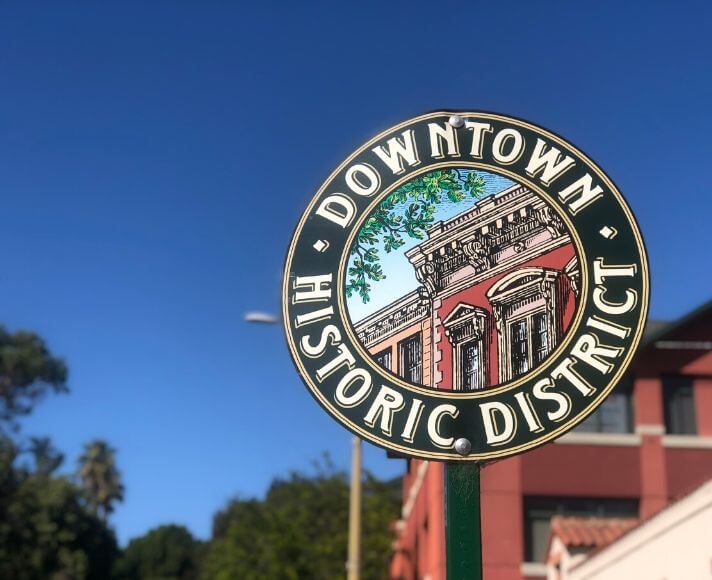 9 Can't Miss Historic Landmarks in Downtown SLO
Are you craving a good old-fashioned trip down memory lane? Well, no need to look any further than our very own Downtown San Luis Obispo, where you will undoubtedly be mesmerized by the vast selection of historical landmarks that have shaped our city over the years.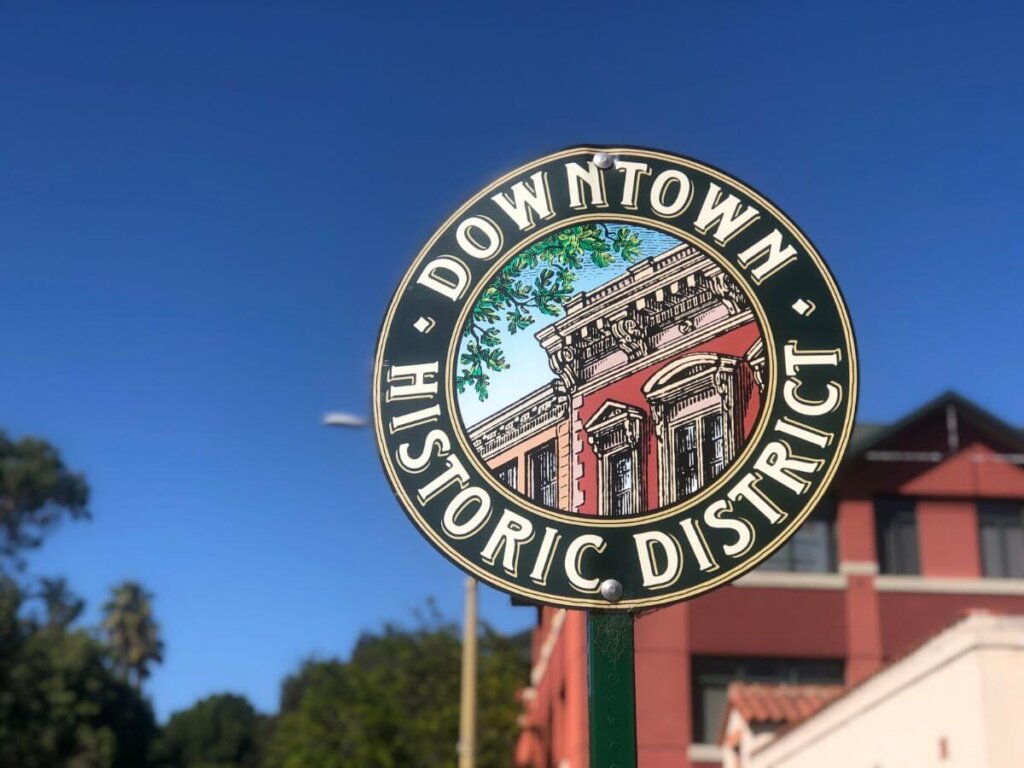 Mission Plaza
Location: 989 Chorro Street, San Luis Obispo
Mission San Luis Obispo de Tolosa is the essential birthplace of our city, and one of the principal landmarks in San Luis Obispo. Although the indigenous had populated the land for centuries before, this is where the infrastructural development of the City of SLO began back in 1772. The location was unintentionally selected after a group of Spanish padres got lost on their way to San Jose and decided to stay in Valle de Los Osos as they called it—or Valley of the Bears. As a fully functional church, you can head to the Mission for mass, enjoy one of the many benches or sitting areas in the plaza, or you can even take a tour of the Mission grounds.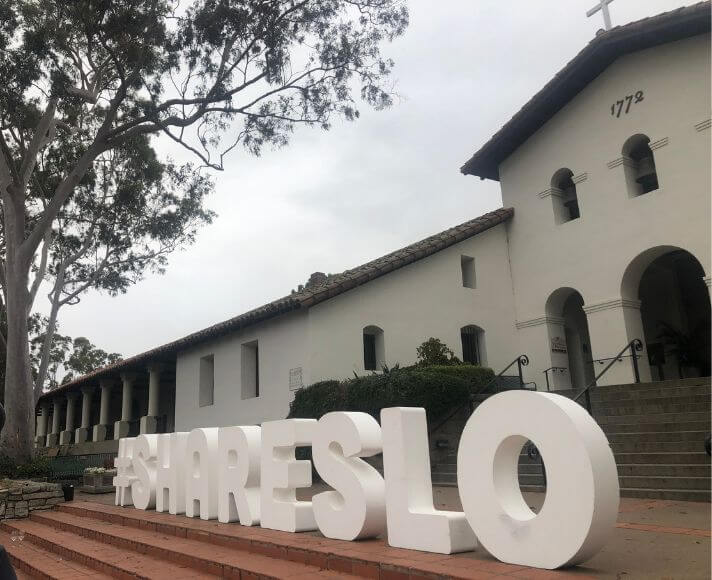 Murry Adobe
Location: Mission Plaza adjacent to the Mission
Adjacent Mission San Luis Obispo de Tolosa in Mission Plaza you will notice a small structure that is reminiscent of a small home. Although its remains are now used for City storage, back in the 1800s it was the home of local visionary, Walter Murry. Murray was an English immigrant who established the first newspaper in San Luis Obispo as well as the first "vigilante" committee, an organization put in place to police the somewhat lawless SLO area.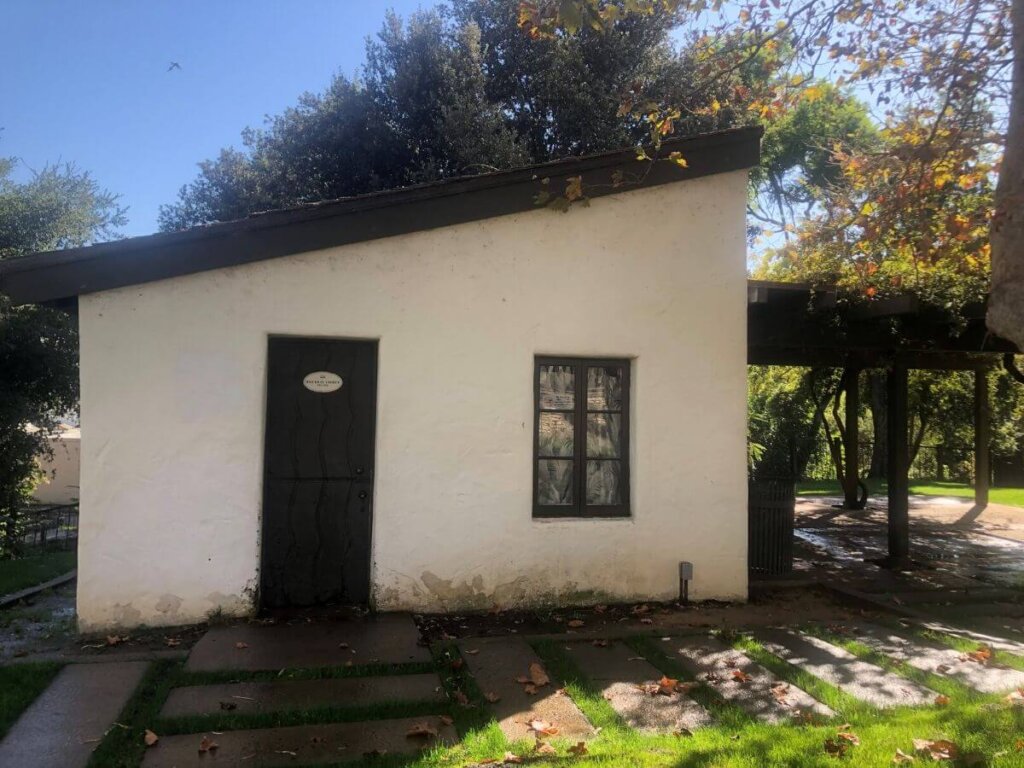 Murry purchased the adobe at age 27 in 1853 where he established the group of 148 local men who took crime-stopping into their own hands to combat local crime. In fact, a room inside the Mission was rented out and used as a jail. In 1869, Murry co-founded The Tribune newspaper or La Tribuna. The publication, printed in both English and Spanish, still exists today as one of the primary news sources for local residents.
Sinsheimer Bros. Building
Location: 849 Monterey Street, San Luis Obispo
Dating back to 1884, the Sinsheimer Bros. Building was built by a pair of brothers who immigrated from Germany to California with the American Dream on their mind. They didn't strike wealth like they had hoped while in San Francisco, so they decided to head south to San Luis Obispo. It is in San Luis Obispo that they were able to save enough money to purchase an adobe building in 1876. In their general store, local families could buy everything from household supplies, dry goods, and even clothes. Eventually, after eight years of booming sales, they built the current structure to keep up with the demands of SLO's local residents. Although the store is no longer functioning, you can still go in the back and see the original vault where money was stored and observe the cast-iron columns, some of the first of their kind at that time. Stop by and appreciate the cunning architecture and style that was so trademark of the era.
Anderson Hotel
Location: 1965 Monterey Street, San Luis Obispo
Although its days of being a luxury hotel have been long gone, the Anderson Hotel was one of the most luxurious hotels of its kind and still stands as the tallest building in San Luis Obispo to this day. The hotel was notorious for hosting Hollywood's elite on their journey up to Hearst Castle including guests like Clark Gable and Charlie Chaplin. Although you might not be able to stay in the Anderson Hotel, there are many other downtown San Luis Obispo hotels where you can live out your own luxurious SLO adventure.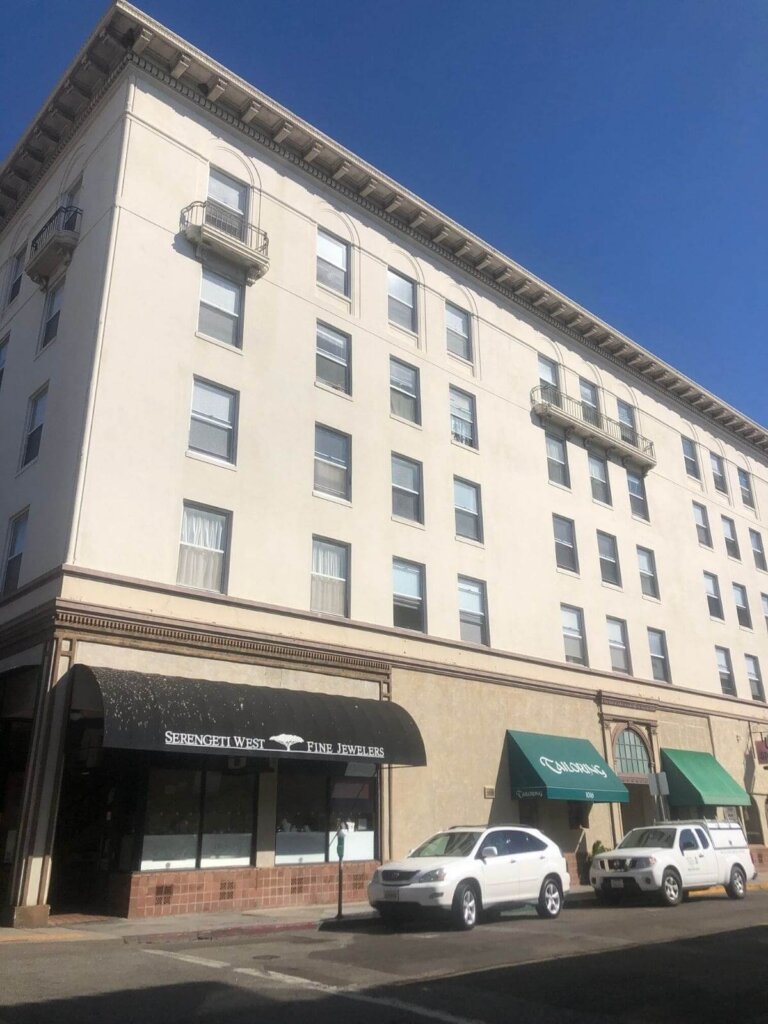 Fremont Theater
Location: 1035 Monterey Street, San Luis Obispo
The Fremont Theater is a can't miss historical landmark, with its dramatic signage extending high into the skies of Monterey Street. The theater originally opened in 1942, just months after the United States entered World War II. The venue was considered "The Theater of Tomorrow" for its dramatic and modern design. Come admire its eccentric aesthetic or catch a concert.
Higuera Street
Location: Downtown San Luis Obispo
Higuera Street, stretching across Downtown SLO, has been the commercial hub of the city since the late 1800s—and, you'll notice that much of the architecture of the street is reflective of the era. The street itself was named after the Higueras, a Spanish family who came here in 1774 as part of the de Anza expeditions of California backed by Spanish controlled Mexico. The street still stands as a principal commercial district of San Luis Obispo and home to our world-famous Farmers' Market each and every Thursday.
Wineman Building
Location: 849 Higuera Street, San Luis Obispo
From the corner, you'll notice a vibrant sign on the corner of Higuera Street and Chorro Street that illuminates over the busy sidewalks of Downtown SLO. What many don't know is that this was once a booming hotel that hosted everyone from traveling professors, to bankers, to railroad engineers. The 50-room hotel opened in the spring of 1930 and boasted an ultra-modern Spanish design and stucco exterior that would one day be so reflective of the era. Stop by and marvel at the progressive design as you stroll down Higuera Street.
Bubblegum Alley
Location: Between 737 and 733 Higuera Street, San Luis Obispo
Of course, no trip to San Luis Obispo is complete without stopping by Bubblegum Alley. Although local historians are unsure just why the tradition began of putting bubblegum on the wall, it's thought to have been a rivalry between local college and high school students. Bubblegum began to appear on the wall in the early 1960s and since then has been featured in numerous television shows, books, and visits to San Luis Obispo! You don't want to miss the opportunity to leave your mark on this local landmark—stop by and leave your addition to the epic wall of gum!
Historic Center of SLO County
Location: 969 Monterey Street, San Luis Obispo
The History Center of SLO County is a landmark itself, dating back to 1905 it served as San Luis Obispo's first public library. Local philanthropist Andrew Carnegie donated ten-thousand dollars towards the project on the condition that it served as a public library. The building was built with local products like granite from nearby peaks, locally made bricks, and sandstone mined just a few miles away. Stop by the History Center for a wealth of information on local San Luis Obispo history.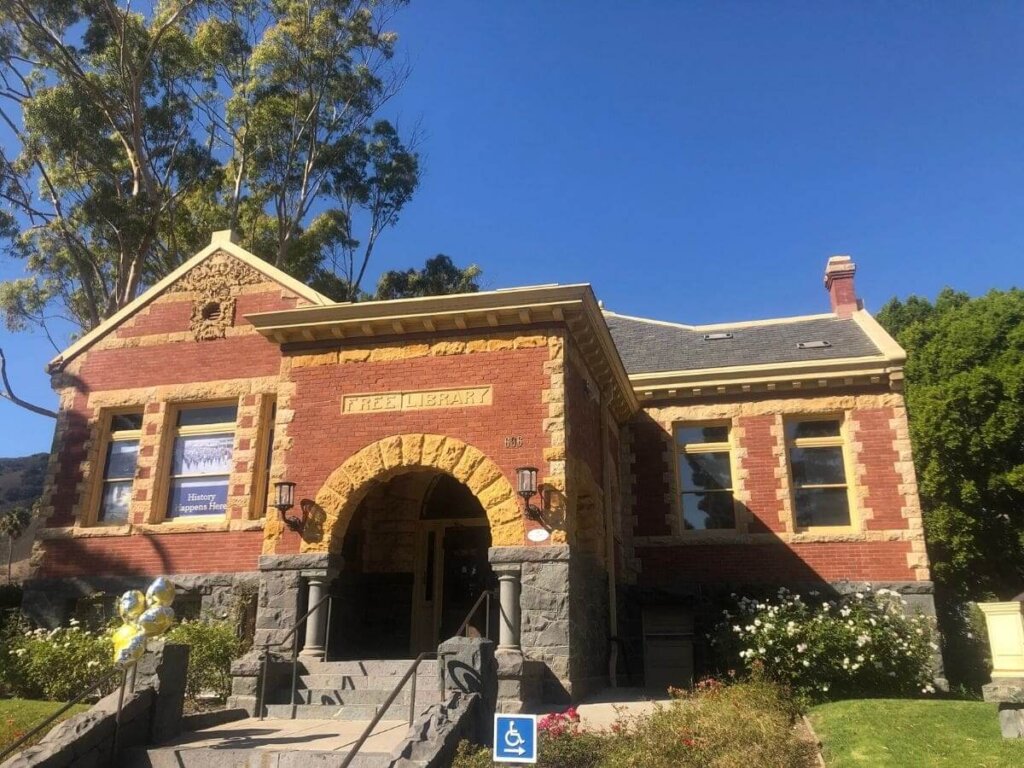 Ready to book your trip to San Luis Obispo to explore all nine historic landmarks? Plan your trip today!