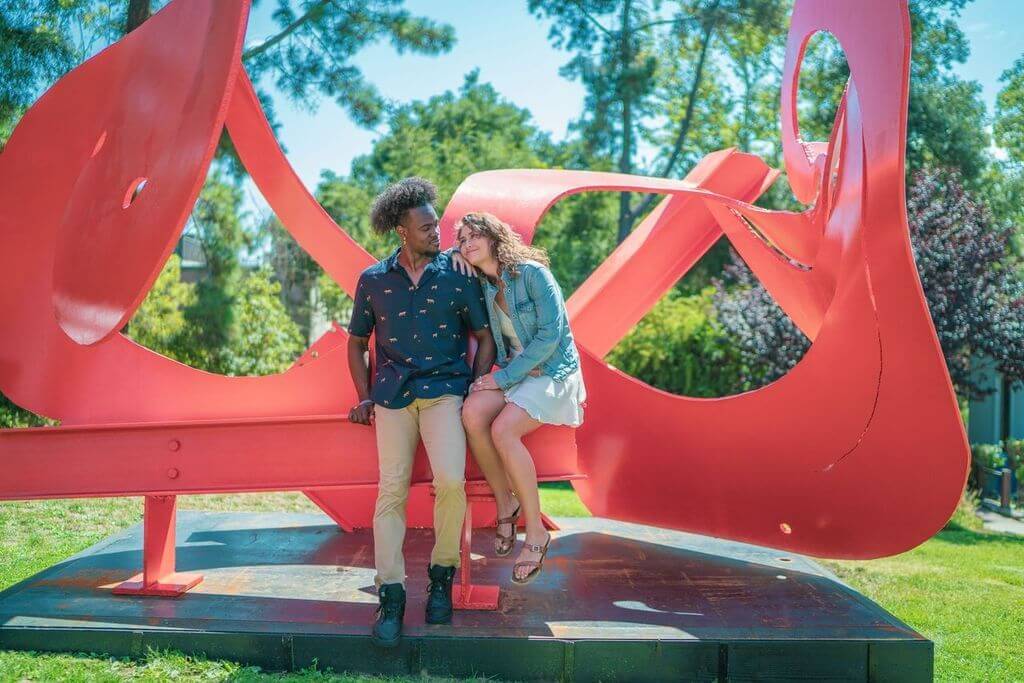 Exploring Art in SLO's Public Spaces
If you've noticed something a little more vibrant about SLO lately, it's not your imagination. There is literally art everywhere you turn. On street corners. On walls. At parking garages. Even when you look down at your feet, there's art.
We believe art should be accessible to everyone, and not just exist for only one class of people. It should surround us and exemplify the laid-back, coastal vibe we're known for here.
SLO is doing its part to ensure that it stays that way for good. Here's a look at some of the artwork you'll find around San Luis Obispo. All you have to do is look around.
Murals and More in SLO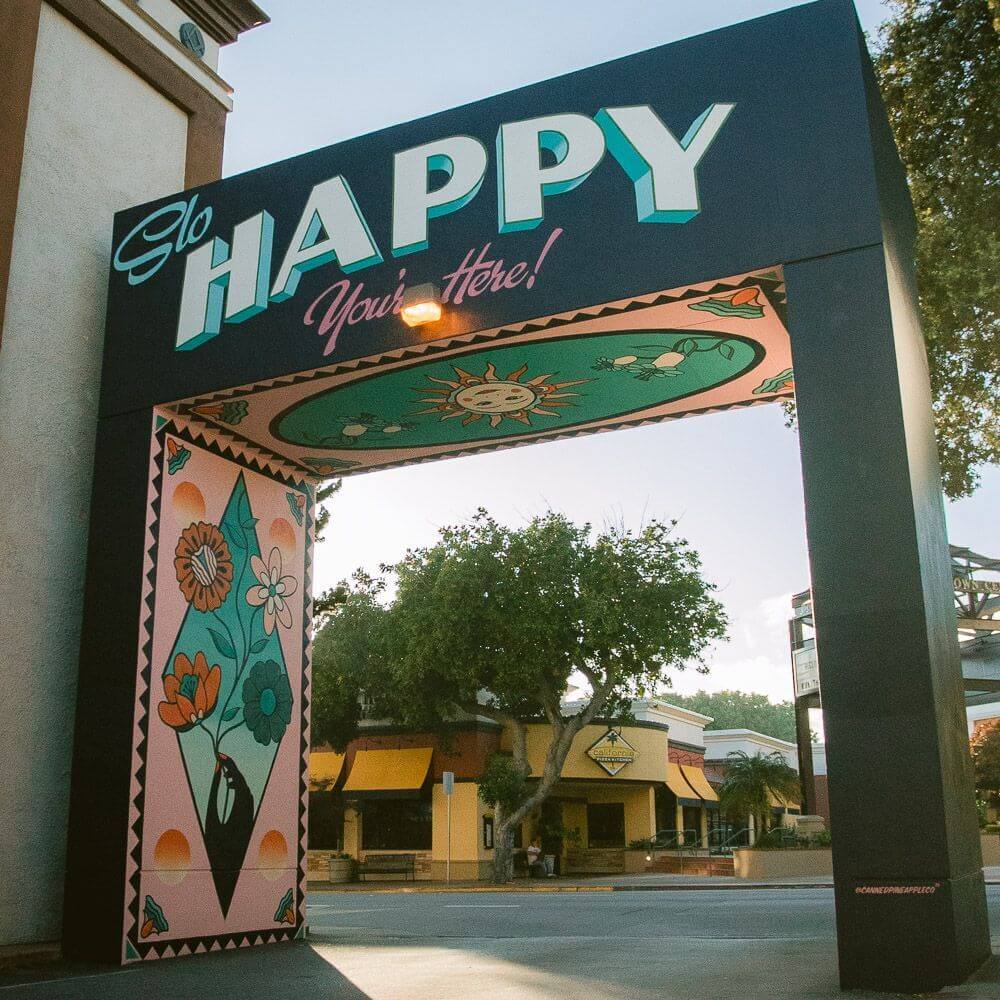 Toll Booth Wraps
From box art to murals and mosaic tiles, you can't miss the public art all around you in SLO. A great example of SLO's commitment to public art comes in the form of some otherwise ordinary toll booth wraps. In 2020, the city transformed five parking garage exits into works of art, and each pays unique homage to a part of our town's history. The kiosk at 842 Palm harkens back to the days of missions, while the Marsh St. booth is dedicated to the ongoing celebration of music and performing arts of the Fremont Theater. Just down Palm St. at 919, you'll find art themed around the old Ah Louis Store building, a significant piece of Victorian-era architecture that stands as the centerpiece of SLO's Chinatown. Habitat at Marsh St. highlights SLO's natural beauty, while a nearby kiosk is all about the immigrant iron workers who helped build the railroads. While you're on Marsh St., don't miss the colorful Archway to Happiness, which doubles as the parking garage's entrance and a warm welcome to visitors.
Murals at the Fremont
If you're a live music lover, chances are you will be swinging by the Fremont Theater at some point during your time here in SLO. Next time you're there, check out the ambitious public art project at the Fremont. Artist Maria Molteni is creating expansive mural artwork that will cover two walls behind the theater facing Higuera Street. It's all part of a joint effort between SLOMA and the City that taps local and regional artists to beautify the region.
Greenways
Greenways take undeveloped land and beautify them by making them useful. In San Luis Obispo, greenways have been creatively developed to encourage walking and biking. It's all part of the area's efforts to become carbon neutral by 2035. In late 2020, local artists came together to create pavement murals in the Islay, Morro Street, King-Nipomo and Pismo Street neighborhoods.
There's a common thread with each of these pieces of art: each is meant to celebrate the diversity of peoples who originally inhabited our area along with those who call it home today. In SLO, everyone's welcome.
Sculptures Around SLO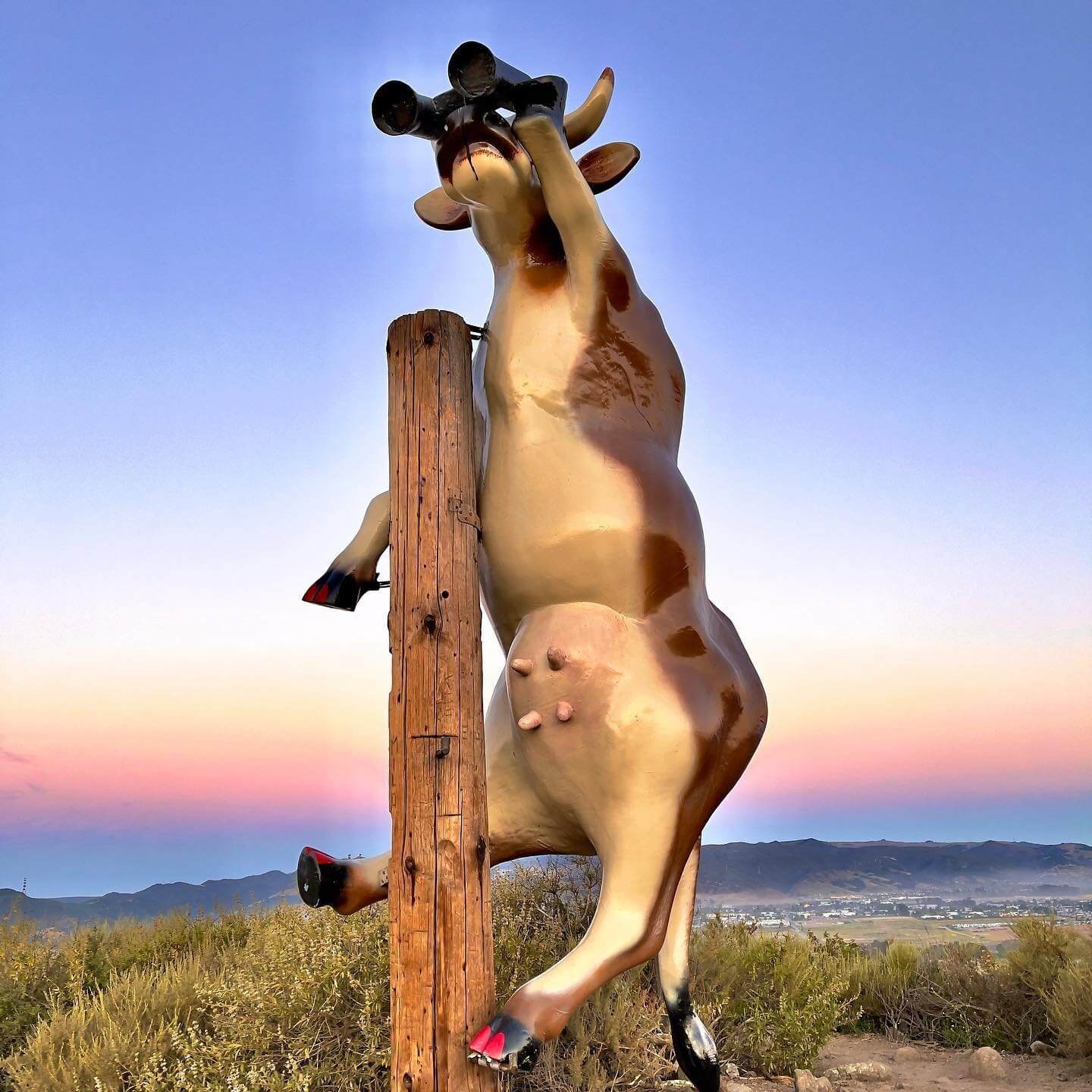 When you think about it, sculpture is an amazing way to take an ordinary piece of metal, stone, wood or other natural material and transform it into something that resonates inside our fellow humans. SLO's local artists have done exactly that with the wide variety of sculptures you can spot around town.
From the mysterious fiberglass cow looking through binoculars atop Islay Hill to the Shakespeare-inspired "Puck" statue on Marsh St., sculptures run the gamut of offbeat to classical. The city has compiled a full list of all the sculptures you can check out on your next visit to SLO.
Over at the San Luis Obispo Museum of Art (SLOMA), you'll find the unmissable Mamma Mobius, a creation of artist Mark di Suvero, whose current exhibit runs through Nov. 7. Mamma Mobius is a nod to the Mobius band, a surface that features only one side and one edge, according to SLOMA. The massive sculpture is bright red and serves as the perfect Instagram backdrop for your social feed. The sculpture will be on display through February 2022.
Architecture in San Luis Obispo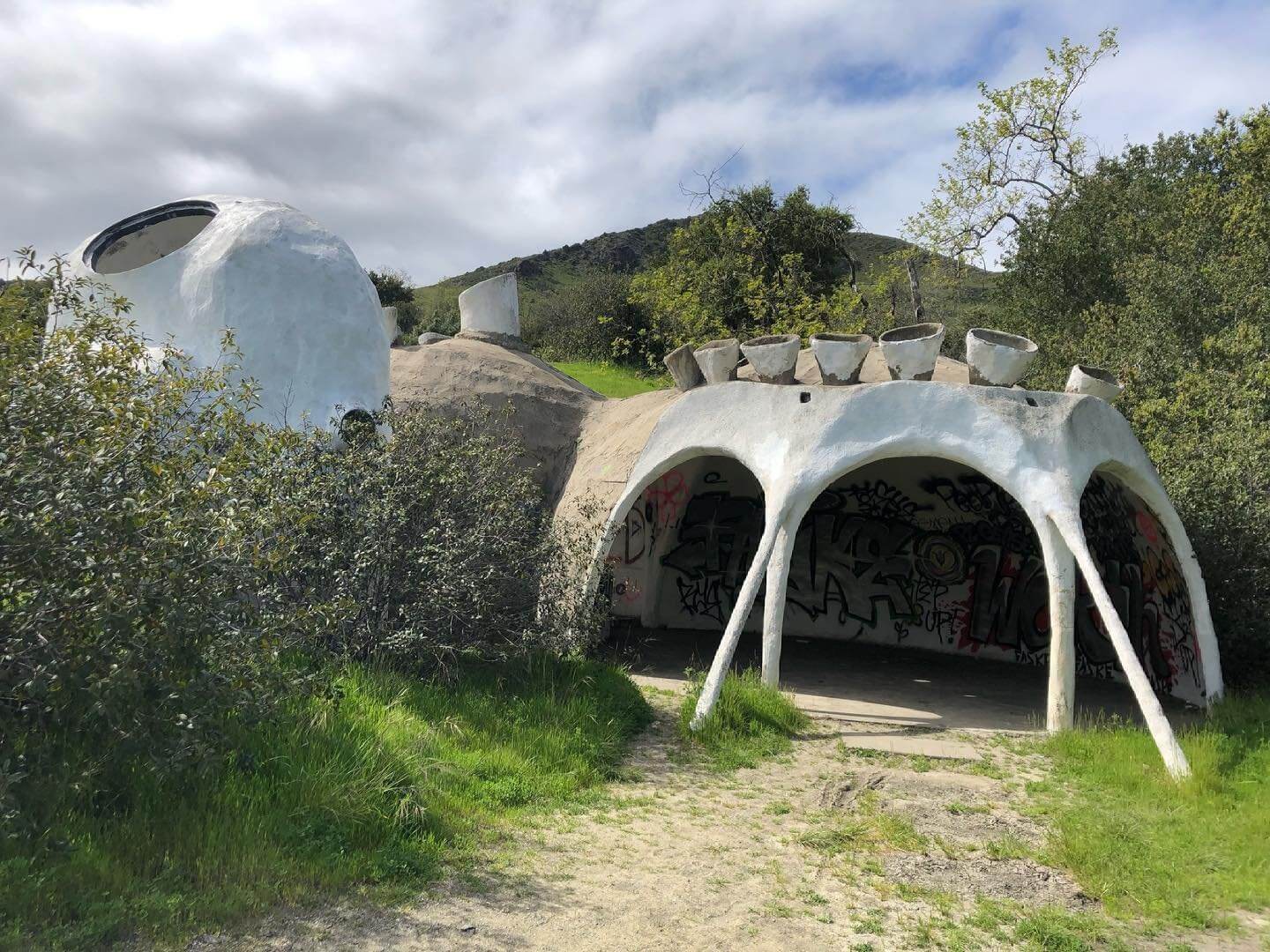 Cal Poly Design Village
Yes, architecture is art, too. Functional art. Noted by Atlas Obscura as "a hodgepodge of experimental structures," the Cal Poly Design Village's nine acres are perfect for exploring, hiking and taking in some unique structures. Situated just above the Cal Poly campus, this "outdoor experimental construction laboratory" shows off some unique creations from past and present architectural and engineering students. To see it, park on Poly Canyon Road, walk a mile up the dirt path and look for a stone arch. Once there, you won't be able to miss it.
More SLO Architecture
When it comes to architecture in SLO, there's a lot to take in. Don't miss the 1792 Mission San Luis Obispo de Tolosa, an active church on Palm St. Right across the street is the historic Carnegie Library. Bike your way through SLO's history and get up close with these and other architectural wonders.
If you fancy yourself a bit of an artist, don't forget to share your photographic creations with us across social media using the hashtag #ShareSLO while exploring all the attractions in the area. We can't wait to see what you come up with!