POP-UP INSTALLATIONS IN MISSION PLAZA
Grab a friend and head downtown to San Luis Obispo's Mission Plaza for a fully immersed art experience for all!
Each month's Plaza Pop-Up will feature a different cultural nonprofit who, through funding by the City of SLO, will create an art installation unique to the nonprofit's mission. These immersive installations strive to create happiness, hope and love for San Luis Obispo from residents and visitors alike.
Arts are an essential part of our city and improve the quality of life for all residents and visitors – and they have been particularly hard hit during the pandemic. This program is a creative way to reignite interactions and put the arts front and center.
May Pop-Up: Skate Mission Plaza Roller Rink!
It's the flower power groovy dream skate land everyone needs. Skate Mission Plaza is now open until May 22… book your tickets now! Purchase tickets here.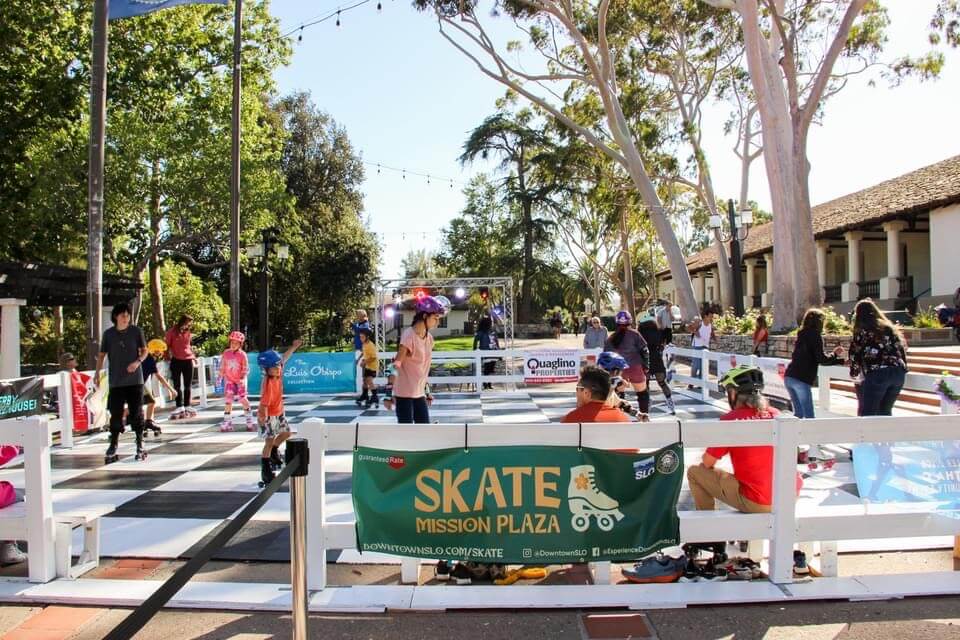 Downtown SLO, in partnership with the City of San Luis Obispo, have brought a groovy new pop-up installation to Mission Plaza. Visitors are encouraged to lace up their skates and enjoy an outdoor roller-rink as part of Skate Mission Plaza, presented by Guaranteed Rate.
Skaters can enjoy music, a disco ball, and flower-power-inspired decorations all in the heart of downtown San Luis Obispo. Skates will be available for rental. This is a ticketed event; tickets and waivers will be required for entry.
There will be a number of theme nights, so bring out all the stops and dress-up while you skate the night away! There will be a few lessons for our beginner skaters hosted by Doomsday Skate. We can't wait to see you at Skate Mission Plaza!
When you're rolling around and snapping some pics, be sure to use #ShareSLO & #PlazaPopUps to have your photos featured here and on @ShareSLO
February Pop-Up: Love Local
Mission Plaza has been struck by Cupid's arrow! Love Local brings the spirit of love to San Luis Obispo, with a focus on loving our community and small businesses.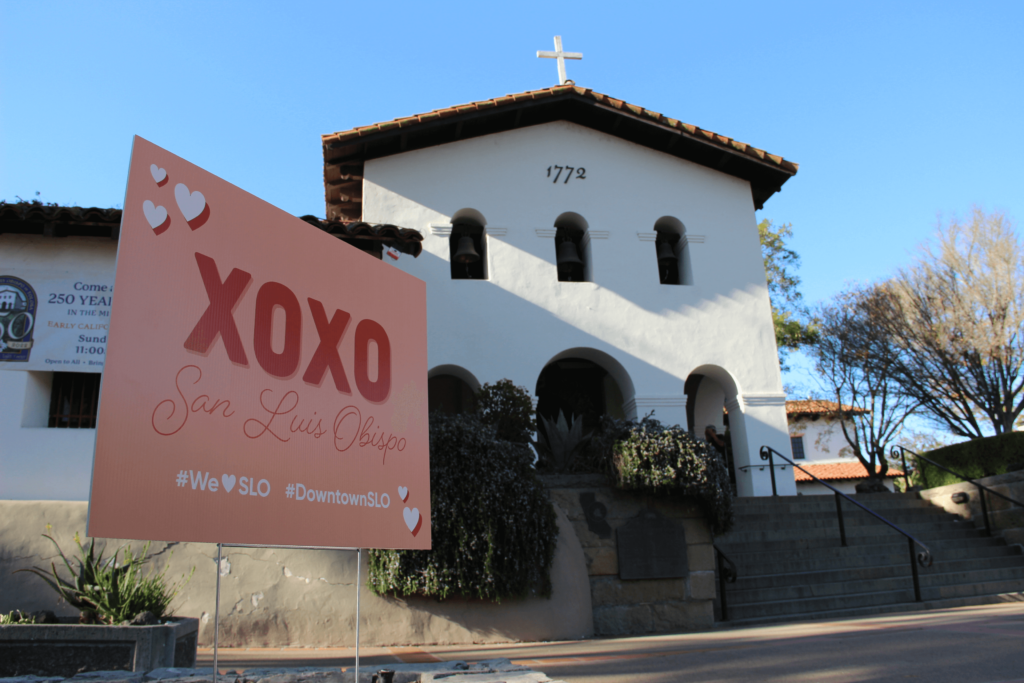 Stop, pose, and snap some shots next to three large heart shaped backdrops to show your love for our local community. Enjoy pink, red, and purple heart shaped lighting at night to get the perfect photo with friends, family or even that special someone.
There's plenty of time to feel the love as Mission Plaza will be decorated through the end of the month. When you visit be sure to use #ShareSLO & #PlazaPopUps to have your photos featured here and on @ShareSLO – We'll receive this as a virtual valentine!
January Pop-Up: Lifted!
Mission Plaza's latest pop-up art installment is here and ready to help lift your spirits in the new year! "Lifted!" by local artist Katy McGrath, will be available to view in Mission Plaza until January 31, 2022.
The style of art in the plaza is called anamorphic as it creates the illusion of a 3D image when viewed through the correct point of a camera lens. A lens removes your eye's natural ability to gauge how far away something is and thus, whether it is flat or 3-dimensional. This is why if you look at the chalk art with your naked eye, even from the correct perspective, it won't look like the balloons are floating, but when you look through your phone or a camera lens, the balloon artwork gets a 3D perspective that makes them float!
The Inspiration for, "Lifted!" was to present something bright, colorful, and celebratory for the new year. There is also a secondary artist interpretation about breaking through and feeling lighter after two years in and out of pandemic lockdowns.
McGrath started doing chalk art in 1997 at the I Madonnari festival in San Luis Obispo and continued participating in this festival until 2014. In 2015, a group of volunteers who had helped with I Madonnari started a new festival in SLO called, Via Dei Colori. McGrath was the featured artist that year while she was 5 months pregnant! Most recently, McGrath has completed displays in Mission Plaza for Mother's Day and as part of the Children's Museum's, "Home" Plaza pop-up.
Be sure to visit Mission Plaza to view the latest Pop-Up in person and don't forget to look through a camera lens to see the 3D art come to life! When you visit be sure to use #ShareSLO & #PlazaPopUps to have your photos featured here and on @ShareSLO
Past Installations from 2021
August Pop-Up: Untitled VI
For the final Pop-Up in Mission Plaza the SLO County Arts Council tapped local artist, SHAHRZAD, to produce the whimsical installation, "Untitled VI" as part of August's City-sponsored featured cultural nonprofit. SHAHRZAD conceived the idea for the eccentric structures from digital symbolism, Zoroastrian superstition, and Instagram pop-up culture with the intention of creating a space of fantasy in the heart of San Luis Obispo. The six sculptures — including a hand, flame, "evil eye", squiggle, rainbow and smiley face — vary in height from four to six feet. The large, colorful figures are juxtaposed by the hard, industrial materials they are made from including 600 pounds of hydrocal and 1,000 feet of quarter-inch steel rod— meant to express the collective contradiction of emotions experienced over the past year and a half exacerbated by the pandemic and global social unrest. Though this installation marks the end of the Plaza Pop-Up series, it also coincides with the return of Downtown SLO's 25th Annual Concerts in the Plaza. The free community concert series will begin on August 6 and run every Friday until mid-September.
When you visit be sure to use #ShareSLO & #PlazaPopUps to have your photos featured here and on @ShareSLO!
July Pop-Up: Home
"Home." from San Luis Obispo Children's Museum explores the incredible planet that we live on and our place in the solar system. There are multiple stations throughout the plaza with opportunities to learn about phases of the moon, the best places to see the stars, upcoming celestial events, how the sky has inspired art throughout history, and more fun facts about the Earth. There are instagrammable moments abound with celestial backdrops and a 10-foot lighted Earth suspended over Mission Plaza. A community sticker mosaic art project depicting Van Gogh's starry night is available for all to participate in along with a 3D chalk drawing of a crashed asteroid in Mission Plaza. Community members are encouraged to continue learning and engaging with the galactic experience by visiting The Children's Museum's new exhibit, Mission to Mars!
Make sure to use #ShareSLO & #PlazaPopUps to have your photos featured here and on @ShareSLO!

June Pop-Up: Love Notes
"Love Notes" is a Gala Pride and Diversity Center's showcase to the community that everyone is welcomed, loved and heard, here on the central coast. More than 150 community members including students and artists participated in decorating the installation. Lynn Schmidt is Gala Pride and Diversity Center's lead designer, artist and visionary behind the piece. Inspiration for the concept originated from a recent trip to Oakland, Ca where Lynn witnessed a tiny home community celebrate the success of their youth through "Spirit Boards" – wooden planks, designed and decorated by the students. The centerpiece is made of 6, 4 x 4 ft. wooden frames, aligned in two separate rows to allow for visitors to walk through, in, and around the structure. Visitors are encouraged to take their time to see what community members have written or decorated on the boards as well as listen to and discuss the piece.

Stop by to share the love and don't forget to use #ShareSLO, #PlazaPopUps, #LoveNotes, #TheGalaPrideandDiversityCenter & #LGBTQLoveNotes to have your photos featured on @ShareSLO!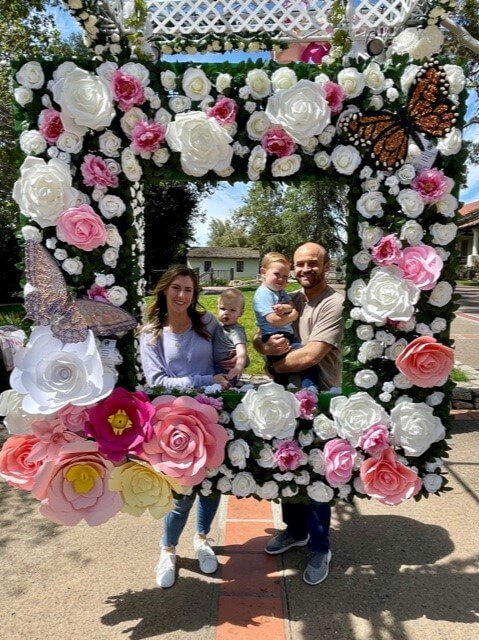 May Pop-Up: May Flower Initiative & Spring Wings
Flowers continue to blossom in San Luis Obispo's downtown this spring and is brought to you by the City of SLO and Downtown SLO with help from the team at Karson Butler Events. This month you will be amazed by the student-built ornamental horticulture installation by Cal Poly Rose Float Team who worked alongside Downtown SLO. "Spring Wings" is featuring a flower pot with a butterfly and caterpillar and a mechanical bee hanging from the pergola, made from welded steel and decorated with dried florals, produce, and natural elements. Mission Plaza will also have An 8-foot lighted California Poppy, chalk art by Trust Automation Children's Center Chalk Art Crew and a Chalk Art Mural "The Progression of Motherhood" by Katy McGrath of Badger Branding, perfect for Mother's Day celebrations on May 9.
Don't forget to take a selfie in the interactive floral picture frame selfie station pod created by Karson Butler Events, featuring butterflies from the Cal Poly Rose Float Team.
Use #ShareSLO #PlazaPopUps, #DowntownSLO & #MayFlowerInitiative when posting your beautiful selfie for a chance to be featured on @ShareSLO!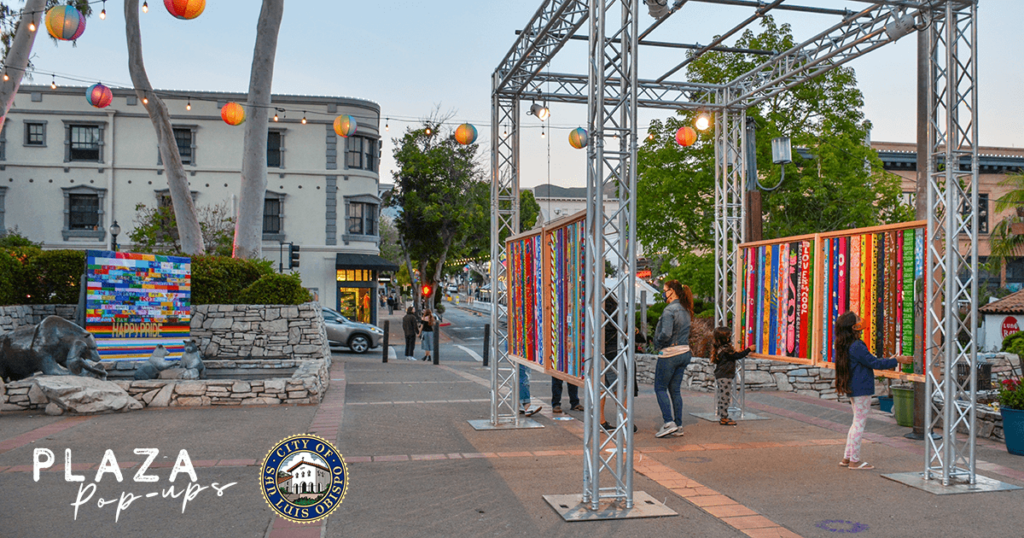 April Pop-Up: Through the Flowers
Spring flowers came to SLO early this year with the Through the Flowers installation currently blooming in Mission Plaza. Together, the City and the San Luis Obispo Museum of Art worked to launch the first Plaza Pop-Up. As a permanent space to support art and artists, SLOMA was a natural choice to launch this pilot program with. SLOMA strives to make art accessible for any and everyone and this passive art experience is a beautiful extension of the museum, itself just steps outside of Mission Plaza.
The vibrant, immersive installation created by Los Angeles based artist Laurie Shapiro is the first of a series of month-long activations that will be adorning Mission Plaza through summer. Laurie Shapiro's large-scale, mixed media paintings can be viewed from the wall or in an otherworldly setting where she creates installations you can walk inside. Fascinated by color and process, Shapiro initially builds her paintings by screenprinting stencils of her drawings and applying them to materials like fabric or vinyl, which she then brings to life with layers of painting. When viewed up close, one can see the intricate details of her screenprinted drawings.
Make sure to use #ShareSLO, #PlazaPopUps & #ThroughTheFlowers to have your photos featured on @ShareSLO!