Floral Splendor
Spring has sprung in San Luis Obispo, and after lots of winter rain, California is experiencing a spectacular "super bloom." This newsworthy natural event attracts visitors and locals alike to the wildflower fields, where bright pops of orange, purple and yellow have begun to adorn the rolling green hills.
Thousands of people flock to the Carrizo Plain National Monument in Santa Margarita, which is currently coated in daisies, goldfields and some baby blue eyes. Located about an hour and a half east of San Luis Obispo, the Carrizo Plain National Monument is a bucket list place to visit with its expansive colorful landscapes.
Also east of San Luis Obispo near Santa Margarita, people have been stopping to see baby blue eye wildflowers that have been covering Shell Creek Road. Right in our own backyard, though, various wildflowers have been sprinkling some of San Luis Obispo's hillsides. While you're there, officials across the state are encouraging tourists to stay mindful of mother nature's beauty: make sure to keep off the flowers and help preserve the beautiful landscape for everyone!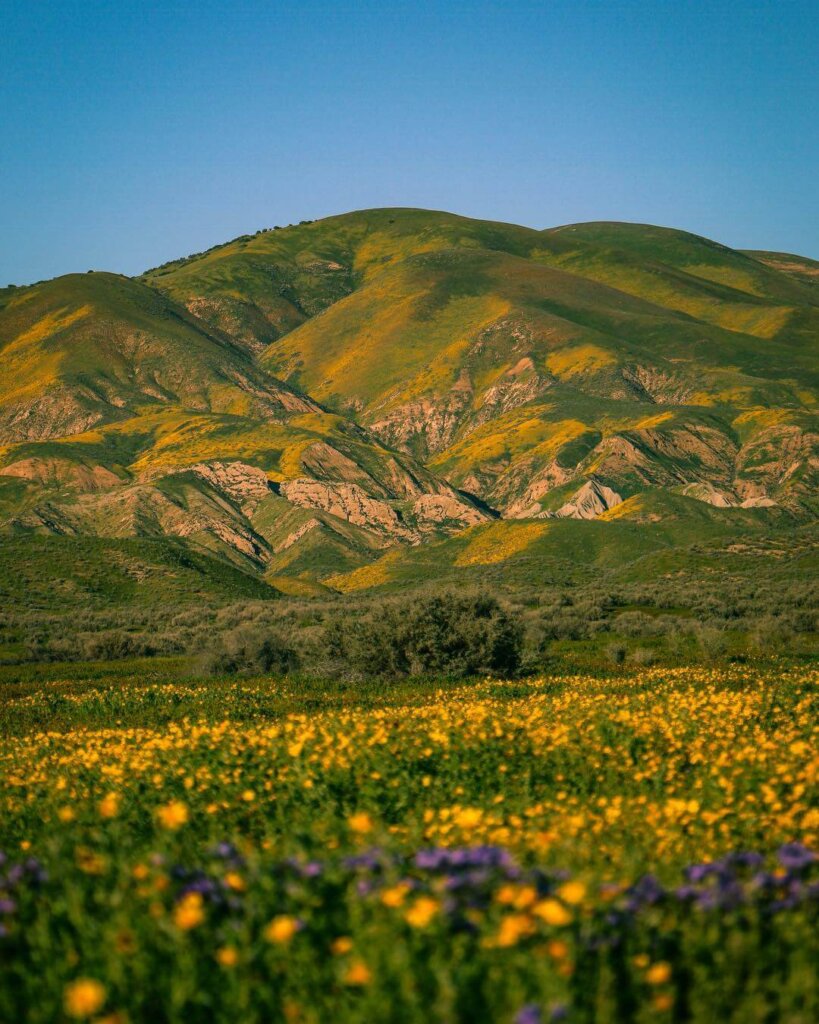 Top Spots in San Luis Obispo to See Wildflowers
Discover the top spots to see wildflowers and California poppies around San Luis Obispo today. Plan your visit to San Luis Obispo this spring to capture these memorable moments.
Cerro San Luis Obispo
Irish Hills Natural Reserve
Johnson Ranch Open Space
Laguna Lake Park
Ontario Ridge Trail
Prefumo Canyon Road
Reservoir Canyon Trail
Shell Creek Road
South Hills Open Space
Super Bloom Buzz in San Luis Obispo
Both visitors and locals alike have taken to social to share their breathtaking photographs of magical spots in San Luis Obispo and the Carrizo Plain. Check out some of our favorites. (And be sure to share your epic photos, too, with #ShareSLO.)