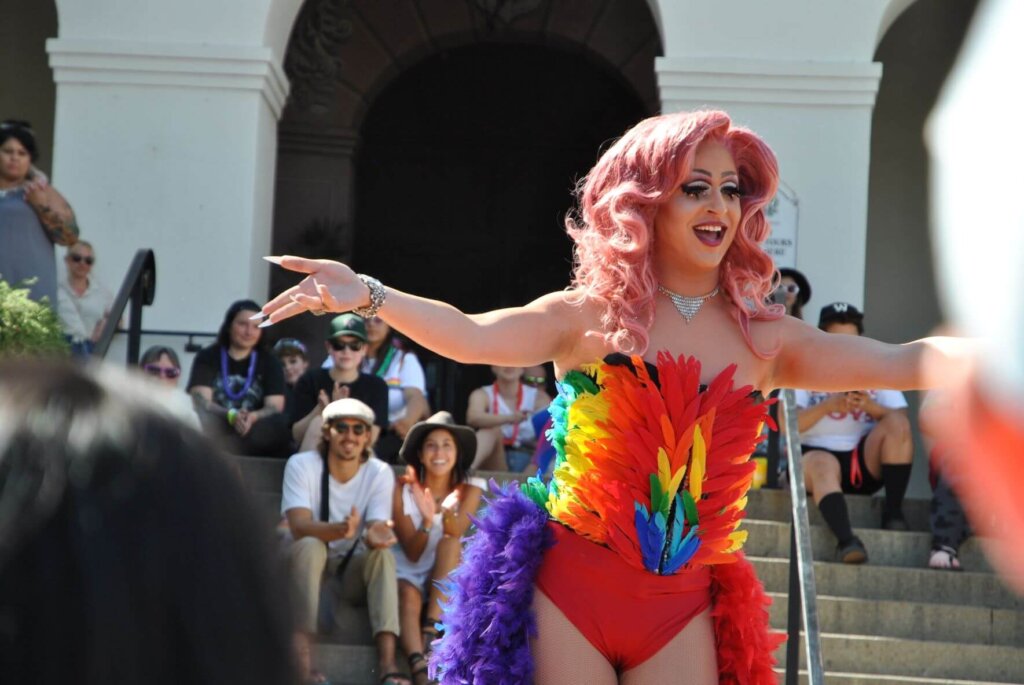 Better weather. Manageable crowds. And one packed calendar of events. That's springtime in San Luis Obispo for ya! As the fairest of the seasons dawns on the Central Coast, we're here to share our top events between now and summer. From caps and gowns at Cal Poly's graduation ceremonies to buckin' broncs at the rodeo and all sorts of Pride, there's no better time to live the SLO Life than spring. Here's a look at what's on tap in SLO. 

Cal Poly Rodeo
For the 80th year in a row, competitive riders from across the nation will descend on San Luis Obispo for action, dinners, concerts, concessions and alumni roping events for the rodeo. 
From April 6-9, the 2022 Poly Royal Rodeo will thrill thousands of spectators with broncos, roping, a gala banquet and the ever-popular Green and Gold Night at the Cal Poly Rodeo Grounds' Cotton Rosser Rodeo Complex. 
After many years of service, Spanos Stadium is taking a quick breather in 2022 for renovation, but fear not: the rodeo will be as great as ever this year. 
Tickets start at $15 for students and run to $50 for general admission. Follow @calpolyrodeo for more details. 
Cal Poly Graduation
Cue Elgar's "Pomp and Circumstance" because it's time for Cal Poly's seniors to move on to their next phase of life. June 11-12 marks graduation time for the Mustangs. This year's event will be held over Saturday and Sunday at Spanos Stadium, making it perfect for booking a long spring weekend. Don't miss out on special deals on lodging for Mustang parents and family members. Prior to graduation, a Commencement Fair will be held at the University Store on April 27-28, so make sure to load up on Mustangs gear, caps, gowns, announcements and more well ahead of the big day!
Bonus tip: if you're in town before graduation, help support Cal Poly by enjoying a baseball, softball, track and field, tennis or other collegiate sports event. Schedules can be found here. 
Central Coast Pride 
Pridefest SLO comes to Laguna Lake Park May 20-22 as part of Central Coast Pride celebrations across the county. This year's event is themed "There's No Place Like Home," which is perfect for those who call San Luis Obispo home all year long or just for short visits. Since 1997, this event has helped make a positive and lasting impact across the Central Coast. The festivities are sponsored by the Gala Pride and Diversity Center and Cal Poly LGBTQ Campus Life. 
Concerts and More Fun
It's no secret that live music and theater are back and better than ever. After all, artists are making up for lost time and touring at a pace not seen in many years. That's great news for those looking to check out some shows in SLO this spring. 
The Fremont Theater has a host of performances coming this spring: Don Felder of the Eagles takes it easy on April 7; Testament goes hardcore on April 9; Puddles Pity Party is in town April 10. Blues lovers won't want to miss Robert Cray on April 14 and Keb'mo' on April 19. Other upcoming shows include Jefferson Starship on April 22; the Mountain Goats May 6; the Psychedelic Furs on May 11 and country singer Lauren Alaina May 14. Find more shows here. 
SLO Brew Rock welcomes Metalachi's decidedly unique take on hard rock on April 9, while Vieux Farke Toure visits town on May 6. Fans of '80s group the Church can see them live and sing along to "Under the Milky Way" on May 13. The Rock also hosts a wide variety of acoustic, hip-hop and other performers all spring long. 
If live theater is calling to you, the Performing Arts Center will be home to "Beautiful: The Carole King Musical" on March 31. Iliza Shlesinger brings the humor on April 1. The Civic Ballet of SLO will perform "The Scarlet Ibis" on April 2-3. More musicals, dance troupes and a live TEDx event are also on tap. 
A bit further afield, the Avila Blues Festival will feature George Thorogood and the Destroyers, War, Tommy Castro and the Painkillers in an oceanside setting on May 29 at the Avila Beach Resort. 

Between shows, grab your board and head over to the Santa Rosa Skate Park with its 15,000 square feet of bowls and plenty of challenging ramps, stairs and rails. 
More SLO Spring Happenings
If that's not enough for you, we have even more to share. 
Find more events on our calendar and don't forget to share your posts on social media using the hashtag #ShareSLO.