Love is in the air in San Luis Obispo, and this time of year, there are countless ways to spend time with a significant other while delighting in the sights and sounds of this wondrous city. Make this February (and this Valentine's Day, in particular) an event you will never forget.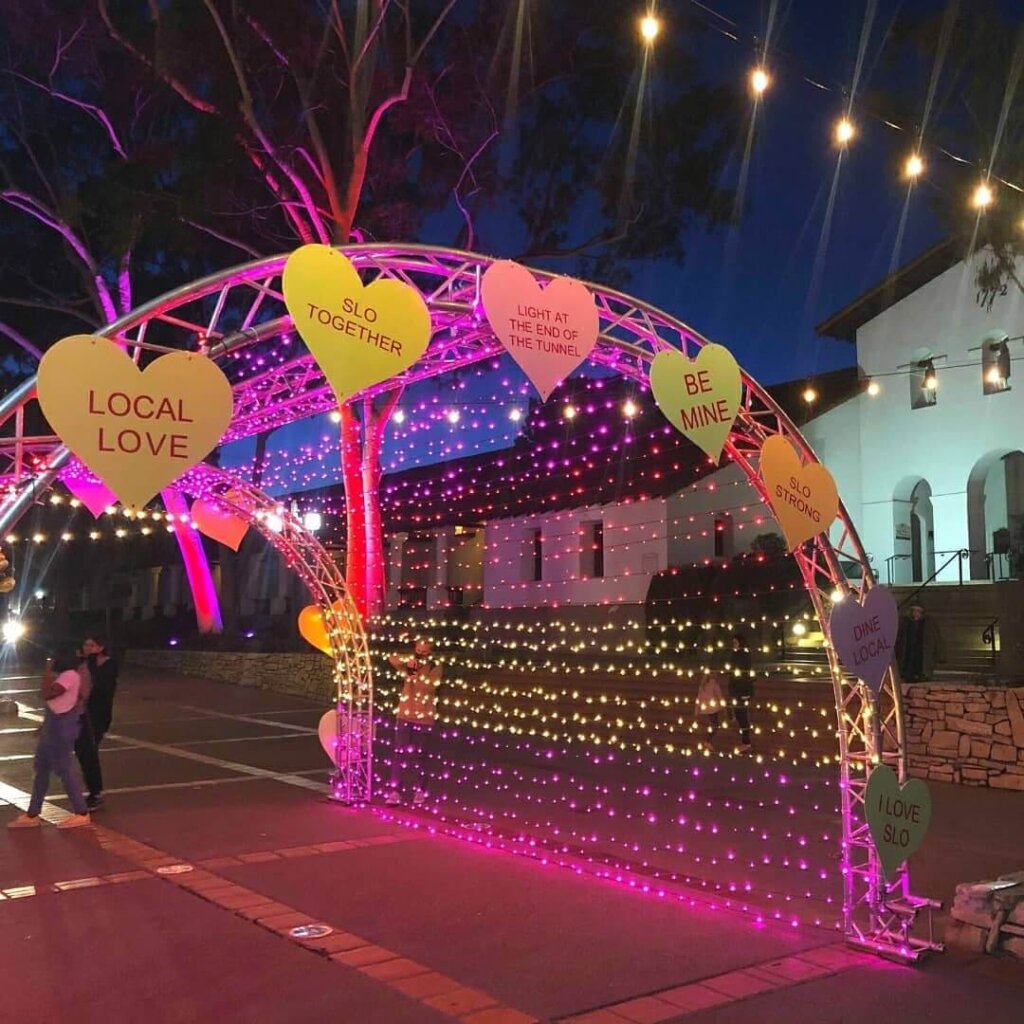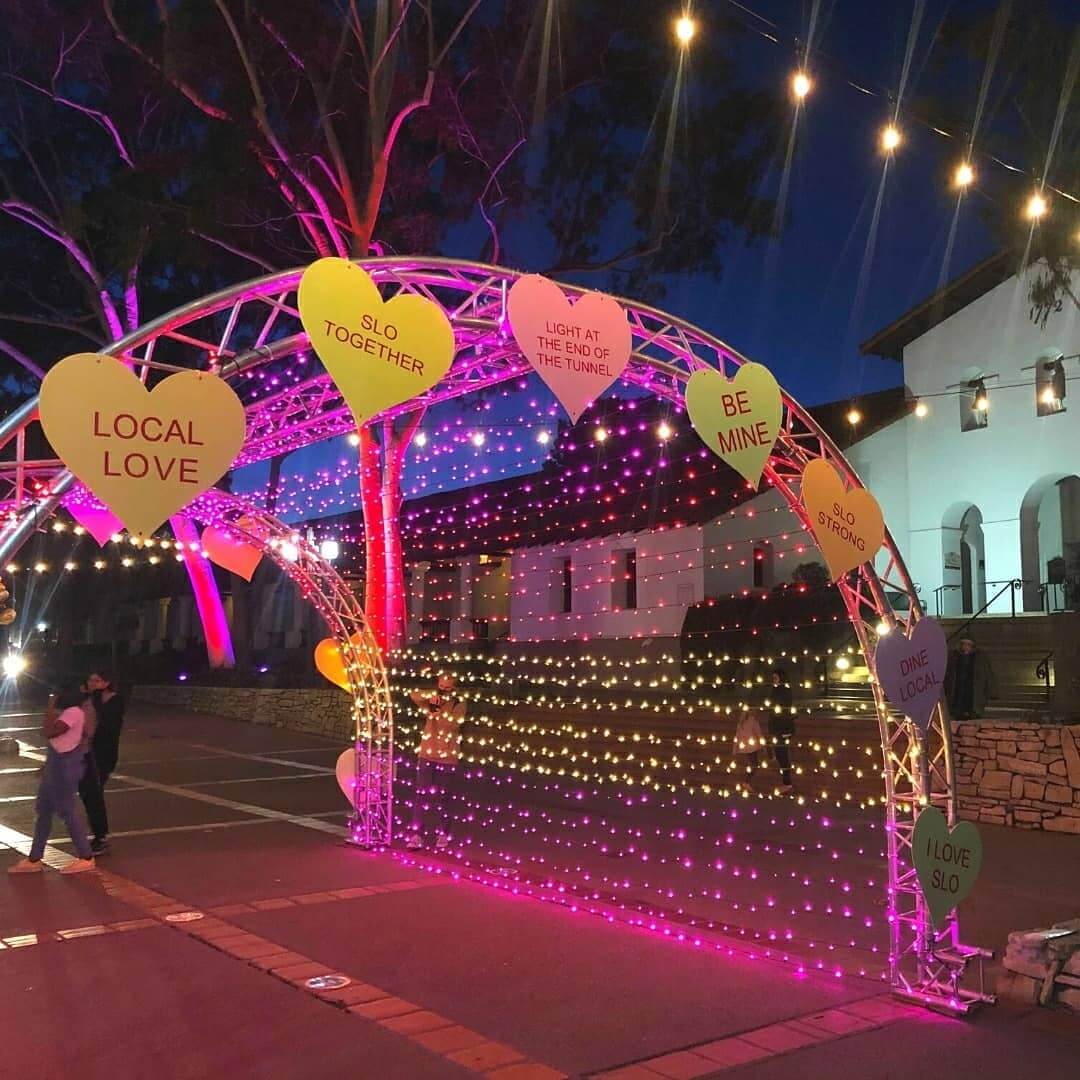 Take a trip down to Mission Plaza to visit Light Up Downtown. By popular demand, this gorgeously vivid display will remain standing in 2021, so don't miss the opportunity to walk under this tunnel with the ones you love. Be sure to return throughout the year, as Light Up Downtown will continually change and update the decor for each incoming holiday. 
Just a short drive from Downtown SLO rests the expanse of Edna Valley, where couples may find a landscape replete with wineries to step foot in. Taste crisp chardonnays at Chamisal Vineyards, or try the Provencal-style rosé wines on tap at Malene Wines, where private tastings are available as well. 
For palates that appreciate something more barley-based, make your way over to the many breweries also dotting the map of San Luis Obispo like Central Coast Brewing, where you can grab a prepackaged beer or crowlers of their signature Chai Ale. For those couples in the mood for something sweeter, look no further than SLO Cider Co. and their delicious hard ciders.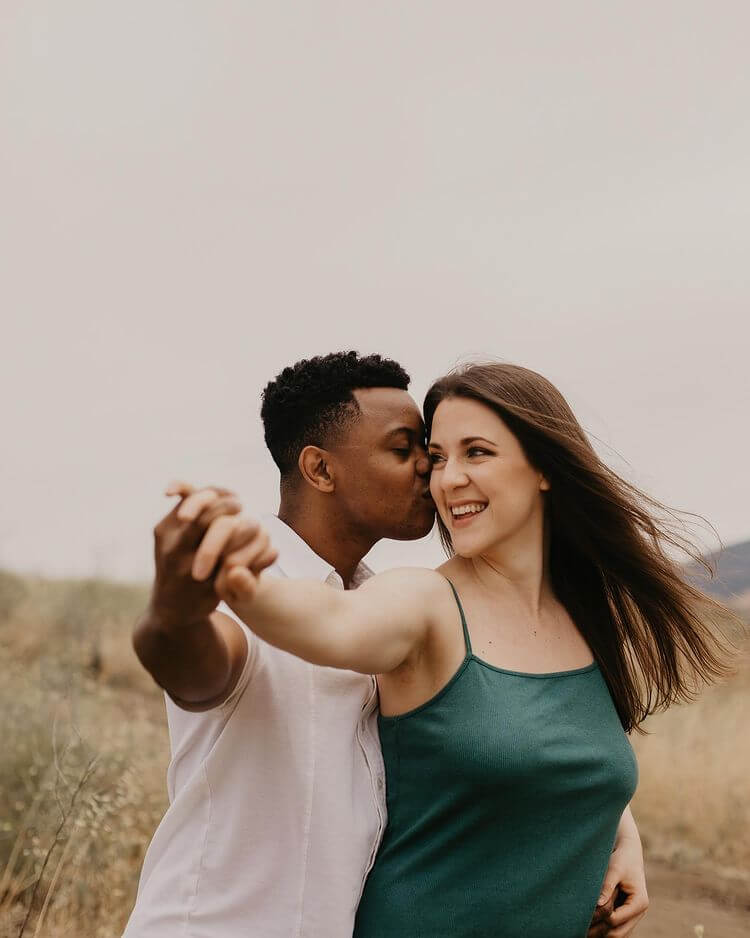 No romantic evening would be complete in SLO without food from some of the best restaurants the city has to offer. Eureka! offers delicious meals complimented with cocktails, or venture into the very heart of San Luis Obispo to try the exquisite entrees found in Luna Red. Grab some takeout and indulge in the many open spaces SLO has to offer. It's a great chance to catch a stunning sunset! (And make sure to tag @shareSLO in your photos!) For dessert, split a dollop of ice cream with a significant other at Doc Burnstein's Ice Cream Lab, where patrons can even watch their sweets being made.
When planning your next baecation, remember that SLO is the ideal city to visit for a relaxed getaway, when it's safe to travel. Fewer places are more accommodating for this romantic time of the year, and it is not to be missed.