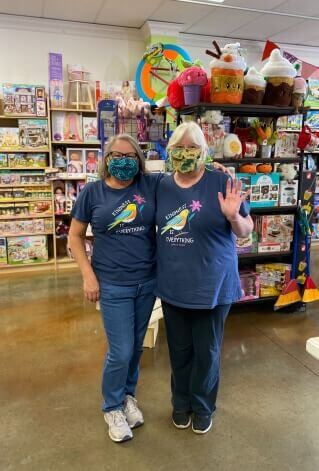 Lesa Smith is the owner of Whiz Kids, a toy store she founded in 1987 to encourage creativity and learning for game lovers of all ages. Having lived in SLO since 1974, Lesa was inspired to open Whiz Kids after her daughter was born and she wasn't able to locally find the kinds of quality, creative toys and books she wanted for her family. Since then, the store has evolved and expanded their mission of carrying "out-of-this-world" products to serve the needs of our community. We sat down with Lesa to talk about puzzle popularity, why SLO is so special and to get to know more about her journey with Whiz Kids.
You opened Whiz Kids in 1987, how has the store changed since then?
Child-directed play continues to be our focus, but so much has changed in 33 years. Children grow up faster, and have less free time for unstructured play. Electronics are a distraction to adults and kids, leaving fewer opportunities for family bonding through play. Shopping habits have changed with the growth of the internet.
What is the most popular product you've ever carried?
Wow, that's hard. We work with all ages, so we have many favorites for each developmental age. In the past few months our favorite and best selling items have been puzzles. It's been fun to see people of all ages taking the time to sit around a table, chat and complete a puzzle. It's such a great opportunity for family bonding.
Since your demographic includes kids to adults, are there any toys/games/books you bring home with you and would recommend to other adults?
We have a large selection of games for all ages. We have fast playing card games and hours-long role-play or strategy games. Games are just fun for everyone!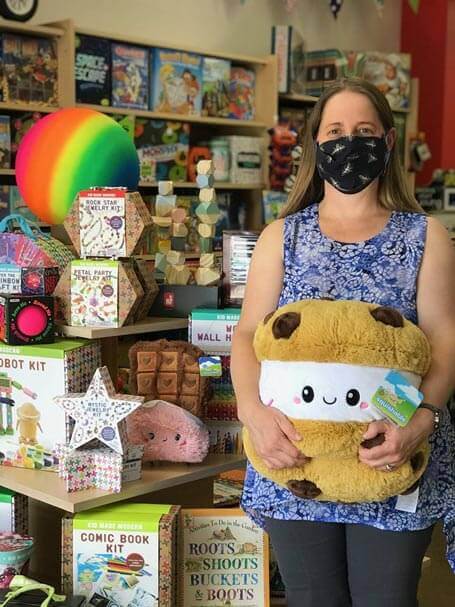 As kids are heading back to school, what's one piece of advice you have for parents and distance learning?
I think it's important to realize that the changes in our kids' lives are very stressful. Keeping an upbeat, positive attitude with our children is key. We are all learning to do our "jobs" in a completely new way and new setting. As parents, we can make it an adventure or we can make it traumatic. Let's choose adventure!
You've started socially distant birthday parades and shopping appointments via FaceTime — any other innovations or silver linings that have come out of this time?
We have taken this opportunity to work on our website. My entire staff is helping add new products to our site on a daily basis. It's a project that we never really had time to focus on, but I was able to keep my staff working on it during the shutdown. The web store has given our community a way to shop with us without visiting us in person. We can ship anywhere and we have a curb-side pick up option as well. Now that we are open for in-store shopping, our customers continue to use this option as well.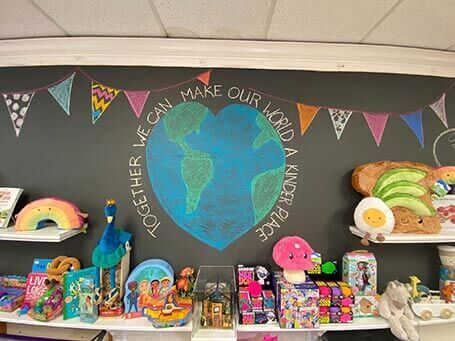 One last question… In your words, why should our community shop local?
San Luis Obispo is a very unique place. When you shop at a locally owned store, you are supporting the people who live here and invest in our community. Family owned businesses like ours support the local newspaper with advertising, we donate to our soccer teams and local schools. Small businesses offer products that are specifically chosen with our community in mind. We keep the "special" in San Luis Obispo. Our Whiz Kids community has really embraced us and for 33 years has encouraged and supported us. We are very grateful to part of this community.