October is National Disability Employment Awareness Month, so we wanted to feature a business and person that has been giving back to this community for more than three decades. Frank Ricceri has worked at Transitions-Mental Health Association since 1988 in various positions, and currently manages its social enterprises, including Growing Grounds. The Growing Grounds farms and store provide therapeutic horticulture, socialization opportunities, paid employment, and soft job skills training for adults with severe and persistent mental illness. We sat down with Frank and asked him for his best gardening advice, greatest success story, and why it's important that people with disabilities have full access to employment and community involvement.
What is your favorite part of every day? 
The people make every day special. Our workers in spite of serious challenges, are number one — just having a group show-up daily is a success. Of course our customers are also a joy and all staff are fantastic. We live in a place where people want to live. I bask in gratitude and joy every day!
In your opinion, how has Growing Grounds made an impact in the community? 
Simply put, Growing Grounds offers healing work places that we are fortunate to use — a calming seven acre nursery in SLO and a quaint yet magical alley space at our Growing Grounds downtown location. 
TMHA and Growing Grounds Enterprises also educate our customers about the value of honoring every human as an important contributor to our community.  The efforts of our workers are showcased in every plant that we sell. In nearly 40 years of operation, the Growing Grounds Nursery has provided employment and training to easily more than 1,500 people!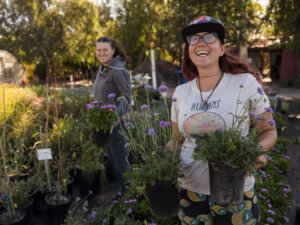 So, why plants & horticulture as therapy?  
The people and plant connection is both ancestral and eternal. We have seen the healing ability of nature and work through the big smiles on our workers' faces when experiencing plants touched by them that bloom. And of course, we see big smiles on payday too!
Do you have a green thumb of your own? And if so, any gardening advice? 
Hahaha. Yes! Feed the soil, not the plant. Enjoy and tend your garden with love. Compost your leaves, kitchen scraps, and feed your soil — which will nourish both the garden and your soul.  Encourage earthworms and avoid petrochemicals!
What about mental health advice? 
We are all in need of mental health! Know that those with more profound illness can and do recover with treatment and support. Also know that these people are our family members, neighbors and friends too. People are never disposable. Hold hope for people that cannot find any hope at this moment.
Why is it important to make sure that people with disabilities or mental illness have full access to employment and community involvement? 
Anyone with a job wakes up in the morning with a place to go and a sense of purpose. One of the greatest challenges for folks living with a mental illness is the temptation to isolate. A job takes you beyond your four walls, collaborating, interacting and always growing.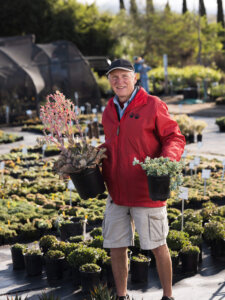 Is there one success story from Growing Grounds that stands out? 
Yes, I'll use an initial for privacy. A man, "S" started working at Growing Grounds Nursery four years ago. S was living in his car with his beloved canine companion Tasha. S discovered that Tasha required some expensive medications, and needed a helping hand to afford the veterinarian and the medications. Coming to the Growing Grounds nursery to apply for the job made S super anxious, but he started to realize that the staff cared and wanted to help. After about a year of learning progressively more intricate planting tasks, and completing the vocational training program at the Growing Grounds downtown store, Dianne (a Growing Grounds staff member), told S about a sales job that just opened up at the nursery and encouraged him to apply. S applied, interviewed and was offered the sales job. 
S has learned that when people say something at TMHA's Growing Grounds social enterprises, they mean it.  It was a great opportunity and now S has a good job and life purpose. He says, it's been the best feeling in the world to go from being homeless for more than four years to moving into Bishop Street Studios (newly constructed TMHA housing in SLO) in 2019 to having a place of his own — where his dog is welcome and where he can do the simple things he'd almost forgotten how to do. With TMHA, says S "it's been an amazing transition from having so little to having so much." 
One last question…why should our community shop local?  
Local is where the magic happens!