In observance of Hispanic Heritage Month, celebrated from September 15 – October 15, we're excited to feature Corazón 805 Tacos. The brainchild of Pedro Arias Lopez and Chencho Villar, you can find their tacos at local breweries and pop-up events across San Luis Obispo. Or if (like us), you just can't get enough of their homemade corn tortillas, the duo caters small gatherings and events too. We caught up with Pedro to chat about his vast restaurant experience in SLO, starting Corazón 805, and why it's important to incorporate ingredients and flavors from their Mexican roots.
Translation: En observancia del Mes de Herencia Hispana (15 de Septiembre – 15 de Octubre), estamos entusiasmados para publicar un blog sobre Corazón 805 Tacos y los dueños, Pedro Arias Lopez y Chencho Villar. Puede encontrar sus tacos en las cervecerías locales y en varios eventos en San Luis Obispo. Si no puede tener suficiente de sus tacos y tortillas de maíz caseras, el dúo ofrece servicios de catering para eventos especiales. Hablamos con Pedro para aprender más sobre su experiencia en la industria de restaurantes en SLO, ser el dueño de Corazón 805 y la importancia de incorporar ingredientes y sabores de su herencia Mexicana.
How did Corazón 805 Tacos get its start?
It began without thinking about it. We saw so many people at the Farmers' Market, and we wanted to put a business there, but it wasn't so easy. My partner Chencho said, "Let's do it. I'll cook and you find the customers." Then I believe that after a year, he became more serious about the flavor of the food.
Translation: ¿Cómo comenzó tu negocio, Corazón 805 Tacos?
Empezó sin pensarlo. Observando mucha gente en Farmers' Market y queríamos poner un negocio allí, pero no fue tan fácil. Mi compañero Chencho dijo, la hacemos, yo cocino, tú consigues la gente, los clientes. Entonces yo creo que después de un año, el empezó más serio sobre el sabor.
What does corazón mean to you?
"Heart" means many things…how you can study human anatomy, the fact that we all have a heart, so we know that it is an important part of the human body. The word heart also can be found in several popular Mexican games, like La Lotería. To me, it signifies love, longing and desire. It also reminds one of the core of the home, like your family and above all, my mother cooking with love and with the heart. When people cook, if they include love from their heart the food will be delicious.
Translation: ¿Qué significa la palabra "corazón" para ti?
Corazón significa muchas cosas, tanto tú puedes estudiar la anatomía del ser humano, y tenemos un corazón, Sabemos que el corazón es algo importante para el cuerpo humano. Corazón también lo puedes encontrar en algunos juegos populares mexicanos, como La Lotería. El corazón para mi también significa amar, querer, desear. También se acuerda uno del núcleo de la casa como tus familiares o principalmente tu mamá cocinaba con amor. Y con el corazón. Por eso, cuando uno cocina, pone el amor con el corazón con el fin de que la comida sea sabrosa.
What is the most important lesson you learned from working in the restaurant industry in SLO?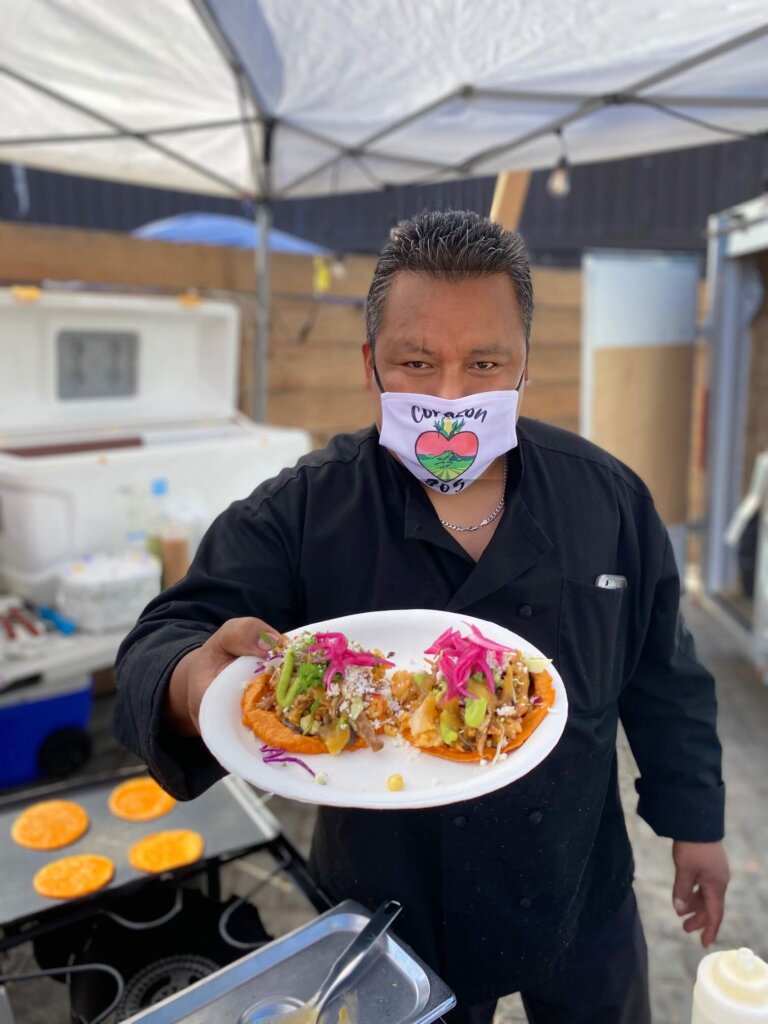 During my 14 years in SLO, I've noted that as a restaurant worker, the most important thing is that having good food and good service will earn you good customers. But the most important thing I've learned is to ensure that your workers are happy so that the process goes well — not only in the kitchen but also the customer-facing employees and servers. It's important to have a good harmony between clients, waiters and kitchen staff. And most importantly, having good cooks because they're the main engine of the restaurant!
Translation: ¿Qué es lo más importante que has aprendido trabajando en la industria de restaurantes en San Luis Obispo?
Durante estos 14 años que tengo en SLO, he notado como trabajador de restaurante, que lo más importante es que teniendo buena comida y buen servicio, obtendrás buenos clientes. Cómo lidiar con la gente, que el cliente tiene la razón. Pero lo más importante es que tus trabajadores estén contentos para que la producción de comida sea buena, no solo en la cocina, pero las personas enfrente que sirven. Para que haya buena armonía entre clientes, meseros y cocina. No olvidando en mi forma de pensar, que el motor principal son los cocineros porque si no llega un cocinero, no salen bien las cosas.
What's the secret behind your homemade tortillas?
The truth is that I don't have a secret ingredient, but I truly feel that it's the love that we put in the tortillas while making them. After three years, I am still learning how to make the best dough. However, I could add that we have made colorful tortillas using natural ingredients and that those who've eaten them have enjoyed them.
Translation: ¿Cuál es el ingrediente secreto en tus tortillas caseras?
La verdad es que no tengo ningún ingrediente secreto, pero siento que es el amor que le ponemos al hacerlo. Después de tres años, sigo aprendiendo como hacer mi masa. Pero podría decir que hemos hecho tortillas de colores usando ingredientes naturales y que las personas que lo han comido le han gustado.
What is your favorite dish to make right now?
Carnitas Yucatecas, because when I prepare them, I bring ingredients from the south and create a fusion.
Translation: ¿Cuál es tu comida favorita para preparar hoy en día?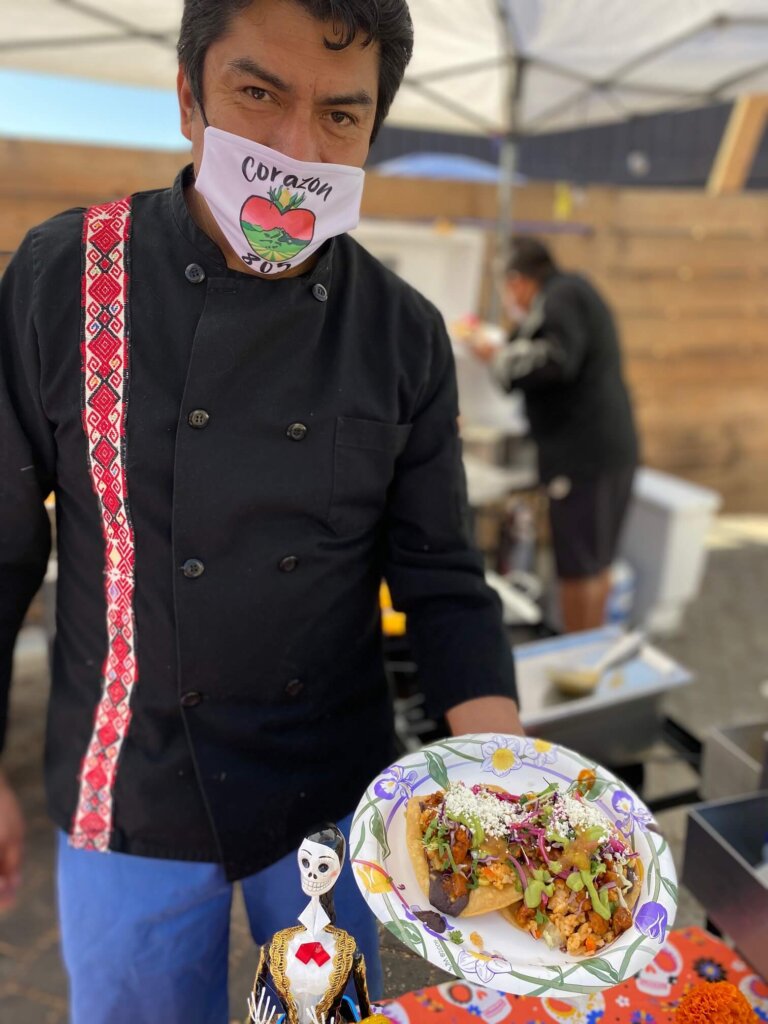 Carnitas Yucatecas, porque cuando se prepara, lleva ingredientes del sur y hacemos una fusión.
Is there something you miss from Mexican cuisine that's hard to come by here?
Some ingredients, especially herbs. For example, here, there are herbs like chipilín that can only be found seasonally, and in Mexico, it's more common all year round. Also, there are herbs that can only be found dried here but in Mexico they are sold fresh.
Also, when you hear "Mexican food," many people think that it is cheap food. But they don't know the people that make real Mexican food. They use many different types of condiments and spices that can almost never be found here. I go to Santa Maria to find many of the ingredients we use in our dishes.
Translation: ¿Hay algo sobre la comida Mexicana que te falta y que no puedes encontrar en esta región?
Algunos ingredientes, especialmente las hierbas. Como por ejemplo aquí hay hierbas como chipilín que solo se encuentra por temporadas, y allí en México es más común todo el año. También, hay hierbas que aquí solo se encuentran secas, y allí son frescas. 
How do you celebrate your Hispanic heritage at Corazón?
I like to celebrate each event that we have decorated with decorations and centerpieces from Chiapas, Mexico, the place where I was born and raised. It's important for me to honor my culture and traditions from Chiapas in SLO.
Translation: ¿Cómo celebras tu herencia Mexicana con tus empleados en Corazón 805 Tacos?
Me gusta celebrar cada evento que tenemos adornado con telares y centros de mesa de Chiapas que he traído de mi tierra natal. Quiero enseñar mi cultura y tradición de Chiapas a SLO.
Where do you see your business in a few years?
Perhaps we will have a small location to make our tacos and also other new dishes inspired by cuisine from Chiapas and Guerrero, Mexico.
Translation: ¿Dónde visualizas Corazón 805 Tacos en unos años?
Tal vez tener un lugar pequeño para hacer no solo tacos sino otros platos nuevos con sabor del sur, de Chiapas y Guerrero.
What is the best way to find out the truck's location?
Follow our page on Instagram and Facebook: @corazon805tacos
Translation: ¿Cómo puede la gente averiguar la ubicación del camión de comida?
Siguiendo nuestra pagina en Instagram y Facebook –@corazon805tacos
One last question…why should our community support local?
I feel that it's important because spending money locally helps small businesses grow and they in turn spend money locally. We know that to be a small business, there is always a risk, but if we are constantly supported by the local community there will always be a demand for local products and services.
If you are local, many contribute by donating to local institutions as well. SLO is neither too small nor too big with lots to offer, so it's important to consume locally. There are many families or young entrepreneurs that have a dream, and the community here is great at appreciating and supporting them.
Translation: Una pregunta final…¿Por qué es importante que los habitantes de San Luis Obispo apoyen a los restaurantes, las tiendas y otros negocios de la comunidad?
Yo siento que es importante porque al gastar dentro del condado sirve para poder tener ingresos para poder volver a gastar dentro del condado. Sabemos que al ser un pequeño negocio siempre hay un riesgo de perder, pero si estamos en constante apoyo local, siempre va a haber demanda de cosas locales. Si eres local puedes contribuir practicar o donar a las instituciones locales también. SLO no es tan grande ni tan pequeña, y es importante consumir local. Hay muchas familias o jóvenes emprendedores que tenemos un sueño, y que la gente local aprecia y apoya.