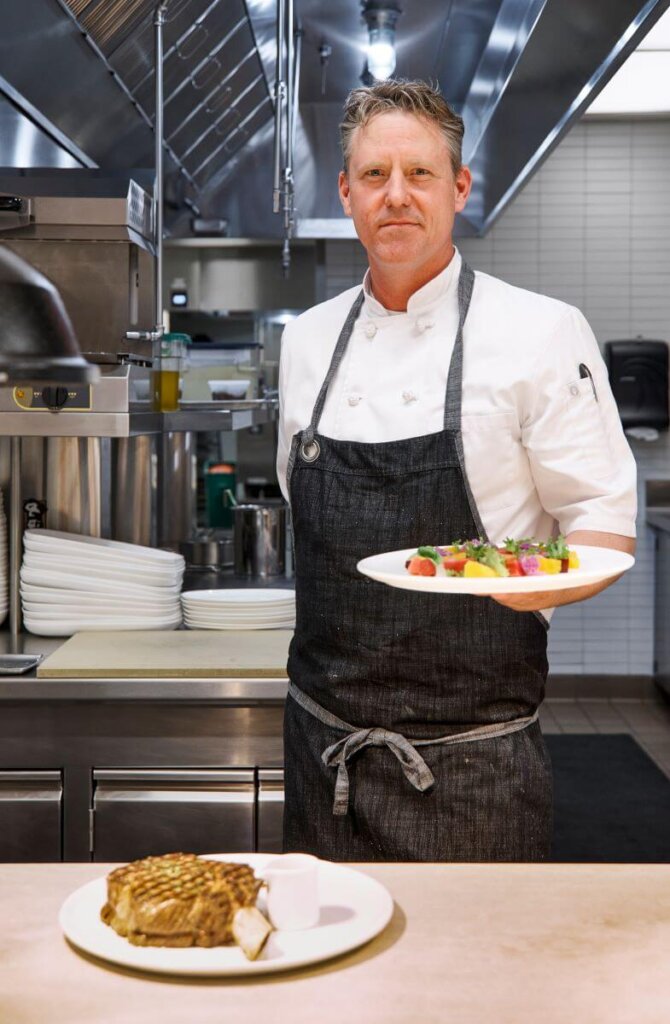 Ryan Fancher got his start in the restaurant industry at the young age of 15 right here on the Central Coast. Since then, he has traveled all over the country learning and working with some of it's best chefs, and has now made his way back to the Central Coast as the executive chef at Hotel San Luis Obispo. Chef Fancher oversees both of the hotel's on site restaurants —  Ox & Anchor and Piadina SLO, the latter of which is participating in January's Restaurant Month. We sat down with the chef to learn more about why SLO's local fare is so sought after, his whole teams' journey to SLO from Healdsburg, and of course — cooking shows. 
First things first. What's your vision for Piadina?
The original concept for Piadina was to offer a fresh California take on classic Italian cuisine, centered around our wood-fired oven. I'm a California native and because of that, our proximity to the ocean and the modern décor of the restaurant, the menu items are heavily influenced by contemporary California cuisine. Moving into the new year, diners can expect to find more and more dishes that incorporate fresh, locally-sourced ingredients, Dungeness crab, avocado and lots of fresh sauces.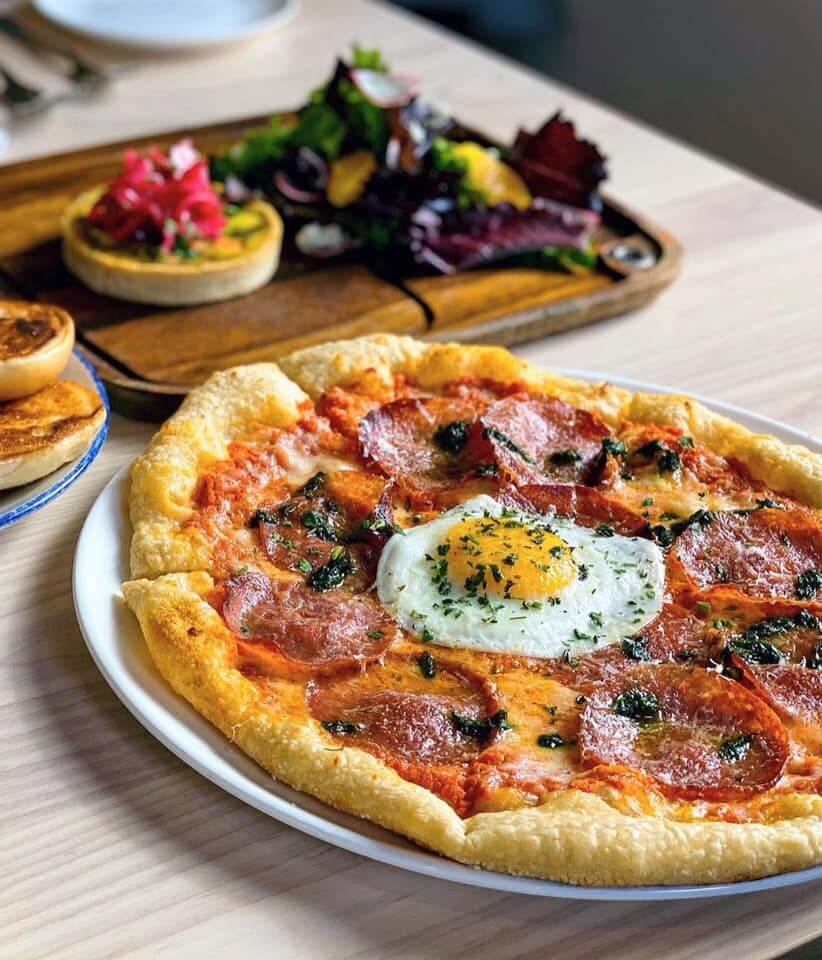 How about your favorite dish on the menu?
I love our pizzas. Our mushroom pizza is my favorite, topped with roasted Hen of the Woods mushrooms, thyme, white truffle oil and goat cheese. All of our pizzas offer a cool, different twist on what most expect. We offer a smoked salmon and caviar pizza, for example. A finocchiona and egg pizza, an artichoke pizza along with unique interpretations of classic pepperoni and cheese pizzas too. The dough is made fresh and is just delicious.
So, how does it feel to be back on the Central coast where you started your career?
It feels amazing. I love it here, it's so beautiful. The area has evolved a lot over the past few decades and SLO feels more sophisticated than when I was growing up here. You can really see all of the hard work the community has put into the city over those years. It's inspiring how they've taken it to the next level. The style of the city and the food culture is elevated. SLO today is a city that really cares about cuisine and dining and hospitality — it's exciting.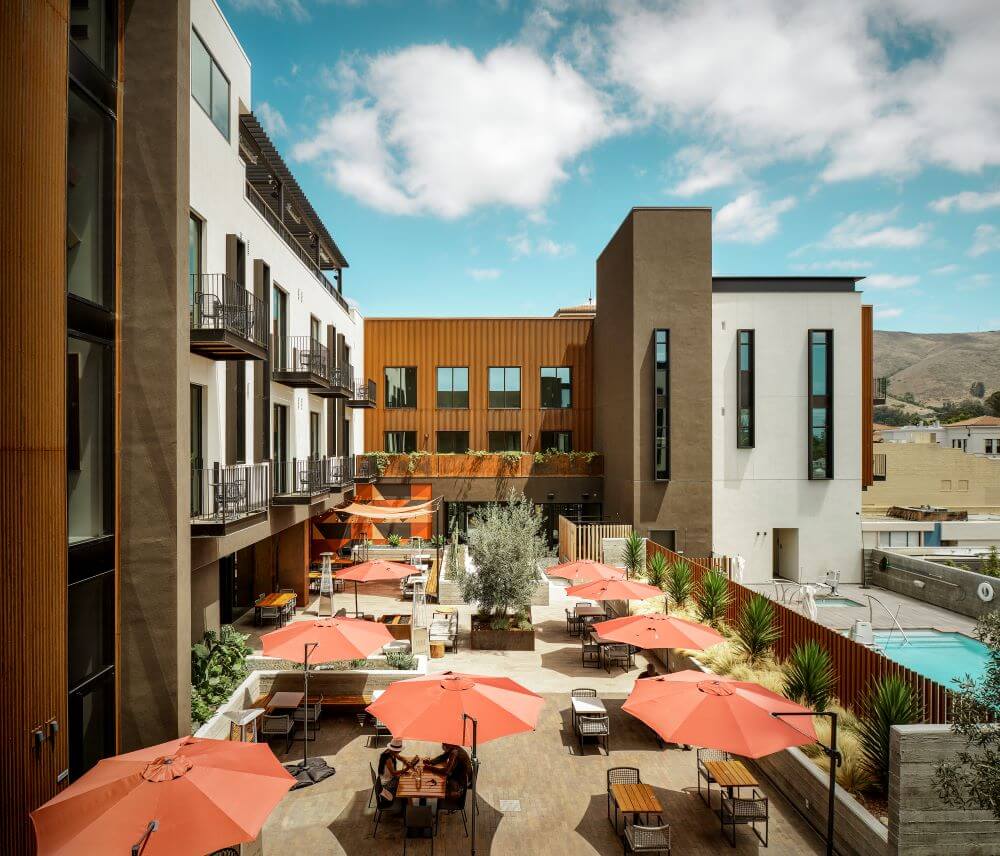 We understand much of your team followed you to Hotel SLO from Healdsburg. Is that typical?
Typical? I'm not sure, but this team works really well together. Some of us have been together 15 years. We treat each other with respect, we're always there for each other, we look out for each other. We are, first and foremost, great friends. We enjoy the same style of cooking, and speak the same language when it comes to the way we run the kitchen. It's calm and quiet. We all value a nice work environment because we're there all of the time. We have a recipe we just really love and it works for us. Pun intended!
How would you describe the local ingredients in SLO as compared to other places you've lived/worked?
The produce in the area is world-class. All of it comes from local farms and we have great relationships with them. A lot of the very best produce in the country is grown here and we're just so fortunate to have it right in our own backyard. The shellfish is also pretty amazing. And we love all the local cheese, beer and wine. We are blessed with such amazing craftsmanship in the area.
There are so many cooking and baking shows on TV these days. Do you watch any? And if so, do you have a favorite?
I watch cooking and baking shows all the time, but to call one out is tough. Chef's Table is one of my favorites. I still watch Jacques Pépin. He had a long television career that only ended a few years ago. I had the chance to meet him once in San Francisco which was inspiring. I'd have to say Jacques Pépin: Fast Food My Way and Chef's Table are tied as my favorites.
Can you tell us about one moment from your career that helped shape the chef you are today?
I had an opportunity to open a restaurant in New York and working alongside so many talented people there definitely played a role in shaping who I am as a chef. It was humbling to realize there was still so much to learn. It's really important to stay humble and keep learning and growing from those around you. It's a big world out there and there are a lot of talented people. Learning from them ultimately helps make you better and better.
If you could have a dinner party with three chefs, dead or alive, who do you invite, and why? Also, what's for dinner?
Thomas Keller, for sure. Thomas Keller, Jacques Pépin and Michel Richard. We'd have Michel Richard cook. We'd have a lot of wine, and literally anything Michel Richard cooked up.
One last question…why should our community support local?
Most of the businesses in SLO are owned by residents. We need to support each other if we're going to thrive. I go to Anderson Barber Shop. It's a local establishment on Monterey Street that's been in business since the 1920s and I just love that. If we don't want to lose these landmarks that make the city so charming we should support them.